Alfredo Broccoli & Bacon will be your new staple! You will love the creamy sauce and want to drizzle it on just about everything. The best part, you get to make it in one pan!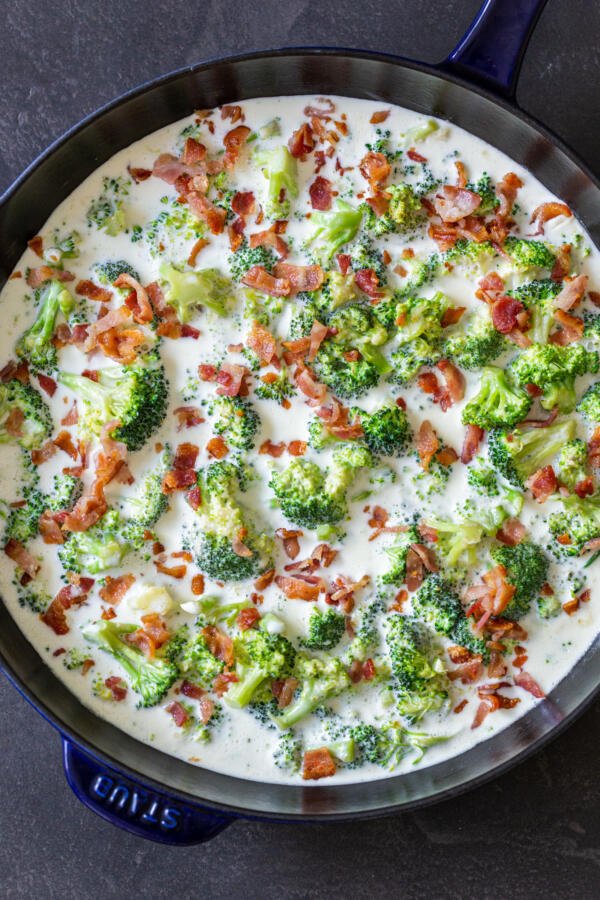 Alfredo Broccoli is seriously so good. This one-pan sauce is packed with some much darn flavor, similar to our creamy chicken and broccoli. Serve it with your favorite pasta or grain and call it a meal!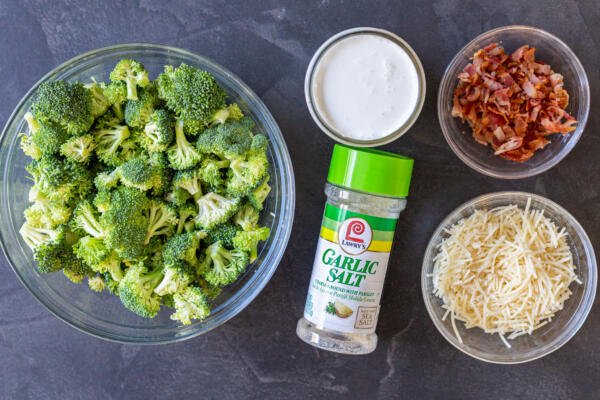 Make Alfredo Sauce From Scratch
Making quick Alfredo sauce from scratch is super easy and blows any jarred variety you can find out of the water. In a pan, combine heavy cream, parmesan, and garlic salt. Bring the mixture to a simmer, continuing to stir to create a smooth and even texture.
Looking for more details? Check out our Alfredo Sauce Recipe for a full-blown tutorial.
How to Cook Broccoli
If using a full head of broccoli, chop it up into similar sized florets. This will help the broccoli cook more evenly in your pan.
Using a colander, give your chopped broccoli a thorough rinse under cold water.
Place broccoli directly into the simmering Alfredo, ensuring that the florets are as submerged as possible.
Cover the pan tightly and let the broccoli steam in the sauce.
Check if the broccoli is soft enough by poking it with a fork. You'll want it to be just a touch firm as it will continue to cook in the hot sauce once you remove it from the heat.
Tips for Shortcuts
Keep Broccoli Tender – Don't overcook the broccoli in the sauce. As it sits in the warm alfredo sauce, it still continues to cook. You want to undercook it slightly or it will turn into much.
Use Good Quality Parmesan – The majority of the flavor in the sauce comes from the Parmesan cheese. Get top quality cheese to ensure all that buttery and nutty flavor shines through.
Save Time – Purchase precut broccoli and pre-cooked bacon from the grocery store when you're in a pinch. It will save you so much time. You could also make our Air Fryer Bacon while you're cooking your sauce. The bonus? It's mess free.
Alfredo Sauce – The sauce in this recipe is Legit with a capital "L". It's so delicious and we use it in so many other recipes.
Add Fresh Garlic – Obsessed with garlic? Press in some fresh garlic right before you add the broccoli to simmer.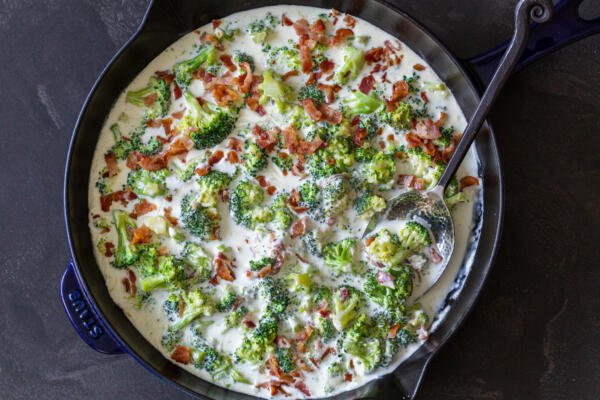 Storing Leftovers
Store your leftover Alfredo sauce in a mason jar in the fridge. The cream doesn't freeze too well, so be sure to only make as much as you can eat within about a week. To reheat, cook the sauce in the microwave in 30-second intervals, stirring in between each and repeating the process until warmed through.
You could also reheat it in a sauce pan. Just be sure to keep it on low-heat and to stir continuously to prevent burning.
More Creamy Goodness
Recommended Tools for This Recipe
Garlic Parsley Salt – This has to be my favorite seasoning. I restock it immediately once I run out. From potatoes to pasta, it's unique flavor elevates so many dishes.
Staub Pan – This is my go-to pan for just about everything. As you can see, I use it in just about every recipe.
Recipe
Alfredo Broccoli & Bacon will be your new staple! You will love the creamy sauce and want to drizzle it on just about everything.
Instructions
In a deep skillet, bring heavy cream, parmesan, and garlic salt to a simmer. Continously stir to combine and create an even smooth sauce mixture.
Nutrition Facts
Alfredo Broccoli & Bacon
Amount Per Serving
Calories 390
Calories from Fat 333
% Daily Value*
Fat 37g57%
Cholesterol 110mg37%
Sodium 873mg36%
Potassium 226mg6%
Carbohydrates 4g1%
Protein 11g22%
Vitamin A 2470IU49%
Vitamin C 12mg15%
Calcium 249mg25%
Iron 1mg6%
* Percent Daily Values are based on a 2000 calorie diet.