Broccoli mushroom alfredo pasta is the definition of comfort food. Hot fettuccine noodles and loads of veggies are tossed in a creamy, homemade alfredo sauce — it doesn't get any better!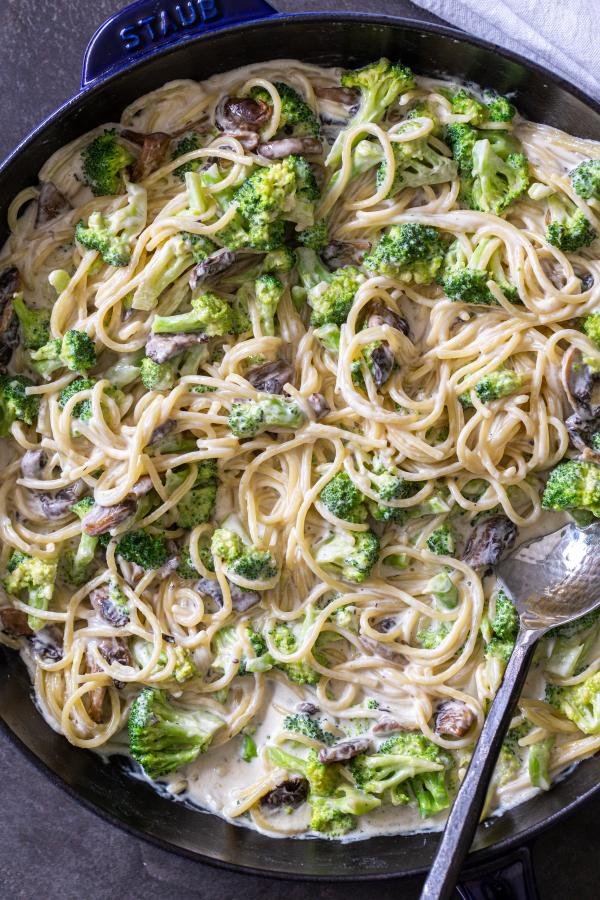 Made it just one pan, it comes together in less than 30 minutes and, you have to trust me, it's better than restaurant quality pasta! Your family will surely come back to the kitchen begging for seconds.
Alfredo Sauce
We love making homemade alfredo sauce! There is truly no reason to purchase the jarred variety because it's just so darn easy to make from scratch. Also, I find store-bought versions to just not be as flavorful.
Pasta For Alfredo
Fettuccine noodles are my favorite pasta to use for this dish. They are thicker than spaghetti and have a great bite to them. I also find that since this dish is vegetarian, they make it a touch more filling.
At the end of the day, you can use whichever pasta you like the most or have on hand. This dish is extremely versatile. If you really want to take it to the next level, try your hand at making my homemade pasta.
How to Make Broccoli Mushroom Alfredo Pasta
Follow these easy steps to make these quick and easy weeknight dinner:
Gather all your ingredients and bring a large pot of salted water to boil. Cook pasta per the package instructions. Remove a couple minutes before it's al dente as it will cook a bit more in the sauce later on.
While your pasta is cooking, start preparing your sauce. Saute your mushrooms. Add the broccoli and garlic salt.
Stir in cream and bring to a boil. Add garlic and parmesan cheese.
Add in partially cooked pasta, stirring occasionally until the pasta cooks through completely. Season to taste with salt and pepper. Serve hot with some extra parmesan cheese on top!
A Couple Tasty Variations
Switch things up with a couple of our favorite variations below:
Zucchini: Cut it into half rings and add it straight to the mix.
Carrots: Precook carrots before adding them in.
Bell Peppers: Use red, green or yellow bell peppers (or all three!). Cut them into strips and sautee them alongside your mushrooms and broccoli.
Asparagus: Cut your asparagus into small, bite-sized pieces. Add in alongside mushrooms and broccoli.
Chicken: Chicken and alfredo were just met for one another. Add chicken into the mix to make this dish more filling.
Shrimp: Jumbo shrimps are always a welcome addition.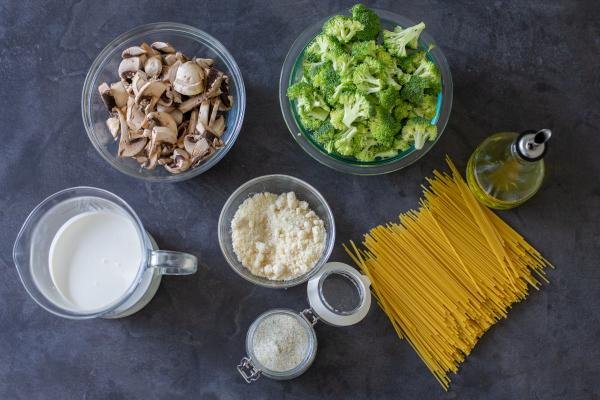 Keeping Broccoli Mushroom Alfredo Fresh
Refrigerate leftover pasta for up to a week. The sauce has a tendency to firm up when kept in the fridge. To loosen it, add a bit of whipping cream to it before you microwave it or heat it up in a skillet over medium heat.
Side note: I wouldn't recommend freezing this dish, as frozen pasta will just get mushy when it reheats. You could, however, make a big batch of the sauce and freeze that. Then, when you are ready to chow down, make a batch of pasta fresh and simply toss it together.
Other Alfredo Recipes
We can't get enough alfredo in our lives at Momsdish! Here are some of our other favorite recipes that call for this creamy, luscious sauce:
Chicken Mushroom Fettuccine Alfredo – A classic that never gets old.This recipe is a copycat of the Olive Garden's beloved rendition.
Best Alfredo Pasta – Want alfredo but you're in a pinch? This quick-and-dirty recipe comes together in under 20 minutes.
Alfredo Zucchini Bake – When I'm doing low-carb and craving something decadent, I turn to this bake to satiate my cravings and keep me on track.
Recipe
Broccoli mushroom alfredo pasta is the definition of comfort food. Hot fettuccine noodles and loads of veggies are tossed in a creamy, homemade alfredo sauce — it doesn't get any better!
Nutrition Facts
Broccoli Mushroom Alfredo Pasta
Amount Per Serving
Calories 371
Calories from Fat 234
% Daily Value*
Fat 26g40%
Cholesterol 86mg29%
Sodium 1009mg42%
Potassium 354mg10%
Carbohydrates 26g9%
Protein 10g20%
Vitamin A 1667IU33%
Vitamin C 8mg10%
Calcium 153mg15%
Iron 1mg6%
* Percent Daily Values are based on a 2000 calorie diet.