This creamy and nutritious Tuscan chicken pasta bursts with garlic, tomato, spinach, and cheese flavors. It's simple to make and ready to serve in only 30 minutes.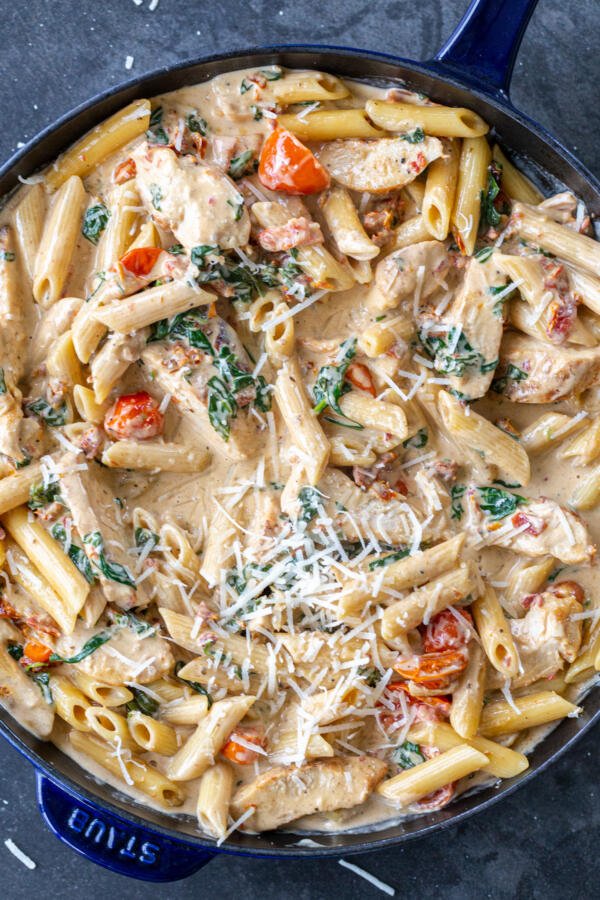 Tuscan chicken pasta is said to originate from Tuscany, Italy where sun-dried tomatoes and spinach are a culinary staple. The name of the dish may also stem from its colors matching the earthy colors typical of architecture in the Tuscan region – creams, reds, and browns.
In our creamy Tuscan chicken pasta, the sun-dried tomatoes provide a sweet-tart flavor that's refreshing and distinct in taste from fresh tomatoes. The well-seasoned chicken breast provides a filling protein, and the heavy cream and parmesan cheese give a delightful creaminess that will have you going back for more. You'll love this meal for its flavor and ease.
Creamy Tuscan Chicken Pasta Video
How to Make Creamy Tuscan Chicken Pasta
Tuscan chicken pasta is ready with only ten minutes of prep time and a total time of thirty minutes. Here's an overview of the quick process.
Prepare the pasta: Cook pasta to al dente according to package instructions. Set aside one cup of pasta water.
Season and sauté chicken: Season chicken thoroughly. Add olive oil to a pan and sauté chicken until brown, then cut into strips and set aside.
Cook tomatoes: Cook fresh tomatoes and sun-dried tomatoes in butter, adding garlic at the end.
Simmer the sauce: Add heavy whipping cream and simmer until thickened, then add spinach until wilted.
Combine with pasta and chicken: Place pasta, sliced chicken, and parmesan into skillet and stir to combine. Serve and enjoy.
Our favorite skillet: Use this cast iron skillet for an evenly cooked creamy Tuscan chicken pasta every time.
Tips and Tricks for the Best Tuscan Chicken Pasta
We've got you covered with a few tips and tricks for the creamiest and best Tuscan chicken you have ever had.
Reserve pasta water: After mixing the pasta into the cream base, the pasta can absorb liquid quickly. To make it creamy again, add more liquid from your reserved pasta water. Store a small amount of pasta water in the refrigerator for up to 3 days for heating leftovers.
Cook pasta to al dente: Cook the pasta just until firm and slightly chewy. The pasta will continue cooking slightly in the creamy warm sauce. Overcooking can lead to mushy pasta, which nobody wants!
Sauté the chicken to a brown color: Brown the chicken when sautéing to increase the flavor. The brown bits (also called "fond") will mix with the creamy sauce and provide a fuller, richer flavor to the cream base.
Hot Tip: Slice the chicken either before or after cooking. Either way, it's going to be super tasty!
Easy Substitutions or Additions to Tuscan Chicken Pasta
Sometimes you may not have all the ingredients the recipe calls for. Luckily, this dish is flexible and allows for substitutions. Here are some great substitutions or additions when making this dish.
Chicken: The recipe calls for boneless skinless chicken breast, but you can substitute with chicken thighs, too. Chicken breasts are leaner and drier, but chicken thighs typically have more fat and are more moist. Use boneless, skinless chicken thighs for the best results.
Pasta: Rigatoni or penne pasta are most often used for Tuscan chicken; however, any other type of pasta works well. Whatever pasta you choose, make sure to cook al dente.
Cream: To substitute heavy cream or make a lighter cream base, whisk three cups of milk and two tablespoons of flour until no clumps remain. Then pour the mixture into the skillet and allow sauce to simmer and thicken. Alternatively, use half and half. The sauce will still be creamy, although less rich.
Spinach: Use regular or baby spinach – baby spinach typically has a more tender and sweet flavor. If you don't have fresh spinach, frozen spinach can be used, too. Thaw and drain excess liquid before adding to the skillet. Use as much or as little as you prefer.
Garlic: Fresh garlic cloves will give the best flavor, but if you're in a pinch, substitute the three cloves with one tablespoon of garlic powder.
Sun-dried tomatoes: The best sun-dried tomatoes are the ones packed in oil as they are already soft. You can substitute these with dry packed sun-dried tomatoes, but make sure to rehydrate them before adding to the skillet. Place them in a bowl of warm water and let them soak for a couple of hours. Drain well, pat dry, dice, and then use as directed.
Add more vegetables: Feel free to add more vegetables such as kale, mushrooms, peppers, peas or broccoli.
Additional seasoning: In addition to salt, pepper, and paprika, frequently used Italian seasonings are basil, oregano, rosemary, thyme, and fresh parsley. If you want a kick, red pepper flakes will do the trick!
Add bacon: Who doesn't love bacon? Add some cooked, chopped bacon into the dish or as a garnish.
What to Serve with Tuscan Chicken Pasta
Tuscan chicken pasta is usually served as a main dish because it is so creamy and filling. Serve the pasta warm, topped with extra parmesan and fresh herbs. Pair it with arugula caprese salad or tomato mozzarella salad for fresh veggies in your meal. And with such a tasty sauce, don't forget to have a side of garlic knots or cheesy bread to sop up the extra sauce.
Storing & Reheating: Everything You Need to Know
Creamy Tuscan chicken pasta is best enjoyed fresh; however, here are tips for storing and reheating if there happen to be leftovers.
Refrigerator: To refrigerate for three days, store in an airtight container. If you know ahead of time there will be leftovers, keep the pasta and sauce separate. If you leave pasta in the dish and refrigerate, the pasta will soak up all the moisture in the sauce by the time you reheat it. Refrigerate cooked pasta separately.
Freezer: To freeze for up to six months, store the chicken sauce base in an airtight container. For best results, freeze Tuscan chicken without the pasta, as pasta can affect texture and flavor of the dish after being frozen. Thaw overnight in the fridge. If the sauce separates after thawing don't worry, it will combine back together when reheated.
Reheating: Reheat Tuscan chicken pasta over medium-high heat in a skillet, stirring to warm evenly. If pasta is already combined with chicken sauce mixture and you notice the dish needs more moisture, add reserved pasta water, chicken broth, or water to moisten. If reheating Tuscan chicken that has not been mixed with pasta, add freshly cooked pasta to the warmed skillet.
FAQ
Can I use dry packed sun-dried tomatoes in Tuscan chicken pasta?
You can use either sun-dried tomatoes in oil or the dry-packed version to make a tasty and creamy Tuscan chicken pasta. To use dry-packed tomatoes, soak them in a bowl of warm water until soft, drain water, pat dry, and then use according to recipe instructions.
Can you make Tuscan chicken pasta ahead of time?
Yes, to make Tuscan chicken pasta ahead of time, make the chicken and sauce first, then refrigerate in an airtight container until ready to serve. When ready to serve, cook fresh pasta and combine with warmed chicken and sauce.
How can I cut down on calories when making creamy Tuscan chicken pasta?
To cut down on calories, substitute heavy cream with half and half or a milk and flour alternative. Also, use chicken breast instead of chicken thighs. If you want to add more vegetables, add more spinach and tomatoes, or your choice of vegetables.
Similar Creamy Pasta Entrees
Recipe
This creamy and nutritious Tuscan chicken pasta bursts with garlic, tomato, spinach, and cheese flavors. It's simple to make and ready to serve in only 30 minutes.
Ingredients
1/2

lb

pasta

rigatoni or penne

1

lb

chicken breast

1

tbsp

garlic parsley salt

1

tsp

paprika

2

tbsp

olive oil

3

tbsp

unsalted butter

1

cup

cherry tomatoes

halved

1/2

cup

sun-dried tomatoes in oil

drained and diced

3

garlic cloves

pressed

3

cups

heavy cream

3

cups

fresh spinach

chopped

1

cup

parmesan cheese

freshly grated
Nutrition Facts
Creamy Tuscan Chicken Pasta
Amount Per Serving
Calories 614
Calories from Fat 414
% Daily Value*
Fat 46g71%
Cholesterol 157mg52%
Sodium 1194mg50%
Potassium 592mg17%
Carbohydrates 27g9%
Protein 24g48%
Vitamin A 2915IU58%
Vitamin C 16mg19%
Calcium 237mg24%
Iron 1mg6%
* Percent Daily Values are based on a 2000 calorie diet.