This chicken broccoli alfredo is made with juicy chicken and fresh broccoli tossed in homemade alfredo sauce. It's so rich in flavor — you'll be coming back for more.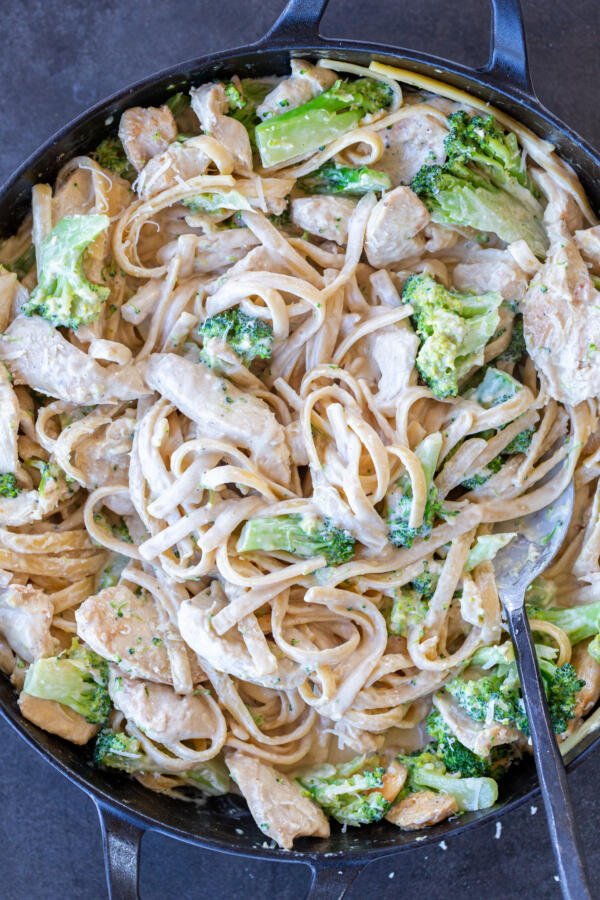 What is Chicken Broccoli Alfredo?
Chicken broccoli alfredo is a pasta dish traditionally made with fettuccine pasta, broccoli, and sliced chicken breast covered in an alfredo sauce. The majority of the flavor comes from the parmesan cheese alfredo, which is slightly nutty. This tasty dish is sure to become a family favorite!
Making Chicken Broccoli Alfredo
With a simple ingredient list, this alfredo is crazy easy to make. Below, find a rundown of the process before you dive in.
Saute the chicken: Slice the chicken breast into even strips, then season with salt and pepper. Saute in a large skillet or pan with olive oil over medium heat until golden brown. Set aside.
Cook the pasta: Cook the pasta al dente according to package instructions, minus two minutes.
Add broccoli: Three minutes before the pasta is finished cooking, add the broccoli to the boiling water. Cook, then drain pasta and broccoli and set aside. Reserve a cup of water for later.
Combine sauce ingredients: In the same large skillet, combine heavy cream, butter, garlic, and cheese. Stir sauce over medium-low heat until it is smooth.
Toss all ingredients together: Place pasta, broccoli, and chicken back into the sauce. Toss everything together until well combined.
Serve: Remove from heat and serve with extra grated parmesan cheese.
Hot tip: Pasta tends to absorb the alfredo sauce. If it seems like there's too much sauce, don't worry. More sauce is better than less sauce.
Tasty Chicken Broccoli Alfredo Variations
The best dishes are those that are easily modified based on what you have readily available. Here are some ideas to help you personalize your chicken broccoli alfredo.
Mushroom: Sauté mushrooms separately and combine with pasta at the end. The taste will be very similar to our broccoli mushroom alfredo.
Zucchini: Add sauteéd zucchini to the pasta at the very end.
Carrots: Cut the carrots into equal sized pieces and sauté before adding to the mix.
Asparagus: Use our air fryer asparagus or simply sauté the asparagus.
Bell pepper: Cut bell peppers into strips of equal sizes, then lightly brown on a pan with butter or oil.
Shrimp: Sauté the shrimp until just cooked through, then add to alfredo sauce along with (or instead of) the chicken. Alternatively, use our air fryer shrimp and simply add at the end.
Tips from the Cook
Follow these tips to make the process and flavor of the chicken broccoli alfredo more enjoyable.
Reserve pasta water: Keep a few tablespoons of pasta water separate to rehydrate or thin the sauce later (if needed).
Avoid overcooking the pasta: The pasta will continue to cook for a few minutes when combined with the hot alfredo sauce. For al dente pasta, remove the pasta from the water two minutes less of the package instructions.
Use great quality parmesan: The best tasting alfredo uses great quality parmesan cheese. After all, that's where the flavor is at!
Avoid frozen broccoli: Frozen broccoli sometimes comes in various sizes and can become mushy when cooked. Use fresh broccoli florets instead.
Adjust the seasoning: For even more flavor in the alfredo sauce, a teaspoon of garlic powder goes a long way! For more of a kick, add paprika or cayenne pepper. Other popular seasonings are Italian seasoning, dried basil, oregano, or onion powder. Add small amounts at a time so as not to over-season the sauce!
Use half and half instead of heavy cream: We prefer heavy cream for its creaminess and ability to coat the pasta, chicken, and broccoli perfectly. However, for a lighter sauce, use half and half instead of the heavy cream.
Use leftover chicken: This recipe is a great option to use up any leftover precooked chicken you may have on hand!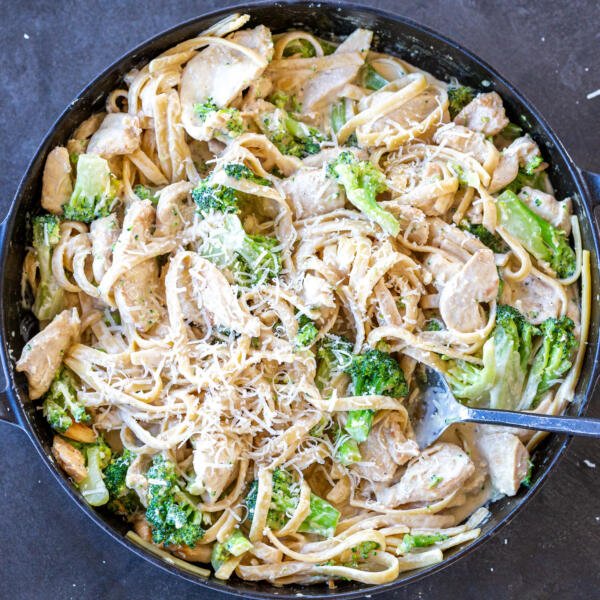 How to Serve Chicken Broccoli Alfredo
Chicken broccoli alfredo is a tasty and filling meal all on its own. However, if you're looking for inspiration for good side dishes, serve the alfredo with fresh Ukrainian garlic bread and broccoli cucumber tomato salad. For a more leafy salad, our garden salad or caesar salad taste great!
Best Ways to Store and Reheat the Alfredo
In general, avoid freezing alfredo pasta dishes as the pasta will become mushy when reheated. If you have alfredo left over to enjoy for lunch or dinner the next day, follow these storage and reheating tips for the best results.
Refrigerator: To keep fresh for up to a week, store the chicken broccoli alfredo in an airtight container in the fridge. Don't be alarmed if the alfredo hardens as the dish is refrigerated. It will loosen up again when reheated.
Reheating: For best results, reheat the pasta in a skillet over medium heat until warmed through. Stir continuously to ensure the pasta heats evenly. If the alfredo seems too thick or low on sauce, add chicken broth and whipping cream. To up the flavor, add more freshly grated parmesan cheese.
FAQ
Can I use store bought alfredo for chicken broccoli alfredo?
Yes, you can use store bought alfredo sauce. However, make sure to go for a great quality one. Or, make a homemade alfredo sauce in only five minutes.
Are alfredo sauce and white sauce different?
Although the alfredo sauce is sometimes referred to as a "white sauce" by color, the two sauces are in fact different. Alfredo is a creamy white (colored) sauce, usually used in pastas. White sauce is more often referred to as Béchamel sauce, made with butter and flour, and used in many French cuisines..
What is the meaning of "alfredo"?
In cooking, the word "alfredo" most often refers to a white creamy sauce, most often used in pasta. The name "alfredo" was given by a man named Alfredo di Lelio who is thought to be the inventor of fettuccine alfredo.
More Alfredo Recipes to Love
Recipe
This chicken broccoli alfredo is made with juicy chicken and fresh broccoli tossed in homemade alfredo sauce. It's so rich in flavor — you'll be coming back for more.
Nutrition Facts
Chicken Broccoli Alfredo Recipe
Amount Per Serving
Calories 461
Calories from Fat 351
% Daily Value*
Fat 39g60%
Cholesterol 146mg49%
Sodium 204mg9%
Potassium 400mg11%
Carbohydrates 11g4%
Protein 19g38%
Vitamin A 2788IU56%
Vitamin C 13mg16%
Calcium 186mg19%
Iron 2mg11%
* Percent Daily Values are based on a 2000 calorie diet.