This parmesan asparagus recipe is nutty, garlicky, and just right. In under 15 minutes, it is sure to become a regular side dish in your weekly rotation.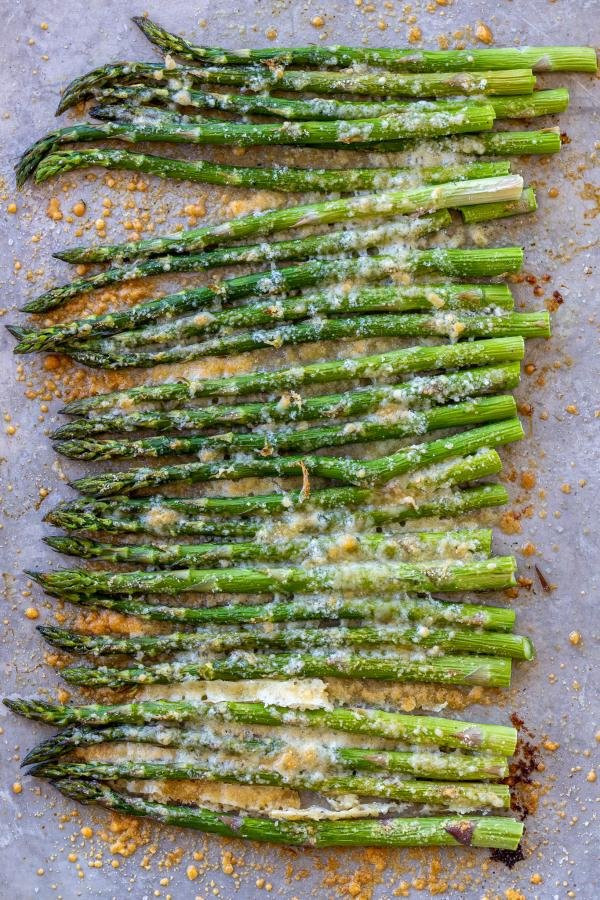 ​When you combine asparagus and parmesan in the oven, magic happens. It's like these two ingredients were made for each other – much like peanut butter and jelly. This foolproof asparagus spears recipe is so easy, it will surely become a regular at your dinner table. A truly universal side dish that never gets old!
Did you know? Asparagus is packed with potassium, calcium, and fiber. It's also super low in calories and cholesterol!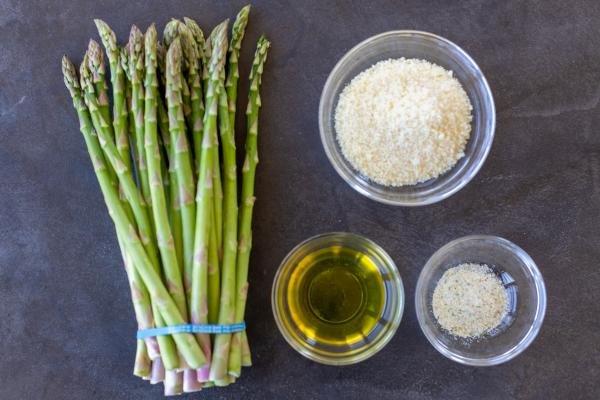 The Proper Way to Trim Asparagus
Before we get to cooking, let's first cover off on the proper way to trim asparagus before cooking it.
Rinse the Asparagus – Wash the asparagus stalks under cold water in the sink to remove any dirt or grime.
Trim the Asparagus – Next, use a sharp knife to cut off the light colored, tough ends. Or, simply snap the stalk and it will break off naturally.
Dry the Asparagus – Finally, use a kitchen towel or paper towel to remove any excess moisture. This will allow the seasoning stick, while also helping the asparagus crisp up nicely.
How to Prepare Parmesan Asparagus from Scratch
Preparing parmesan asparagus only requires 4 simple ingredients. Find an overview of the instructions below.
Trim the Asparagus: First, trim the tough ends from the asparagus stalks by slicing or snapping them off.
Load the Baking Sheet: Next, arrange asparagus on a baking sheet. Season the stalks with olive oil and garlic parsley salt and finish them with a sprinkle of grated parmesan cheese.
Bake the Asparagus: Finally, roast them in the oven at 415°F for 8-10 minutes, or until parmesan turns a slight golden brown color and the asparagus is fork tender. Enjoy!
A Couple Handy Tips for Parmesan Asparagus
This recipe is not rocket science, but a few handy tips will help you nail it.
Assemble the asparagus in a single layer. To avoid uneven cooking, lay the asparagus out in a single layer on your sheet pan before baking.
Play around with different seasonings. Feel free to tweak the seasoning as you see fit. Add a couple of cracks of black pepper or a squeeze of lemon juice after you take the spears out of the oven. You could even bake them topped with a bit of breadcrumbs or panko if you'd like.
Avoid boiling the asparagus before cooking it. There's no need to boil the vegetable before baking it. It will only make it mushy and soggy. For best results, bake straight from raw!
What Parmesan Asparagus Pairs Well With
Pair the parmesan asparagus with your favorite protein. Spatchcock chicken or beef tenderloin immediately come to mind. You could also toss it directly into your favorite pasta dish or on top of salad.
Storing & Reheating Best Practices
Whether you are batch cooking asparagus for the week or have some leftovers to stow away, find all the storing and reheating tips you need here.
Storing: To keep asparagus on hand for up to 3 days, store the spears in an airtight container in the fridge.
Reheating: The best way to reheat asparagus is back in the oven or in the air fryer. Just be careful not to overcook it, or it will dry out and turn chewy.
FAQ
How do you keep asparagus from getting soggy?
The key to keeping asparagus from turning soggy is to not overcook it. It only needs about 13-15 minutes in the oven to yield that perfect slightly firm texture.
What spice goes well with asparagus?
Pretty much anything! You can consider asparagus a blank slate to play around with.
What can you add to asparagus for flavor?
If your asparagus tastes a bit bland, add a couple more shakes of salt or the juice from a couple of lemon wedges. A drizzle of balsamic vinegar is also a welcome addition!
Why is your leftover asparagus stringy?
The longer asparagus sits, the more stringy it gets. Typically, leftovers will last about 3 days.
Other Tasty Asparagus Recipes to Try
Recipe
This recipe for parmesan asparagus only requires 4 simple ingredients and comes out restaurant-worthy. Ready in under 15 minutes!
Ingredients
2

lbs

asparagus

1

tsp

garlic parsley salt

adjust to taste

2

tbsp

oil

olive or avocado

1/2

cup

parmesan cheese

grated
Nutrition Facts
Crispy Baked Parmesan Asparagus
Amount Per Serving
Calories 156
Calories from Fat 99
% Daily Value*
Fat 11g17%
Cholesterol 9mg3%
Sodium 786mg33%
Potassium 470mg13%
Carbohydrates 9g3%
Protein 9g18%
Vitamin A 1812IU36%
Vitamin C 13mg16%
Calcium 203mg20%
Iron 5mg28%
* Percent Daily Values are based on a 2000 calorie diet.