This recipe for sautéed asparagus only requires 3 simple ingredients and some low key prep. Perfect as a side dish to just about any main course!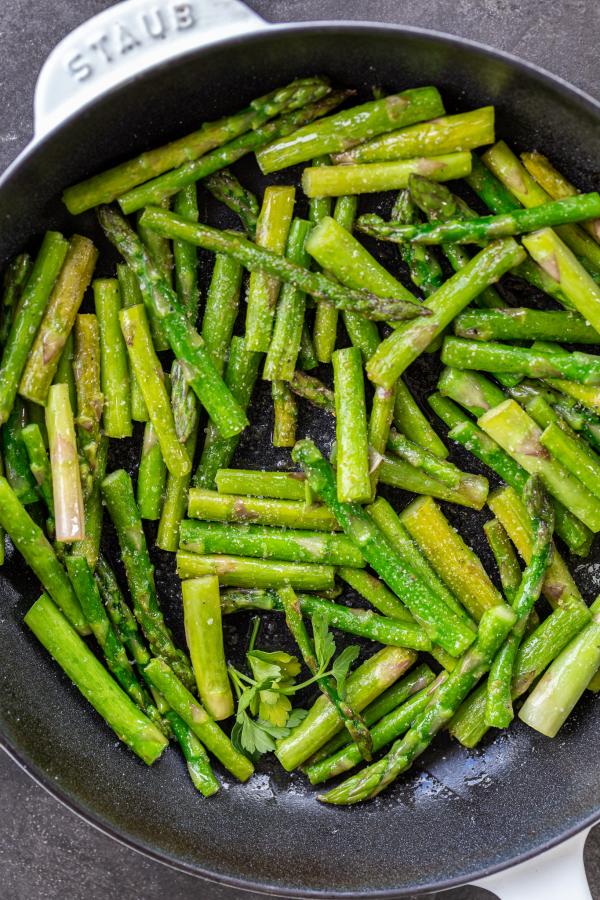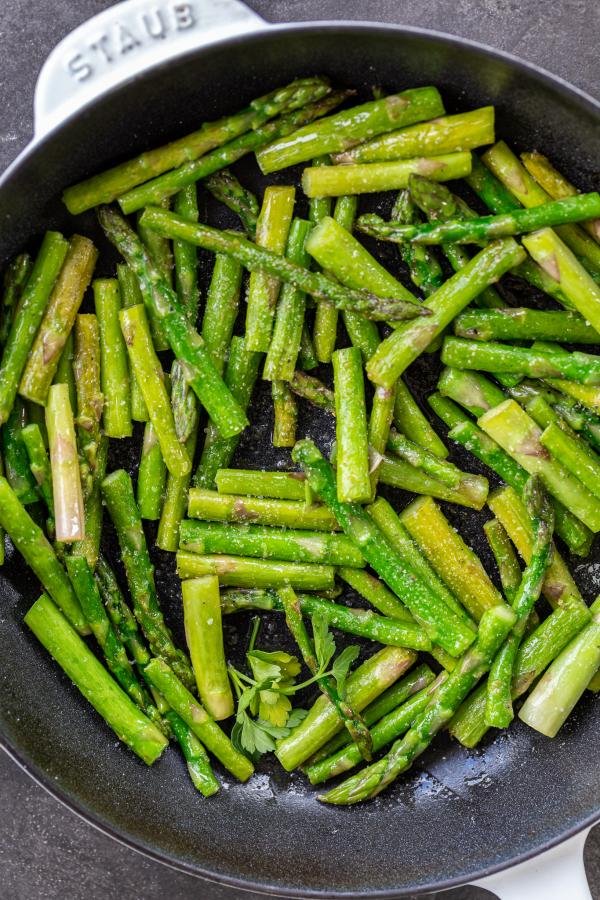 Sometimes keeping it simple reaps the largest rewards. This recipe for sautéed asparagus is a true testament to that. With a fresh bundle of asparagus, olive oil, and a bit of garlic parsley salt, you get a side dish that's fancy enough for hosting or casual enough for a hectic weeknight.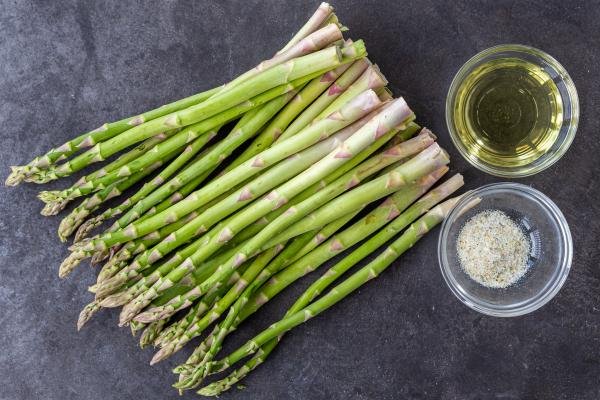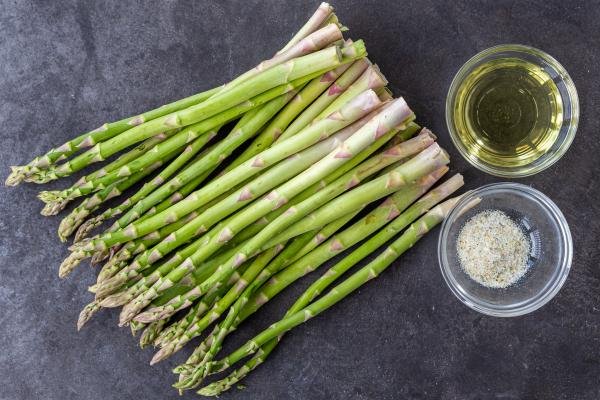 A Quick Guide on Trimming Asparagus
Before you get to sautéing, let's first cover off on the proper way to trim asparagus stalks.
Rinse the Asparagus – Wash the asparagus stalks under cold water in the sink.
Trim the Asparagus – Next, use a sharp knife to cut off the light colored, tough ends of the stalk. Alternatively, bend the stalk with your hands and it will naturally break off the inedible part.
Dry the Asparagus – Finally, use a kitchen towel or paper towel to remove any excess moisture from the rinsing. This will allow the seasoning stick, while also helping the asparagus crisp up in the skillet.
Sautéing Asparagus 101
Making sautéed asparagus is as easy as 1-2-3. Below, find a high-level overview of the process before you dive in.
Trim the Asparagus: First, trim off the rough ends of the asparagus and slice the stalks into 2-inch pieces.
Sauté the Asparagus: Next, preheat a large skillet over medium heat with olive oil. Add in the sliced asparagus and sauté it until tender.
Season the Asparagus: Season asparagus with garlic parsley salt right when it comes off the heat and enjoy!
Hot Tip: Sauté the asparagus with freshly minced garlic and red pepper flakes for an extra pop of flavor. You can also swap the olive oil for sesame oil.
Helpful Tips for the Best Sautéed Asparagus
This recipe couldn't get any easier, but a couple tried and true tips will help you nail it.
Slice the asparagus into evenly sized pieces. To promote even cooking, slice the asparagus spears into roughly the same size pieces.
Keep the heat on medium. To avoid burning the outside of the asparagus and undercooking the inside, keep the heat over medium.
Use fresh asparagus over frozen. Frozen asparagus has a super hard time crisping up due to the high moisture content. Opt for fresh and you'll be golden!
Different Toppings for Sautéed Asparagus
Looking to elevate your sautéed asparagus? Here's a couple of topping ideas to play around with.
Cheese: Top the asparagus with parmesan cheese, feta cheese, or a couple of spoonfuls of goat cheese after removing it from the pan.
Nuts: Toast up some pine nuts, walnuts, or slivered almonds and sprinkle them right on top.
Fresh Herbs: For a pop of freshness, sprinkle on some fresh dill, chives, or basil.
Citrus: Toss the asparagus with a drizzle of lemon juice or a couple of shavings of lemon zest.
Ideas for Serving Your Sautéed Asparagus
This sautéed asparagus is the perfect complement to your favorite protein. Cast iron ribeye steaks are always a great option or a solid seafood dish like air fryer salmon or baked cod. You can also cool it down and add it to an Italian pasta salad for more depth of flavor.
Storing & Reheating Best Practices
Storing: To keep sautéed asparagus fresh for up to a week, store it in an airtight container in the fridge.
Reheating: The best way to reheat the asparagus is over medium-high heat in a skillet with a couple of tablespoons of oil or butter until warmed through.
FAQ
Does asparagus need to be blanched before sautéing?
No, there's no need to blanch the asparagus before sautéing it unless you want it to be super tender. Otherwise, you're good to cook it straight from raw.
How do you cook asparagus so it isn't so tough?
To prevent the asparagus from turning out super tough, cook it over medium heat until it's fork tender. The key is to not shock it with too hight of a heat and burn the outside before the inside is fully-cooked.
Do you need to soak asparagus before sautéing it?
Some people like to soak asparagus before cooking it to make sure it's super clean. However, a quick rinse under cold water is more than enough.
What is the difference between thin and thick asparagus?
Thin and thick asparagus are very similar in taste, but thin asparagus tends to be a bit harder to chew and more fibrous.
Other Tasty Asparagus Recipes to Try
Recipe
This recipe for sautéed asparagus is a simple, yet satisfying way to use your spears. With just 3 ingredients, it couldn't be easier to throw together!
Instructions
Nutrition Facts
The Best Sautéed Asparagus Recipe
Amount Per Serving
Calories 85
Calories from Fat 63
% Daily Value*
Fat 7g11%
Sodium 874mg36%
Potassium 229mg7%
Carbohydrates 4g1%
Protein 2g4%
Vitamin A 857IU17%
Vitamin C 6mg7%
Calcium 28mg3%
Iron 2mg11%
* Percent Daily Values are based on a 2000 calorie diet.