This asparagus risotto features tender rice cooked in white wine and speckled with asparagus. Crazy easy yet so fancy and perfect for just about any occasion!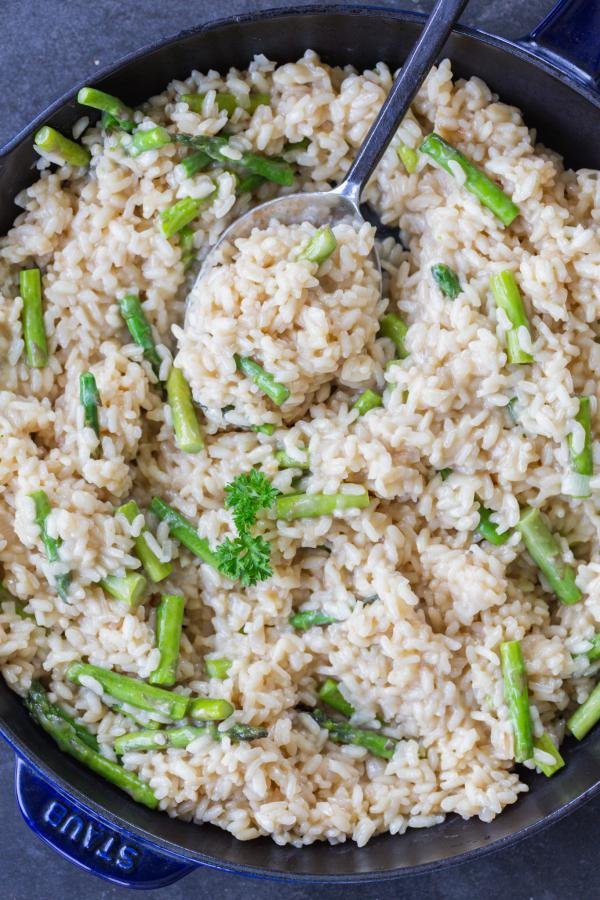 This asparagus risotto recipe will have you head over heels. The combination of the nutty rice, white wine, and fresh asparagus is summertime in a bowl (although you could eat this dish year around). Whip up a batch for a fancy side dish or serve it as-is for meatless Monday.
What is Risotto?
Risotto is a northern Italian rice dish made with arborio rice. The most common style of rice in Italy, it's creamy, decadent, and comes in all different kinds of flavors and styles. Most of the time, it's made with some combination of broth, butter, onion, white wine, and parmesan cheese.
Flavor: The flavor of this risotto is a balance of earthy asparagus, nutty parmesan cheese and tangy white wine sauce.
Texture: The texture of this dish is creamy on overload. Each bite is silky and so irresistible!
Time: From start to finish, this dish takes 45 minutes to make.
A Little 101 on Arborio Rice
Arborio rice is a variety of short-grain rice used almost exclusively to prepare risotto. It's short, fat, and slightly oval-shaped with a pearl-like tint to it. Unlike typical rice, it has a higher starch content, yielding a much chewier and creamy texture. (Here is the one we love)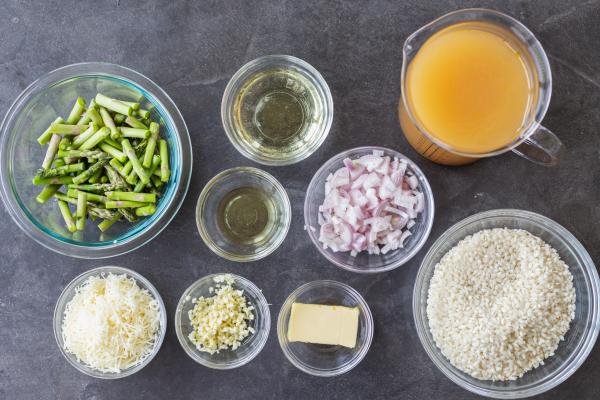 How to Prepare Asparagus Risotto
Preparing this simple asparagus risotto requires under 10 ingredients and a heavy-bottomed skillet.
Warm Up the Broth: In a small saucepan, warm up the broth over medium heat. Use your favorite broth, be it chicken, beef, or even bone broth.
Trim the Asparagus: Next, trim the asparagus spears and slice them into small pieces.
Sauté the Asparagus: In a deep skillet, sauté the chopped asparagus stalks in butter and olive oil until fork tender. Remove it from the pan and set it aside.
Sauté the Shallots & Garlic: Next, add the shallots and garlic into the pan and sauté them until they turn translucent.
Toast the Rice: Add the rice to the pan and toast it until it's light brown.
Add in the Wine & Broth: Next, add the white wine into the rice, followed by 1 cup of broth to the rice. Boil the rice until it's fully absorbed.
Add in Portions of Broth: Add in small portions of the broth to the rice, stirring in between each round. Remove the rice from heat.
Add the Cheese & Asparagus: Lastly, add in the parmesan cheese and asparagus. Serve immediately!
Runny risotto? Don't fret! If the risotto is on the runnier side, the liquids will get absorbed by the rice as it sits.
5 Tips for the Perfect Asparagus Risotto
A handful of helpful tips will help you make a perfect ladleful of risotto.
Prepare the risotto over medium heat. For quick and steady cooking, keep the heat over medium while you're cooking the risotto. This will prevent it from burning, while also ensuring that the rice cooks evenly.
Add the broth in slowly for a creamier texture. Adding in the broth in heats makes the risotto so much creamier. Don't rush the process!
Don't cook the veggies with the rice. You'll want to cook the veggies separately from the risotto, or they will get super soggy and overcooked.
Stir the rice constantly to prevent burning. Risotto is prone to burning to the bottom of the pan, so make sure to stir it constantly so it doesn't stick to the bottom.
Swap in your favorite vegetables. If you want to add more veggies to the dish or swap in your favorites, go for it! Mushrooms, broccoli, and peas are all great options.
Hot Tip: Add a spritz of a lemon juice or lemon zest to finished risotto to bring out the flavors.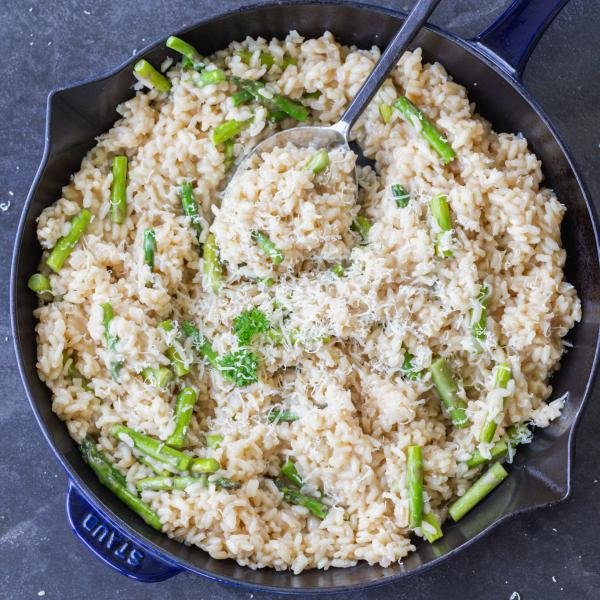 Ways to Serve Risotto
You can serve the risotto as a meatless main dish or as a side dish to your favorite protein. We love serving it alongside air fryer shrimp, pan-seared scallops, or a cast iron ribeye steak. You can also serve it alongside a veggie side dish like air fryer broccoli or grilled zucchini and mushrooms.
Storing & Reheating Hot Tips
To keep the risotto fresh for up to a week, store it in an airtight container in the fridge. This will prevent the rice from drying out, while also preventing the risotto from soaking up smells in the refrigerator.
Reheating Tip: To reheat the risotto, pop it in the microwave for a couple of minutes or pop it in a skillet with a bit of butter on medium heat.
FAQ
Can you freeze asparagus risotto?
It's not a good idea to freeze asparagus risotto. Neither the asparagus nor the rice tend to thaw well and are prone to turning mushy upon thawing.
Is risotto rice or pasta?
Risotto is rice, not a pasta. Oftentimes, people get this mixed up because arborio rice gets so creamy and has a high starch content much like pasta does.
What kind of a pan is best for risotto?
A heavy-bottomed, straight-sided skillet is the best for cooking risotto. You want to use a pan that's flat so you can promote even cooking and ensure each grain of rice is fully cooked through.
Can you use any type of rice for risotto?
While arborio rice is the best for risotto due to its high starch content and creaminess, you can use a standard long-grain rice in a pinch. Just be aware that the risotto won't come out as creamy or chewy in texture.
Should you cover risotto while it's cooking?
You should not cover risotto while it's cooking. This will cause the rice to burn to the bottom of the pan and overcook due to steam. Instead, keep the lid off and continually stir the dish as it cooks.
More Tasty Asparagus Recipes to Try
Recipe
This tasty asparagus risotto features ultra creamy arborio rice cooked in white wine, garlic, shallots, & butter. The perfect side dish or main entree!
Ingredients
6

cups

broth

chicken, beef or vegetable

1

lb

asparagus

1

tbsp

Unsalted Butter

1

tbsp

avocado or olive oil

3

garlic cloves

minced

2

medium shallots

chopped

2

cup

arborio rice

1/3

cup

dry white wine

1

cup

parmesan cheese

freshly grated
Nutrition Facts
The Best Asparagus Risotto (One Pan)
Amount Per Serving
Calories 387
Calories from Fat 81
% Daily Value*
Fat 9g14%
Cholesterol 16mg5%
Sodium 1211mg50%
Potassium 263mg8%
Carbohydrates 61g20%
Protein 12g24%
Vitamin A 1261IU25%
Vitamin C 5mg6%
Calcium 225mg23%
Iron 5mg28%
* Percent Daily Values are based on a 2000 calorie diet.