This recipe for prosciutto wrapped chicken features juicy chicken thighs stuffed with pesto, wrapped in salty cured ham, & baked on rice. A one-pot wonder!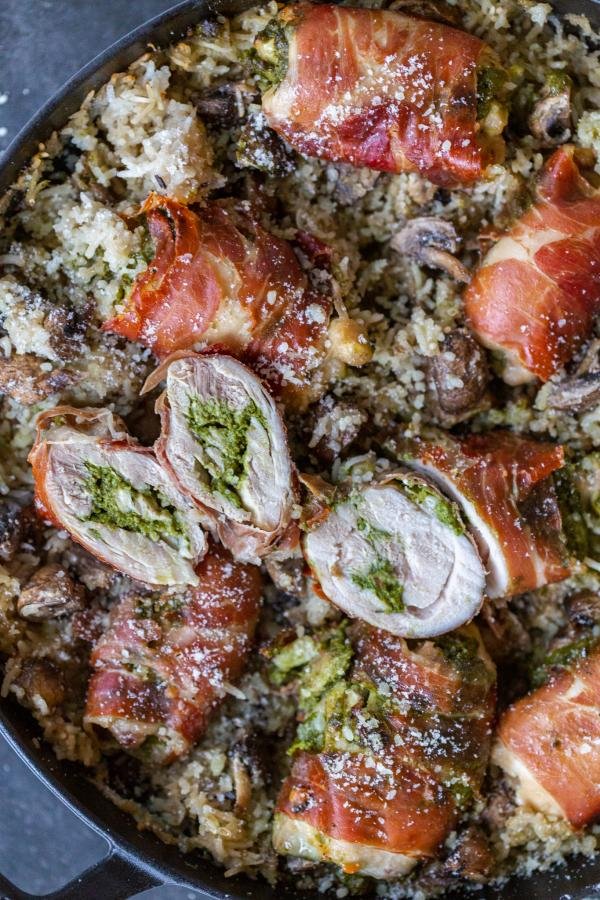 This prosciutto-wrapped chicken is so effortlessly elegant and has restaurant-quality taste. Whether you're hosting a party or just prepping something tasty for a busy weeknight dinner, this recipe has your name all over it. Made in one pot, it yields both an entree and a side dish because you bake the chicken right on top of rice pilaf!
What Exactly is One-Pot Prosciutto Wrapped Chicken?
Prosciutto-wrapped chicken might sound a little complicated, but it's a straightforward cooking process. In this recipe, we simply stuff chicken thighs with pesto and cheese, roll them up, and wrap slices of prosciutto around the outside. Then, we place the chicken on a bed of rice, chicken stock, and veggies and bake everything in the oven in one pot with the same flavor and juices. It's ridiculously tasty and requires minimal cleanup!
How to Make Prosciutto Wrapped Chicken
Prosciutto-wrapped chicken is one of the fanciest "set it and forget it" kinds of meals you can make. Here's an overview of the process…
Prep the Veggies: First, dice the mushrooms into bite size pieces.
Prep the Rice: Next, add the rice and chicken broth into an oven-safe pot or Dutch oven. Place the chopped mushrooms on top of the uncooked rice and season them with garlic parsley salt and half of the parmesan cheese.
Roll the Chicken Thighs: Lay the chicken thighs out flat and spread the inside with pesto and a sprinkle of parmesan cheese. Roll up the chicken thighs into a spiral and wrap them in prosciutto.
Assemble the Chicken Rolls: Next, place the rolled chicken thighs on top of the rice with the seam side down.
Bake the Wrapped Chicken: Lastly, place the lid on top of the pot and bake the dish at 350°F for about 60 minutes. Serve and enjoy!
Don't like pesto? Stuff the chicken thighs with goat cheese and sage or thyme instead.
Tips to Nail this Prosciutto Wrapped Chicken Recipe
To help you get the juiciest chicken rolls and perfectly tender cooked rice all at once, follow these 3 foolproof pointers.
Pound out the chicken thighs a little if you have to. If your chicken thighs are a bit hard to roll, use a meat tenderizer to pound them out a bit thinner and loosen the meat up.
Avoid opening and closing the lid. Avoid the temptation of opening up the lid too much during the cooking process. The more you open the lid, the more you prevent the ingredients from cooking evenly. Check that everything is cooking properly about halfway through to err on the safe side.
Use a meat thermometer to gauge doneness. If you are unsure if your chicken thighs are fully cooked through, insert an instant-read meat thermometer into the center and see if the internal temperature has reached 165°F.
Tweak the rice seasoning. If you'd like, add your favorite ingredients to the rice. A little white wine, lemon juice, cracked black pepper, or hot sauce can elevate the dish to a different level.
Make it low carb. Swap the rice out for cauliflower rice instead for an easy, low-carb dinner.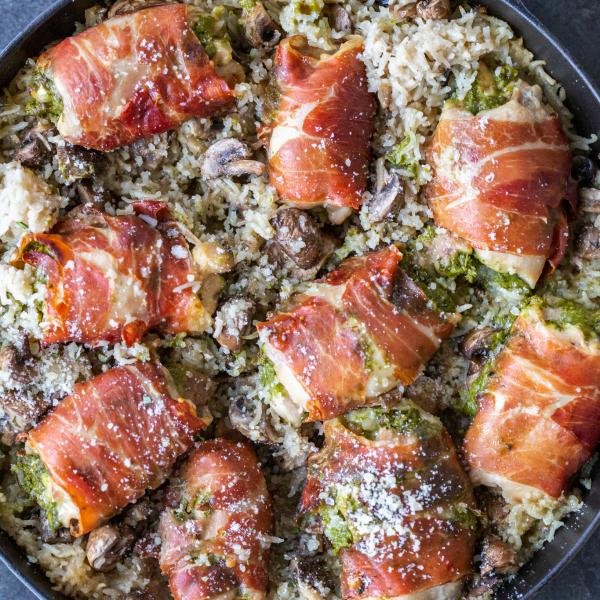 Ideas for Side Dishes
This one-pot meal is an entree and a side dish all in one, so there's no need to whip anything else up. However, if you're extra hungry or just want some more variety there are a couple of great options. We like to pair it with a homemade caesar now and again or Ukrainian garlic bread (pampushky). If you're craving more carbs, pair it with some oven-roasted potatoes.
Storing & Reheating Tips
To keep the leftovers fresh for up to a week, store them in an airtight container in the fridge. To reheat it, place a serving in a microwave-safe bowl and microwave it for a couple of minutes until warmed through.
FAQ
How do you know prosciutto-wrapped chicken is fully-cooked?
There are two key indicators that your prosciutto-wrapped chicken is fully cooked through. These include 1) the chicken has reached a safe internal temperature of 165°F and 2) the rice has completely cooked through and is al dente in texture.
Do you have to cook the rice before adding it into the pot with the prosciutto-wrapped chicken?
There is no reason to cook the rice before adding it into the pot for prosciutto-wrapped chicken. Starting with cooked rice will just turn the rice into a mushy mess.
Do you cook prosciutto-wrapped chicken with the lid on or off?
You should cook prosciutto-wrapped chicken with the lid on. This will prevent the delicate pieces of prosciutto from overcooking and turning crispy in the oven, while also creating a steaming effect to cook the rice through and moisten the chicken.
Can you use chicken breasts for prosciutto-wrapped chicken?
You can use chicken breasts instead of chicken thighs for prosciutto-wrapped chicken, but there's a much bigger chance you'll overcook the breasts. To err on the safe side, slash the cooking time in half and check on the prosciutto-wrapped chicken breast pieces halfway through to see how they are coming along.
More Tasty Chicken Recipes to Try
Recipe
This recipe for prosciutto wrapped chicken is a one-pot wonder! You'll love how the stuffed thighs bake right into the veggie pilaf for one killer meal.
Nutrition Facts
Juicy Prosciutto Wrapped Chicken (Rice Stuffed)
Amount Per Serving
Calories 619
Calories from Fat 369
% Daily Value*
Fat 41g63%
Cholesterol 184mg61%
Sodium 758mg32%
Potassium 595mg17%
Carbohydrates 23g8%
Protein 38g76%
Vitamin A 547IU11%
Vitamin C 1mg1%
Calcium 198mg20%
Iron 2mg11%
* Percent Daily Values are based on a 2000 calorie diet.