This top collection of alfredo sauce recipes is full of easy dishes sharing one simple ingredient – our ultimate, creamy pasta sauce.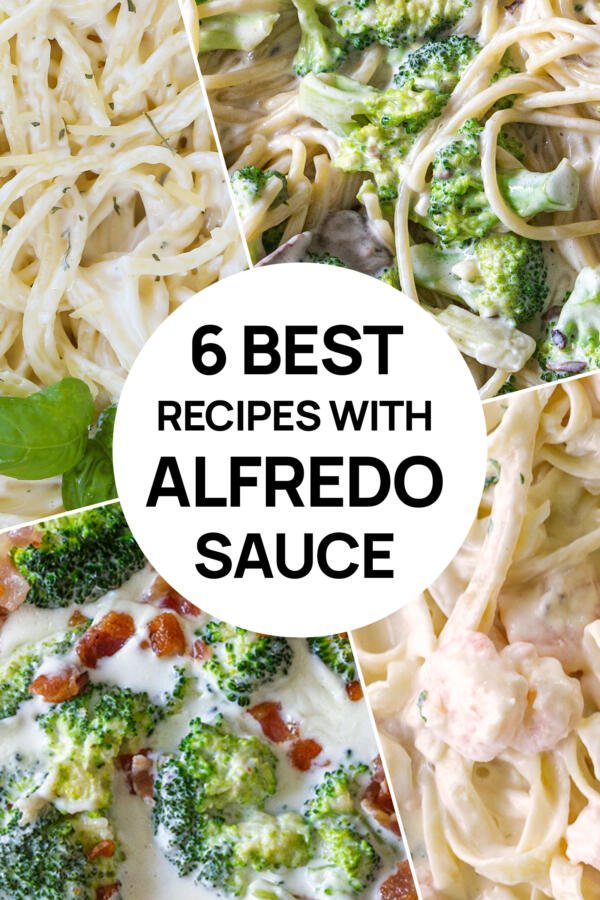 What I love most about recipes that call for alfredo sauce is that they are loved by kids and adults alike. How often is it that you can land on one meal the entire family loves?
Meet the 6 of our tastiest alfredo recipes. The one thing that's common between all of them aside from them being delicious? They're made with the same alfredo sauce! Before you dive headfirst into the dishes, let's cover off on the sauce itself.
Make 1 Alfredo Sauce For 6 Alfredo Dishes
If you want to speed up the process of making any one of the recipes in this collection, make a batch of our alfredo sauce. It only takes 5 short minutes to whip up and makes the next 6 dishes an absolute breeze!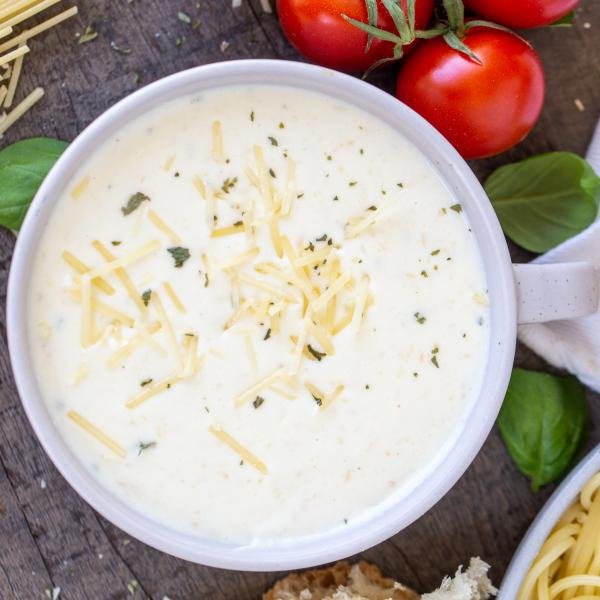 Tips for Using Alfredo Sauce
Here you'll find a collection of tips to follow for just about any recipe that calls for alfredo sauce.
Garnish with freshly grated parmesan cheese. No matter what dish you're making, if it has alfredo sauce in it you deserve a hefty garnish of freshly shredded parmesan cheese. There's nothing quite like the oily, nutty flavor of parmesan off-the-block to elevate your alfredo-inspired meal!
Stir the sauce in last. If you're using a store-bought alfredo or a homemade version, add the sauce in last and only cook the dish until it's heated through. This will prevent the delicate sauce from burning!
Store dishes with alfredo in an airtight container. Like most white sauces, alfredo has a penchant for going bad within 4-7 days. To keep your dish as fresh as possible, store it in an airtight container in the fridge between snacking (this will also keep the sauce from soaking up smells in your refrigerator).
FAQ
What is traditional alfredo sauce typically made of?
Traditional alfredo sauce is made with heavy cream, parmesan cheese, butter, garlic, and salt. Occasionally, you'll find a little parsley thrown into the mix.
How can I thicken my alfredo sauce?
There are a couple of different ways you can thicken alfredo sauce. These include: adding a bit of cream cheese, more shredded cheese, or a bit of cornstarch.
What is the difference between alfredo and carbonara?
Alfredo is a simple white sauce that calls for a very basic ingredient list of cream, butter, parmesan, garlic, and salt. On the other hand, carbonara is a bit more complicated and requires the same base ingredients as alfredo with the addition of bacon or pancetta and egg yolks.
6 Best Recipes with Alfredo Sauce
This collection features 6 heavy-hitter recipes using everyone's favorite pasta sauce – alfredo!
This is the classic fettuccine alfredo you have come to know and love so well. It was likely one of your favorite pasta dishes as a kid! Whipped up in just 20 minutes, it's a simple comfort that requires minimal fuss.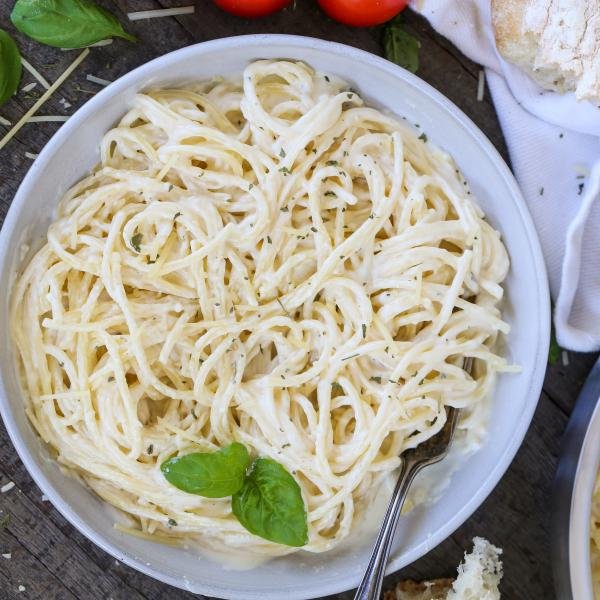 This shrimp fettuccine alfredo isn't just quick to assemble, it's fancy enough for hosting. Whether you're looking for a light summer pasta or a way to use those juicy shrimps you picked up from the market, this pasta is for all you seafood lovers out there.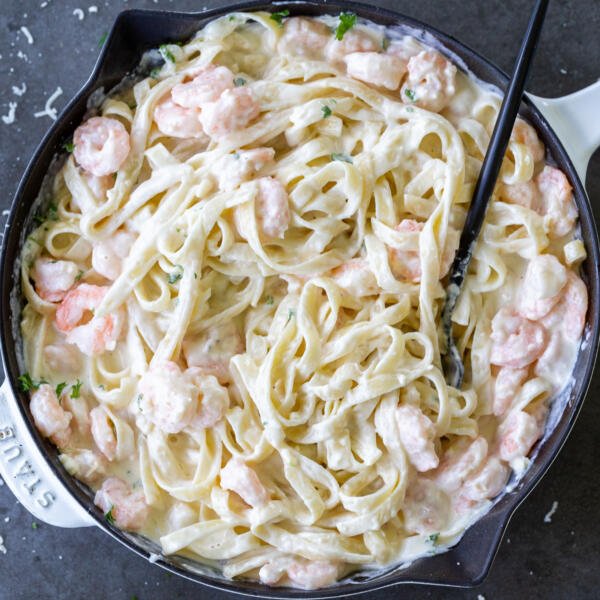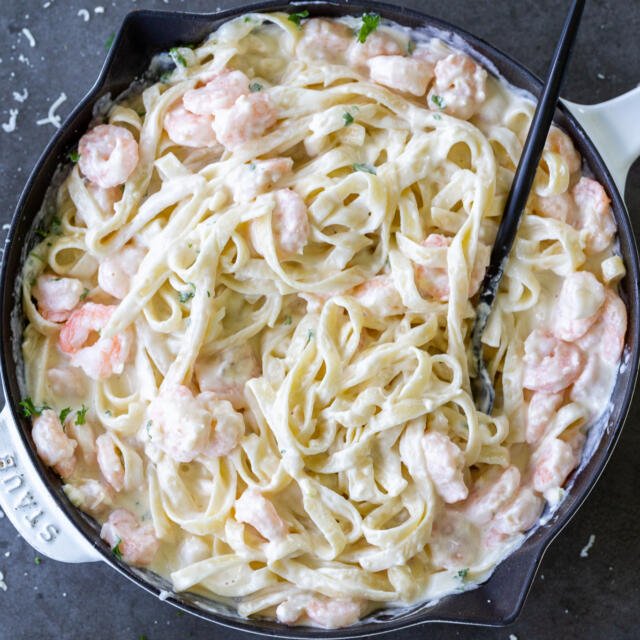 There's something so irresistible about the combination of chicken, mushrooms, and white sauce. Toss in some chewy pasta and it's game over. This recipe is a near-identical copycat of Olive Garden's beloved rendition. Hack: Use grilled chicken instead of pan-fried for a smokier pasta.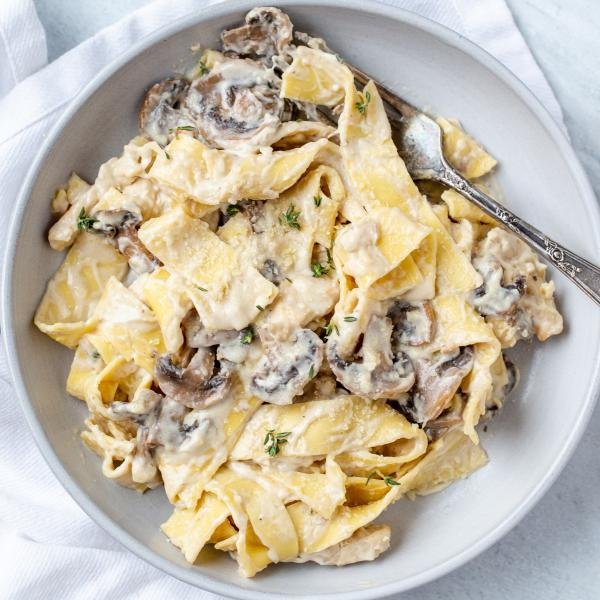 Another winning alfredo pairing is broccoli. This broccoli mushroom alfredo pasta is perfect for vegetarians looking for a bit more texture than classic fettuccine alfredo offers. It's also a wonderful option for Meatless Monday!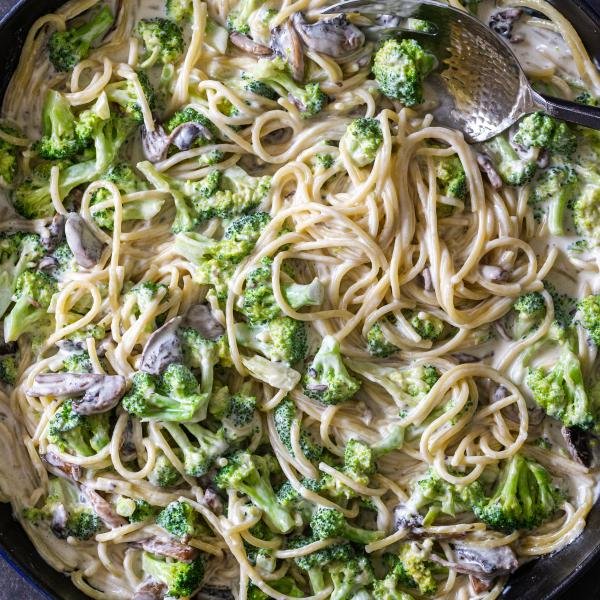 Bacon is another ingredient that's best friends with alfredo. If you're low-carb, slather this meaty sauce over cauliflower rice. If you're high-carb (is this a thing?), toss the sauce with your favorite pasta or smother it over creamy mashed potatoes.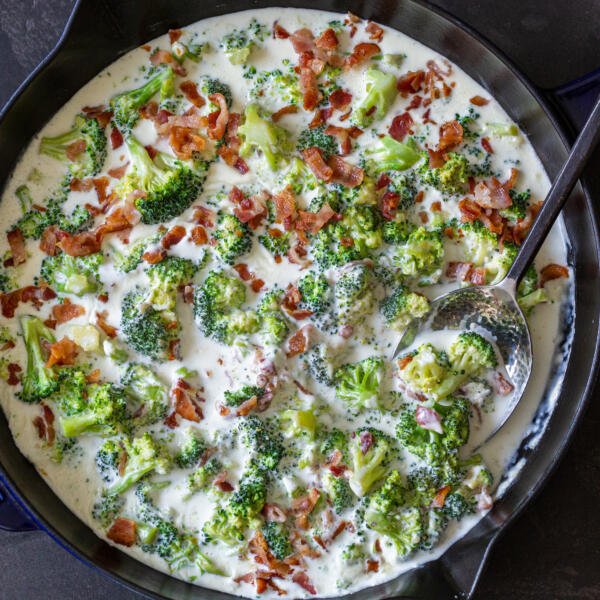 Perhaps the most unique recipe on this list, this alfredo zucchini bake is full of gooey cheese and tender zucchini medallions. Serve it as a side dish or dip toasted slices of baguette into it for a decadent appetizer.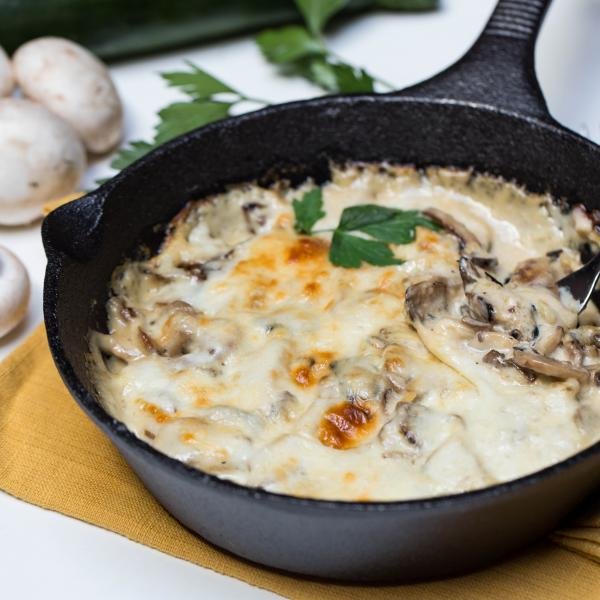 Recipes with Red Sauce
Are you a fan of the red sauce? We have a few of our favorite dishes to get you started!