This raspberry coffee cake features fluffy cake speckled with tangy, fresh raspberries. Perfect for your next brunch get-together paired with a cup of joe!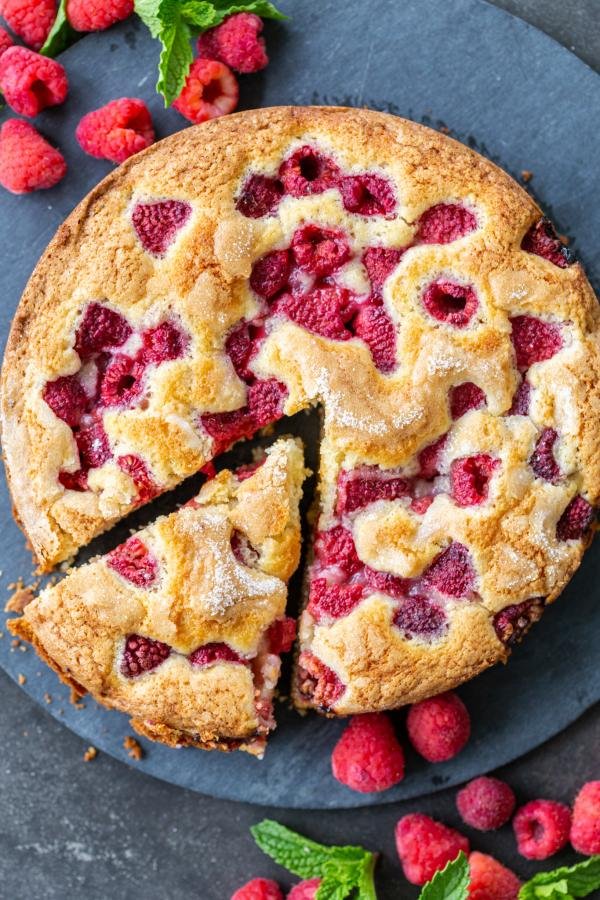 This raspberry coffee cake recipe is one of those treats that never get old. Loved by kids and adults alike, it's packed with fresh, puckery raspberries (but to be honest, you can use any berry you love best) and the cake is melt in your mouth moist. If you're a lover of crumbly topping, we've also included a bonus how-to on making a quick streusel.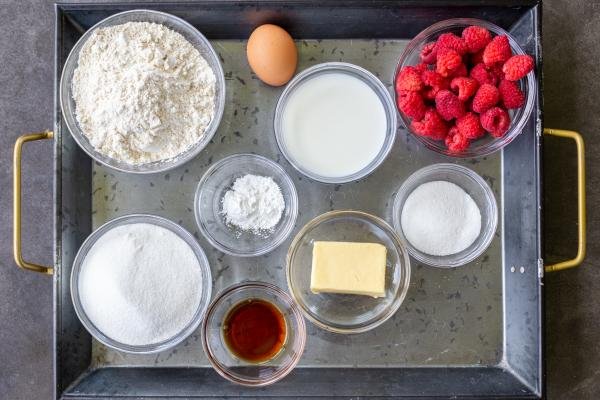 Love berry desserts? If you've got a ton of blackberries to use up, try our blackberry cobbler!
Preparing this Simple Raspberry Coffee Cake
This raspberry coffee cake recipe doesn't even require you to bust out your electric mixer. So easy, you can whip it up all in one bowl!
Prepare the Butter & Dry Ingredients: First, allow the unsalted butter to soften at room temperature. In a separate bowl, combine the all-purpose flour and baking powder.
Cream the Butter: Next, beat the butter and sugar in a large bowl until fluffy.
Stir in the Vanilla & Eggs: Stir the vanilla extract and egg into the butter and sugar mixture. Beat until smooth.
Add in the Flour: In small portions, add in the flour mixture and milk.
Assemble the Coffee Cake: Next, spread the cake batter into a greased 6-inch baking dish. Spread the raspberries on top and sprinkle on some sugar.
Bake the Coffee Cake: Bake the cake in the oven at 350°F for about an hour, or until golden brown. Allow it to cool, slice it, and enjoy!
Tips for the Tastiest Raspberry Coffee Cake
This simple dessert or snack doesn't take much technique at all, but a handful of tips will help you knock it out of the park.
Sift the dry ingredients if necessary. If your flour or baking powder has been sitting in the pantry for a while, sift it through a fine-mesh sieve to rid it of any lumps and clumps.
Swap in whatever berries you like best. You can use blueberries, blackberries, strawberries, or any berry you like best!
Add in your favorite ingredients. If you'd like, add a couple of tablespoons of poppy seeds, cinnamon, or sliced almonds to the batter. Get creative!
Sweet Glaze Hack: If you love a glaze, mix 2 cups of confectioners' sugar with 4 tablespoons of milk and 1 teaspoon of vanilla or almond extract in a small bowl. Whisk until smooth and drizzle over the cake after it cools.
Bonus! Add a Simple Streusel Topping
If you love the texture and added sweetness of streusel, check out our quick, 3-ingredient streusel. All you need? Brown sugar, frozen butter, and all-purpose flour.
Grate the Butter: Using a cheese grater, grate the butter on the largest side into a medium bowl.
Add in the Flour & Sugar: Next, add in the sugar and flour.
Toss to Combine: Lastly, use your hands to toss the ingredients together in a rough crumble. Spread the mixture evenly across the batter before baking.
Storing & Reheating Tips
To keep the coffee cake fresh for 2-3 days, store it in an airtight container on the counter at room temperature to prevent it from drying out. If you want it to last for a week, store it in the fridge instead.
Reheating Tip: Reheat the coffee cake in the microwave for 30 seconds with a pat of butter to keep it hydrated.
FAQ
Can you use frozen raspberries in a raspberry coffee cake?
While fresh raspberries are best for raspberry coffee cake, you can use thawed frozen berries in a pinch. To do so, allow them to sit on the counter in a strainer with a bowl underneath to catch any excess liquid.
Does raspberry coffee cake taste like coffee?
No, coffee cake doesn't taste like coffee (although there are probably some kinds out there that are coffee-flavored). The name simply references how well the cake pairs with a hot cup of coffee.
What ingredient makes the raspberry coffee cake moist and fluffy?
While many people attribute butter to making cakes moist, it's the sugar that does most of the work. Sugar attracts and holds onto water, making it particularly important to help a cake retain moisture.
Can you use any kind of sugar for raspberry coffee cake?
White sugar works best for coffee cake. Other alternative sugars simply don't work the same nor provide the same level of moisture.
More Tasty Breakfast Cakes
Recipe
This quick berry coffee cake is the perfect way to wake up in the morning. The combination of buttery cake and tangy fruit is irresistible!
Nutrition Facts
The Easiest Raspberry Coffee Cake
Amount Per Serving
Calories 402
Calories from Fat 117
% Daily Value*
Fat 13g20%
Cholesterol 60mg20%
Sodium 22mg1%
Potassium 210mg6%
Carbohydrates 67g22%
Protein 5g10%
Vitamin A 429IU9%
Vitamin C 5mg6%
Calcium 86mg9%
Iron 2mg11%
* Percent Daily Values are based on a 2000 calorie diet.