This powdered sugar glaze is made with sugar, milk, and your optional choice of flavor. It's guaranteed to be the go-to glaze for all your baking needs.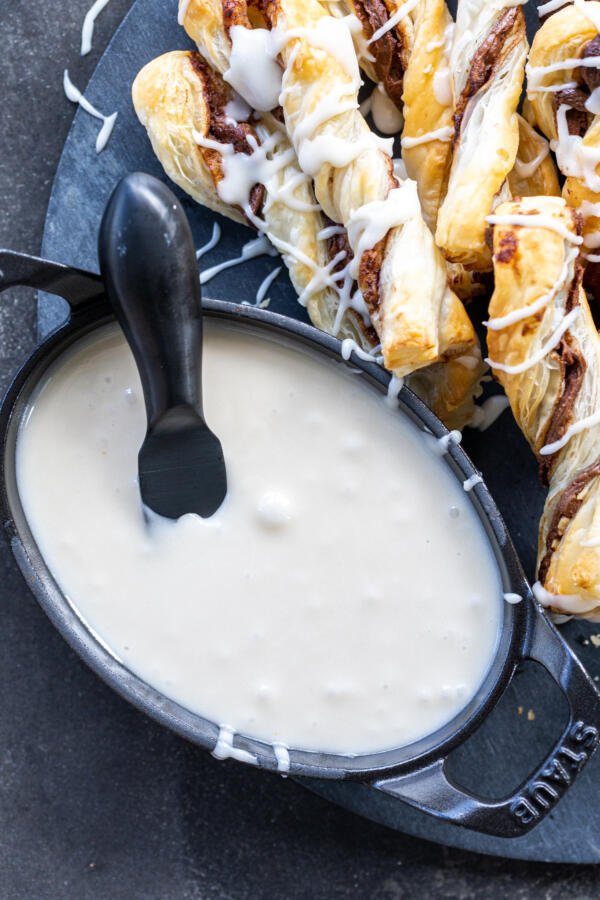 What is a Powdered Sugar Glaze?
A glaze is a sweet coating applied to the outside of a dish (most often to baked goods). It can be drizzled onto a cake, applied to a pastry with a brush, or dipped into.
Most glazes are made from a mixture of confectioners/powdered sugar and liquid (such as milk, heavy cream, lemon juice, or water). This glaze combines a simple mixture of two ingredients – powdered sugar and milk.
Frosting vs Icing vs Glaze
What is the difference between frosting, icing, or glaze? Although often used interchangeably, there are actually quite some differences between the three common coatings.
Frosting: Frosting is the thickest in consistency. It is most often made with a butter or cream cheese base, making it a fattier, creamier coating.
Icing: Icing is thinner than frosting but thicker than a glaze. It sets and stiffens quickly, making it a great option for cakes and cookies.
Glaze: A glaze is the thinnest type of coating, and it often leaves behind a marbled appearance when poured onto the dessert. Glazes are great options for drizzling on desserts that are not easy to coat with a spatula, such as bundt cakes.
How to Make Powdered Sugar Glaze
This deliciously sweet glaze is made with only two ingredients and is ready in no time at all.
Stir the ingredients: Add powdered sugar into a medium sized bowl, then add the milk and whisk together until mixture is smooth.
Add flavor (optional): Add your favorite flavors to the mixture. Scroll down to see some of our favorite options.
Hot tip: For an easy way to add color to your glaze, add a few drops of gel food coloring.
Flavors for Powdered Sugar Glaze
Pair the glaze with your pastry or cake by adding a complementing flavor to the glaze. It'll be delicious!
Vanilla: Add vanilla extract or scrape off the brown flecks from vanilla beans. Vanilla flavoring pairs well with almost any pastry or cake!
Almond: For a flavor similar to vanilla, add almond extract. A little goes a long way, so use it sparingly!
Coconut: Use coconut extract or coconut flakes for a fruity, creamy flavor. If the coconut flakes are large, shred them into smaller pieces. Coconut pairs well with chocolate desserts.
Coffee: For a delicious coffee taste, mix in a tablespoon of strongly concentrated coffee.
Cacao: Stir in a few tablespoons of sifted cacao powder for a chocolate flavor.
Citrus: To add a tang to your dessert, add extract and/or zest from any of the citrus fruits (lemon, orange, or lime). In a pinch, use orange juice or lemon juice.
Maple: For a caramel/maple flavor, add pure maple syrup. Avoid adding too much as this can make the glaze too sweet.
Tips from the Kitchen
Follow these tips to ensure your powdered sugar glaze tastes its best and is the perfect consistency every time.
Keep stirring: When stirring the powdered sugar with milk, it may look like more mlk needs to be added. Avoid adding more milk. Instead, keep mixing until the glaze turns into a runny texture.
Vary the consistency: Depending on your desired consistency, add 2-4 tablespoons of milk for a runnier glaze. Start with two tablespoons and add more as needed.
Sift the sugar: Sift the powdered sugar to remove the sugar lumps and make a smoother glaze. However, do this after the sugar is measured, to avoid measurement issues.
Use a whisk: A whisk is the best kitchen tool to combine the sugar and milk well enough to reach a smooth mixture. We use this whisk.
Make it ahead of time: Make the glaze ahead of time, then seal it and refrigerate. Before using, allow it to warm to room temperature and stir until smooth again.
Ways to Use Powdered Sugar Glaze
We completely understand if you want to enjoy this sugar glaze straight out of the mixing bowl. However, it's absolutely wonderful on top of pastries, cakes, and even sweet breads. Here are our favorites.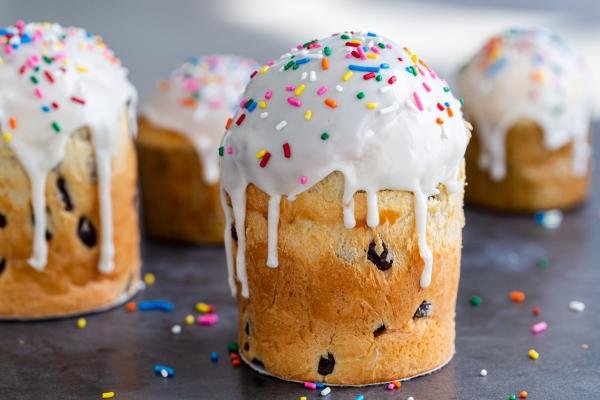 Storing Tips
Are you planning to bake a lot of desserts and need a large amount of sugar glaze? Make a large batch! The glaze will stay fresh for up to a week when stored in an airtight container or a sealed ziplock bag in the refrigerator. When ready to use, let it warm slightly to room temperature and mix it until smooth.
FAQ
What do I do if my glaze is too runny?
If your glaze is too runny, add more sifted powdered sugar and combine together. Work with only a few tablespoons at a time until the glaze becomes the desired consistency.
What can I do to make my sugar glaze less sweet?
If you want to make a glaze that does not taste as sweet, add a flavor to balance out the sweetness. Lemon, lime, orange, or coconut are great flavors to balance out the sweetness.
What happens if I don't sift the powdered sugar?
Sifting helps to break up any clumps in the sugar that can affect the texture of the glaze. If you don't sift, the glaze may have chunky pieces of unmixed powdered sugar.
Does powdered sugar glaze harden?
Yes, this glaze will harden to a flat finish as it sits. For best results, glaze the dessert only once it has completely cooled.
Recipe
This powdered sugar glaze is made with sugar, milk, and your optional choice of flavor. It's guaranteed to be the go-to glaze for all your baking needs.
Instructions
Nutrition Facts
Powdered Sugar Glaze (2 Ingredients)
Amount Per Serving
Calories 96
Calories from Fat 1
% Daily Value*
Fat 0.1g0%
Polyunsaturated Fat 0.01g
Monounsaturated Fat 0.03g
Cholesterol 1mg0%
Sodium 2mg0%
Potassium 7mg0%
Carbohydrates 24g8%
Protein 0.1g0%
Vitamin A 7IU0%
Calcium 6mg1%
Iron 0.01mg0%
* Percent Daily Values are based on a 2000 calorie diet.