This easy Braised Beef recipe is juicy, tender, and super flavorful. Perfect over your favorite grain or paired alongside roasted veggies!
We partnered with Beef. It's What's for Dinner., on behalf of the Beef Checkoff, to show you the ins and outs of braised Beef. Grab your Dutch oven and let's get to it!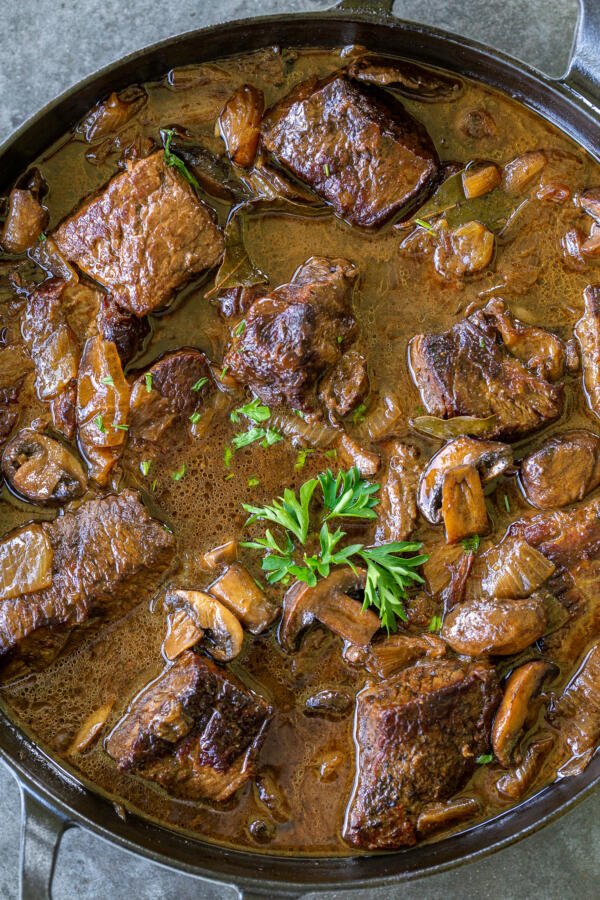 Easy braised Beef with mushrooms is one of my all-time favorite comfort foods. Whenever I need a meal that feels like a hug, I know I can grab my Dutch oven and make some no-fuss magic. What's better? This recipe is super kid-friendly and perfect for everything from weeknight dinners to gourmet tailgating to dinner parties.
Whether you're looking for an interesting way to use Beef or trying to stretch your dollar as far as it can go, braising is such a foolproof cooking method. Braising can turn any cut of Beef into a tender, melt-in-your- mouth experience.
What Kind of Beef is Best for Braising?
The best Beef for braising are large cuts like Chuck Roast or Brisket. Why? The low and slow process helps to break down and tenderize even the most massive cuts. Alternatively, you could also use bone-in cuts like Oxtail or Beef Short Ribs.
How to Make Braised Beef with Mushrooms
Making braised Beef with mushrooms only takes a little bit of prep and patience. Find a quick rundown of the recipe here before you dive in.
Tips & Tricks
Here you'll find the top tips and tricks to help you make the best braised Beef on the planet.
Brown the Beef. This step might feel tedious, but it's worth its weight in gold. Browning the Beef not only gives it so much texture, but it also releases drippings into the pan that will flavor the veggies and broth.
Add your favorite veggies. Braised Beef is super versatile. Feel free to add in your favorites for a well-rounded meal. Celery, carrots, potatoes, and garlic clove are all wonderful options.
Optionally add in a splash of red wine. After you brown the Beef, add in a splash of wine and cook it down until it shrinks in half. This will add a velvety rich flavor to the braised Beef (think: beef bourguignon).
Add in some fresh herbs. To deepen the flavor, add in some fresh thyme or oregano.
How to Cook Braised Beef in a Slow Cooker
Looking to set it and forget it? Feel free to whip up braised Beef with mushrooms in your slow cooker. Below, find a step-by-step guide on how to do it.
Brown the Beef & Sauté the Veggies: In a skillet, brown the beef and veggies as directed. Next, transfer them to the bottom of the slow cooker pot.
Add the Rest of the Ingredients: Next, simply add in the remainder of the ingredients right on top of the Beef and veggies. Give the ingredients a good stir.
Cook on High: Turn the slow cooker to the high setting and cook for 4-6 hours, or until the Beef is fork tender. Enjoy!
Pressure Cooker Hack: You can also whip this recipe up in your pressure cooker. Simply brown the Beef and veggies on the Sauté Setting and add in the rest of the ingredients right on top. Turn on the Soup Setting and let the pressure cooker work its magic!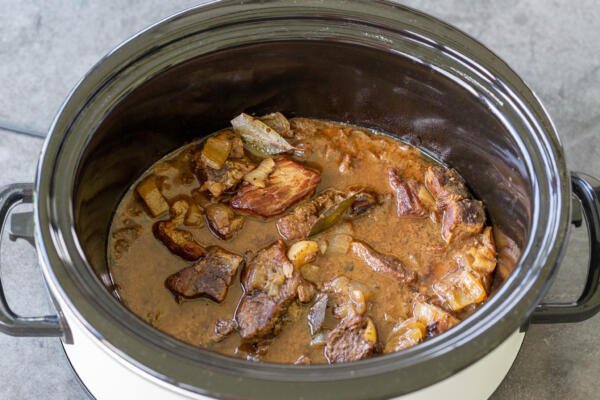 What Do You Eat Braised Beef With?
Perhaps one of the best things about braised Beef is just how versatile it is. You can pair it with some veggies for a low-carb meal (marinated tomatoes are such an amazing, tangy pairing!), or smother it over quinoa, creamy mashed potatoes, or some steamed white rice. Another awesome hack is using the leftovers for Philly cheesesteak sandwiches. YUM!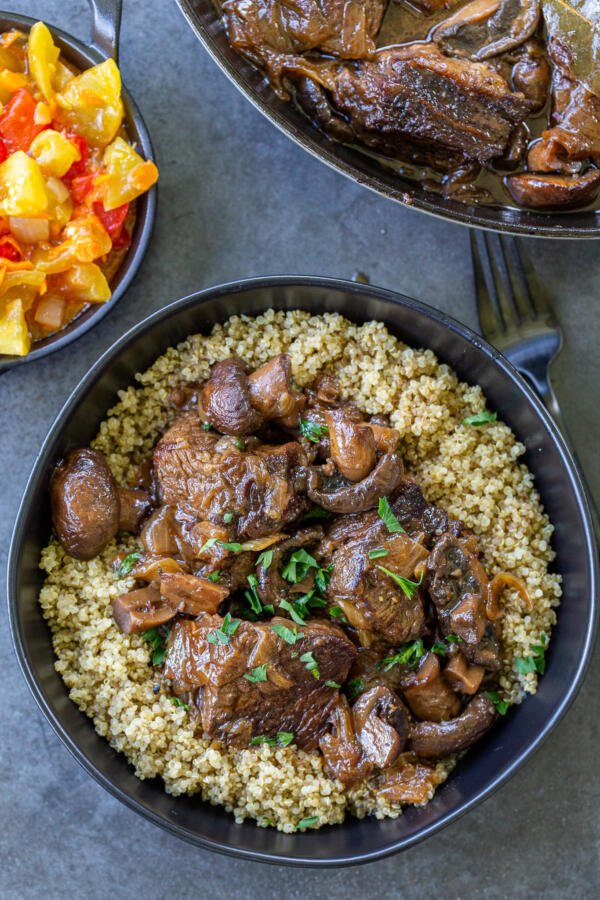 Storing Leftover Braised Beef
Braised Beef is the perfect candidate for meal prep. Super versatile, it can be used in plenty of different ways throughout the week. Whether you have leftovers or want to freeze some away for a rainy day, here are a couple of different ways to store braised Beef.
Refrigerator: If you think you'll eat the braised Beef within a week, feel free to store it in an airtight container in the refrigerator. The container will keep the Beef from soaking up any lingering smells in your fridge, while also allowing it to continue developing its flavor.
Freezer: If you'd like to keep braised Beef on hand for up to 3 months, freeze it in a freezer-safe bag or airtight container. To do so, first let it cool down completely. Feel free to store it in one big bag or portion it out into several smaller bags. To thaw, place a bag in the freezer overnight.
Reheating Tip: To reheat braised Beef, place it in a saucepan over medium heat until warmed through. You can also zap it in the microwave for a couple of minutes.
FAQ
What is braised Beef made of?
Braised Beef is typically made with an assortment of veggies, a couple of cups of broth, and spices. All the ingredients are slow-cooked in the oven until tender and almost stew-like.
How long should I braise Beef for?
It takes at least 90 minutes to braise Beef and properly break the collagen down. You might need to adjust the time a little longer depending on your particular oven.
At what temperature should I braise Beef?
The best temperature for braising Beef is 375°F. If you decide to go for a lower temperature, make sure you increase the cooking time to compensate.
Why is my braised Beef so tough?
Primarily, braised Beef turns out tough if it wasn't cooked long enough. Other problems include not using enough liquid or not cutting the Beef into similar-sized pieces.
Should the braising liquid cover the Beef?
You do not need to completely cover the Beef with broth. Two cups of broth or stock is more than enough to get ultra-tender braised Beef.
More Braised Comfort Recipes
Recipe
This easy Braised Beef recipe is juicy, tender, and super flavorful. Perfect over your favorite grain or paired alongside roasted veggies!
Nutrition Facts
Easy Braised Beef with Mushrooms Recipe
Amount Per Serving
Calories 699
Calories from Fat 495
% Daily Value*
Fat 55g85%
Cholesterol 161mg54%
Sodium 1618mg67%
Potassium 969mg28%
Carbohydrates 7g2%
Protein 43g86%
Vitamin A 14IU0%
Vitamin C 4mg5%
Calcium 65mg7%
Iron 5mg28%
* Percent Daily Values are based on a 2000 calorie diet.