These braised beef short ribs are cooked in a mix of wine, Worcestershire sauce, and beef broth, yielding impressively tender and beyond delicious results!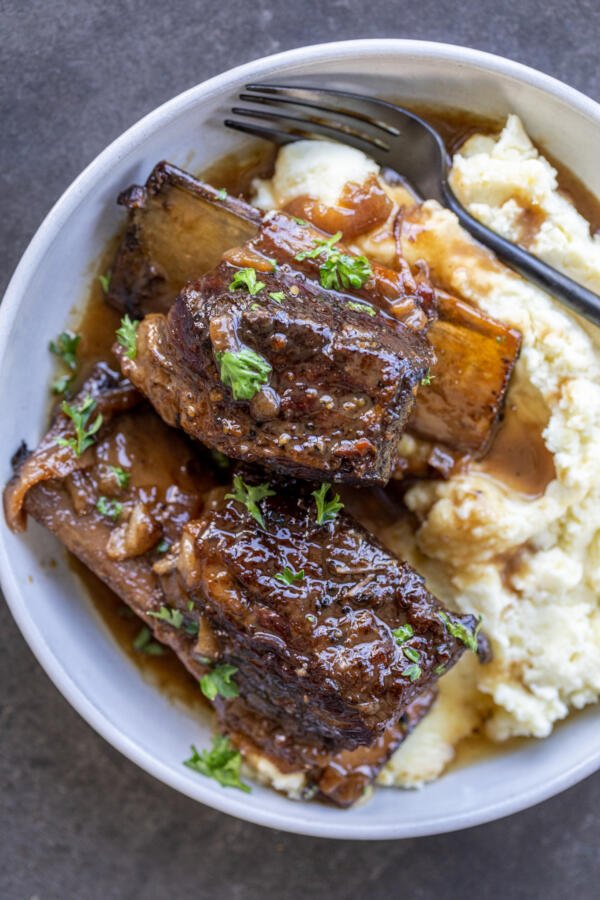 What are Braised Beef Short Ribs?
Braised beef short ribs is a meat dish made of "short" or small pieces of beef rib bones encased in meat. These ribs are braised, which means they are first browned on the stovetop, then finished off by baking in a dutch oven. The short ribs gain their incredible flavor from simmering in a delicious blend of broth, wine, Worcestershire sauce, and aromatics such as onion, bay leaves, and other spices. The results are tender and flavorful pieces of beef.
Braising vs Stewing vs Slow Cooking
Braising, stewing, and slow cooking are three methods often used to prepare beef short ribs. Each method is delicious, but has slight differences.
Slow Cooking: The slow cooking method cooks meat slowly over a long period of time, usually in a pot on the stovetop, the oven, or in a slow cooker machine.
Braising: Braising is a form of slow cooking, where the meat is first browned on the stovetop, then further cooked in a covered pan on a bed of vegetables and a small amount of liquid. This usually takes a couple hours on a low heat.
Stewing: Stewing also requires browning the meat first, but the meat is then submerged fully in the liquid (like a soup) as the dish continues to cook in the oven or stovetop.
Guide to Buying the Best Ribs
Short ribs are pieces of beef too small to sell as regular steaks. However, this doesn't mean they're not tasty! Follow this guide to buy the best short ribs for this recipe.
Opt for bone-in short ribs: When there is a choice, opt for bone-in ribs instead of boneless. Bone-in ribs are more flavorful. However, boneless ribs may be used as well.
Look for bright red color: Ribs with a bright red color are the most fresh. Grey spots are a sign of an older cut.
Check for marbling: Find the beef ribs with more marbling but less fat. The more meat on the rib, the better!
Ask for the right size: Pre-cut short ribs work best in this recipe. For less work, buy ribs that are already cut to this size. If they are not this size, you can cut them yourself or ask the butcher to cut them.
Braised Beef Short Ribs Video
How to Make Braised Ribs
Don't be surprised when it takes you only a few minutes and five simple steps to make these delectable braised ribs.
Preheat the pot: Pour oil into an oven safe pot and preheat. Season ribs with salt and pepper.
Brown the meat: Add the beef into the pot and sear on all sides over medium high heat. Once browned, remove the beef and set aside.
Cook the onions: In the same pot, cook the onions until lightly browned.
Add the remaining ingredients: Add bay leaves and stir in liquid ingredients. Bring everything to a simmer, then return the short ribs to the pot.
Bake: Cover the pot with an oven safe lid and bake in the oven at 350°F for about 2 hours or until beef is fork-tender.
Hot Tip: The braising liquid is too delicious to go to waste! Make gravy by following this recipe.
Tips for the Best Ribs
To ensure you get the best quality and flavor out of your braised beef short ribs, check out these tips.
Opt for bone-in ribs: Bone-in ribs will give greater flavor and depth compared to boneless ribs. However, boneless may still be used.
Use an oven-safe pot: Use an oven safe pot from the beginning. This will result in fewer dishes to clean and makes it easy to transfer the dish directly from the stove to the oven. This pot is our favorite because it holds temperature and cooks meat incredibly well.
Brown the meat: Avoid skipping the browning step, as this adds a load of caramelized flavor.
Avoid overcrowding: When browning the ribs, avoid overcrowding them in the pot. Overcrowding makes it hard to evenly brown ribs. Instead, work in small batches as needed.
Add more veggies: For even greater flavor, slice carrots, garlic cloves, or celery into small pieces and sauté with the yellow onion.
Choose any dry red wine: Red wine gives so much flavor in this dish. Use any dry red wine, even an inexpensive one. If you prefer not to cook with wine, substitute it with one cup of additional beef broth.
Scrape the pot: After adding the liquid ingredients and waiting for them to simmer, scrape the bottom of the pot to release any browned bits of ribs. These caramelized bits are vital for flavor.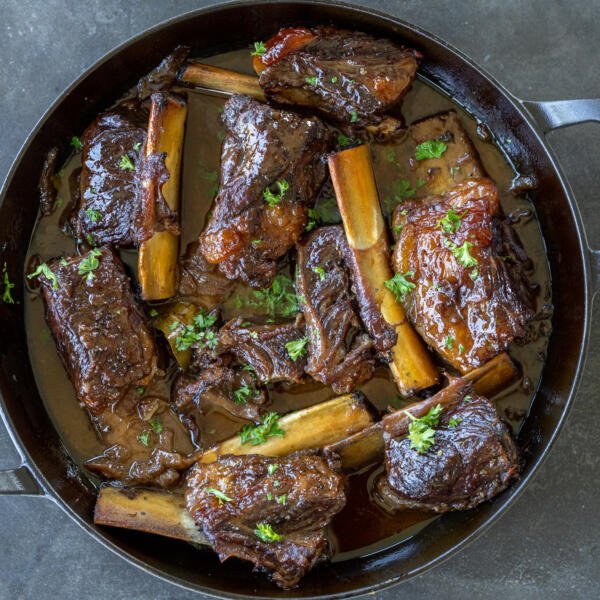 Serving Braised Short Ribs
To serve braised short ribs as part of a well-rounded meal, combine the meat with a bowl of creamy mashed potatoes topped with gravy made from the short rib drippings and some oven roasted baby carrots, carrots and parsnips, or broccolini. Have a few slices of sourdough bread ready to dip into the gravy. Or, serve the ribs with buckwheat, quinoa, or rice for a lower carb option. For a lighter side, pair with a salad. Our favorites are tomato, mozzarella, and lettuce salad or this arugula, avocado, tomato, and cucumber salad.
Cooking in Advance: Make this dish up to an hour ahead of time by fully cooking, then keeping it warm over very low heat. Avoid cooking too long as the beef can begin to dry out.
Storage Tips & Reheating
Leftovers are wonderful to have — there's no need to fuss in the kitchen to make your next meal. If you happen to have leftovers of these short ribs, you're in luck. Here are a few tips to store the ribs so they taste just as great when reheated.
Refrigerator: To store for up to five days, place ribs in an airtight container in the refrigerator.
Freezer: To store cooked ribs for up to three months, freeze in an airtight container. Thaw in the refrigerator before reheating.
Reheating: For best taste, place ribs in an oven safe dish and heat in the oven at 350°F until warmed completely through.
FAQ
Can I overcook braised short ribs?
It is possible to overcook short ribs. If they cook or braise for too long, they can begin to dry out and become tough. It is best to stop cooking when the ribs are at peak tenderness, at an internal temperature of around 200°F.
What's the difference between short beef ribs and back beef ribs?
Short beef ribs are shorter and flatter, whereas back ribs are longer and curved. Short ribs tend to have less meat and are a more tough cut of meat.
Why are my braised short ribs still tough?
Braised short ribs may be tough if they have not been cooked long enough. Depending on the thickness of the ribs, cooking times may vary. Ribs are fully cooked when they are fork-tender.
More Beef Recipes
Recipe
These braised beef short ribs are cooked in a mix of wine, Worcestershire sauce, and beef broth, becoming impressively tender and beyond delicious!
Nutrition Facts
Braised Beef Short Ribs
Amount Per Serving
Calories 342
Calories from Fat 171
% Daily Value*
Fat 19g29%
Cholesterol 98mg33%
Sodium 623mg26%
Potassium 738mg21%
Carbohydrates 4g1%
Protein 32g64%
Vitamin A 11IU0%
Vitamin C 2mg2%
Calcium 31mg3%
Iron 4mg22%
* Percent Daily Values are based on a 2000 calorie diet.