This fried burrito recipe features tender chicken, onions, tomatoes, and cream cheese wrapped in a flour tortilla and fried to perfection. 100% kid-friendly!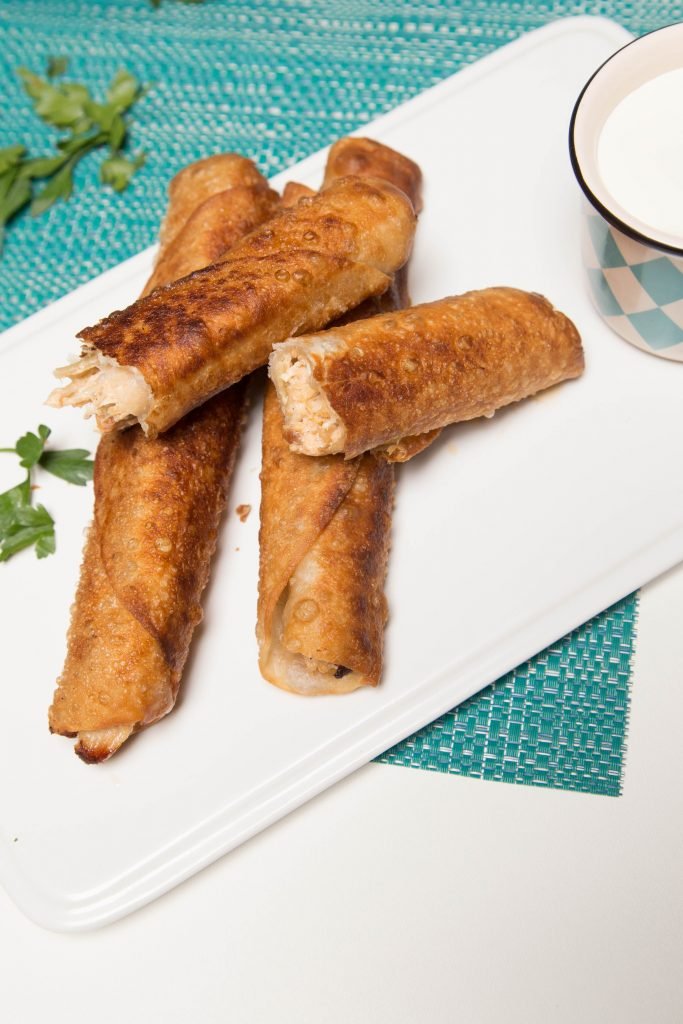 Nothing hits the spot quite like a fried burrito stuffed with cheesy chicken. This recipe rivals your favorite taqueria and is so straightforward to prepare. If you're a big fan of meal prepping, you can whip up a couple of batches, freeze some, and have burritos on hand for a rainy day.
Making this Easy Fried Burrito Recipe
This recipe doesn't require any technique for wrapping the burrito. All you have to do? Roll them up and fry them!
Prepare the Chicken: First, slice the chicken into small pieces and sauté them until fully-cooked with a little salt.
Dice & Sauté the Veggies: Dice up the tomatoes and onions. Throw the onions into skillet and sauté them until they soften. Stir in the tomatoes and let the whole mixture come together for another 5 minutes. Remove the skillet from heat and allow the chicken to cool at room temperature.
Add in the Cream Cheese: In a large bowl, add the softened cream cheese to the chicken and mix it in with your hands until well-combined.
Assemble the Burritos: Place a couple of tablespoons of the chicken mixture into the center of the tortilla in a tube shape. Roll the tortilla up tightly like a taquito. Repeat until you run out of filling and tortillas.
Fry the Burritos: Preheat the skillet with olive oil over medium-low heat. Fry the burritos until they turn crispy and golden brown. Enjoy with some sour cream!
Like it spicy? Add in chili powder to the filling to taste.
5 Tips for a Perfect Fried Burrito
A couple of handy tips will help you make restaurant-worthy deep fried burritos!
Use uncooked flour tortillas. If you can, get your hands on raw, uncooked tortillas. They fry up super nicely and have a fresher taste.
Don't overstuff the burritos. Resist the urge to add too much filling to the burritos – about 2-3 tablespoons of filling is more than enough. If they are packed too fully, they will open up and make a mess of your frying oil.
Place the burritos in the oil seam side down. Place the burritos seam side down in the frying pan to prevent them from opening up in the oil.
​Fry the burritos in batches. Avoid overcrowding the burritos in the fryer oil, or they won't get crispy and they'll stick together. Fry about 2 at a time to air on the safe side.
Let the burritos rest on a paper towels. Transfer the burritos to a plate lined with paper towels to rid them of any excess oil before serving.
Different Fillings to Try
Love burritos? Here's a couple different fillings to experiment with.
Vegetarian – Black beans or refried beans, cumin, roasted vegetables, and cheddar cheese
Shredded Pork – The shredded pork from our Cuban pork sandwich recipe and cheddar cheese
Tex-Mex – Chicken, green chilis, black beans, and sautéed bell pepper
Beef – Ground beef (drained of excess grease), jalapenos, and cheddar cheese
Ways to Serve a Fried Burrito
These crispy chicken burritos can be served as an appetizer for your next family party or movie night. Assemble them on a platter with sour cream, salsa, and guacamole for dipping! If you're serving them for dinner, top them with fresh avocado and sour cream and pair them with a side of cilantro lime rice and black bean and corn salsa.
Storing, Freezing, & Reheating
These burritos are great for batch cooking and freezing. Below, find all the tips and tricks you need to know.
Storing: While these burritos are best eaten fresh out of the fryer oil, you can store the leftovers for 2-3 days. To keep them as fresh as possible, store them in an airtight container in the fridge.
Freezing: To freeze the burritos, place them in a single layer on a baking sheet lined with parchment paper raw. Next, pop them in the freezer uncovered. Once completely frozen, transfer them to a freezer-safe bag for up to 3 months.
Reheating: To reheat the burritos, pop them in the oven or the air fryer until crispy and warmed through. Avoid microwaving them, as they are prone to turning limp and soggy. To cook frozen burritos, drop them directly into the fryer oil (they'll take a bit longer than raw burritos).
FAQ
Where can you find uncooked tortillas?
You can find uncooked tortillas at Costco and most grocery stores in the refrigerated or freezer aisle.
What kind of chicken should you use?
Boneless, skinless chicken thighs work best, but you can also use chicken breast.
What is the difference between a burrito and a chimichanga?
A burrito consists of filling wrapped up in a warm tortilla, while a chimichanga is a deep-fried burrito.
Can you fry these burritos from frozen?
Yes! These burritos are great for freezing and can be fried straight from frozen.
Can you cook these burritos in an air fryer instead?
You can definitely use an air fryer to make these fried burritos. To do so, spray them with cooking spray before adding them to the air fryer basket. Make sure to give them an inch of space in between one another to prevent them from sticking.
More Tasty Mexican-Inspired Dishes
Recipe
Whether you have picky kids to feed or just love a good burrito, this fried burrito recipe is sure to be a hit. Filled with chicken, veggies, and cream cheese!
Ingredients
2

lbs

boneless chicken

1

tsp

salt

to taste

1

tbsp

light olive oil

for frying

1

large onion

2

medium tomatoes

12

oz

cream cheese

softened at room temperature

10

raw tortillas
Nutrition Facts
Crispy Chicken Burrito Recipe
Amount Per Serving
Calories 302
Calories from Fat 171
% Daily Value*
Fat 19g29%
Cholesterol 119mg40%
Sodium 568mg24%
Potassium 535mg15%
Carbohydrates 4g1%
Protein 27g54%
Vitamin A 735IU15%
Vitamin C 5mg6%
Calcium 54mg5%
Iron 1mg6%
* Percent Daily Values are based on a 2000 calorie diet.