Chicken Quesadillas are the best when it comes to a busy evening meal. They come with veggies, meat and lots of cheese that kids will love. Even better, it comes together in 20 minutes!
Love quesadillas? Try our recipe for ground beef quesadillas while you're at it.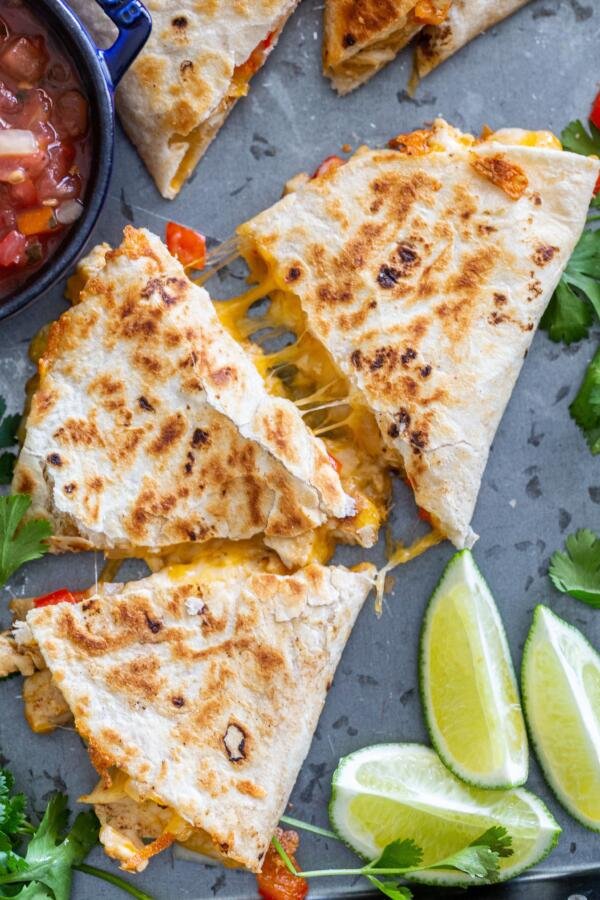 Quesadillas mean "little cheesy thing," and originated in northern and central Mexico in the 16th century. Corn tortillas were used to stuff cheese and spices inside. As time went on, the quesadilla dish has evolved to include flour tortillas and a variety of fillings inside.
This is not your typical Chicken Quesadilla. This one is full of fresh flavor, vibrant vegetables and a gooey cheesy bite!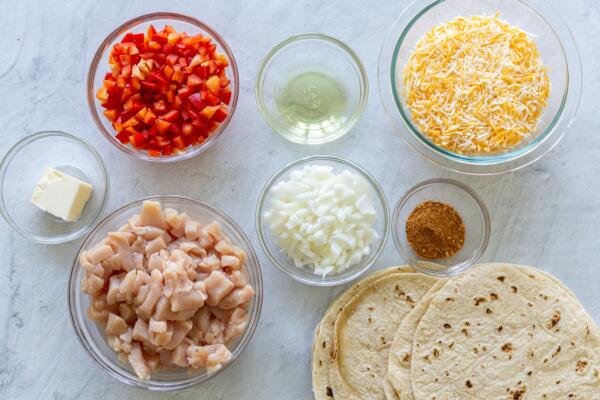 How to Make Chicken Quesadillas
Making Chicken Quesadillas is quick and fun. The filling is cooked first, then placed into a tortilla and folded over to cook and voila! Your quesadilla is ready to go!
Follow the steps below to make your Chicken Quesadillas.
Make the Filling: Preheat a skillet with oil and add chicken and taco seasoning. Add diced peppers and onions. Remove from heat.
Assemble the Tortilla: Place a tortilla shell on a clean skillet. Cover up half of it with cheese, meat and veggie filling, and more cheese. Fold the tortilla over to close. Cook until golden.
Serve: Serve while the cheese is melted and the quesadillas warm!
Hot Tip: If you have a panini press, use it for quesadillas! It makes them extra crispy.
Chicken Options for Quesadillas
The great part about Chicken Quesadillas is that you can use almost any option of chicken. Here are some of our favorite types of chicken to use for Chicken Quesadillas.
Rotisserie Chicken – Feeling lazy? No problem! Pick up a pre-made rotisserie chicken at your local grocery store.
Instant Pot Chicken – Make this chicken in advance. It's so easy to prepare.
Grilled Chicken – This chicken is our favorite, it has incredible flavor and it will take quesadillas to another level.
Grilled Chicken Kebabs – Chop chicken kebabs up into small pieces, including veggies if they were in the mix, and add to your quesadillas for maximum flavor!
Serving Chicken Quesadillas
There are so many sides that pair well with Chicken Quesadillas. As a start, try serving your dish with guacamole, salsa, or sour cream. Want to kick it up a notch? Spice it up with pickled onions or pickled jalapeños.
FAQ
Do you use butter or oil for quesadillas?
You can use either butter or oil for quesadillas. Oil can handle a higher heat point and you don't have to watch it as carefully as butter. Whether you choose oil or butter, use a little bit for extra crispiness.
Why are my quesadillas soggy?
Quesadillas can sometimes turn out soggy. This can happen if you use too much oil or butter while cooking them. Another tip to prevent them from turning soggy is to serve quesadillas right away, or let them sit on a wire while you're waiting to serve.
How to keep chicken quesadillas warm?
To keep quesadillas warm, keep them in the oven at 200°F degrees, until ready to serve. The oven is a good way to keep the quesadillas warm, while maintaining the crispiness, until the rest of the batch is ready.
What is the best cheese for quesadillas?
The best cheese for quesadillas is the Mexican or Monterey Jack shredded cheese. We recommend purchasing the shredded cheese, that way you'll be prepared to whip up quesadillas with minimum work.
Are quesadillas Mexican?
Quesadillas are considered a Mexican cuisine dish. They consist of a tortilla that is filled with cheese, meats, other fillings, and then cooked on a griddle or stove.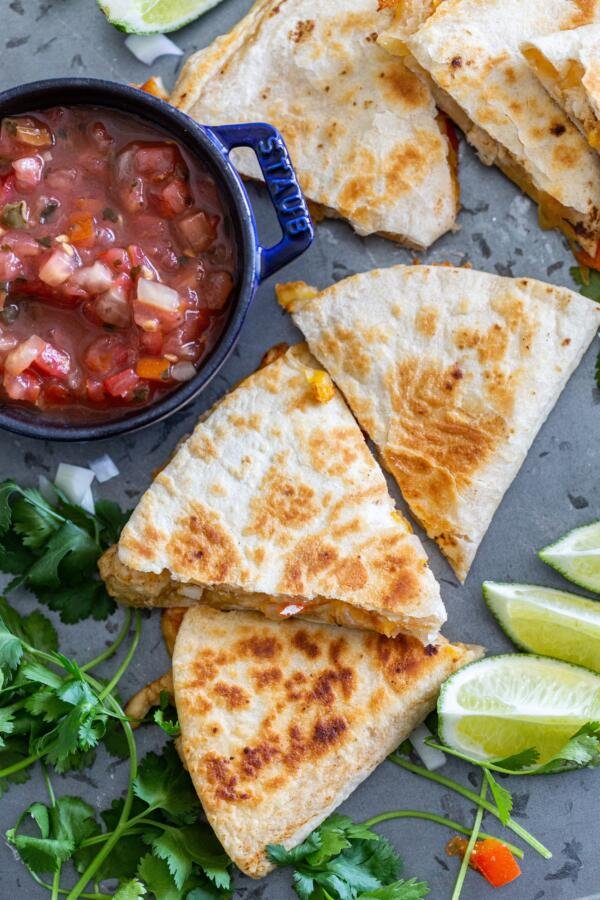 Making Chicken Quesadillas in Advance
Chicken Quesadillas are great for meal planning or when you are hosting a large party. Here are some great prep-aheads to keep your chicken quesadillas ready to serve.
Make now, cook later – Make a large batch of chicken quesadillas as a meal plan. Stack them together in an airtight container and cook as you are ready to serve.
Keeping quesadillas warm – Preheat an oven to 200°F and place the quesadillas on a wire rack pan. Make sure to lightly cover with foil on top to prevent them from drying out.
More of Mexican Recipes
Recipe
Chicken Quesadillas are the best when it comes to a busy evening meal. They come with veggies, meat and lots of cheese that kids will love. Even better, it comes together in 20 minutes!
Ingredients
2

cups

mexican cheese

1

lb

chicken breast

cut into small pieces

1

tbsp

oil

1/2

large bell pepper

diced, any color

1/2

yellow onion

diced

1

tbsp

taco seasoning

2

tbsp

Unsalted Butter
Nutrition Facts
Easy Chicken Quesadillas (Fajita Style)
Amount Per Serving
Calories 372
Calories from Fat 189
% Daily Value*
Fat 21g32%
Cholesterol 94mg31%
Sodium 621mg26%
Potassium 393mg11%
Carbohydrates 18g6%
Protein 27g54%
Vitamin A 735IU15%
Vitamin C 14mg17%
Calcium 286mg29%
Iron 2mg11%
* Percent Daily Values are based on a 2000 calorie diet.