This crazy easy grilled cod features a simple seasoning of garlic and lemon. Perfect for everything from tacos to salads to easy fish sandwiches!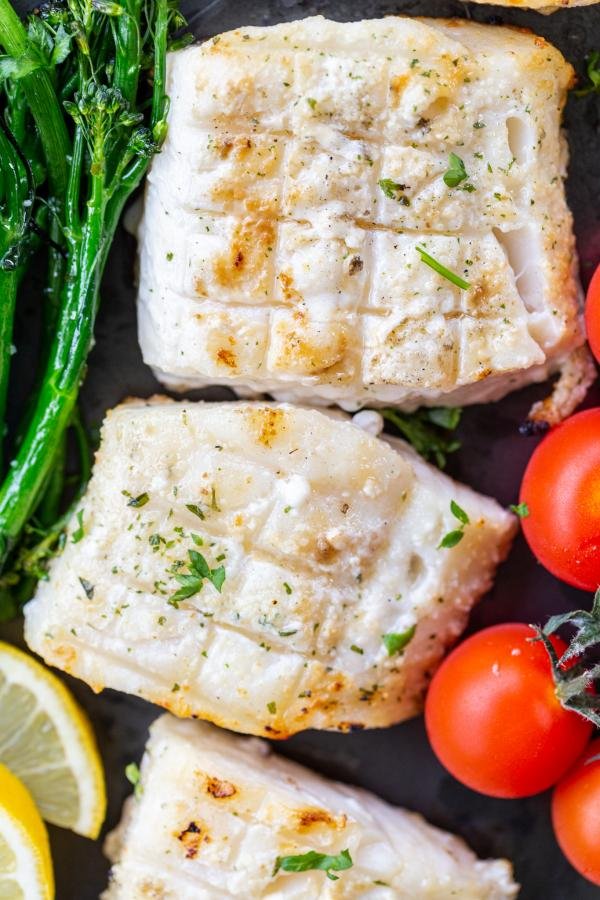 This simple, grilled cod recipe is great year round and can be whipped up on a whim. Whether you're a seafood addict or just beginning to experiment, this mild-bodied fish is always a crowdpleaser.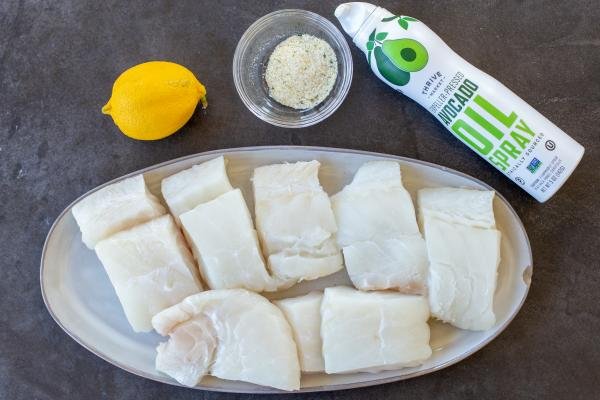 How to Prepare Grilled Cod
With just four simple ingredients and a smoking hot grill, you're well on your way to the best fish on the planet. It's that easy!
Prepare the Cod: Slice the cod into equal-sized pieces and season them with olive oil and garlic parsley salt.
Grill the Cod: Next, grill the cod on both sides until it's cooked through and flakes easily with a fork.
Dress the Cod: Squeeze on some fresh lemon juice and enjoy!
Did you know? The safe internal temperature of cod is 145°F. To take the guesswork out of gauging doneness, use an instant-read meat thermometer.
5 Tips for Perfect Grilled Cod
While making fish isn't rocket science, a handful of helpful tips will help you nail it.
Oil the grill grates. To prevent cod from sticking to the grill grates, brush them with olive oil before laying the fish down.
Cook the cod over high heat. To get perfect grill marks prevent the fish from drying out, cook the fish over high heat.
Use a grill basket for easy flipping. If you want to skip the worry of your fish sticking completely, use a grill basket to simplify the cooking process.
Adjust the cooking time as necessary. If your filets are on the thicker side, adjust the cooking time by a few minutes.
Watch the fish closely. Cod cooks super quick, so stay close by the grill to prevent it from burning.
Different Seasonings
Consider cod a blank slate that's easily tweaked and customized with your favorite seasonings and spices. Find some ideas here to jumpstart your creative process…
Cajun Seasoning: For a nice balance of sweet and spicy, season the cod with your favorite Cajun seasoning.
Ukrainian-Style: Season the cod with paprika, black pepper, and dill for a Slavic twist.
Taco-Ready: If you're in the mood for fish tacos, season the cod with taco seasoning.
Ideas for Serving
There are a million and one different ways you can serve your grilled cod on any given day.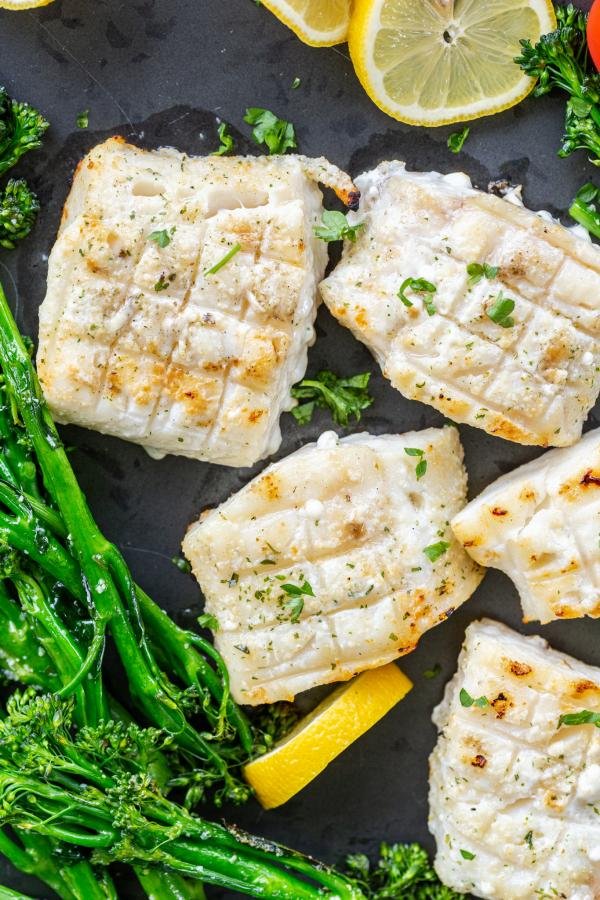 Storing & Reheating Best Practices
If you have a couple of leftover filets to stow away, here's all you need to know about storing and reheating them back to perfection.
Storing: To keep the filets on hand for up to 3 days, keep them tightly sealed in an airtight container. This will keep them from making your fridge smell like fish, while also preventing the fish from drying out.
Reheating: To reheat the cod, wrap it in aluminum foil with a spritz of lemon juice to rehydrate it. Pop it in the oven at 350°F for a couple of minutes or until warmed through.
FAQ
Can you grill frozen cod?
You can use frozen cod for grilling, but you'll want to thaw it completely before popping it on the grates. To do so, place it in the fridge overnight in a sealed bag.
Can you grill cod directly on the grill?
Yes! You can grill cod directly on the grill grates, but you'll want to make sure they are brushed with oil to prevent sticking.
Is it better to grill cod with the lid open or closed?
It's best to grill cod with the lid of your charcoal grill or electric grill open. This fish cooks super quick and will dry out if it's cooked with the lid closed.
How do you make grilled cod that's not rubbery?
The key to grilling cod that isn't rubbery is to cook it quickly on high-heat. If the heat is too low, it will have to be on the grates too long and it will increase the risk of the fish drying out.
Do you have to flip cod halfway through when grilling it?
Yes, you'll want to flip your cod halfway through grilling it to make sure both sides get those signature grill marks.
More Tasty Seafood Recipes
Recipe
This simple grilled cod recipe is smokey, bright, and savory. Super versatile, you can serve it as a salad topper, entree, or filling for fish tacos.
Ingredients
2

lbs

cod fillet

1

tbsp

garlic parsley salt

adjust to taste

1

tbsp

avocado oil or olive oil

1

lemon

for garnish
Instructions
Nutrition Facts
Crazy Easy Grilled Cod (4 Ingredients)
Amount Per Serving
Calories 225
Calories from Fat 45
% Daily Value*
Fat 5g8%
Cholesterol 98mg33%
Sodium 1867mg78%
Potassium 974mg28%
Carbohydrates 3g1%
Protein 41g82%
Vitamin A 97IU2%
Vitamin C 17mg21%
Calcium 44mg4%
Iron 1mg6%
* Percent Daily Values are based on a 2000 calorie diet.