This recipe comes from my grandmother and is the way we've been making easter bread in Ukraine for many years. The recipe features a sky high brioche bread stuffed with plump raisins and topped with a sweet frosting.
If you're in Easter mode, check out our guide on Ukrainian Easter Eggs (with Grandma's Secrets).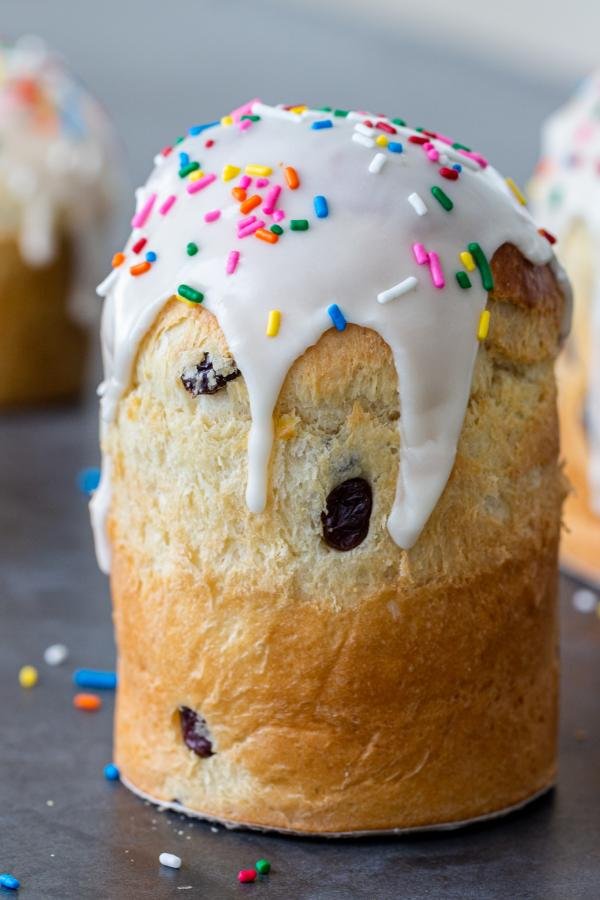 Paska bread is almost too pretty to eat. Baked tall and festively decorated with frosting and sprinkles, it's always the centerpiece of any easter celebration. In this paska recipe, you'll learn all you need to know to bake it just like my family has for many years.
What is Paska Bread?
Ukrainian Easter bread, or paska, is a tall, cylindrical egg bread that's speckled with raisins and baked in festive paper molds (much like Italian panettone or Russian kulich). Slightly sweet, it's often eaten early in the day at church alongside other baked goods like chocolate babka and brioche braids. Below, find a breakdown of the flavor, texture, and time it takes to make our version of this classic Easter bread recipe.
Flavor: The flavor of paska bread is a balance of slightly sweet, eggy brioche and tart, juicy raisins. This is all capped off with a super sweet powdered sugar frosting.
Texture: The texture of paska is light and fluffy. When baked right, it will almost melt in your mouth!
Time: From start to finish, this paska recipe takes 3 hours to make.
Reader Tip: One of our readers suggested a great tip if you don't love raisins. Instead, she left out the raisins and after baking the bread used a straw to poke holes in it and then stuffed it with Nutella! It was a hit!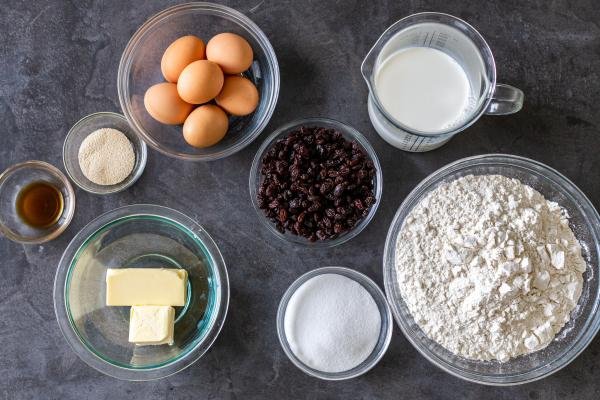 Paska Bread Video
How to Make Paska Bread from Scratch
Making Easter paska bread requires a bit of patience, but if you follow the instructions closely you'll be golden.
Make the Bread Base: In the bowl of a stand mixer, combine the warmed milk, active dry yeast and two cups of all-purpose flour. Cover the bowl with a towel. Set it aside in a warm place for 30 minutes.
Make the Egg Mixtures: Next, separate the egg yolks and egg whites into different bowls. Whisk the yolks with 1 cup sugar and beat the whites until they reach stiff peaks.
Finish Building the Dough: Mix the sweet egg yolks into the dough, followed by the butter, vanilla extract, and foamy egg whites. Next, mix the rest of the flour into the dough in small portions. Knead the dough until elastic and sticky.
Allow the Dough to Rise: Cover the dough with a towel and set it aside to rise for 30 minutes.
Soak & Add the Raisins: Next, soak the raisins in warm water for 15 minutes. Drain the raisins and mix them in to the dough. Allow the dough to rise for another 30 minutes. (Skip the raisins if you don't love them, or substitute with nuts or chocolate chips!)
Bake the Paska Bread: Fill each paper bread mold halfway with dough. Cover the molds with a towel and allow them to rise for 30 more minutes. Bake the bread at 350°F in the oven for about 30 minutes.
Make the Glaze: In a medium bowl, whisk the powdered sugar and milk together until smooth. Using a piping bag, drizzle the frosting all over the top of the bread. If you'd like, add some sprinkles right on top. Enjoy!
Don't have a stand mixer? No problem! You can make paska bread the old-fashioned way with a wooden spoon and a well-floured surface for kneading.
Tips for The Perfect Paska Bread
Some handy tips will help you make the most authentic paska bread.
Use high-protein, high-quality flour. If you can get your hands on Canadian flour, do it! It tends to have a higher protein count and makes for such a killer texture.
Adjust the flour if necessary. Depending on the kind of flour you use, you may need to add a little more. This dough should be on the sticky side but it shouldn't be runny.
Get the milk to the right temperature to activate the yeast. To activate the yeast, the milk temperature should be at around 110 °F – 120 °F. If you have a candy thermometer, use it to help you gauge when the milk is ready.
Don't skip the soak. Soaking the raisins for a quick 15 minutes before adding them to the dough will bring such a wonderful texture and moisture to the bread. Don't skip this step!
Pay attention to the size of panettone molds. Depending on the size of paper molds you use, the amount of paskas this recipe yields will vary. (Make sure you aren't buying tiny, cupcake sized panettone molds!) I like to use ones that are roughly 4×6 inches in size, this typically yields 3-4 paska breads. I like using these or these paper molds.
Fill the paper molds halfway. Don't be tempted to overfill the molds, the dough will rise quite a bit during the final proof and while baking. Avoid your bread from overflowing by only filling the molds halfway.
Make the dough in advance. Split your prep by completing steps 1-6 in advance, and then baking the next day. You can do this by adding the raisins or other mix-ins in as desired in step 6, then covering the dough and refrigerating it. Make sure it's in a large enough bowl or container as it will continue to rise overnight. When ready to bake, divide the dough amongst the paper molds or pans, and let it proof for at least 60 minutes before baking.
Hot Tip: All-purpose flour will work for this recipe, but the best option we've used is Bob's Red Mill Bread Flour. So worth it for the texture and taste!
Storing & Freezing Best Practices
Whether you have leftovers to store or you want to freeze some paska for a rainy day, here's all you need to know.
Storing: To keep paska on hand for up to 4 days, store them in an airtight container on the counter to prevent the bread from drying out. If you want them to keep for even longer, transfer the container to the fridge.
Freezing: You can freeze paska for up to 3 months in an airtight container. For best results, make sure to keep them unfrosted before popping them in the freezer. To thaw the bread, place it on the counter for a couple of hours.
FAQ
Can you bake paska bread in a loaf pan?
Yes, you can bake paska bread in a greased loaf pan instead of a paper mold. This bread can be baked in just about any pan.
Can you use coffee cans for the paska bread molds?
Yes, you can use coffee cans for the paska bread molds. This is actually the old-fashioned way to make this Easter bread. Oftentimes, bakers will use different sized cans to create many different sizes of the breads. This makes for such a cool presentation!
Can you use panettone molds for paska bread?
You can absolutely use panettone molds for paska bread. They're pretty much identical and are often used interchangeably.
Should you use bleached or unbleached flour for paska bread?
Unbleached flour is the best choice for baking paska bread. It has a denser, tougher texture that makes the bread that much more decadent.
Other Sweet Bread Recipes to Try
Recipe
This paska bread is the perfect balance of light & fluffy brioche bread and plump, juicy raisins. Topped with a simple glaze, it simply melts in your mouth!
Instructions
Making the Paska Bread Topping
Nutrition Facts
Easter Bread (Paska)
Amount Per Serving
Calories 374
Calories from Fat 99
% Daily Value*
Fat 11g17%
Cholesterol 73mg24%
Sodium 107mg4%
Potassium 218mg6%
Carbohydrates 64g21%
Protein 7g14%
Vitamin A 364IU7%
Vitamin C 1mg1%
Calcium 50mg5%
Iron 2mg11%
* Percent Daily Values are based on a 2000 calorie diet.