This salmon sushi bowl will let you enjoy the wonders of sushi without having to become a bonafide sushi chef. So easy to put together & a great way to repurpose leftovers!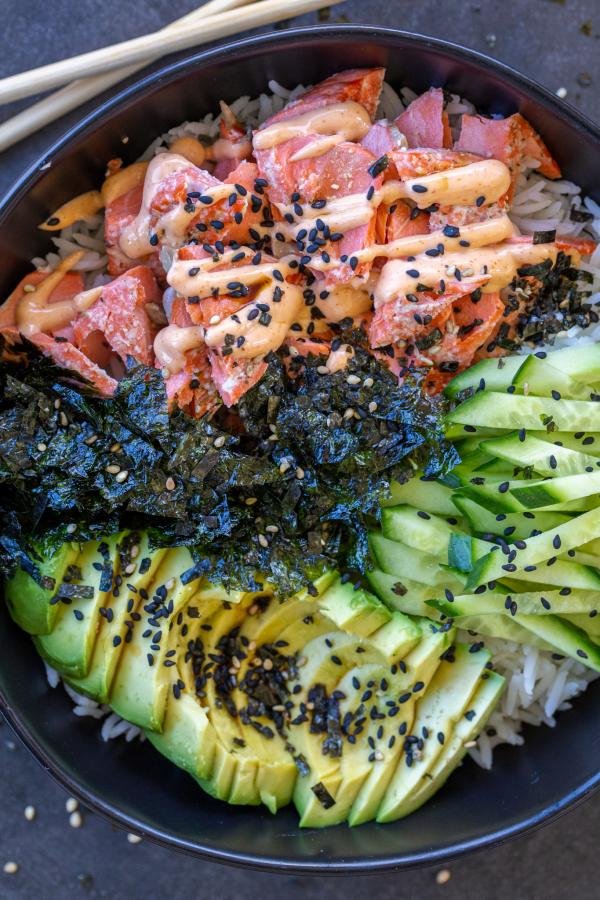 This salmon sushi bowl is light, refreshing, and so filling. If you have leftover rice and salmon hanging out in the fridge, it comes together in a matter of minutes and is so ridiculously good. It also makes for great packed lunches for work or elevated picnic food. Best of all? It tastes like a deconstructed sushi roll!
Sushi Rice 101
While you can get away with using plain steamed white rice or brown rice, going the extra mile to whip up sushi rice will elevate the flavors. Here's a quick rundown of how to do it…
Cook the Rice: Prepare the short-grain sushi rice using a rice cooker or pot. You can also use an Instant Pot if you'd like to speed the process up.
Make the Sushi Vinegar: In a small bowl whisk 2 tablespoons of rice vinegar, 2 teaspoons of sugar, and a sprinkle of salt together.
Season the Rice: Using a rice paddle or fork, pour the seasoned rice vinegar over the cooked rice and toss.
Low-carb or gluten-free? Swap the rice out for cauliflower rice to keep it nice and light.
How to Make this Salmon Sushi Bowl Recipe
Whipping up a salmon bowl only requires a little bit of light prep and some fresh ingredients. The name of the game is "less is more"!
Prepare the Bowl Base: If you prefer, warm up the salmon and rice. Otherwise, keep it cold. Distribute the rice and salmon evenly across 4 serving bowls.
Top the Bowls: Assemble each bowl with sliced avocado, cucumber, and fresh seaweed. Drizzle on the spicy mayo and soy sauce (you can also use tamari instead).
Finish the Bowls: Sprinkle on crushed dried seaweed. Dig in!
5 Tips for the Best Salmon Sushi Bowl
These five pointers will help you make the best possible salmon rice bowl.
Use leftover salmon. If you have leftover air fryer salmon, oven-baked salmon or salmon bites hanging out in the fridge, don't be afraid to use it! This will make the prep process that much simpler – especially if you prefer to keep the salmon cold.
Keep the bowl hot or cold. We prefer a warm base of rice and salmon for a sushi bowl but you can have a cold rice and salmon base like in real sushi. It's up to you – both are super delicious!
Use store-bought spicy sriracha mayo or make your own. Pick up your favorite sauce from the supermarket or make your own. It's easy! All you have to do is mix equal parts of mayonnaise with sriracha. Optionally, add in a bit of sesame oil and lemon juice.
Use fresh seaweed if you can. Add fresh seaweed if you can get your hands on it. Oftentimes you can get some at Asian specialty stores. If you can't find it, dried seaweed sheets (aka nori) will work.
Prepare the sushi bowls right before serving. Some things are best eaten fresh and these sushi bowls are no exception. Only prepare them right before you eat them if you can help it!
Did you know? Salmon is full of vitamins, minerals, and fatty acids. It's a wonderful protein to incorporate into a healthy diet!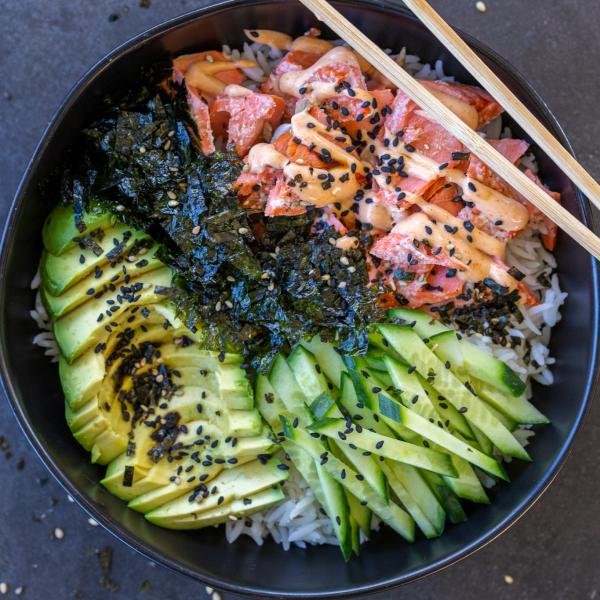 Different Topping Ideas
There are a million and one different toppings and ingredients you can add to your sushi rice bowl to make it your very own. Here are a couple of ideas to inspire you…
Pickled Veggies: Pickled onions, ginger, garlic, and pickled jalapeños add a wonderful tang.
Fresh Veggies: Shredded carrots, edamame, and boiled broccoli can all be added for a bigger serving of veggies in each bowl.
Fresh Herbs: Cilantro and green onions add a nice pop of color and freshness.
Crunchy Toppers: Fried garlic, sesame seeds, and toasted almonds add a nice crunch.
Storage Best Practices
The longest you can store your salmon sushi bowl is up to one night in advance. Like we said above, some things are best eaten right away. To keep it fresh, store the bowl in an airtight container in the fridge. Of note, you shouldn't reheat refrigerated bowls once they have the toppings added. If you like a warm bowl, keep the toppings in a separate airtight container.
FAQ
Do you eat a sushi bowl cold or warm?
You can eat a sushi bowl cold or warm. It's up to you! It's always best to make the rice and protein warm while keeping all the fresh toppings cold.
What is the difference between a sushi bowl and a poke bowl?
The difference between a sushi bowl and a poke bowl comes down to the preparation of the fish. For a sushi bowl, you often use raw fish (aka nigiri) or cooked fish. For poke bowls, tuna, salmon, or other raw fish is marinated in a savory sauce before being added on top of the rice.
Which salmon is best for a sushi bowl?
You can use any kind of salmon you like best for a sushi bowl. Baked, pan-fried, air-fried, or grilled – they will all work great. That said, make sure to use neutral seasoning before adding it to the bowl so the sauces you use aren't overpowered.
Can you use regular rice in a sushi bowl?
Yes, you can use regular steamed short-grain white rice for a sushi bowl. However, if you want to take the sushi bowl to the next level, you can prepare traditional sushi rice using rice vinegar, sugar, and salt.
More Tasty Asian-Inspired Recipes
Recipe
Love sushi but don't always want to shell out the big bucks going to a restaurant? This salmon sushi bowl is the best way to satiate your craving at home.
Instructions
Nutrition Facts
Salmon Sushi Bowl (10 Minute)
Amount Per Serving
Calories 556
Calories from Fat 315
% Daily Value*
Fat 35g54%
Cholesterol 68mg23%
Sodium 654mg27%
Potassium 1192mg34%
Carbohydrates 34g11%
Protein 29g58%
Vitamin A 610IU12%
Vitamin C 14mg17%
Calcium 86mg9%
Iron 3mg17%
* Percent Daily Values are based on a 2000 calorie diet.