This grilled lobster tail recipe is tender, full-flavored, and tastes like it came straight out of a fancy steakhouse kitchen. So easy!
Obsessed with lobster? You have to try our recipe for broiled lobster tail while you're at it!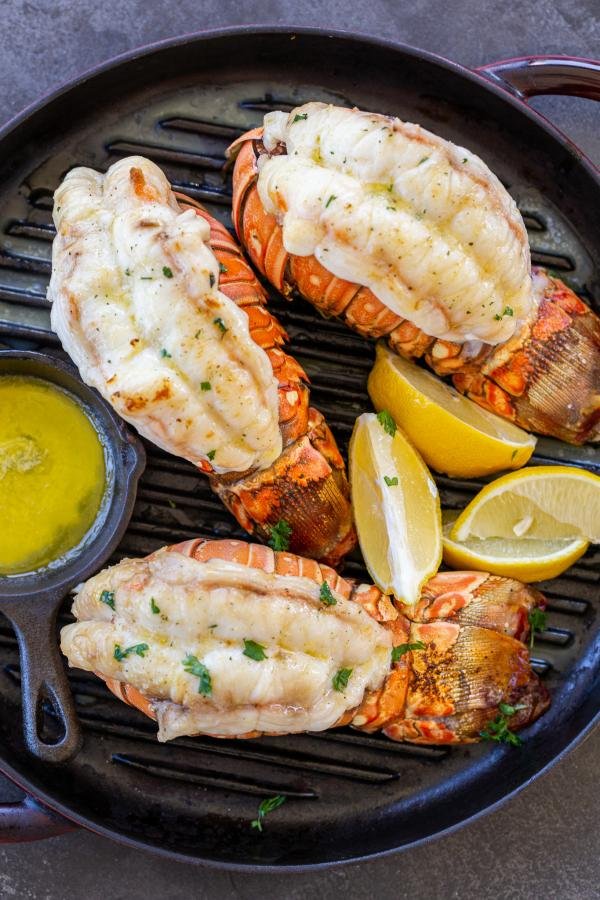 Don't want to fire up the grill? Make broiled lobster tail instead.
Everyone needs a solid grilled lobster recipe in their back pocket. It's simply a must. Lobster tails aren't only perfect for grilling, but they also get such a wonderful, smoky flavor. We keep the ingredients list slim and for good reason – you don't need to fuss around with lobster too much to make it fabulous. A little garlic butter and lemon goes a long way…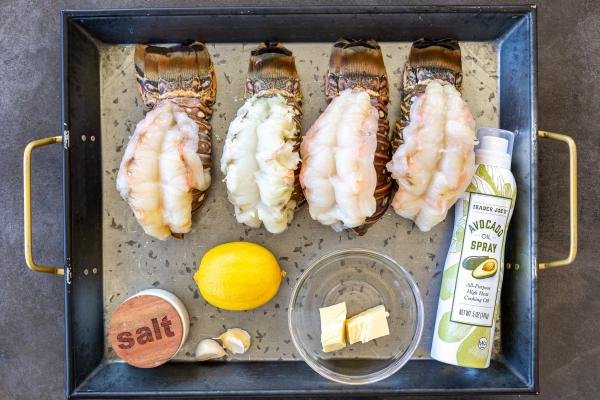 Step-by-Step on How to Butterfly Lobster Tail
The first step is making sure you have a good pair of kitchen shears. These will make cutting the shell so much easier!
Cut the Shell – Use kitchen shears to cut through the top center of the lobster tail just until you reach the base.
Pull out the Lobster Meat – Gently open the two sides of the shell, pull the meat out, and lay it atop the shell.
Score the Meat – Use a sharp knife to make a shallow score through the center of the meat and gently pull it apart with your fingers. Bam – you've butterflied a lobster tail!
101 on Preparing Grilled Lobster Tail
Now that we've covered how to butterfly the lobster tail, it's time to season and grill.
Make the Butter Sauce: In a small bowl, whisk the melted butter with pressed garlic and lemon juice. Set aside.
Season the Lobster Tail: Using a grill brush, spread oil on top of the lobster meat. Sprinkle the tops with salt.
Grill the Lobster Tail: Place the tails on a grill preheated to 400°F flesh side down. Grill the flesh for about 5 minutes, or until grill marks form. Next, flip the tail over and grill until the flesh turns opaque (2-3 minutes).
Finish the Lobster Tails with Butter: Finally, brush the lobster tails with the butter mixture. Serve immediately and enjoy!
3 Pro Tips for Making the Grilled Lobster Tail
Making grilled lobster tail might sound difficult, but it's actually quite straightforward. A few tips will help you bring it all the way home.
Don't slice through the base. To keep your beautiful lobster tails intact, don't slice through the tail.
Pick the freshest lobster possible. When you're hunting for fresh lobster tails at the market, there are a few things to look for:

A brownish shell (it will turn red as it cooks) and grayish flesh
No fishy smell or pungent odor
No slimy texture.

Use an instant-read thermometer. To make sure the lobster tail is at a safe internal temperature to eat, use a meat thermometer to take the guesswork out. Once it hits 140°F it's good to go!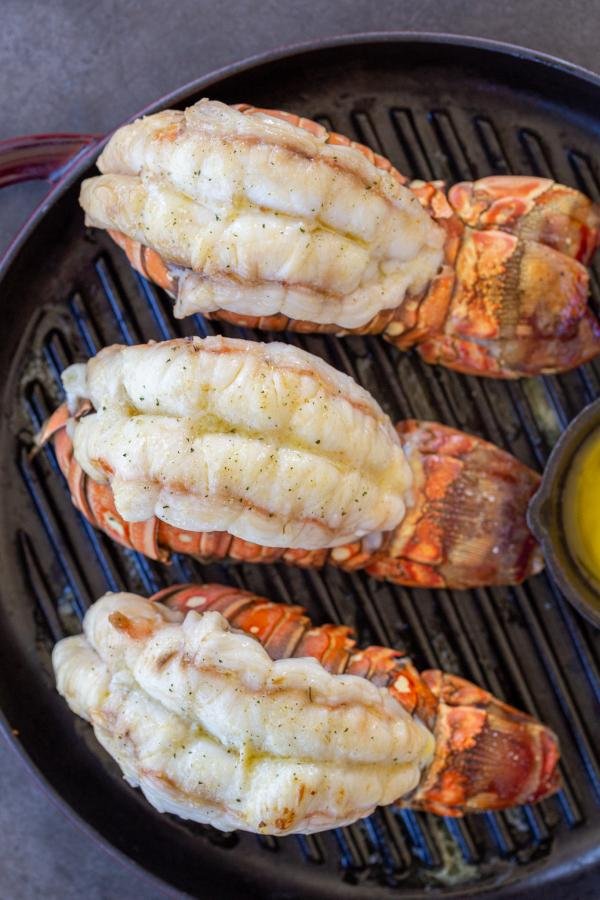 How to Properly Thaw Frozen Lobster Tails
There are two different methods you can use to thaw frozen lobster tails.
Leave them in the fridge overnight (recommended). Place th frozen lobster tails in a covered dish in the refrigerator overnight to let them naturally thaw. Drain them of excess moisture and prepare according to recipe instructions.
Quick thaw them in the sink. If you're short on time, soak the tails in a bowl of cold water in the sink for 30 minutes.
Ideas for Serving Grilled Lobster Tail
For a full-blown steakhouse dinner, serve grilled lobster tail alongside a grilled ribeye steak, air fryer baked potatoes, and your favorite roasted vegetables. Risotto is also a wonderful pairing, such as parmesan risotto or mushroom risotto. Also, don't forget to put out extra lemon wedges and garlic butter.
Hot Tip: Sprinkle the grilled lobster tail with a garnish of herbs. Fresh parsley and chives are great options and add such a nice pop of color.
Storing & Reheating Tips
Lobster tails are best eaten fresh off the grill. However, you can store them for up to a day before they begin to turn.
Storing: To keep your tails as fresh as possible, store them in an airtight container in the fridge.
Reheating: To reheat, place the lobster tails in the oven until warmed through, basting them every 45 seconds with melted garlic butter to prevent them from drying out.
FAQ
How do you know when lobster tails are done on the grill?
You'll know the lobster tails are done with the flesh has grill marks and turns opaque. You'll also want to ensure the internal temperature has reached 140°F.
Do you have to boil lobster tails before grilling?
You do not! In fact, it will dry the meat out and turn it super rubbery.
Should lobster tails be thawed before grilling?
Yes, you should always thaw frozen lobster tails completely before grilling.
How do you devein a lobster tail?
If your lobster tail isn't already deveined at purchase, you'll be able to easily pull it out upon butterflying it.
More Tasty Seafood Recipes
Recipe
This grilled lobster tail recipe is tender, full-flavored, and tastes like it came straight out of a fancy steakhouse kitchen. So easy!
Ingredients
4

lobster tails

1

tsp

salt

adjust to taste

1

tsp

avocado or olive oil

1/3

cup

Unsalted Butter

2

garlic cloves

pressed

2

tbsp

lemon juice
Nutrition Facts
The Best Grilled Lobster Tail Recipe (Crazy Easy)
Amount Per Serving
Calories 197
Calories from Fat 153
% Daily Value*
Fat 17g26%
Cholesterol 121mg40%
Sodium 984mg41%
Potassium 145mg4%
Carbohydrates 1g0%
Protein 11g22%
Vitamin A 476IU10%
Vitamin C 3mg4%
Calcium 61mg6%
Iron 1mg6%
* Percent Daily Values are based on a 2000 calorie diet.