This recipe for parmesan risotto is ultra creamy and has such a depth of flavor from the white wine. Best made with arborio rice, but any short grain rice will do!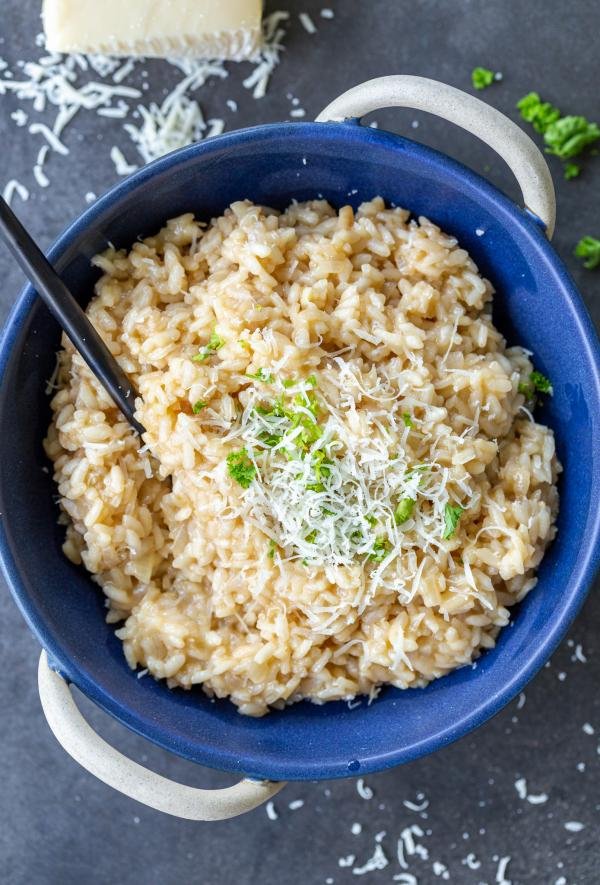 This parmesan risotto recipe doesn't require a ton of complex ingredients, but the end result is always so impressive. The perfect meal for that special vegetarian in your life or for a fancy dinner night in.
Arborio Rice 101
Before we jump into the recipe, let's chat a bit about the best kind of rice to use for risotto. Arborio rice hails from Northern Italy and is the go-to grain for making authentic risotto dishes. It's a short-grain rice that's ultra creamy and chewy in texture. What makes it special is its high starch content that is responsible for that creamy texture and consistency known to all great risottos.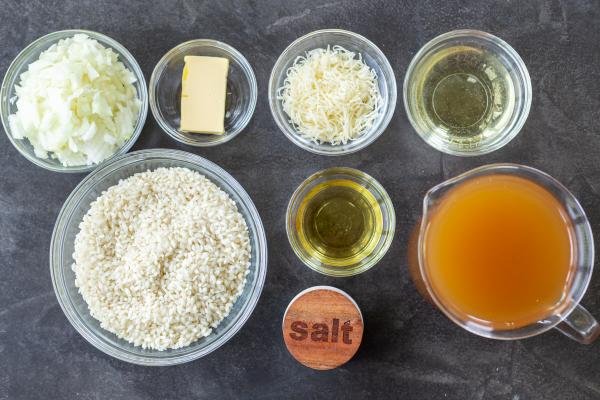 How to Prepare Parmesan Risotto
Preparing parmesan risotto requires a bit of technique and some vigorous stirring – otherwise the process is quite straightforward.
Boil the Broth: In a small saucepan, bring the broth (you can use chicken stock or vegetable stock) to a boil, take it off heat, pop the lid on, and set it aside.
Sauté the Onions: In a large, heavy-bottom straight-sided skillet, preheat butter, olive oil and sauté the diced onion over medium heat.
Toast the Rice: Next, add in the arborio rice and toast it in the pan until the edges turn light brown.
Add in the White Wine: Cover the rice in a cup of white wine and stir it constantly with a wooden spoon until it's completely absorbed. Next, add in a cup of broth and boil it until it's fully absorbed.
Add in the Broth: Add the broth into the skillet in small portions, stirring vigorously between each round until the liquid is fully absorbed and the rice is al dente.
Season to Taste: Next, season the risotto to taste with salt (you can also add some freshly cracked black pepper if you'd like). Stir in the butter.
Add the Parmesan: Stir in the parmesan cheese and remove the skillet the heat. Serve immediately!
Homemade Chicken Broth: Use homemade chicken or bone broth to take this recipe to the next level.
Tips for the Tastiest Parmesan Risotto
If it's your first time making parmesan risotto, a couple considerations will help you ensure you cook the arborio rice just right.
Mind the type and size of your pan. Depending on the type of pan you use and the size, the cooking time will vary. For best results, check the readiness of the rice every so often and pull the risotto once it's tender enough.
Opt for dry white wine. Opt for dry white wine over sweet white wine. What you want is the depth of flavor it brings and a slight sweetness, not a ton of extra sugar.
Constantly stir the rice. Arborio rice has a super high starch content, making it more prone to sticking to the bottom of the pan.
Quick Mushroom Risotto or Butternut Squash Risotto: Stir in sautéed mushrooms after the risotto is fully cooked or add in a cup of roasted butternut squash.
What Goes Well With Parmesan Risotto
If you're looking for a well-rounded meal that warms the soul, serve the parmesan risotto alongside some crispy chicken cutlets, air fryer shrimp or air fryer chicken breast. If you want to keep it vegetarian, serve it alongside green beans and air fryer broccoli.
Garnish Tip: Dice up some fresh parsley or basil and sprinkle it on top of the risotto before serving.
How to Store & Reheat Leftover Risotto
While risotto is best eaten fresh and immediately, you can store leftovers in an airtight container for up to 2-3 days. It's worth noting that risotto will thicken as it sits in storage due to the high level of starch in rice. To reheat the rice properly, add 1/4 cup of broth per every 1 cup of risotto into a saucepan. Cook the mixture over medium heat until creamy and warmed through.
Hot Tip: Avoid freezing risotto completely. Upon thawing, the rice turns gummy and you lose the creaminess. Some things are best eaten fresh!
FAQ
Why is risotto rice cooked differently than other rice?
Risotto rice is cooked differently than other rice to get the most out of the high starch content. By adding liquid in heats and stirring vigorously, the grains are able to open up and release starch to yield that signature creamy texture of risotto.
Is parmesan risotto a main dish or a side dish?
You can serve parmesan risotto as either a main dish or a side dish – it's up to you! It's a great recipe for Meatless Monday, but also a wonderful side dish to just about any savory protein.
Is risotto rice healthier than regular white rice?
The health differences between risotto rice and regular white rice are pretty negligible. The main difference is that arborio rice contains much more starch than regular rice, resulting in a chewier and creamier grain.
Should you use a non-stick pan for parmesan risotto?
You'll want to use a heavy-bottomed, flat-sided pan for risotto over a typical non-stick skillet. While you don't want the rice to stick to bottom of the pan, it's more important that you have a flat surface to work on so that the rice cooks evenly.
More Tasty Rice Recipes
Recipe
This recipe for parmesan risotto is savory, creamy, & the definition of comfort food. A Northern Italian delicacy & a must-have for your dinner rotation!
Nutrition Facts
Parmesan Risotto (Crazy Easy)
Amount Per Serving
Calories 376
Calories from Fat 99
% Daily Value*
Fat 11g17%
Cholesterol 16mg5%
Sodium 1464mg61%
Potassium 96mg3%
Carbohydrates 58g19%
Protein 8g16%
Vitamin A 683IU14%
Vitamin C 1mg1%
Calcium 107mg11%
Iron 3mg17%
* Percent Daily Values are based on a 2000 calorie diet.