This guide on homemade croutons will show you everything you need to know to make a perfectly crispy salad or soup topper. Great for meal prep & crazy easy!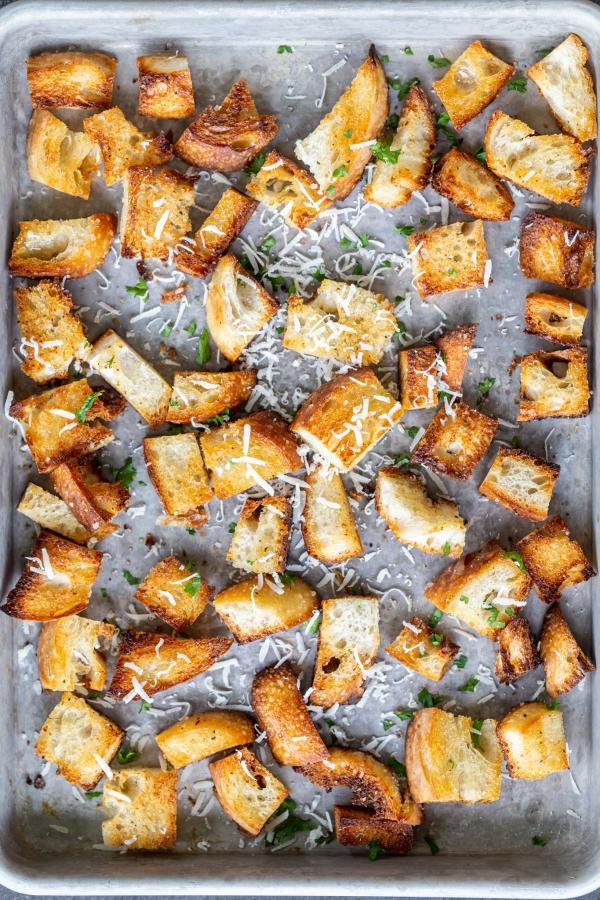 If you're a huge fan of salads and find yourself reaching for packaged croutons on a regular basis, it's time to try your hand at making them homemade! From prep to table, they only take 20 minutes total time and are super versatile in the seasoning department. Consider this your go-to foundational crouton recipe!
Putting Your Leftover Bread to Good Use
If you have a stale loaf of bread hanging out on your counter, don't throw it away! The more stale the bread, the crispier your homemade croutons will be. We like to bake a couple of loaves of sourdough, miche bread (typical white sandwich bread), or baguettes on a Sunday, use what we need throughout the week, and turn the leftovers into fresh croutons for the weekend.
Hot Tip: Another foolproof way to use stale bread is to make your own breadcrumbs. Simply throw the bread in a food processor with Italian seasoning and pulse until fine in texture.
Preparing Homemade Croutons from Scratch
Making homemade croutons is more of a technique than a recipe – it's fluid, easily tweaked, and can be used with just about any bread you can imagine.
Prepare the Oven & Baking Sheet: First, preheat the oven to 375°F and line a large baking sheet with parchment paper.
Season the Bread Cubes: Next, place the cubed bread in a large bowl and toss it with olive oil and garlic parsley salt.
Bake the Bread Cubes: Next, spread the bread cubes on the baking sheet and bake them for 10-15 minutes, or until crispy and golden brown.
Hot Tip: Swap out the oil for equal parts melted butter if you prefer a buttery crouton.
A Couple of Handy Tips for Homemade Croutons
Oftentimes, people have a hard time getting their homemade croutons as crispy as their favorite packaged variety. The following 3 tips will make sure that doesn't happen to you!
Slice the bread cubes into similar sizes. To promote even cooking and ensure some of your croutons aren't crispier than others, slice the stale bread into similar-sized cubes.
Follow the golden brown rule. The golden rule for croutons is to bake them until crispy and golden brown. Because different styles and sizes of bread cubes bake differently (i.e. some bread doesn't get as crispy as fast as others), adjust the time as necessary and don't be afraid to stray away from the recipe time.
Bake the croutons in a single layer and avoid overcrowding them. To ensure the croutons get equal attention from the heat of the oven, don't stack or crowd the bread cubes.
Hot Tip: If you're batch cooking several pans of croutons, switch them between the top and bottom rack halfway through to make sure they are getting enough heat.
Different Seasonings for Homemade Croutons
Perhaps the most fun part of making homemade croutons is using whatever seasoning your heart desires! Here, you'll find some of our favorite alternative combos to play around with.
Garlic Lover's: With 2-3 minutes of baking time left, toss the croutons in minced fresh garlic cloves and an additional teaspoon garlic powder. Bake until the garlic is crispy and fragrant.
Cheesy Croutons: Before popping the croutons in the oven, sprinkle them in 1/4 cup of freshly grated parmesan cheese and black pepper.
Zesty Croutons: Swap the garlic parsley salt out for equal parts dry ranch dressing seasoning for a tangy pop of flavor.
Dried Herb Croutons: Add a teaspoon each of dried rosemary, oregano, thyme and basil to the seasoning before baking.
Hot Tip: Watching your sodium? Use your favorite salt-free seasoning instead.
Ideas for Using Your Croutons
The most obvious option is to toss your homemade croutons into your favorite salads. We love using them for caesar salad or a tuna cobb salad. Alternatively, use them for a crunchy topper on tomato basil soup or to make homemade holiday stuffing. All that said, there's nothing wrong with snacking on them as-is!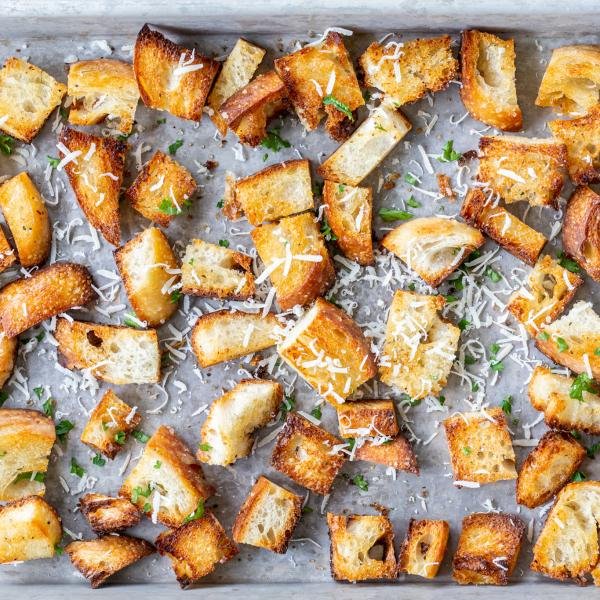 Storage Tips
Croutons are the perfect meal prep ingredient – you can make a huge batch and stow them away from salads and soups throughout the week. Because croutons are prone to losing their crisp in storage, keep them in an airtight container at room temperature. When stored properly, they will stay fresh for 10 days.
FAQ
Can you use frozen bread for croutons?
It's best to avoid using frozen bread for croutons. To get the crispiest result, you'll want to use the driest, stalest bread possible.
Are croutons just stale bread?
Croutons are more than just stale bread. In a nutshell, they are stale bread that has been cubed, seasoned, and baked to crispy perfection before being used in a myriad of ways.
Why are my croutons soggy?
Your croutons are likely soggy if you drown them in too much oil. Another potential reason is that you simply haven't baked them long enough. If you have to, simply increase the bake time and keep checking in on them.
Can you store croutons good for in the fridge?
It's not a good idea to store croutons in the fridge, as they tend to get too hard. It's best to leave them at room temperature in an airtight container or plastic storage bag.
How do you crisp up stale croutons?
If you'd like to crisp up your croutons, simply assemble them in a single layer on a baking sheet lined with parchment paper. Pop them in the oven at 350°F for 2-3 minutes until crunchy and warmed through. Alternatively, you can use your air fryer.
More Fun Things to Make Homemade
Recipe
Crunchy homemade croutons are much easier to make than you think. All you need is just three ingredients – stale bread, olive oil, and garlic parsley salt!
Instructions
Drizzle the olive oil over the bread cubes and season them with garlic parsley salt. Toss the bread cubes until they are evenly coated in the seasoning.
Nutrition Facts
3 Ingredients Homemade Croutons (Crazy Easy)
Amount Per Serving
Calories 776
Calories from Fat 225
% Daily Value*
Fat 25g38%
Sodium 2515mg105%
Potassium 334mg10%
Carbohydrates 112g37%
Protein 25g50%
Vitamin A 5IU0%
Vitamin C 0.5mg1%
Calcium 297mg30%
Iron 9mg50%
* Percent Daily Values are based on a 2000 calorie diet.