This crisp Cobb salad with tuna is refreshing, crunchy, and filling. Perfect for a quick lunch or dinner or served as a side dish at your next party!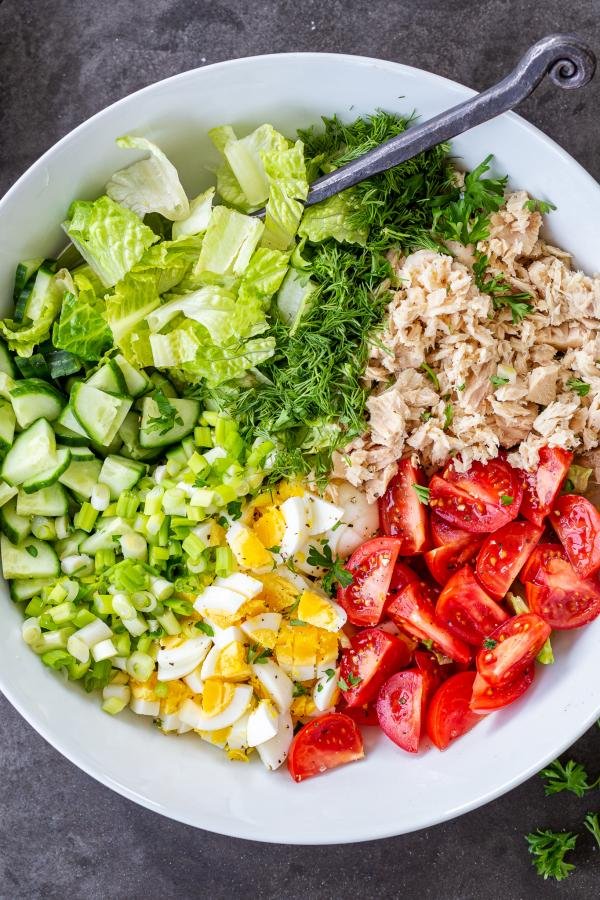 Nothing is quite as refreshing as a Cobb salad with tender tuna. I love packing them away for takeaway lunches or serving a huge bowl family-style for BBQs or dinner parties. There's just something so satisfying about how the hard-boiled eggs, juicy tomatoes, crunchy cucumbers, and salty tuna complement one another.
Whether you're a die-hard Cobb salad fan or just looking to nosh on something light and healthy, this salad comes together so quickly and requires little legwork. What's better? It's filling enough to be eaten as a meal all on its own on a hectic weeknight.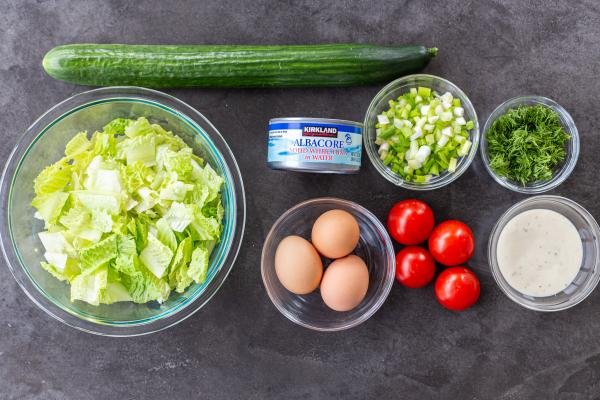 How to Make Cobb Salad with Tuna
Making a Cobb salad with tuna only requires a little chopping and assembling. It's so easy, you can hardly even call it a recipe. Below, find a brief rundown of the recipe before you get to it.
Hard Boil the Eggs: In a saucepan full of boiling water, hard boil the eggs for 10-12 minutes.
Chop the Veggies: Using a sharp knife, dice the veggies and eggs into even-sized pieces.
Cobb Salad Dressing
While there is no set-in-stone rules as to which salad pairs best with a Cobb, there are a couple of tried and true options. Light ranch dressing, blue cheese dressing, olive oil and vinegar, or just about any red wine vinaigrette (try this beet salad dressing if you're looking for a bit of tang) work wonderfully.
Tips & Tricks
Here you'll find a couple of tips and tricks to help you make the most delicious Cobb salad with tuna.
Chop the veggies into similar sizes. Chopping the veggies into similar sizes will bring consistency to each bite and make for better forkfuls.
Toss the salad only before you plan to serve it. There's nothing worse than a soggy salad. Prevent this by holding off on dressing the salad until right before you're ready to eat.
Use a salad spinner to clean your lettuce. Wet lettuce can not only make your salad soggy, but it can also water down your dressing. If you have one, use a salad spinner to wick off any excess moisture.
Other Ingredients to Add
The awesome thing about Cobb salad is how much you can tweak it to fit your particular palate. Below, find a couple of suggestions and variations.
Veggies: Red onion, avocado, artichoke hearts, red bell peppers, and pickled beets
Protein: Crispy bacon bits, air fryer salmon, chicken breast, rotisserie chicken, and air fryer shrimp
Herbs: Dill, parsley, basil, chopped green onions, and chives
Cheese: Sharp cheddar cheese, blue cheese crumbles, crumbled goat cheese, and feta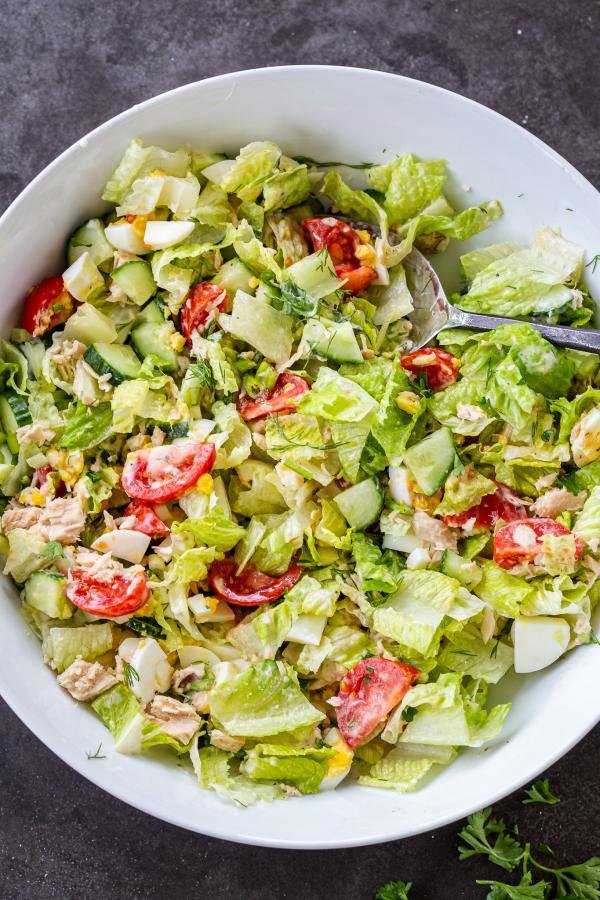 Serving a Cobb
This Cobb salad with tuna is filling enough to be eaten all on its own for lunch or dinner. However, if you're in the market for a more well-rounded meal, serve it alongside a fresh baguette or some tender air fryer baked potatoes. You can also pair it with a piping hot bowl of tomato basil soup. Don't forget to top it with a few cracks of black pepper. Yum!
Storing TIps
If your salad is already tossed with dressing, you'll want to eat it within a couple of hours to prevent it from turning soggy. If you need to store the salad for a couple of hours before serving, make sure to keep the salad and the dressing separate. Additionally, make sure to cover the chopped veggies in a bowl with plastic wrap to ensure the veggies don't wilt and turn limp.
FAQ
What makes a Cobb salad a Cobb salad?
Typically, a Cobb salad is made with chopped veggies, hard-boiled eggs, protein, and creamy dressing. That being said, there are no hard-line rules on what makes a Cobb a Cobb.
What's the difference between a chef salad and a Cobb salad?
A chef salad tends to have sliced deli meats, cheese, veggies, and romaine lettuce. On the other hand, a Cobb salad typically has chopped veggies, chicken or fish, and hard-boiled eggs.
How did the Cobb salad get its name?
The origin of why the Cobb salad got its name is heavily debated. The most popular story is that the owner of the Hollywood Brown Derby restaurant, Robert Cobb, threw together a bunch of leftover salad ingredients into a bowl on a whim one night in 1937. Supposedly, he loved the salad so much it became a regular item on the menu. The rest is history!
What is Cobb salad dressing made of?
There is no specific dressing associated with Cobb salad. The most typical dressings include ranch dressing, bleu cheese dressing, or vinaigrette.
Can I make Cobb salad ahead of time?
Yes, you can make Cobb salad ahead of time. Just make sure to keep the dressing and salad separate until just before you are ready to serve.
Other Tasty Salad Recipes
Recipe
This crisp Cobb salad with tuna is refreshing, crunchy, and filling. Perfect for a quick lunch or dinner or served as a side dish at your next party!
Ingredients
7

oz

canned tuna

1/2

english cucumber

4

medium tomatoes

1

head of romaine lettuce

3

hard boiled eggs

4

green onions

handful of fresh herbs

1/2

cup

ranch

1/2

tsp

ground black pepper

adjust to taste

1/2

tsp

salt

adjust to taste
Instructions
In a saucepan, bring a couple of cups of water to boil. Hard boil the eggs for about 10-12 minutes. While the eggs are cooking, rinse all of the veggies.

Dice the vegetables and eggs into small, even-sized pieces. Place the lettuce on the bottom of a large serving bowl. Assemble the diced veggies, eggs, herbs, and tuna on top.
Nutrition Facts
Easy Cobb Salad with Tuna
Amount Per Serving
Calories 179
Calories from Fat 117
% Daily Value*
Fat 13g20%
Cholesterol 112mg37%
Sodium 530mg22%
Potassium 274mg8%
Carbohydrates 5g2%
Protein 11g22%
Vitamin A 1014IU20%
Vitamin C 9mg11%
Calcium 41mg4%
Iron 1mg6%
* Percent Daily Values are based on a 2000 calorie diet.