These grilled teriyaki chicken skewers are made with only two ingredients: teriyaki sauce and chicken thighs. Look no further for a crazy easy, no-fuss protein entree.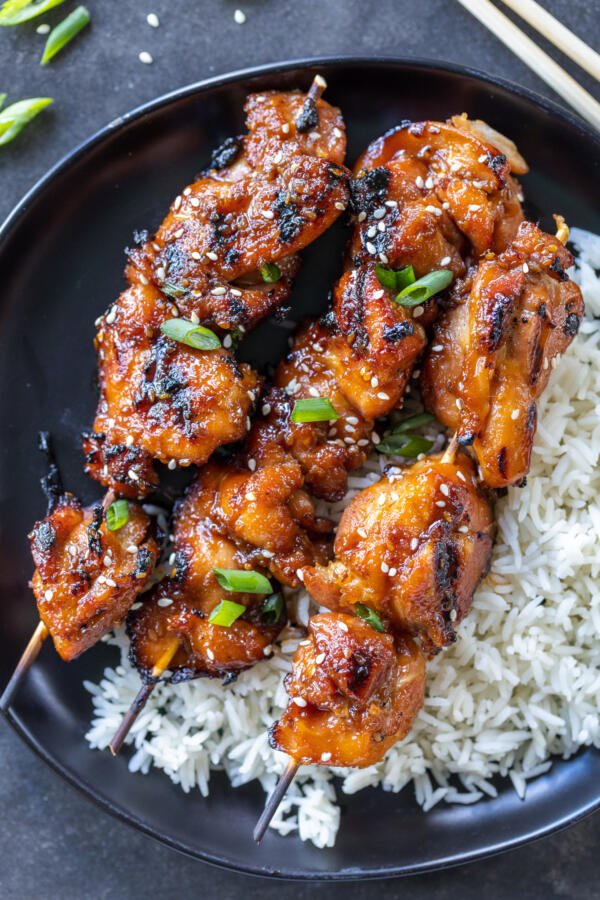 What are Teriyaki Chicken Skewers?
Teriyaki chicken skewers are cubes of chicken thigh meat marinated in a teriyaki marinade, then placed on skewers and grilled. Teriyaki marinade is most often composed of a mix of soy sauce, sake, garlic, ginger, and other ingredients commonly used in Japanese cooking. We love using our homemade teriyaki sauce.
How to Make Teriyaki Chicken Skewers
You won't believe it only takes ten minutes of prep time to make these flavorful chicken skewers. Get out your skewers and let's get going!
Cut the chicken: Cut the chicken thighs into two-inch cubes.
Marinate the chicken: Place the cubes into a medium size bowl, add teriyaki sauce, and marinate.
Skewer the chicken: Thread the chicken onto the skewers, leaving a bit of space between each piece.
Preheat the grill: Preheat the grill to medium heat. Once hot, lightly brush the grates with oil.
Grill: Add the chicken skewers and grill on each side for three to four minutes until the chicken is lightly golden and fully cooked through. Enjoy!
Hot tip: We love using these metal skewers for our chicken teriyaki kabobs! They're environmentally friendly and reusable!
Variations
As addicting as teriyaki chicken is, adding variety to the dish will only make you love it more.
Make it "Hawaiian": For a "Hawaiian" spin on the chicken, add pineapple chunks between the pieces of chicken. Use either fresh or canned pineapple.
Add vegetables: Grilled veggies are amazing! Add bite-sized pieces of bell peppers, mushrooms, broccoli, and onions.
Change up the meat: When you're out of boneless skinless chicken thighs, use chicken breast. Although the meat is drier, it is still a good alternative. Keep in mind, the cook time is also shorter.
Use a store-bought teriyaki sauce: To make this recipe the absolute easiest, buy a tasty store-bought teriyaki sauce. When we don't have time or ingredients to make our homemade teriyaki sauce, we like to use Very Very Teriyaki sauce.
Tips from the Kitchen
Avoid any unexpected surprises when grilling this chicken by following these tips.
Use tongs: It's tempting to turn the chicken with the edge of the skewers, but be careful — they are hot! Instead, use tongs to flip the chicken on the grill.
Soak wooden skewers: When using wooden skewers, soak them in water for 30 minutes to prevent them from catching fire on the grill.
Cover with plastic wrap: When the chicken is marinating (for at least 30 minutes), cover the bowl with plastic wrap. This will help keep the aroma inside the bowl.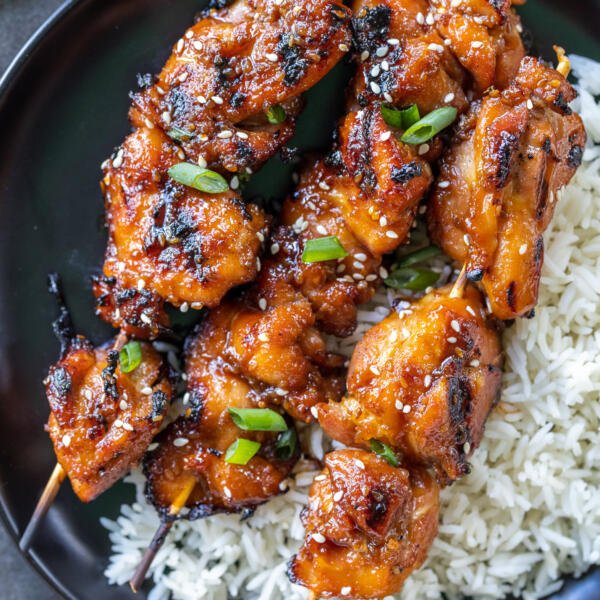 Serving Suggestions
Teriyaki chicken covers the protein component every meal needs. To cover all the other important parts of a meal such as the veggies and carbohydrates, make the following side dishes:
Meal prep alert: Double or triple the recipe to make extra chicken to use for different meals throughout the week!
Make Ahead
One of the best parts of these teriyaki skewers (other than the flavor, of course!) is they're great to prep ahead of time! Marinate the chicken in the teriyaki sauce anywhere from 30 minutes to eight hours ahead of time. Then, place the raw chicken on skewers and store in an airtight container or wrapped in plastic wrap until ready to grill. Remember to refrigerate the raw meat as it marinates!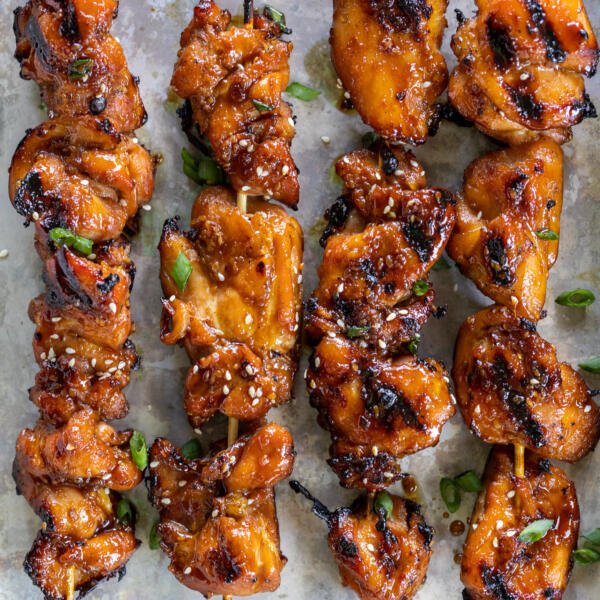 Storage Tips
In case you double (or triple!) the recipe and have leftovers to last you a few days, here are our tips on how to retain the best flavor.
Refrigerator: To store for up to four days, remove the chicken from the skewer and transfer to an airtight container.
Freezer: To store for up to three months, remove the cooled chicken from the skewers, then place into an airtight container or freezer-safe bag. Thaw frozen chicken in the refrigerator overnight.
Reheating
There are a few options to reheat your teriyaki chicken depending on how much you need to heat and how much time you have.
Air fryer: Reheat in the air fryer at 375°F for five minutes or until heated through. Chicken tends to retain the most moisture when reheating in the air fryer. When reheating from frozen, increase the time by five to ten minutes.
Oven: To reheat a large batch of chicken, place chicken into an oven at 400°F and heat for 10-12 minutes or until warmed through.
Microwave: For the quickest reheat, place the chicken in the microwave until warmed.
Serving tip: Brush the reheated chicken with fresh teriyaki sauce before serving!
FAQ
What ingredients are in teriyaki sauce?
Teriyaki sauce differs between cooks, but a few of the most common ingredients are tamari soy sauce, fresh ginger, brown sugar, cornstarch, sesame oil, mirin, and more.
Is teriyaki a marinade or a sauce?
Teriyaki sauce is used as both a marinade or as a sauce. To avoid food cross-contamination, avoid using the same sauce as a marinade and dipping sauce.
Are teriyaki and soy sauce the same?
Teriyaki and soy sauce are not the same. Teriyaki is a combination of soy sauce and other ingredients.
More Grilled Goodness
Recipe
These grilled teriyaki chicken skewers are made with only two ingredients: teriyaki sauce and chicken thighs. Look no further for a crazy easy, no-fuss protein entree.
Nutrition Facts
Teriyaki Chicken Skewers
Amount Per Serving
Calories 561
Calories from Fat 342
% Daily Value*
Fat 38g58%
Cholesterol 222mg74%
Sodium 2932mg122%
Potassium 627mg18%
Carbohydrates 12g4%
Protein 41g82%
Vitamin A 177IU4%
Calcium 36mg4%
Iron 3mg17%
* Percent Daily Values are based on a 2000 calorie diet.