This Imeruli khachapuri has a warm two-cheese filling encased in a sweet bread. It's an insanely delicious comfort food you shouldn't skip out on!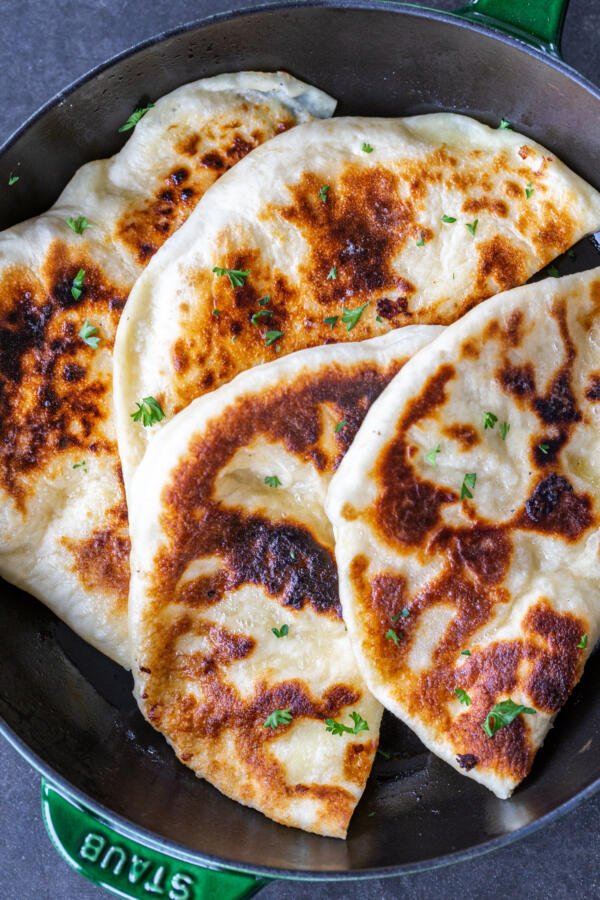 What is Imeruli Khachapuri?
Khachapuri is a Georgian dish that literally translates to "cheese bread." It's made in different shapes, with slightly different flavor variations depending on the region within the country of Georgia where it originates. Some khachapuri are boat shaped and have an egg on top, like Adjaruli khachapuri — whereas others, like Imeruli khachapuri come from the Imereti region and are circular.
Imeruli khachapuri is a cheese bread that is formed into a round shape, with the cheese filling enclosed inside the bread like a pie. Georgians typically make the dough with matsoni, which is similar to kefir, and the filling with Imeruli cheese, but these ingredients are hard to find in the U.S. Instead, this recipe uses a few substitutions with easier-to-find ingredients that will still achieve a very similar taste. Get ready to enjoy a sweet, chewy bread filled with flavorful and warm cheese. Yum!
How to Make Imeruli Khachapuri
To make khachapuri, first make the dough, and then make the filling and assemble the bread. For a quick khachapuri, make the dough ahead of time and freeze until ready to use.
Make the Dough
Stir the dough ingredients: In the large bowl of a stand mixer, combine lukewarm water and milk. Then, add in the yeast, sugar, and salt. Stir, then let the mixture rest for a few minutes until bubbly.
Knead the dough: In small parts, add the all purpose flour to the bowl. Using a dough hook, knead on low speed as you add the flour. Add oil and knead until dough is elastic and no longer sticky.
Leave dough to rise: Cover the mixing bowl with a towel and leave to rise in a warm area for about an hour.
Make the Filling & Assemble
Combine the cheeses: Combine the mozzarella and feta cheese, then stir until the mixture is smooth.
Divide the dough: Divide the dough into six equal parts. Flour the work surface and roll each part into a round shape.
Fill with cheese: Fill the middle of the rounds with 1/2 cup of the cheese mixture. Pull and fold the edges of the dough together into a ball shape, pinching the edges tightly in the center.
Flatten the khachapuri: Sprinkle the khachapuri with any remaining flour and flatten with your hands, followed by a rolling pin. Flatten the khachapuri to about a 6 or 7-inch disk.
Cook on the stovetop: Preheat a pan on medium-high heat with oil, then cook khachapuri on each side for about four minutes or until golden-brown.
Brush with butter: Remove khachapuri from the heat and brush with butter. Serve right away.
Tips from the Kitchen
Khachapuri is loved for its combination of sweet pillowy bread and gooey warm filling. Follow these tips to make the perfect khachapuri you're craving.
Use active dry yeast: To make the dough pillow-soft with a crispy layer on the outside, use active dry yeast. Check that the yeast is not expired and only add yeast to lukewarm or room temperature liquid. Adding yeast to hot liquid will kill it.
Use a stand mixer: For the easiest way to make the dough, use a stand mixer. If you don't have one, knead the dough by hand.
Combine the cheeses well: When combining the cheese mixture, stir until the cheeses are perfectly smooth without any lumps.
Remove air bubbles: When rolling out the filled khachapuri, air pockets may develop. Pinch the pockets to pop and remove them.
Inspect the dough for holes: Make sure the dough does not have any holes. Cheese will escape from the filling when there are holes in the dough.
Cook on a heavy bottom skillet: We love to use our Staub pan to cook this khachapuri. It cooks them so perfectly!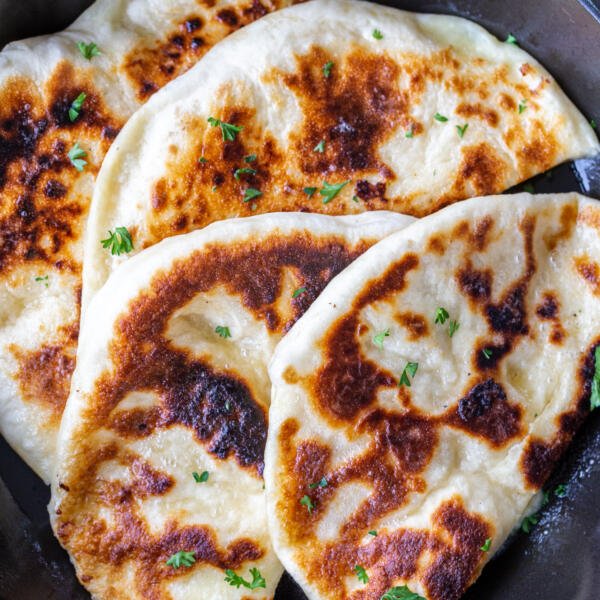 Ways to Serve
Khachapuri is best when served fresh off the pan while the cheese filling is hot and melty. It is traditionally served for breakfast or brunch along with a cup of tea. Cut it into quarters and serve it on a breakfast charcuterie board for guests. Or, enjoy it for lunch, dinner, or as a tasty snack.
If you serve it as a side dish, make it a full meal with khinkali dumplings (also Georgian!). Or, instead of a regular piece of bread, dip the khachapuri into the tasty broth of shurpa soup! It's also great with a fresh vegetable salad like farro salad with lemon vinaigrette or broccoli cucumber and tomato salad.
Storage Tips & Reheating
Imeruli khachapuri is at peak flavor when it is fresh off the stove, but it can be stored for later.
Refrigerator: To store leftovers for up to four or five days, place individual slices of the khachapuri into an airtight container in the fridge.
Freeze: To store for up to one or two months, freeze individual slices wrapped in plastic wrap and placed in an airtight container or freezer safe ziploc bag. To enjoy again, remove and thaw as many pieces as you need.
Reheating: To reheat the slices quickly, place them in the microwave for 30 seconds to a minute. Or, wrap each slice in foil and reheat in the oven at 350°F for about 10-12 minutes or until heated through.
Hot tip: Khachapuri doesn't have to be reheated — it tastes great cold, too!
FAQ
How many different types of khachapuri are there?
It is difficult to count how many different types of khachapuri there are, but some sources say there are over 50. The three most popular are Imerulian, Adjarian, and Megrelian khachapuri.
Where does khachapuri come from?
Khachapuri historically comes from Georgia, a small country between Eastern Europe and Western Asia. Georgia is bordered by the Black Sea on the west, Turkey, Armenia, Azerbaijan on the southern border, and by Russia on the north.

Are khachapuri and Pide the same dish from different countries?
Khachapuri is traditionally from Georgia, whereas Pide is Turkish. Pide often includes savory toppings, whereas khachapuri is strictly cheese, bread, and sometimes an egg.
Is khachapuri a Georgian, Armenian, or Turkish dish?
Khachapuri is traditionally a Georgian dish; however, because Armenia and Turkey also border Georgia, this dish is highly popular in those countries as well. These three countries share many similarities in cuisine.
Other Cozy Dishes to Try
Recipe
This Imeruli khachapuri has a warm two-cheese filling encased in a sweet bread. It's an insanely delicious comfort food you shouldn't skip out on!
Ingredients
KHACHAPURI FILLING
1

cup

feta cheese

3

cups

mozzarella cheese

2

tbsp

unsalted butter
Instructions
KHACHAPURI DOUGH
In the bowl of a stand mixer, combine lukewarm water and milk. Add in yeast, sugar, and salt. Stir to combine. Let it rest for a few minutes or until bubbly.

In small parts, add flour to the liquids. Using a dough hook, knead on low speed as you add in flour. Add oil to the mixture. Knead until the dough is elastic and no longer sticky.
Nutrition Facts
Imeruli Khachapuri (Georgian Cheese Bread)
Amount Per Serving
Calories 625
Calories from Fat 234
% Daily Value*
Fat 26g40%
Cholesterol 81mg27%
Sodium 1043mg43%
Potassium 213mg6%
Carbohydrates 70g23%
Protein 26g52%
Vitamin A 667IU13%
Vitamin C 0.002mg0%
Calcium 471mg47%
Iron 4mg22%
* Percent Daily Values are based on a 2000 calorie diet.