This simple steak quesadilla recipe is packed with juicy, tender steak and sautéed bell peppers and onions. So incredibly gooey, cheesy, & 100% kid-friendly!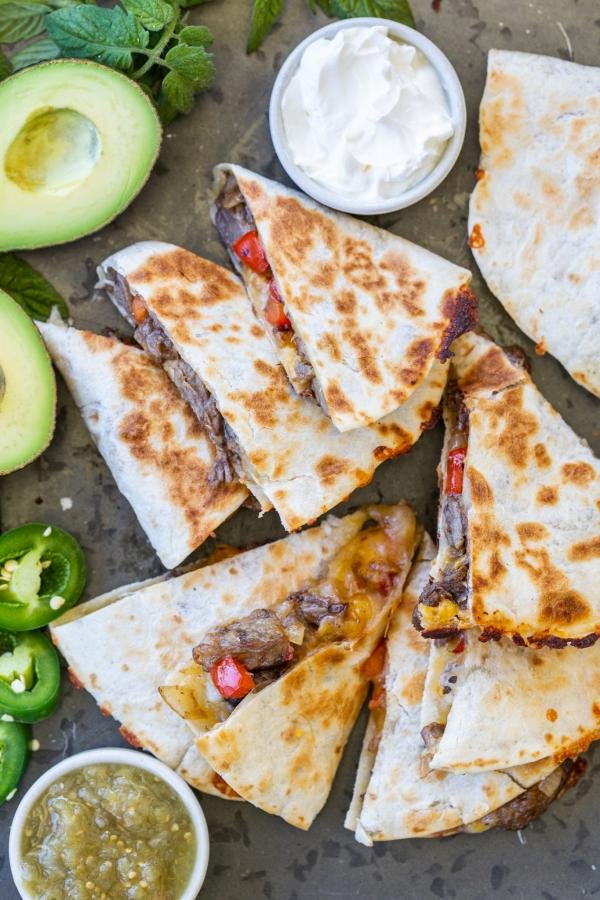 These tasty steak quesadillas are the perfect way to put your leftover steak to good use. Whip them up for a quick weeknight meal or add in some scrambled eggs to turn them into breakfast quesadillas. Whatever you do, make enough of them to share!
The Best Kind of Steak for a Steak Quesadilla
Our favorite steak to use for steak quesadillas is ribeye. It's perfectly marbled and super tender, making for such a smooth bite. Opt for either grilled ribeye or cast-iron ribeye for this recipe. You can even use leftover flank steak, sirloin steak, or skirt steak if you prefer leaner meat. If you are using a cast-iron ribeye for this recipe, make sure to use the same pan to cook the veggies in – it will add so much extra flavor!
Hot Tip: Take your beef filling to the next level by cooking it in our homemade taco seasoning.
How to Make a Perfect Steak Quesadilla
It only takes 30 total minutes to make these cheesy quesadillas! Here's a quick overview of the process.
3 Tips for the Nailing this Steak Quesadilla Recipe
To nail the quesadilla-making process, follow these 3 pointers along the way.
Different Filling Ideas
If you want to get creative, experiment with different fillings and ingredients to make these quesadillas your very own.
Ideas for Serving
From dips to tasty side dishes, here are a couple of our favorite ways to serve these steak quesadillas.
Storing & Reheating Tips
To keep your quesadillas on hand for up to 3 days, store them in an airtight container in the fridge. As they sit, the cheese will harden and they will lose their crispy crunch. To bring them back to life, reheat them in the oven at 350°F just until the cheese is melted. You can also reheat them in the air fryer if you have one.
Hot Tip: Avoid microwaving quesadillas to reheat them – they just turn out soggy!
FAQ
What kind of cheese is best for steak quesadillas?
The best kind of cheese for steak quesadillas is shredded Mexican cheese. It tends to melt the best. However, you can use pretty much any other shredded cheese you like best, except for parmesan cheese (which doesn't tend to melt super well).
How long does it take to cook a steak quesadilla on the stovetop?
It only takes about 2-3 minutes per side to cook a steak quesadilla on the stovetop over medium heat. This can vary depending on how hot your stovetop runs, so always be sure to check the tortilla by lifting it with your spatula to see when it turns golden brown before flipping it.
Can steak quesadillas be frozen?
Yes, you can freeze steak quesadillas. To do so, slice them into quarters and allow them to cool down completely. Assemble the quarters on a baking sheet lined with parchment paper and pop the baking sheet into the freezer. Once completely frozen, transfer the quesadilla pieces into a freezer-safe bag for up to 3 months.
Can you make steak quesadillas in the oven?
Yes, you can make steak quesadillas in the oven. That said, they won't get as crispy as they will in a pan on the stovetop, but it's great when you are cooking for a large group. To do so, assemble the quesadillas in a single layer on a baking sheet and cook them for 5 minutes at 400°F on one side. Flip them over and cook them for 5-6 more minutes on the other side.
More Tasty Mexican-Inspired Recipes
Recipe
Love the gooey, cheesy pleasure of a simple quesadilla? You've landed in the right place. These steak quesadillas are so satisfying & crazy easy to make!
Ingredients
2

cups

Mexican cheese

1

tbsp

oil

olive or avocado

1/2

large bell pepper

diced

1/2

medium onion

diced

1

lb

steak

cooked, cut into cubes

2

tbsp

unsalted butter
Nutrition Facts
Steak Quesadilla (Fajita Inspired)
Amount Per Serving
Calories 443
Calories from Fat 270
% Daily Value*
Fat 30g46%
Cholesterol 92mg31%
Sodium 488mg20%
Potassium 307mg9%
Carbohydrates 17g6%
Protein 27g54%
Vitamin A 685IU14%
Vitamin C 13mg16%
Calcium 299mg30%
Iron 3mg17%
* Percent Daily Values are based on a 2000 calorie diet.