These buttermilk biscuits are absolutely loaded with melty cheddar cheese. They're buttery, flaky, and unbelievably soft — sure to make all your cheesy dreams come true.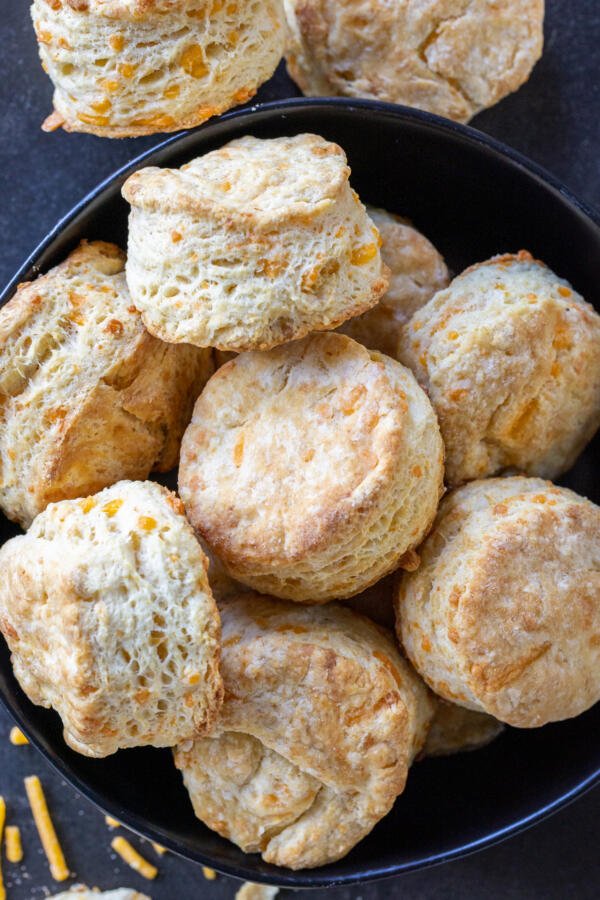 What Are Biscuits?
American biscuits are a popular type of bread originating from the southern United States. They are made with cold butter and buttermilk to achieve a fluffy, flaky texture. The dough is gently folded together, rolled out, then cut into rounds. Baking powder and baking soda are used to rise the biscuits as they are baked in the oven.
Biscuits can be sweet or savory depending on the amount of sugar in the dough. In this recipe, the biscuits are savory due to the addition of grated cheddar cheese.
Cheddar Cheese Biscuits Video
How to Make Cheddar Cheese Biscuits
Bring a steaming platter of biscuits to the table in only 35 minutes. Combine the ingredients to make a dough, roll and cut out the biscuits, then bake them to golden brown perfection!
Preheat the oven: Preheat the oven to 450°F.
Combine the ingredients: In a large bowl, mix together the dry ingredients. Grate in the butter, then add the grated cheese and buttermilk. Combine the wet and dry ingredients using a spatula.
Form the dough and roll it out: Gently bring the dough together on a clean surface, folding it to form a rough ball. Roll out the dough to be roughly 1 inch thick.
Cut out the biscuits: Stamp out biscuit rounds using a 3 inch round biscuit cutter.
Bake the biscuits: Place the rounds on a baking sheet lined with parchment paper. Bake them for 15 – 20 minutes, or until golden brown. Enjoy!
Hot tip: For a crispier crust, brush the biscuits with buttermilk before baking. For even more buttery richness, spoon melted butter over the biscuits when they are fresh out of the oven.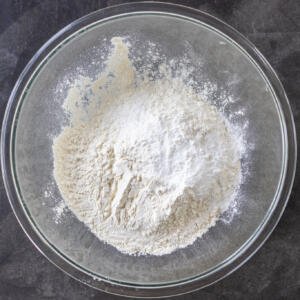 Tips for the Flakiest Biscuits
Cheddar biscuits are fairly straightforward to make, but using the right temperature and techniques makes the process even smoother. Follow these tips to ensure your biscuits will melt in your mouth.
Use cold ingredients: The flaky texture of these biscuits comes from the reaction of cold butter and hot oven steam. It is crucial to keep everything cold to preserve the separate pieces of butter and achieve flakiness. If you feel the dough warming up, pop it in the refrigerator for a few minutes until the butter solidifies again.
Grate the cheese yourself: Freshly grated cheese distributes throughout the dough evenly and melts smoothly. On the other hand, pre-shredded cheese usually contains starches that inhibit melting.
Handle the dough gently: Use gentle motions to combine the ingredients and fold the dough together. Overworked dough produces tough biscuits.
Cut out the biscuits carefully: Stamp out each biscuit using a sharp biscuit cutter. Avoid twisting the biscuit cutter, as this prevents the biscuits from rising properly.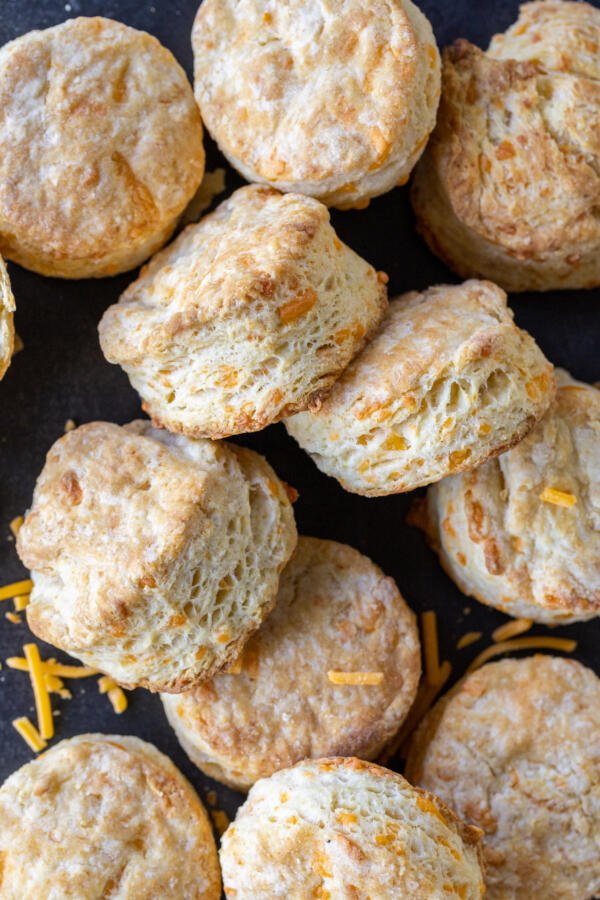 Troubleshooting Cheddar Cheese Biscuits
Are your biscuits flat, dense, or bland? Let's take a look at the most common biscuit mistakes and their corresponding solutions.
Flat and dense: Biscuits depend on baking powder to rise. The main culprit of flat and dense biscuits is expired leavening agents. Make sure your baking powder is fresh, and mix the dough together gently to produce fluffy biscuits.
Not flaky: Biscuits lose their flaky texture when the butter in the dough becomes too warm. Work quickly and keep the dough as cold as possible.
Tough: Tough bread is a sign of overmixed dough. Fold together the wet and dry ingredients with care, handling the dough as little as possible to achieve a light and soft biscuit texture.
Bland: Blandness is usually due to a lack of salt. Add enough salt to the dough to bring out the flavor. If your biscuits are still tasteless, brush them with a mixture of melted butter, fresh parsley, and garlic powder after baking to infuse more savory richness.
Dry and crumbly: Dry, crumbly biscuits are a result of too much flour or over-baking. Follow the recipe for the correct ratio of butter to flour, and take care not to bake your biscuits for too long. The type of flour you use may also alter the result — we use this flour for consistently flaky biscuits.
Making Cheddar Cheese Biscuits Ahead of Time
Do you want an abundant supply of delicious cheesy biscuits at your disposal? Mix up the biscuit dough, cut out the rounds, and place the raw biscuits in the freezer on a lined baking sheet. Once the biscuits are completely frozen, transfer them to a freezer-safe bag or container. When you are ready to enjoy a hot treat, thaw the frozen biscuits in the fridge and bake them straight away!
Hot tip: Preserve the biscuits' flaky texture by baking them cold. Take care not to thaw them on the counter, as this will soften the butter in the dough.
Ways To Serve
Fresh cheddar cheese biscuits are a mouthwatering addition to the dinner table. Serve the biscuits warm with softened butter on the side for spreading. Do you love the classic pairing of biscuits and gravy? These cheddar biscuits are amazing slathered with mushroom gravy, beef stew gravy, or even a simple 5-minute gravy. The rich, cheesy flavor of the biscuits also complements bright main dishes like oven baked salmon, lemon chicken pasta, or tomato basil soup. Alternatively, pair with juicy Instant Pot ribs, corn on the cob or garlic green beans for a hearty, savory meal.
Storing & Reheating
Leftover biscuits are a wonderful dilemma to have. Whether you're storing the biscuits short-term or long-term, take note of these tips to enjoy them again whenever you fancy.
Room temperature: To store for up to two days, let the biscuits cool completely on a wire rack, then wrap them in foil or plastic wrap and transfer to an airtight bag or container. Leave the biscuits in a cool, dry area.
Refrigerator: To store for up to a week, transfer the baked biscuits to an airtight container and refrigerate.
Freezer: To store for up to two months, wrap the baked biscuits in foil and freeze them in an airtight container or freezer bag.
Reheating: Reheat biscuits in the oven for the best results. Brush melted butter onto the biscuits to help retain moisture, then bake them at 400°F for 5-10 minutes. For a quicker reheating option, wrap each biscuit in a damp paper towel and microwave for 30 seconds, or until warmed through.
FAQ
Are cheddar cheese biscuits good for you?
Cheddar cheese biscuits may not be suitable for those on a low fat or low carb diet, as they contain a high percentage of flour, butter, and cheese. Otherwise, these biscuits are a delicious treat on occasion.
What is the origin of cheddar cheese biscuits?
Although it's impossible to know who made the very first cheddar cheese biscuit, Red Lobster's Cheddar Bay Biscuits made the popularity of the cheese biscuit soar. These beloved biscuits garnered a cult following, inspiring many "copycat" recipes as people attempted to create their own cheddar biscuits.
Can I use milk instead of buttermilk to make biscuits?
Yes, regular milk will work in this recipe. But why not make your own buttermilk in just 5 minutes? Stir a few drops of lemon juice or white vinegar into the milk, and let it sit until it curdles. That's all it takes!
More Cheesy Bread Recipes
Recipe
These buttermilk biscuits are absolutely loaded with melty cheddar cheese. They're buttery, flaky, and unbelievably soft — sure to make all your cheesy dreams come true.
Nutrition Facts
Cheddar Cheese Biscuits
Amount Per Serving
Calories 254
Calories from Fat 126
% Daily Value*
Fat 14g22%
Cholesterol 36mg12%
Sodium 205mg9%
Potassium 188mg5%
Carbohydrates 26g9%
Protein 7g14%
Vitamin A 432IU9%
Calcium 165mg17%
Iron 2mg11%
* Percent Daily Values are based on a 2000 calorie diet.