Israeli couscous salad is a refreshing medley of veggies, herbs, and cooked couscous. It's both delicious and rich in texture. One bite — and you'll be hooked!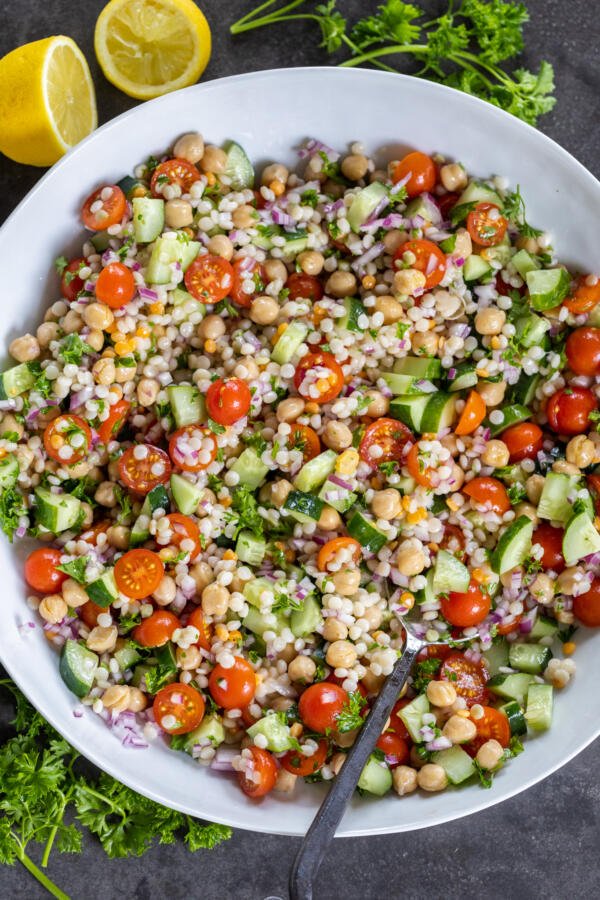 What Is Israeli Couscous Salad?
Israeli couscous salad is a dish coming from Mediterranean cuisine. It consists of a bed of Israeli couscous topped with fresh vegetables including cucumber, cherry tomatoes, and red onion. Chickpeas are also added as a flavor-packed protein. The salad is seasoned with aromatic mint and parsley herbs. Drizzled with an olive oil and lemon dressing — this salad packs a flavor punch.
Israeli Couscous Vs. Couscous
Israeli couscous was first made in Israel in the 1950s during the rice shortage as a rice substitute. Couscous is a type of pasta made from semolina or wheat flour and water. The dough is formed into tiny balls and then toasted in the oven. Israeli couscous is slightly coarse and golden in color, which gives it a unique flavor and texture.
The main difference between Israeli couscous and regular couscous is the size of the dough balls. Israeli couscous is larger compared to regular couscous. It resembles pearls, which is why you may find it called pearl or giant couscous as well.
How to Make Israeli Couscous Salad
This delicious, fiber-rich salad comes together quickly. Cook the couscous as if it is pasta, chop the veggies, shake up the dressing, and combine! That's it!
Israeli Couscous Salad
Cook the pasta: In a medium size pot, bring water and salt to a boil. Add in the couscous and oil. Stir to combine and let it simmer for about 10 minutes. Once cooked, drain and let it cool to room temperature.
Prepare the veggies: Chop all the veggies and herbs. Drain and rinse chickpeas. Set aside.
Arrange the salad: Place the couscous on the bottom of a large bowl. Top with veggies, chickpeas, and herbs. Dress with Israeli salad dressing and toss together.
Israeli Salad Dressing
In a small jar, combine all the dressing ingredients. Cover the jar with a lid and shake it up until the dressing is well combined. Use immediately, or store it in the fridge for later use.
Hot Tip: If your cooked couscous is clumping up, have no fear! The couscous lumps will break apart once the dressing is added.
Optional Mix-ins
Customize your Israeli couscous salad with various flavors by adding other ingredients. There are lots of additions that complement the salad very well.
Veggies: Avocados, bell peppers, or kalamata olives pair particularly well with this salad.
Greens: Boost the nutrients by adding leafy greens such as baby spinach or arugula.
Herbs: Fresh mint and parsley give this salad a wonderful fresh taste. Add dill, coriander, or green onions for more herby flavor.
Cheese: Feta cheese adds a dose of protein that is not only creamy but flavorful.
Nuts: Sunflower seeds, pine nuts, or pumpkin seeds add a delicious, crunchy bite.
Tips for the Best Flavor
This salad has a wonderful array of flavors. Follow these tips to ensure you don't miss out on each taste.
Use freshly squeezed lemon juice. This ensures a light, fresh flavor.
Add the dressing right before serving. This keeps the salad and veggies fresh and crisp.
Use a quality olive oil. Olive oil is an important part of the flavor so opt for good quality extra virgin olive oil.
Toast the Israeli couscous for a nuttier flavor. In an oiled pot over medium-high heat, toast the couscous for a few minutes.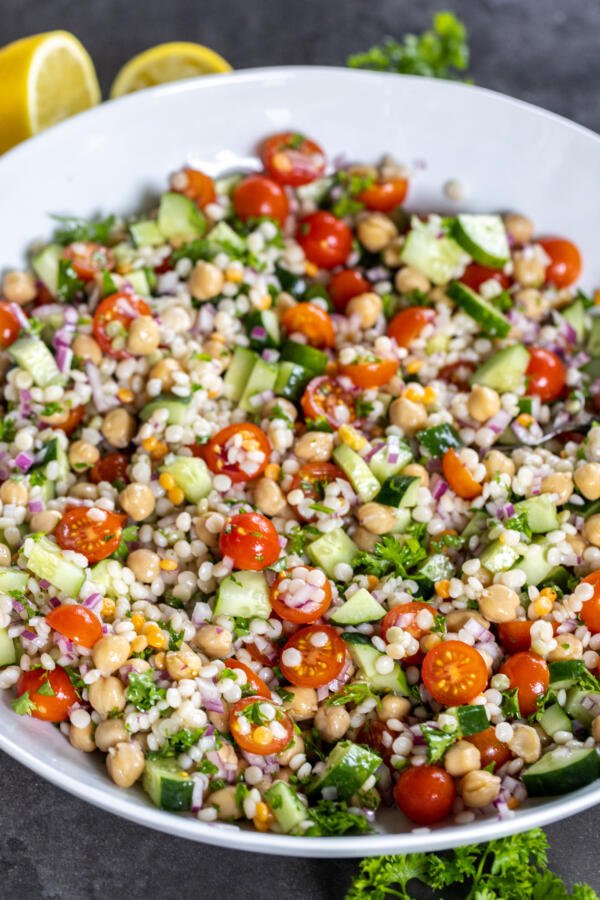 Ways to Serve
Israeli couscous salad is filling and is served as either a main dish or a side. When serving as a main dish, add a side of pita bread or make these filled pita pockets substituted with this salad. Or, make a meat dish and serve the salad as a side instead. These easy pan-fried lamb chops or pan-fried cod are quick and delicious dishes that also pair well with Israeli couscous salad. If you're in a kabob mood, serve the salad next to grilled beef shish kabobs or oven-baked chicken kabobs.
Make Ahead & Storage
Save time and prepare the salad and dressing a few hours before serving. Store them separately in airtight containers in the fridge. Toss the salad with the dressing right before serving.
If you're lucky enough to have leftovers, enjoy the salad the next day. Simply store the remaining salad in an airtight container in the refrigerator for up to three days. Avoid freezing the salad as it will turn mushy.
FAQ
Where can I buy Israeli couscous?
Israeli couscous can be found in most grocery stores. It is sometimes called pearl couscous or giant couscous.
Why is my Israeli couscous sticky?
Israeli couscous may be sticky if it was cooked in too much water or overcooked. This results in a couscous that is overly hydrated and sticky.
Should I rinse Israeli couscous before cooking it?
There is no need to rinse Israeli couscous before cooking it. In fact, not rinsing it preserves the flavor and texture.
More International Salad Recipes
Recipe
Israeli couscous salad is a refreshing medley of veggies, herbs, and cooked couscous. It's both delicious and rich in texture. One bite — and you'll be hooked!
Ingredients
1

cup

uncooked couscous

16

oz

canned chickpeas

drained and rinsed

2

cups

cherry tomatoes

halved

1

English cucumber

chopped

1/2

medium purple onion

chopped

1/4

cup

fresh parsley

chopped

3

tbsp

fresh mint

chopped
Instructions
In a medium size pot, bring water and salt to a boil. Add in couscous and oil to the pot, stir to combine, and let it simmer for about 10 minutes. Remove from the pot and let it cool to a room temperature.
Nutrition Facts
Israeli Couscous Salad Recipe
Amount Per Serving
Calories 128
Calories from Fat 72
% Daily Value*
Fat 8g12%
Sodium 455mg19%
Potassium 255mg7%
Carbohydrates 12g4%
Protein 4g8%
Vitamin A 468IU9%
Vitamin C 15mg18%
Calcium 39mg4%
Iron 1mg6%
* Percent Daily Values are based on a 2000 calorie diet.