Tomato mozzarella salad with lettuce is tossed with a simple balsamic, olive oil and herb dressing. This salad is delicious, healthy and super refreshing.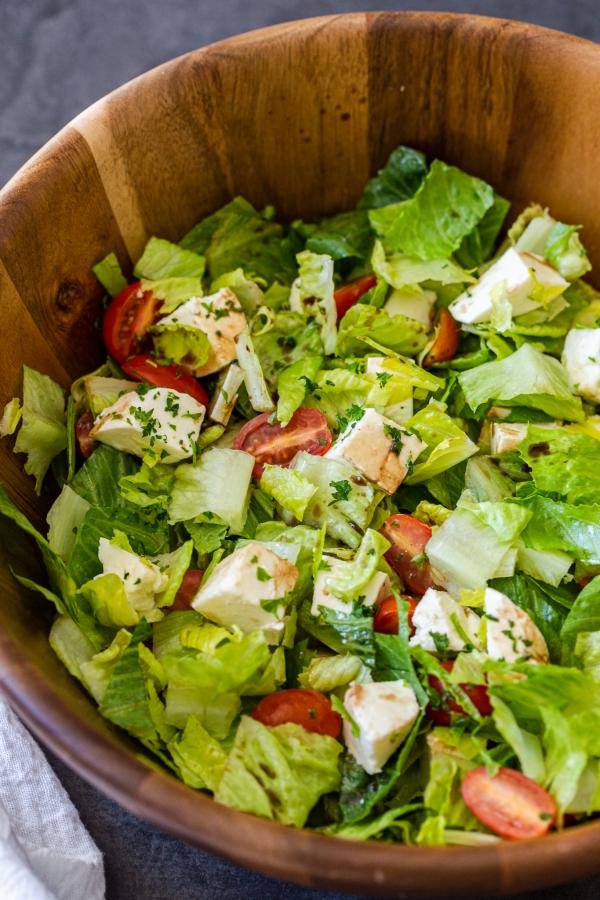 Tomato mozzarella salad is the perfect dish for your summer BBQ! Use the freshest produce you can get your hands on to make it.
Do you love Caprese salad? Think of this as a Caprese with lettuce. Whether you serve it as a side or top it with some protein to make it a meal on its own, this salad will soon "crunch" it's way into your heart.
A while back my husband and I decided that we were going to start taking salads to work for lunch. After trying out a bunch of different combinations, we landed on this delicious Greek-inspired salad.
How to Make Tomato Mozzarella Salad with Lettuce
Gather all your salad ingredients.
Chop up your lettuce and send it through the salad spinner.
Chop your tomatoes into bite-sized pieces.
Cut mozzarella cheese into bite-sized pieces.
In a large bowl, whisk your dressing ingredients together.
Toss your salad right before serving.
What Goes into Tomato Mozzarella Salad?
You know you are eating healthy when almost all of the ingredients are listed in the title of the recipe. This simple salad is made with all whole foods. They are as follows:
Tomatoes. Find the freshest summer tomatoes you can get your hands on. Heirlooms, cherry or roma tomatoes will all work perfectly.
Mozzarella. Fresh mozzarella that is stored in the brine is the best in this salad! Sometimes I can find fresh mozzarella that is seasoned with garlic and Italian herbs, which adds a great punch of flavor to this dish.
Lettuce. Romaine lettuce is your best bet. It has that perfectly refreshing summer crunch that this salad can't live without.

Hot tip: Worried about soggy salad? You're not alone. One of the best investments I have ever made is a salad spinner. Slice up your romaine and give it a good rinse in the colander. Then, place it back into the spinner and hit the plunger several times, wicking off any residual water from your salad leaves. The end result is a perfectly clean lettuce that won't water down your dressing! Gotta love it.

Balsamic Vinegar: Balsamic vinegar was made to be paired with tomatoes and mozzarella. The strong acid flavor cuts through the fat of the cheese oh-so well.
Avocado or Olive Oil: Whisk your balsamic with some high-quality olive or avocado oil for a simple and healthy dressing.
Fresh herbs: I love chopping up fresh basil to whisk into my dressing. Add a bit of salt and freshly cracked pepper and you will have yourself a great vinaigrette.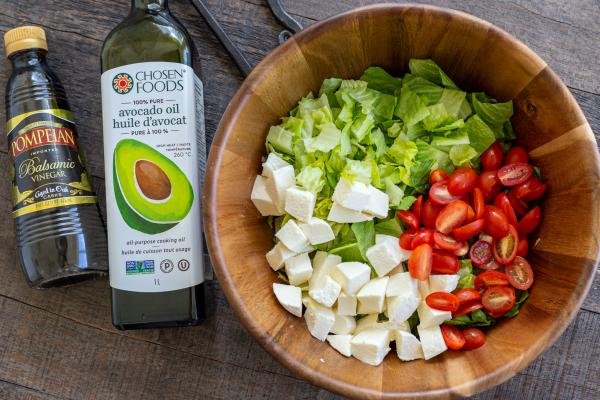 What To Serve with Tomato Mozzarella Salad
From BBQs to work lunches, this salad is great paired with some grilled meat or served as a vegetarian side dish. Here are some of my favorite things to pair with this quintessential summer salad:
Perfect Cast Iron Ribeye – Juicy, perfectly marbled ribeye pairs perfectly with a fresh, crunchy salad.
Mushroom Flatbread Salad – Sometimes it's just a pizza and salad kind of night.
Air Fryer Pork Chops – Looking for a quick and easy meal? Whip out the air fryer and pop in your pork chops. While they are cooking, toss your salad together. Just like that, you have a full-blown meal!
Recipe
Tomato mozzarella salad with lettuce is tossed with a simple balsamic, olive oil and herb dressing. This salad is delicious, healthy and super refreshing.
Instructions
Nutrition Facts
Tomato Mozzarella Salad with Lettuce
Amount Per Serving
Calories 238
Calories from Fat 198
% Daily Value*
Fat 22g34%
Cholesterol 32mg11%
Sodium 509mg21%
Potassium 156mg4%
Carbohydrates 5g2%
Protein 7g14%
Vitamin A 1590IU32%
Vitamin C 10.1mg12%
Calcium 159mg16%
Iron 0.7mg4%
* Percent Daily Values are based on a 2000 calorie diet.