Tomato mozzarella salad with lettuce is tossed with a simple balsamic and oil dressing. It's a spin off of Italian caprese salad — delicious, healthy and super refreshing.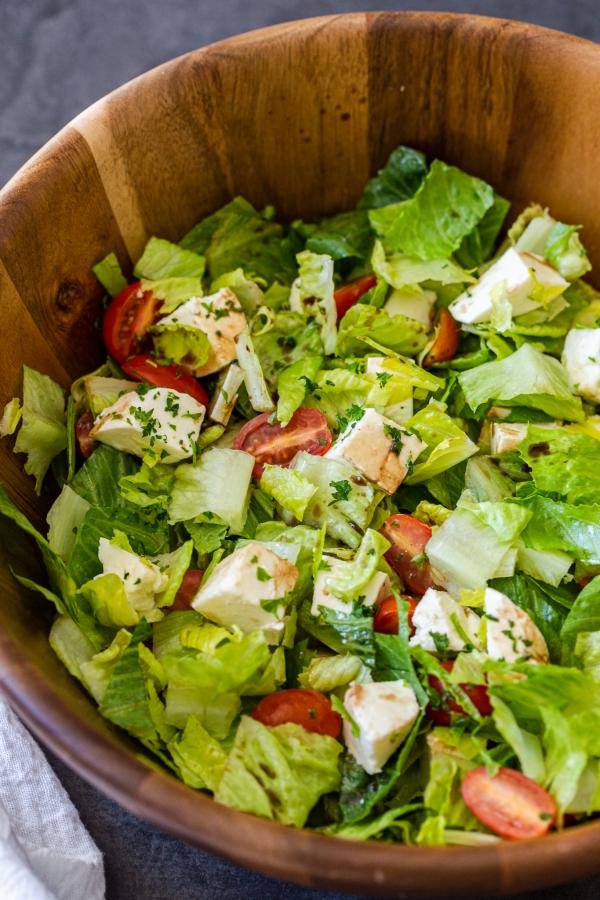 A while back when my husband and I worked outside of the home, we decided to take only salads to work for lunch. After trying out a plethora of different combinations, we landed on this delicious Italian-inspired salad as one of our top lunch choices.
What Is a Tomato Mozzarella Salad?
Tomato mozzarella salad is exactly what it sounds like, with the addition of a balsamic vinegar and avocado (or olive) oil dressing. It's similar to a caprese salad (an Italian-inspired salad made with tomatoes and mozzarella cheese) except it also has the addition of lettuce. Whether you serve it as a side dish or top it with protein to make it a meal of its own, this salad will soon "crunch" it's way into your heart.
Making Tomato Mozzarella Salad With Lettuce
It's surprising that it only takes five ingredients to make such a delicious salad. For a speedier prep time, gather all your salad ingredients in front of you and get ready to chop and toss.
Chop the ingredients: Cut the lettuce and mozzarella cheese into bite size pieces and the cherry tomatoes into halves. Place them all into a large bowl.
Add the dressing: Drizzle the salad with the two dressing ingredients— oil and a sprinkle of balsamic vinegar.
Toss: Toss the salad together and serve.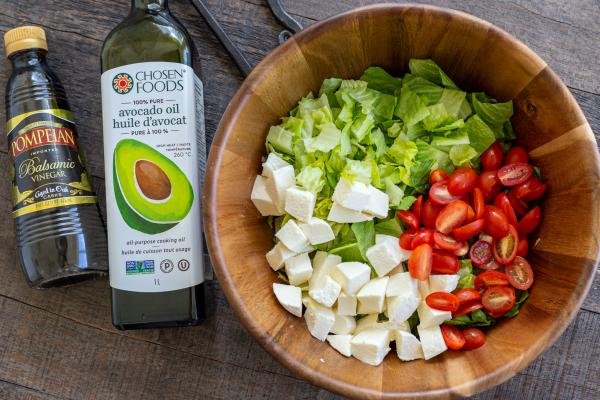 Tips From the Kitchen
Tomato mozzarella salad is the perfect dish for your summer BBQ! Here are a few tips we follow each time we make the salad.
Buy fresh veggies: Use the freshest produce you can get your hands on to make it. Farmers markets often have great options! Opt for romaine lettuce and fresh tomatoes (cherry and grape tomatoes are our favorite).
Choose mozzarella stored in brine: The best-tasting mozzarella is stored in brine, which keeps it fresh for longer. If you find fresh mozzarella cheese seasoned with garlic and Italian herbs, using it gives a great flavor additions to the salad. Mozzarella balls or mozzarella slices (cut into chunks) are good alternatives.
Use a salad spinner: One of the best investments I have ever made is a salad spinner. Rinse your veggies and extract all the excess liquid by spinning. There's no chance for a watered-down salad anymore!
Additions & Substitutions
One of our favorite perks about salads is how easy it is to add or substitute ingredients without messing up the dish. Here are a few of our favorite changes to this salad.
Fresh herbs: Top the salad with chopped fresh basil leaves for herby flavor. Basil is a popular ingredient in Caprese-like salads.
Balsamic glaze: For a thicker, slightly sweeter balsamic dressing, opt for balsamic glaze instead of balsamic vinegar. The glaze is essentially the vinegar cooked down until it's thicker and sweeter.
Seasoning: For a little bit of extra flavor, sprinkle salt and black pepper to taste.
Olive oil: If you're out of avocado oil, or simply want an alternative, use extra-virgin olive oil instead.
More veggies: Add in a few more veggies to use up what's in the fridge. Red onions and cucumbers are great choices.
Ways To Serve
From appetizers to BBQs and work lunches, this salad is great paired with grilled meat or served as a vegetarian side dish. For a strong protein pairing, make the perfect cast iron ribeye steak, air fryer pork chops, or grilled huli huli chicken. Or, make it a pizza and salad night with mushroom flatbread pizza or air fryer calzones.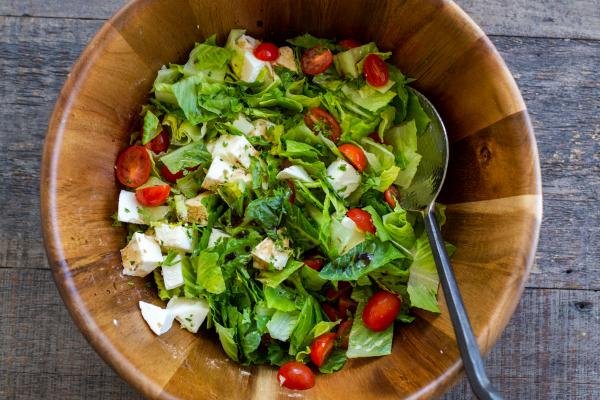 Make Ahead & Storage
This salad is a great option for meal prepping, whether it's for dinner tonight or lunch the next day.
Make ahead: Mix the veggies and cheese together in one bowl. Do the same with the salad dressing; however, keep the dressing in a separate container until ready to serve.
Storage: To store the fully assembled salad for up to two days, keep it in the refrigerator. To store for an extra day, keep the dressing separate from the salad.
FAQ
Where do Caprese salads originate from?
A Caprese salad, or insalata caprese, originates from the island of Capri in Italy. This tomato and mozzarella salad is loosely based on the classic Caprese salad.
Is tomato and mozzarella salad nutritious?
Yes, tomato and mozzarella salad has loads of good nutrition. The veggies are a great source of vitamins and minerals, whereas the mozzarella is a good source of protein and calcium.
More Salad Recipes
Recipe
Tomato mozzarella salad with lettuce is tossed with a simple balsamic, olive oil and herb dressing. This salad is delicious, healthy and super refreshing.
Instructions
Nutrition Facts
Tomato Mozzarella Salad with Lettuce
Amount Per Serving
Calories 238
Calories from Fat 198
% Daily Value*
Fat 22g34%
Cholesterol 32mg11%
Sodium 509mg21%
Potassium 156mg4%
Carbohydrates 5g2%
Protein 7g14%
Vitamin A 1590IU32%
Vitamin C 10.1mg12%
Calcium 159mg16%
Iron 0.7mg4%
* Percent Daily Values are based on a 2000 calorie diet.