Air Fryer Chicken Legs are my go-to on a busy school night. They are always sooooo juicy on the inside while nice and crispy on the outside. Don't forget to bust out your favorite hot sauce!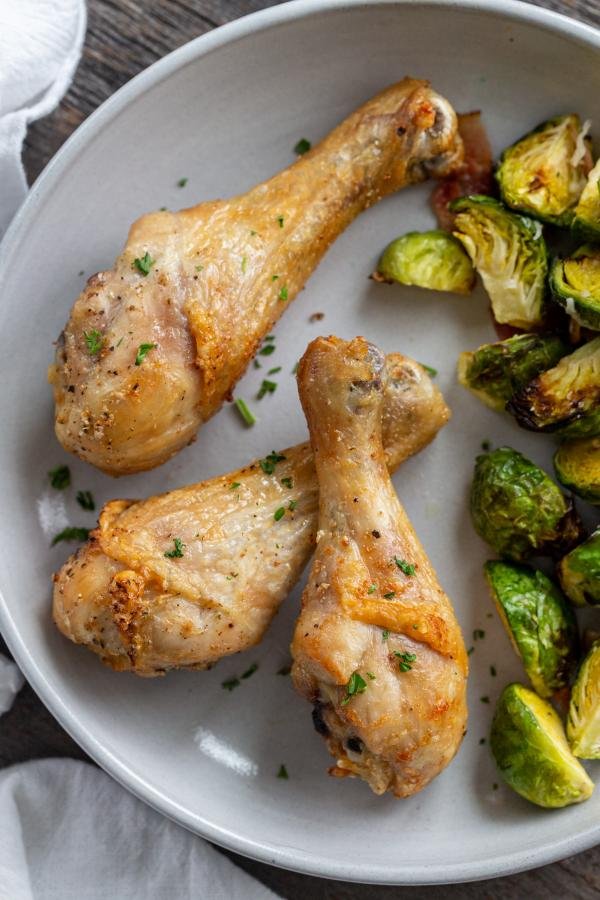 Typically, I like to whip up my baked chicken legs. My boys love them and they make for a dinner that I know is going to please. But, when you are a little tight on time or too hungry to wait, whip out the air fryer and try making chicken legs in the air fryer.
Quick and easy air fryer chicken legs are awesome because they taste like you are sinking your teeth into something naughty. But at the end of the day, these bad boys aren't fried at all and it only takes a tinsy-tiny bit of oil to make them!
If you are new to the air fryer game, rest assured. I will teach you everything you need to know about this "it-appliance". Let's get started!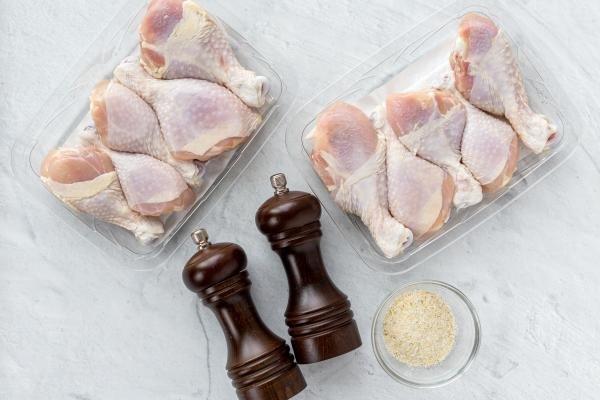 Tips For Cooking Chicken in Air Fryer
Preheat your air fryer. Just like you would with a hot skillet of oil or conventional oven, you are going to want to preheat your air fryer before adding your chicken into the tray. This promotes even cooking and helps get the skin crispy.
Coat your air fryer basket. Hit your air fryer basket with cooking spray to prevent the chicken from sticking to the basket.
Crowds are good for parties, not your air fryer. Whatever you do, try to crowd the chicken in the air fryer basket as little as possible. This allows air to hit all the surfaces of the chicken more evenly, resulting in crispy skin.
Don't deny yourself the sauce. If you like it saucey, toss your chicken legs in your favorite barbeque sauce right after you get them out of the air fryer.
Air Fryer Chicken Cooking Time
This might be where most of your confusion arises. How long does it take to properly cook chicken in the air fryer? This is one of the most common questions surrounding this mystical appliance.
It might sound counterintuitive, but it only takes about 20 minutes to get your chicken legs to a safe and fully-cooked internal temperature of 165 °F. This means weeknight dinners just got a lot tastier and easier.
Note: Depending on the size and thickness of your chicken legs, your cooking time may increase. Also, if you overcrowd the chicken, expect them to need a bit longer in the hot air. I think it is always wise to test your chicken with a meat thermometer just to be safe!
Can You Put Foil in the Air Fryer?
Some people line their air fryer baskets with foil for an easier clean-up. While I am all for less dishes, I do recommend you against this. Why? Well, the miracle science behind the air fryer relies on the circulation of hot air around the entirety of the food placed in the basket. If you obstruct the air flow with foil, the appliance simply won't cook as well as if you didn't.
Can you Stack Chicken Legs in the Air Fryer?
I know I advised against this above, but if you must, simply understand that the cooking time will be extended and your legs will come out less deliciously crispy. That being said, the chicken can still cook in this fashion and be absolutely safe to eat!
Other Recipes to Make in An Air Fryer
Recipe
Air Fryer Chicken Legs are my go-to on a busy school night. They are always sooooo juicy on the inside while nice and crispy on the outside. Don't forget to bust out your favorite hot sauce!
Instructions
Tap dry chicken and season with garlic parsley salt and pepper. Toss together to make sure that all sides are seasoned well.

Place chicken legs in one layer inside an air fryer. Air fry chicken at 400 °F for 10 minutes. Remove the basket and turn chicken, air fry for 10 more minutes.
Nutrition Facts
Air Fryer Chicken Legs (Crispy & Juicy)
Amount Per Serving
Calories 185
Calories from Fat 126
% Daily Value*
Fat 14g22%
Cholesterol 80mg27%
Sodium 1235mg51%
Potassium 175mg5%
Carbohydrates 1g0%
Protein 14g28%
Vitamin A 79IU2%
Vitamin C 1mg1%
Calcium 8mg1%
Iron 1mg6%
* Percent Daily Values are based on a 2000 calorie diet.