This pesto pasta salad with mozzarella is the ultimate potluck dish. It's irresistibly light and fresh — you'll be coming back with an empty bowl after every bite.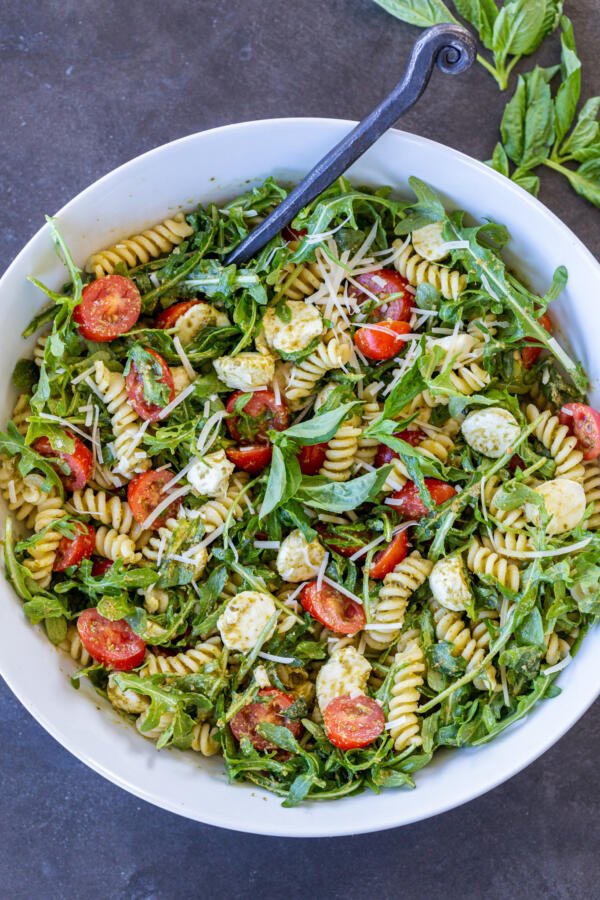 What Is Pesto Pasta Salad?
A traditional pasta salad is a chilled salad dish consisting of pasta, veggies, cheese, and a light dressing such as olive oil. A pesto pasta salad is a type of pasta salad made with mozzarella cheese and homemade fresh basil pesto dressing.
Pesto pasta salad is often served as an appetizer, side dish, or as a main course. It's a wonderful dish to bring to a potluck or large gathering, and is incredibly easy to prepare ahead of time and assemble right before serving. This will undoubtedly become your go-to dish!
How to Make Pesto Pasta Salad
Prior to cooking the pasta and assembling the salad, have the basil pesto sauce ready to go. Our favorite is homemade fresh basil pesto, but if you choose store-bought pesto, pick a pesto from the refrigerated section for the best results.
Cook the pasta: Lightly salt and boil water in a medium pot, then cook the pasta to al dente. Once cooked, drain the hot water and allow pasta to cool to room temperature.
Add remaining ingredients: Place arugula on the bottom of a large bowl, then add cold pasta, mozzarella cheese, tomatoes, and pesto.
Toss it together: Toss the salad together, then garnish. Enjoy!
Make your own basil pesto: This pesto pasta salad recipe uses our fresh basil pesto – a creamy green sauce made with basil, pine nuts, and more. Make your own fresh basil pesto in a quick 10 minutes with this recipe.
Customizing Your Pesto Pasta Salad
Change up your pesto pasta salad with these simple ingredient adjustments. You'll never get bored when it tastes slightly different each time!
Cheese: If you can't find fresh mozzarella pearls, make your own by simply cutting a block of fresh mozzarella cheese into small cubes. Or, swap out the mozzarella pearls with freshly shredded parmesan cheese (for a salty, nutty, and spicy taste) or cubed provolone (for a sharp, nutty, and salty flavor). Optionally, add a sprinkle of feta cheese on top as a garnish.
Pasta: Rotini, penne, fusilli, and farfalle pastas are all great choices. No matter what you use, cook the pasta al dente.
Veggies: In addition to cherry tomatoes, add or swap out with diced bell peppers, cucumbers, red onions, corn, chickpeas, or kalamata olives.
Leafy greens: Arugula, lettuce, micro-greens, or extra basil add a perfect green color, crunch, and freshness to the salad.
Protein: Chopped salami, shredded chicken, or slices of pepperoni are delicious meaty additions to this pasta salad.
Tips to Make an Excellent Pasta Salad
An excellent pasta salad starts at the beginning. For the best results, follow these tips as you prepare your ingredients.
Cook pasta al dente: To avoid a mushy pasta salad, cook the pasta just until al dente (firm to the tooth). Drain hot water immediately and rinse with cold water to stop it from cooking more.
Chill the pasta: After cooking the pasta, chill it in the fridge before mixing with the remaining ingredients. If you add in warm/hot pasta, the mozzarella cheese may melt.
Prepare ahead of time: Prepare all the ingredients ahead of time, but don't combine until right before serving. This will give the freshest flavor and texture.
Keep tomatoes whole: If you're planning on leftovers, keep the cherry tomatoes whole. This will keep the liquid inside the tomatoes instead of making the salad too moist.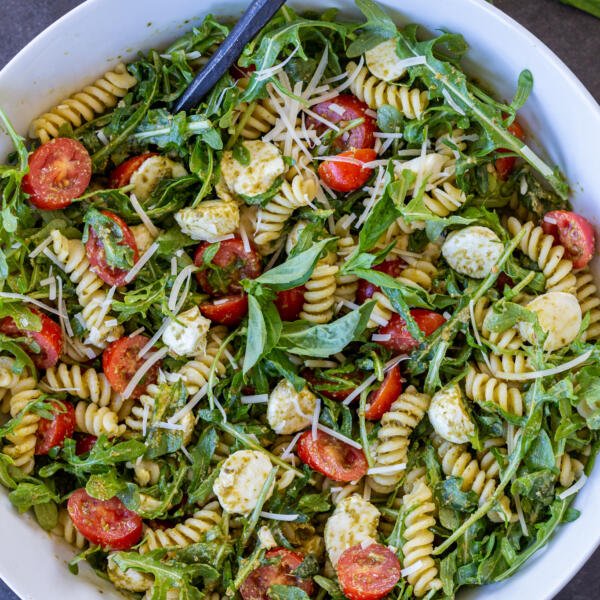 Serving Pesto Pasta Salad
Pesto pasta salad works great as a light meal or as a side to most main entrees. Serve it with a hot bowl of chicken mushroom soup or meatball kale soup for a balance of hot and cold.
Or, take a bowl of salad to lunch with a steak sandwich or turkey focaccia sandwich.
If you like grilled protein, pair the salad with grilled huli huli chicken, grilled chicken thighs, or savory lamb kabobs. There's nothing like a cool and refreshing pasta salad paired with fresh, hot-off-the-grill meat.
Storing the Salad
Since pasta salad is a chilled salad, it makes storing it even easier. To store mixed pasta salad for up to three days, place it in an airtight container or bowl and pop it into the refrigerator. Keep in mind, the salad softens the longer it sits, so it's best to enjoy it as quickly as possible!
To safely store for a little longer, prepare the ingredients but do not mix the pasta salad until ready to serve.
FAQ
Is pesto pasta salad best served hot or cold?
Pesto pasta salad is meant to be served cold or at room temperature. This makes it great for potlucks or large gatherings as it does not need to be kept warm to taste wonderful.
Can I freeze pesto pasta salad?
It is best not to freeze pesto pasta salad because pasta does not freeze well. When thawed, frozen pasta often turns mushy.
How long does pesto pasta salad last?
Mixed pesto pasta salad will last about three days when kept in the refrigerator. Keep in mind, the texture may alter slightly as the flavors and liquid intermix.
More Great Potluck Salads
Recipe
This pesto pasta salad is made with vibrantly-colored basil pesto, veggies, and cheese. Toss everything together and you've got a flawless potluck dish.
Ingredients
8

oz

pasta

cooked al dente

2

cups

baby arugula

6

oz

Mozzarella pearls

2

cups

cherry tomatoes

cut in halves

1/2

cup

basil pesto
Instructions
Cook pasta to al dente according to package instructions. Drain pasta and let it cool to room temperature.

Place arugula on the bottom of a large bowl. Add cold pasta, Mozzarella cheese, cherry tomatoes, and basil pesto.
Nutrition Facts
Pesto Pasta Salad with Mozzarella
Amount Per Serving
Calories 302
Calories from Fat 126
% Daily Value*
Fat 14g22%
Cholesterol 12mg4%
Sodium 223mg9%
Potassium 217mg6%
Carbohydrates 32g11%
Protein 12g24%
Vitamin A 818IU16%
Vitamin C 12mg15%
Calcium 159mg16%
Iron 1mg6%
* Percent Daily Values are based on a 2000 calorie diet.