This recipe for Korean Beef galbi features juicy Beef Short Ribs marinated in a sweet and savory sauce and grilled to caramelized perfection. A must-try!
We partnered with Beef. It's What's for Dinner., on behalf of the Beef Checkoff, to bring this tasty Beef Short Rib recipe to you.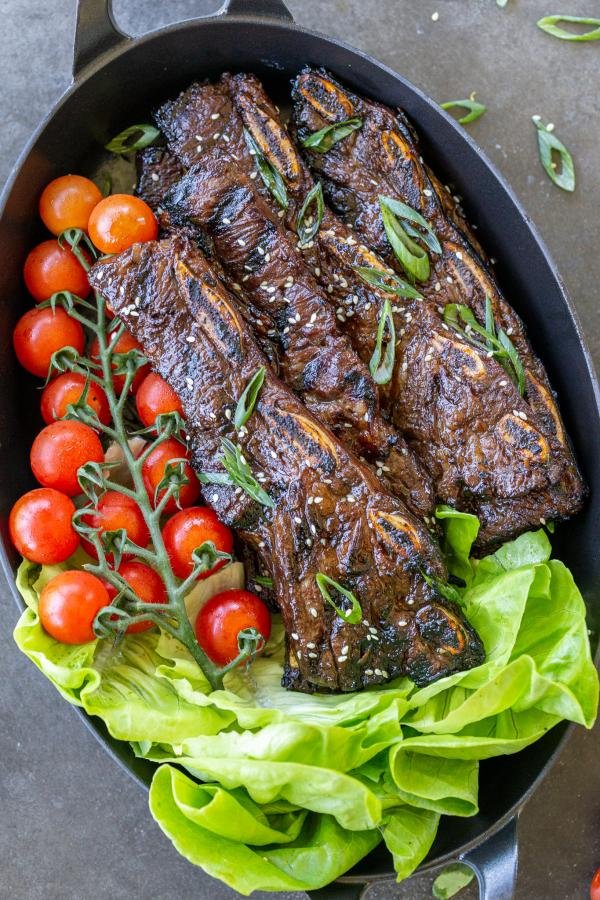 Summertime grilling season is upon us and firing up the coals never sounded so good. No doubt, it's perfectly acceptable to reach for go-to's like grilled Ribeye, Beef Ribs, or a juicy T-Bone. That said, why not reach for a cut that isn't used quite as often? The perfect way to experiment is with this recipe for grilled Beef galbi. It's a sweet and savory Korean Short Rib dish that will have you salivating all season long.
What is Korean Beef Galbi?
Before we dive into the recipe, let's first cover what galbi is. If you're a huge fan of Korean BBQ, you've likely already come across it, but for those who don't know here's the rundown. Galbi features long, thin pieces of Beef Short Rib that have been marinated in a sauce that's both equally sweet and savory. In the butcher world, this cut of Beef Short Rib is referred to as "flanken-cut" or "LA-style" and cooks ridiculously fast on the grill – making it a wonderful dish to cook for a hectic weeknight meal.
Beef Galbi Marinade 101
Aside from getting your hands on thin-cut Beef Short Ribs, the other most important component of this recipe lies in the ingredients that make up the marinade. The syrupy sauce of low-sodium soy sauce, mirin rice vinegar, brown sugar, apple juice, garlic cloves, and ginger lends such a depth of flavor to the dish. The best part is that you won't simply toss the marinade after the Beef has soaked in it, but instead boil it down into a decadent sauce to serve alongside the galbi. YUM!
Like it spicy? If your palette craves heat, add a couple of tablespoons of gochujang (Korean-style hot chili paste) to the marinade.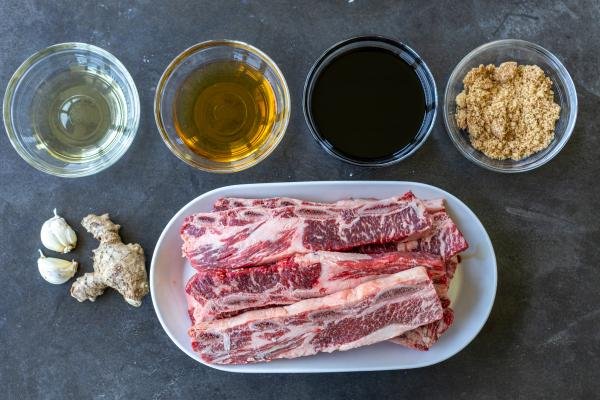 Grilled Beef Galbi Video
How to Prepare Grilled Beef Galbi at Home
Preparing galbi is as simple as marinating the Beef, throwing it on the grill for a quick sear on both sides, and cooking down the marinade into a dipping sauce.
Marinate the Beef: Place the Beef Short Ribs in a plastic storage bag. In a small bowl, whisk the marinade ingredients together and pour them over the ribs. Massage the marinade into the ribs and place them in the fridge for at least 4 hours.
Grill the Ribs: Remove the ribs from the bag and grill the thin slices of Beef Short Rib on each side for about 4 minutes.
Boil the Marinade: In a small saucepan, boil the marinade until it reduces in half.
Serve the Galbi: Garnish the galbi with chopped green onions and a side of the sauce. Enjoy!
Did you know? The safe internal temperature of Beef Short Ribs is 145°F. If you're unsure if your Beef is properly cooked through, enlist the help of an instant-read meat thermometer to double-check.
3 Tips for the Tastiest Grilled Beef Galbi
Much like most Beef dishes, galbi requires some TLC for it to reach optimal tenderness and maximum flavor.
Marinate the galbi for at least 4 hours and up to overnight. A 4-hour marinade will surely do the trick, but if you have time to plan give the galbi 24 hours to sit in the syrupy sauce. This will take the flavor profile to the next level!
Grill the galbi over medium heat. Don't rush the process or shock the BeefShort Ribs with too high of a heat. A steady, medium heat is all you need to create the perfect level of caramelization on the outside of the BeefShort Ribs.
Let the galbi rest for at least 5 minutes. Before digging in, give the galbi 5 minutes to rest at room temperature. This will help to lock in all the precious juices that formed during the cooking process.
Serving Suggestions
For a complete meal, serve the galbi over a bed of steamed white or brown rice and alongside grilled zucchini and mushrooms. Other great side dishes include grilled asparagus or a crunchy Asian-inspired salad with China coast dressing. Another fresh pairing would be this crispy, crunchy ramen noodle salad. You can even go light and stuff the galbi into lettuce leaves for easy lettuce wraps.
Storing & Reheating Best Practices
There's no arguing that galbi is wonderful eaten straight off the grill, but it also makes for some pretty killer leftovers. To keep it fresh for up to 5 days, store it in the refrigerator in an airtight container. To reheat it, place it on a baking dish or pan covered with aluminum foil and pop it in the oven at 350°F for 5-10 minutes or until warmed through.
FAQ
What is the difference between kalbi and galbi?
There's no difference between Korean kalbi and galbi. In fact, they are different pronunciations of a similar group of dishes hailing from Korea that are made with either Beef or pork short ribs and marinated in a wide variety of different sauces.
What cut of meat is typically used for galbi?
The cut of meat typically used for galbi is thin, flanken cut Beef Short Ribs. You'll also find a similar dish made with pork short ribs.
What is galbi traditionally eaten with?
Traditionally, you'll find galbi served alongside steamed white rice and banchan or bansang – a variety of pickled Korean-style side dishes such as kimchi, pickled cucumber, spicy radish, and so much more.
Can Beef Short Ribs be overcooked?
Yes, Beef Short Ribs can indeed be overcooked. If they sit on the grill too long, they will become tough and rubbery. This is especially true for flanken cut short ribs, as they are ultra-thin and cook super-fast.
More Tasty Beef Recipes to Try
Recipe
This easy recipe for Korean galbi features Beef Short Ribs marinated in a sweet, garlicky marinade. Grilled to perfection & best served over steamed rice!
Ingredients
4

lb

Beef Short Ribs

about 1/4 inch thickness

3/4

cup

low-sodium soy sauce

1/4

cup

mirin rice vinegar

1/2

cup

brown sugar

1/3

cup

apple juice

2

garlic cloves

minced

2

tbsp

fresh ginger

minced

1/3

cup

green onions

garnish
Nutrition Facts
Grilled Beef Galbi (Korean Short Ribs)
Amount Per Serving
Calories 483
Calories from Fat 207
% Daily Value*
Fat 23g35%
Cholesterol 130mg43%
Sodium 1298mg54%
Potassium 968mg28%
Carbohydrates 22g7%
Protein 45g90%
Vitamin A 56IU1%
Vitamin C 2mg2%
Calcium 50mg5%
Iron 5mg28%
* Percent Daily Values are based on a 2000 calorie diet.