This recipe for ground Beef quesadillas only takes 30 mins to prepare and is ridiculously kid-friendly. Super savory and best paired with sour cream for dipping!
I partnered with Beef. It's What's for Dinner. on behalf of the Beef Checkoff to bring this tasty Beef quesadilla to you.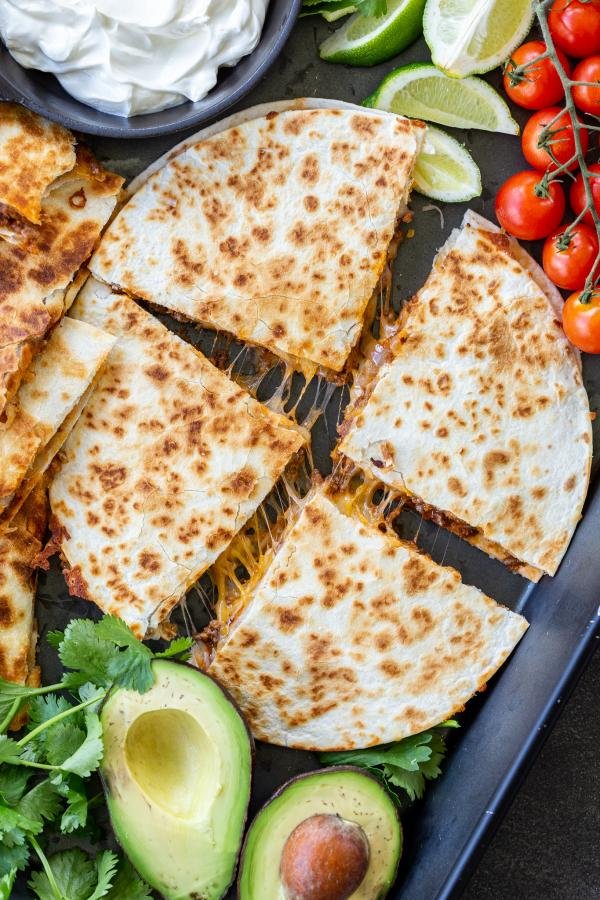 Beef can be used in so many Mexican-inspired recipes, but these quesadillas have to be one of our all-time favorites. Loved by both kids and adults alike, make a big batch and serve them on a platter alongside sour cream, salsa, and guacamole for dipping. You'll love the combination of tender Beef and melty cheese!
Ground Beef 101
Before we hop into the recipe and start frying up some quesadillas, let's chat a little bit about Ground Beef and how to properly prepare it. Also known as Chopped Steak, Ground Chuck, Ground Round, Ground Sirloin, Ground Steak and Market Trim, this affordable cut is super versatile, packed with protein, and ideal for burgers, tacos, wraps, and so much more. In terms of doneness, Ground Beef should always be cooked to a safe and savory 160ºF, as measured by a meat thermometer.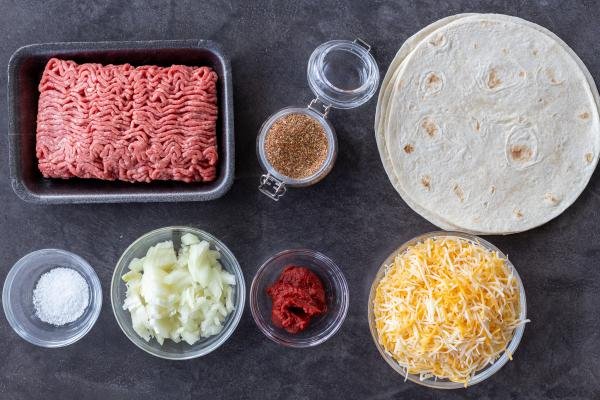 Preparing Homemade Ground Beef Quesadillas
Making these simple Beef quesadillas only requires 30 minutes and under 10 simple ingredients.
Brown the Ground Beef: In a large skillet, brown the Ground Beef, breaking it into smaller pieces as you go.
Season the Ground Beef: Next, season the Ground Beef with salt and taco seasoning. Add in the diced onion sauté it until it's translucent. Stir in the tomato paste and remove the Beef filling from heat.
Assemble the Quesadillas: Place a flour tortilla inside a preheated pan and sprinkle half of it with cheese. Top with the seasoning Ground Beef and another handful of cheese.
Brown the Quesadillas: Fold the tortilla over, melt the cheese, and cook the tortilla on both sides until golden brown. Enjoy!
Helpful Tips & Tricks
A couple of helpful pointers will help you make taqueria-style cheesy ground Beef quesadillas.
Opt for lean Ground Beef. If you can, opt for a lean Ground Beef (think: 90/10 or 80/20) so your quesadillas aren't too greasy. If you don't have lean Ground Beef on hand, simply drain grease from the pan after the Beef finishes cooking.
Keep the skillet over medium heat. To avoid burning your quesadillas, keep the heat over medium throughout the frying process. Depending on your stove top, you might even want to go to medium-low heat.
Add in your favorite ingredients. These quesadillas are super versatile, so feel free to add in your favorite ingredients. If you need inspiration, black beans, roasted garlic, corn, red pepper flakes, dried oregano, and fresh cilantro are all great options!
Experiment with different cheeses. We like to use a Mexican blend shredded cheese, but feel free to swap in shredded cheddar, Monterey Jack, or whichever cheese kind you fancy most.
Ideas for Serving this Ground Beef Quesadillas Recipe
While these Ground Beef quesadillas are delicious eaten as-is, there are a handful of sides and dipping sauces you can serve them with.
Storage & Meal Prep Tips
Have leftover quesadillas to store? Or, would you prefer to meal prep a big batch for quick meals throughout the week? Here's all you need to know.
Storage: To keep the quesadillas on hand for up to 3 days, store them in an airtight container in the fridge. To reheat them, pop them in the oven or in an air fryer until the cheesy is melty and the tortilla is crispy again.
Meal Prep: If you'd like to have quick quesadillas on hand throughout the week, double or triple the Beef filling and store it in an airtight container in the fridge. Assemble the quesadillas on-demand for maximum freshness.
FAQ
Do you need to grease the pan in between each Beef quesadilla?
When making Beef quesadillas, you shouldn't have to grease the pan with more oil or butter between each one. There should be enough residual oil in the pan to prevent any sticking. Additionally, always use a non-stick skillet to err on the safe side.
How do you properly seal a beef quesadilla?
Sealing a Beef quesadilla doesn't take much technique at all. Once the cheese gets a bit melty, you'll flip one side over and press it down with a little firmness.
What's the best way to flip a quesadilla?
The best way to flip a quesadilla is from the closed side versus the open side. Be as quick as possible so the open side doesn't have much opportunity to ooze out.
How do you keep quesadillas warm and crispy when serving them to a crowd?
If you're prepping quesadillas for a crowd, keep them warm and crispy in the oven until you're ready to serve them. To do so, preheat the oven to 250°F and assemble the quesadillas in a single layer on a baking sheet.
What other cuts of Beef are good for quesadillas?
Some other great cuts of Beef for quesadillas include Carne Asada and Inside Skirt. These cuts are often used in Mexican dishes like tacos and fajitas.
More Tasty Mexican-Inspired Dishes
Recipe
This tasty recipe for ground Beef quesadillas is packed with tender ground Beef and oozing with melty cheese. Great for dipping, sharing, and snacking!
Ingredients
1

lb

Ground Beef

1

medium onion

1

tsp

salt

adjust to taste

1

tbsp

taco seasoning

2

tbsp

tomato paste

8

oz

Mexican cheese

shredded

6

large flour tortillas

4

tbsp

oil

avocado or olive oil
Nutrition Facts
Ground Beef Quesadillas Recipe
Amount Per Serving
Calories 514
Calories from Fat 342
% Daily Value*
Fat 38g58%
Cholesterol 90mg30%
Sodium 965mg40%
Potassium 355mg10%
Carbohydrates 18g6%
Protein 25g50%
Vitamin A 370IU7%
Vitamin C 3mg4%
Calcium 313mg31%
Iron 3mg17%
* Percent Daily Values are based on a 2000 calorie diet.