Air Fryer Chicken Tenders are a savior when it comes to satiating a craving for takeout. Instead of going through the drive-thru, stay home and make your own tenders with half the fat and no guilt!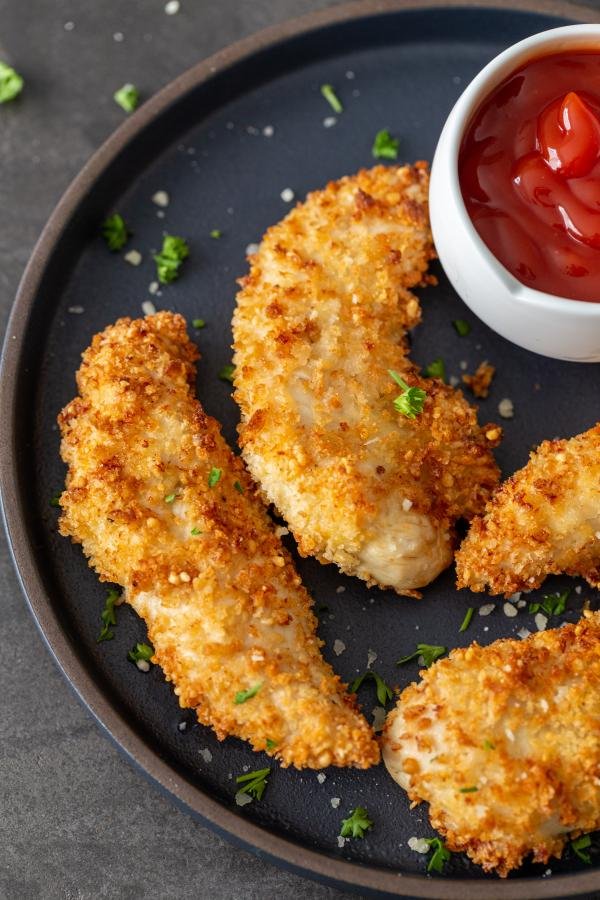 Air fryer chicken tenders are about to become your new weeknight staple. If you have kids or are a kid at heart, you are likely familiar with boneless, fried chicken. It's always a crowd pleaser!
The beauty of the air fryer is that you can get that signature fried texture with a fraction of the fat! I love experimenting with the air fryer and making all my classic "fried" favorites with it.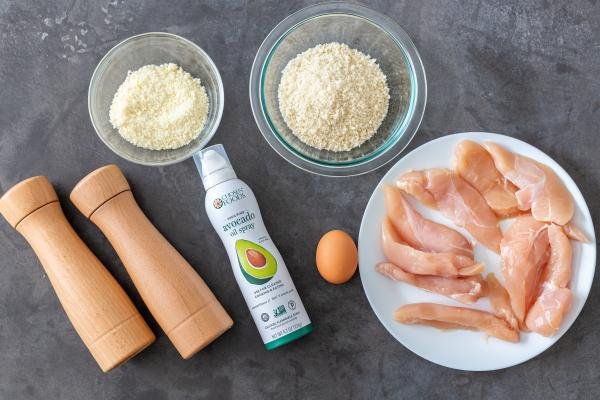 How to Make Air Fryer Chicken Tenders?
Using the air fryer couldn't be any easier. Follow these simple step-by-step directions to nail air fryer chicken tenders every single time:
Dip chicken tenders into the whisked egg mixture.
In a shallow bowl, whisk together the salt, pepper, and breadcrumbs.
Place each tender in the seasoned breadcrumbs and turn to coat. Place each coated tender on a platter.
Lightly spray the chicken tenders and the wire basket to prevent any sticking.
Preheat the air fryer to 390 °F.
Once preheated, work in batches of 4 to 6 tenders at a time, making sure not to overlap or crowd the chicken. Turn chicken midway through the air frying.
How Long to Cook Chicken Tenders in Air Fryer
The time it will take to cook your chicken depends on the thickness of the cut. Generally speaking, you will cook each tender for 5 minutes. Then, use clean tongs to turn the tenders and repeat for 5 minutes more. Transfer tenders to a cooling rack and repeat.
Storing Air Fryer Chicken Tenders
Make a large batch of chicken tenders, freeze them and have them on hand for later! Freeze raw chicken tenders by separating the tenders by a layer of parchment paper within an airtight container. Reheating frozen tenders will take about 5 minutes per side at 400 ℉.
Refrigerating Chicken Tenders
In an airtight container, store the chicken tenders for up to a week. I like to make a batch and use them for sandwiches, salads and snacking. To reheat the chicken — you guessed it — bust out the air fryer again! Reheat cooked tenders for 1-2 minutes in the air fryer. Unlike the microwave, the air fryer will make the tenders crispy not soggy.
Air Fryer Chicken Tenders Video Tutorial
What Air Fryer Should I Use?
In the past couple of years, the world of air frying has exploded. I have to admit, I wasn't completely sold on the idea of an air fryer in the beginning, but this appliance has truly grown on me. The Gourmia 5 Qt Air Fryer has worked wonders for me. I have been using this air fryer for over a year and I love the functionality. It has a ton of presets for common foods (chicken, fries, steak, bacon, shrimp, etc.), which helps take the guesswork out of how long to cook certain things. It's also super easy to clean, so no complaints there.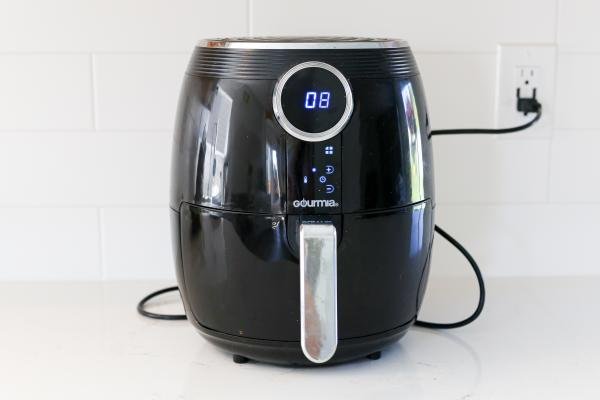 Other Air Fryer Recipes
Air Fryer Bacon (Perfectly Crispy) – Bacon cooks wonderfully in the air fryer! In fact, this is one of my favorite foods to air fry. The strips don't get too greasy and they get so crispy!
Korean Air Fryer Pork Ribs – The perfect combination of sweet and savory, these pork ribs are tender and fall right off the bone.
Brussels Sprouts Recipe – Brussels sprouts should never be soggy or mushy. Making them in the air fryer ensures they get that perfect bite.
Recipe
Air fryer chicken tenders are a savior when it comes to satiating a craving for takeout. Instead of going through the drive-thru, stay home and make your own tenders with half the fat and no guilt!
Nutrition Facts
Crispy Air Fryer Chicken Tenders
Amount Per Serving
Calories 224
Calories from Fat 45
% Daily Value*
Fat 5g8%
Cholesterol 124mg41%
Sodium 1422mg59%
Potassium 596mg17%
Carbohydrates 8g3%
Protein 34g68%
Vitamin A 85IU2%
Vitamin C 2mg2%
Calcium 32mg3%
Iron 1mg6%
* Percent Daily Values are based on a 2000 calorie diet.