Plov is a very popular, historic Uzbek dish. Also referred to as "pilaf" or "palov", it's made up of long grain rice, tender chunks of lamb, onions, and carrots. In this recipe, you'll learn how to make this traditional dish in no time.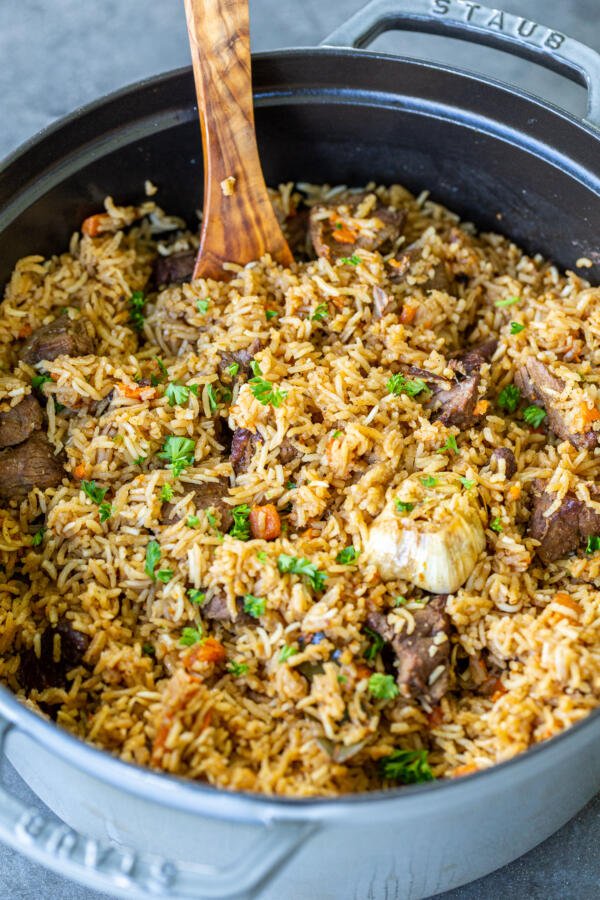 What is Plov?
Plov to Uzbekis is like pasta to Italians. Considered Uzbekistan's national dish, it's a source of delicious pride throughout the country and everyone has their own spin on it. Because it's so simple to prepare, plov is often served at large gatherings, such as weddings, holiday parties, and birthdays.
If you're unfamiliar with Uzbekistan, it's a Central Asian nation that sits at the border of Turkmenistan and Kazakhstan. A former Soviet republic and a stopping point on the Silk Road (the ancient trading route between China and the Mediterranean), the country boasts a delicious cuisine that has been influenced by many different cultures over the centuries. Plov is a perfect example of Uzbekistan's rich food history.
In this recipe, you'll tap the powers of the dutch oven to get the most flavorful plov possible. Get ready for an irresistibly savory smell to waft from your kitchen. Bonus: This entire dish is made in just one pot.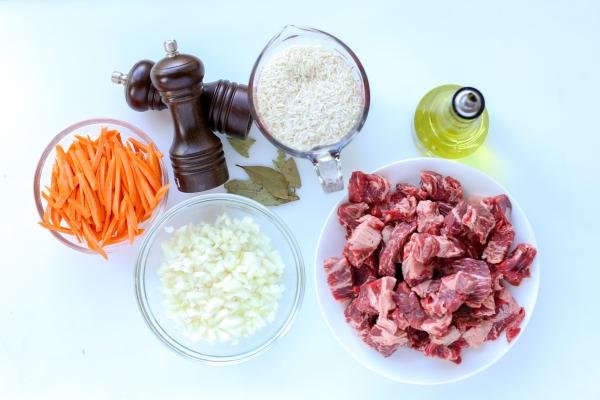 Best Meat to Use for Plov
Traditionally, plov is best made with lamb. Its rich and savory flavors are signature to the dish. However, many also like to use beef. Below, find the best cuts to use for plov:
Hot Tip: If you have the time, salt your meat overnight. Season it on both sides, pop it into a bowl, and cover it with plastic wrap. This will tenderize and infuse flavor into the meat.
How to Make Uzbek Plov
Making Uzbek plov only requires a handful of wholesome ingredients and a bit of legwork. Most of the magic is done in the Dutch oven, which perfectly fluffs the rice and tenderizes the meat.
Tips to Make the Best Uzbek Plav
Below, find the top tips to making the best, most authentic Uzbek Plav: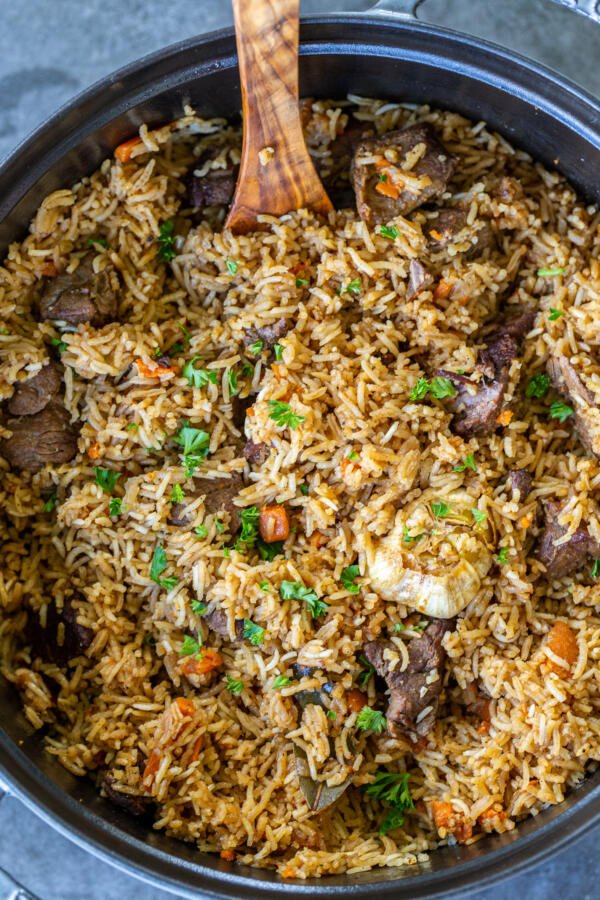 Serving Uzbek Plov
Uzbek plov is perfect for lunch or dinner. It's also a wonderful dish to make for your next dinner party, as it serves a lot of people, requires minimal clean-up, and is ultra filling. Keep it traditional by serving plov alongside vinegary pickles. It's hard to explain how satisfying this combination is! The savoriness of the dish is also complimented nicely by a cabbage salad.
FAQ
Are pilaf and pulao same?
Yes, pilaf and pulao are the same. There are many different names for pilaf-style dishes all across the globe, but the essential recipe remains the same – broth, meat, veggies, and long grain rice.
What's the best rice for plov?
Long grain rice is the best for plov. The grains are long and slender, and they contain a type of starch that prevents the from sticking and turning to mush.
Should I rinse the rice for plov?
You should always rinse your rice before making plov. This removes excess starch and yields rice with more texture.
Storing Leftover Plov
Reheating Tip: Reheat plov in a skillet with a bit of butter or oil. You could also zap it in the microwave with a bit of water to help the rice rehydrate.
More Rice Recipes to Try:
Recipe
Plov is a popular Uzbek dish, also referred to as "pilaf" or "palov". It's made up of long grain rice, chunks of lamb, onions, and carrots.
Ingredients
1 1/2

lbs

lamb

(or beef)

2

medium onions

5

medium carrots

3

cup

long grain rice

1

bulb of garlic

1/2

cup

olive oil
salt

to taste

pepper

to taste

2

tsp

cumin

(optional)
Nutrition Facts
Uzbek Plov Recipe
Amount Per Serving
Calories 641
Calories from Fat 306
% Daily Value*
Fat 34g52%
Cholesterol 62mg21%
Sodium 82mg3%
Potassium 440mg13%
Carbohydrates 62g21%
Protein 20g40%
Vitamin A 6378IU128%
Vitamin C 4mg5%
Calcium 57mg6%
Iron 2mg11%
* Percent Daily Values are based on a 2000 calorie diet.