These braised lamb shanks are flavored in a well-seasoned red wine and beef broth liquid, making them deliciously tender. They will be your family favorite!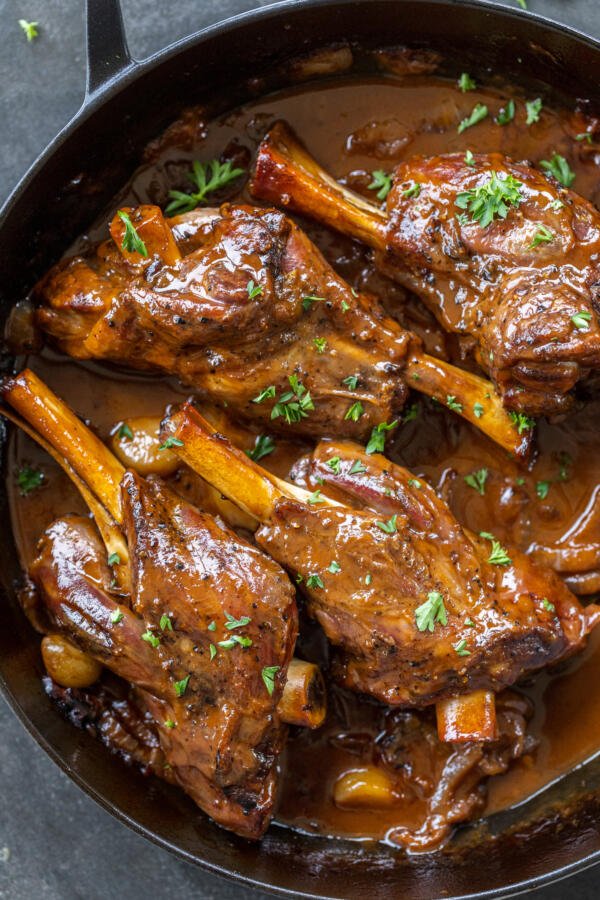 What Are Braised Lamb Shanks?
Lamb shanks come from the bottom cut of the lamb leg, right below the knee. Although the meat first appears tough, it's made quite tender by a process known as braising (hence the name Braised Lamb Shanks). That's when the meat is browned on the stovetop and slowly oven- simmered in flavorful juices.
This braising juice is partly to blame for the rich flavor of the braised lamb shanks. It's made from a combination of broth, wine, tomato sauce, and more, resulting in a tender, mouth-watering dish. If you prefer beef over lamb, try these delicious beef short ribs!
How to Make Braised Shanks
Braised lamb shanks may have your tastebuds wonder, but there is nothing complex about the process.
Preheat the pot: Pour oil into an oven safe pot and preheat on the stove top. Season shanks with salt and pepper.
Brown the meat: Add the lamb into the pot and sear on all sides over medium high heat. Once browned, remove and set aside.
Cook the onions: In the same pot, cook the onions until lightly browned.
Add the remaining ingredients: Add bay leaves, garlic, and stir in liquid ingredients. Bring everything to a simmer, then return the shanks to the pot.
Bake: Cover the pot with an oven safe lid and bake in the oven at 350°F for about two hours or until the shanks are fork-tender.
Hot tip: Lamb shanks are best enjoyed right away, but you can keep them warm over low heat for up to one hour before serving.
Additions and Substitutions
When you've found yourself missing that tang, use these tips to adjust the taste. Or, add more ingredients for a whole new experience.
Use different herbs: If you're low on bay leaves, or simply want more herbs, add fresh thyme or rosemary. Fresh rosemary and lamb are perfect flavor companions.
Substitute tomato sauce: Instead of tomato sauce, use two or three tablespoons of tomato paste, add more wine, or add a cup of diced tomatoes.
Add more vegetables: Boost the taste of the liquid broth by adding diced celery and carrots. It's a great way to use up vegetables in the refrigerator!
Opt out of wine: If you prefer not to cook with wine, substitute it with one cup of additional beef broth. Avoid using a cooking wine.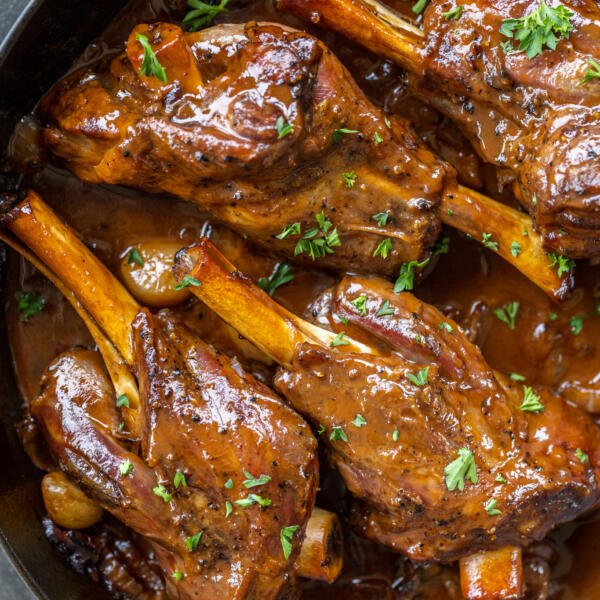 Tips from the Kitchen
Lamb is sometimes a tough meat to cook well, but with these tips, it becomes a breeze.
Opt for bone-in shanks: Bone-in shanks will give more flavor compared to boneless shanks. However, boneless will also work well.
Use an oven-safe pot: For fewer dishes, use a dutch oven from the start. We love using this pot to take these shanks directly from the stovetop to the oven.
Brown the meat: Avoid skipping the searing step, as the browning adds a load of caramelized flavor.
Avoid overcrowding: When browning the shanks, avoid overcrowding them in the pot, as this makes it hard to sear evenly. Work in small batches as needed.
Choose a good broth: Use a good tasting, low-sodium beef or bone broth. It's easier to salt the lamb at the end rather than deal with an overly salty lamb.
Pick a dry red wine: Red wine and lamb shanks are a perfect pairing, as the red wine gives so much flavor to the tender shanks. Use any dry red wine, even an inexpensive one. Pinot noir and cabernet sauvignon are two popular choices.
Scrape the pot: After adding the liquid ingredients into the pot, scrape the bottom of the pot to release any browned bits. These caramelized bits only improve the flavor.
Ways to Serve
Braised lamb shanks pair best with a side of smashed potatoes or creamy mashed potatoes. If you like gravy, don't miss out on making your own gravy from the tasty drippings. Don't forget to have a slice or two of french bread ready to dip into the gravy! Add a few veggies to the meal with air fryer asparagus or oven roasted carrots and parsnips. Or, make it even better with a full bowl of ultimate garden salad or kale quinoa salad.
Storage & Reheating
On the rare occasion you find yourself with leftovers, follow these tips to ensure they taste just as good as when they were freshly prepared.
Refrigerator: To store for up to four days, keep shanks in an airtight container in the fridge.
Freezer: To store cooked shanks for up to three months, freeze in an airtight container. Thaw in the refrigerator before reheating.
Reheating: For best taste, place shanks in an oven safe dish and heat in the oven at 350°F until warmed completely through.
FAQ
When are lamb shanks done braising?
Braised lamb shanks are finished cooking when they are fall-off the bone tender. If they are not yet tender, keep cooking for a little while longer.
How do I get a good sear on lamb shanks?
To get a good sear on lamb shanks, make sure the shanks are fully thawed and pat them dry with a paper towel prior to adding to the pot. After adding to the pot, avoid flipping or moving shanks around too much or they will not brown well.
More Lamb Recipes
Recipe
These braised lamb shanks are flavored in a well-seasoned red wine and beef broth liquid, making them deliciously tender. They will be your family favorite!
Ingredients
2

tbsp

oil

avocado or olive

4

lamb shanks

1

tbsp

salt

adjust to taste

1

tsp

ground black pepper

adjust to taste

1

large onion

cut into half rings

5

garlic cloves

cleaned, whole

1

cup

beef broth

1

cup

red wine

dry

1/2

cup

tomato sauce
Nutrition Facts
Braised Lamb Shanks Recipe
Amount Per Serving
Calories 364
Calories from Fat 117
% Daily Value*
Fat 13g20%
Cholesterol 127mg42%
Sodium 2262mg94%
Potassium 699mg20%
Carbohydrates 7g2%
Protein 41g82%
Vitamin A 142IU3%
Vitamin C 5mg6%
Calcium 46mg5%
Iron 4mg22%
* Percent Daily Values are based on a 2000 calorie diet.