These classic potato latkes are exactly what you want them to be. Crispy, savory, and deserving of a hefty dollop of sour cream!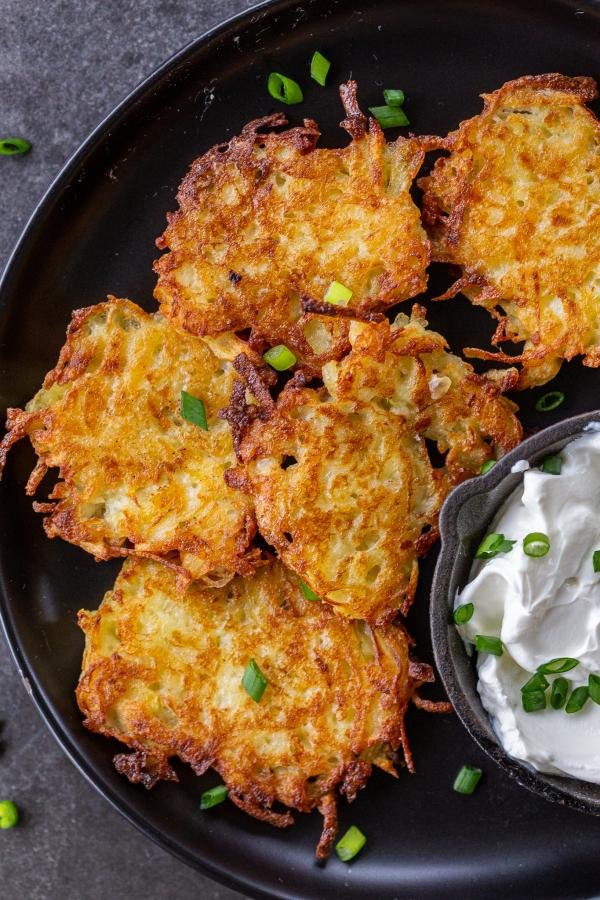 I have a real obsession with potatoes. I'll take them anyway they come – french fries, smashed and roasted, creamy and mashed, boiled and covered with butter…you name it. But when I'm feeling festive or hosting an at-home brunch, my classic potato latke recipe is at the top of the list. Why? They're so fun to make and you can set out a bar full of different toppings to elevate the crispy, potato goodness.
What Exactly are Potato Latkes?
Before we dive in, let's chat a little bit about what latkes are and their cultural significance. They're a Jewish dish and are typically made for Hanukkah celebrations. Despite their deep-rooted tradition, they've become wildly popular and you'll find them served on some of the fanciest brunch menus.
Flavor: The flavor of latkes is the definition of "less is more". They're the perfect combination of earthy potato and onion and minimal seasoning.
Texture: Somewhere in between a fritter and a potato pancake, latkes are made with shredded potatoes and onions.
Time: From start to finish, it takes about 20 minutes to make 20 servings of latkes.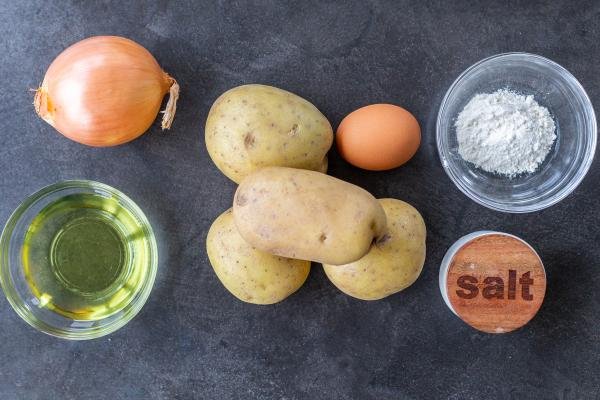 The Difference Between Potato Pancakes & Latkes
Oftentimes, the term "potato pancake" is used interchangeably with "latke". While the two have similar ingredient lists, they differ wildly on the texture front.
Potato Pancakes – Made with pulpy, grated potatoes for a finer texture.
Latkes – Whipped up with shredded potatoes for a more fritter-like texture.
How to Prepare Potato Latkes
The first step to preparing latkes is to rinse your potatoes in a colander under cold water and scrub them free any dirt or grime.
Shred the Potato & Onion: Next, peel the skin off the potatoes. Shred the peeled potato and onion using either a food processor or box grater.
Remove the Liquid from the Potatoes: Using a cheesecloth or clean kitchen towel, squeeze as much liquid out of the shredded potatoes as possible.
Make the Latke Batter: In a large bowl, add the shredded potato and onion, followed the the whisked egg, flour, and salt. Toss with your hands to combine.
Pan Fry the Latkes: In a preheated pan with oil, place a spoonful of the potato mixture into the pan and flatten it with the backside of the spoon. Fry until golden, then flip with a spatula and fry on the other side. Repeat. Serve fresh and enjoy!
Hot Tip: Fry your latkes in a cast-iron skillet for the crispiest outer layer possible!
3 Tips for Nailing the Texture of Potato Latkes
A couple of handy tips to help you get that essential crispy texture.
Drain out all the potato juice. The more excess juice and potato starch you can squeeze out of the potatoes, the crispier they will get. This will also prevent chaotic, popping oil!
Form similar-sized patties. To promote even cooking, try to keep the latkes as similar in size as you can.
Don't overcrowd the pan. Although tempting to cram as many in as possible, you'll want to give the latkes about an inch of space between one another. This will help them to crisp and spread a bit.
Hot Tip: You may need to adjust from medium to medium-high heat to get that perfect crisp. That said, always start at medium to prevent burning!
How Latkes are Traditionally Served (+ Other Ideas)
Latkes can be served as a side dish to your favorite protein or salad, or as a meal all on their own. Below, find a couple of suggestions:
Top them with dill and sour cream
Smear them with cream cheese, followed by a layer of cold smoked salmon and a sprinkle of dill (great for brunch!)
Pair them with a berry spinach salad for a light lunch or dinner
Top them with sour cream and applesauce and serve alongside white fish such as pan seared halibut or baked cod.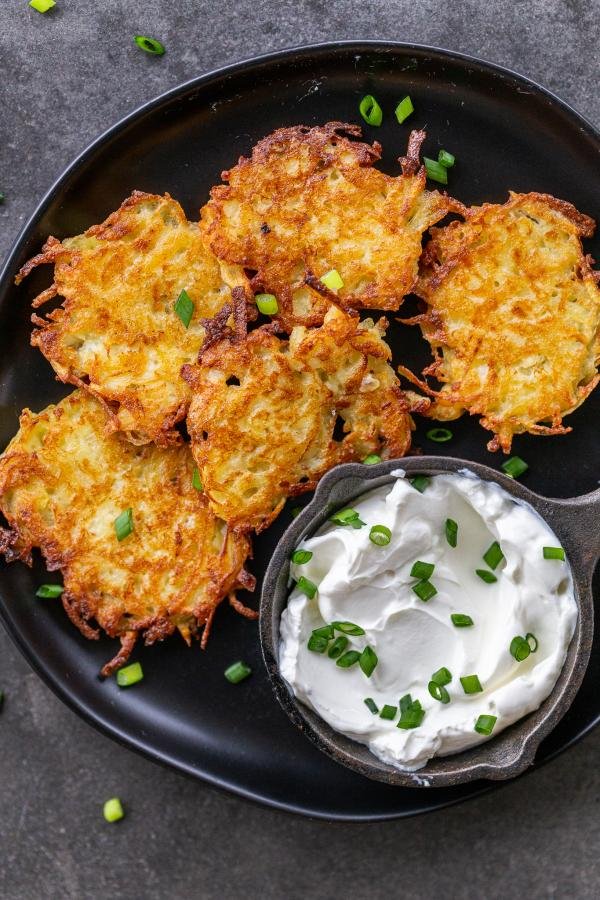 Make-Ahead, Storing, Freezing, & Reheating Tips
While latkes are best eaten fresh out of the skillet, here are a couple tips for prepping them in advance and storage.
Make-Ahead: If you're prepping latkes for a big party, keep them warm by placing them on a baking sheet in the oven at 200°F as you fry.
Storing: To keep them on hand for 2-3 days, store them in an airtight container in the fridge.
Freezing: To freeze latkes, fry them and allow them to cool down completely. Next, assemble them in a single layer on a baking sheet and pop them in the freezer. Once frozen, transfer them to a freezer-safe bag for up to 3 months.
Reheating: To return the latkes to their fresh-out-of-the-skillet crispiness, reheat them in an oven or an air fryer.
FAQ
What are the best potatoes to use for latkes?
We love the sweet, buttery flavor of yukon golds best. You can also use russet potatoes. Of note, russets contain the most moisture and starch, so be sure to squeeze the liquid out really well!
Are latkes for dinner or breakfast?
Latkes can be served for either dinner or breakfast. The sky's the limit!
How do you make crispy latkes?
The key to crispy latkes is squeezing out as much of the potato starch as humanly possible. Too much moisture will result in a soggy potato fritter.
What is the best oil to fry latkes in?
This is really up to your preference. Avocado oil and olive oil work great, but they're more full-bodied in flavor. If you want a more mild taste, opt for vegetable oil instead.
How do you prevent your latkes from being greasy?
Once you pull a latke out of the skillet, place it on a plate lined with a paper towel to soak up any excess grease.
More Tasty Potato Recipes
Recipe
These classic, super crispy potato latkes have a texture and taste worth writing home about. Serve them as an entree or a side dish!
Ingredients
1

lb

yukon gold potatoes

shredded

1

small onion

shredded

1

large egg

2

tbsp

flour

1

tsp

kosher salt

adjust to taste

1/2

cup

oil

avocado or light olive oil
Nutrition Facts
Classic Potato Latkes (Crazy Easy)
Amount Per Serving
Calories 75
Calories from Fat 54
% Daily Value*
Fat 6g9%
Cholesterol 8mg3%
Sodium 121mg5%
Potassium 107mg3%
Carbohydrates 5g2%
Protein 1g2%
Vitamin A 12IU0%
Vitamin C 5mg6%
Calcium 5mg1%
Iron 1mg6%
* Percent Daily Values are based on a 2000 calorie diet.