This overnight pizza dough recipe is the answer to your thin-crust pizza prayers. So easy to prep, all you have to do is dream about what toppings to use!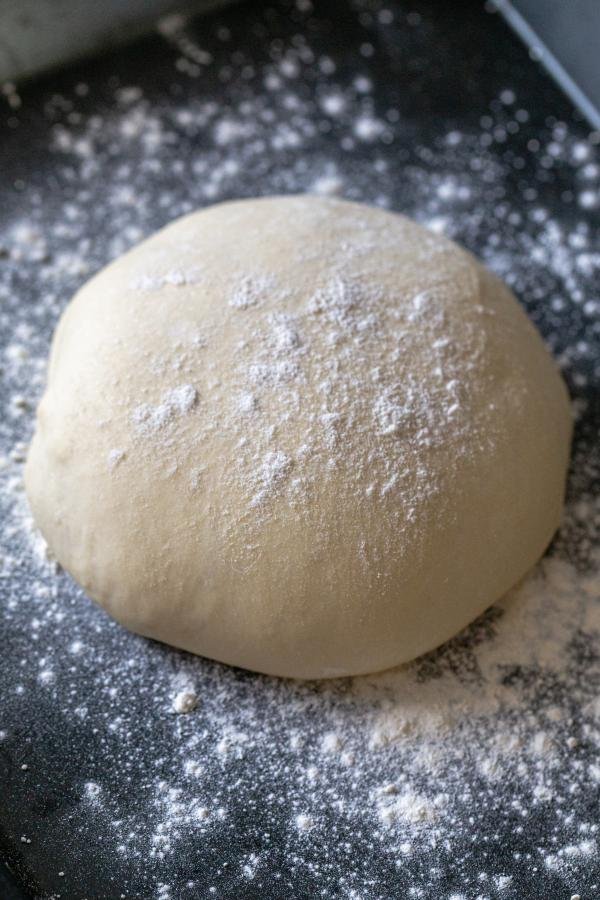 For the past few years, I've relied heavily on my quick pizza dough recipe to make tasty pies with super fluffy crust. However, when my family took a trip to Italy recently we fell in love with thin pizza crust.
To get that signature thin, Northern Italian-style pizza crust, look no further. By letting the dough rest overnight in the fridge, you slow the fermentation process and create a perfectly delicate crust. The kicker? It only takes 25 minutes to prep and works for a host of other recipes besides homemade pizza.
How to Make Overnight Pizza Dough
Making overnight pizza dough is as simple as it gets. Below, find a quick hitter overview of the recipe before you dive in.
Tips & Tricks
Below, find a collection of pro tips & tricks to help you make the best pizza dough possible.
Use very cold water. Using very cold water to make your pizza dough is key to slowing the fermentation process. This is crucial since you'll be letting your dough rise overnight in the refrigerator.
Use a stand mixer if you have one. Kneading the dough will be so much easier and take a fraction of the time if you use a stand mixer.
Use high-quality olive oil. There are a lot of bogus olive oil blends sold at the grocery store. When it comes to pizza-making, opt for 100% pure extra virgin olive oil. It's worth it for the full-bodied flavor!
Use high-quality flour. Opt for a flour that has a higher protein content and you won't be disappointed with the texture of your crust. Bob's Red Mill makes a great all-purpose flour that works great!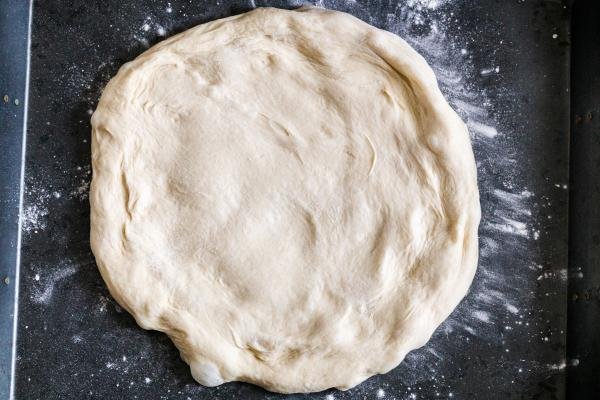 Pizza Topping Ideas
Below, find a couple of suggestions for different pizza toppings to help you create your perfect pie. Keep in mind these are simply suggestions! Feel free to get creative as you want and use your favorite pizza toppings.
Pizza Sauce
Meats, Cheeses, & Veggies
Meats: Salami, pepperoni, hot soppressata, prosciutto, ham, shredded chicken, meatballs, anchovies, Italian ground sausage
Cheeses: Mozzarella, parmesan, herbed goat cheese, feta, romano, gorgonzola, blue cheese
Veggies: Mushrooms, bell peppers, onion, marinated artichokes, pepperoncini, zucchini, yellow squash, tomatoes, sun-dried tomatoes, olives
Hot Tip: Make any pizza breakfast pizza by cracking an egg on top 5-7 minutes before you're ready to take it out of the oven. Dipping a slice in the runny yolk is an absolute game-changer!
How to Bake Your Pizza
After you've selected your toppings and you're ready to bake your dough into a perfect pizza, find a quick rundown of the process below:
Prepare the Baking Sheet: Drizzle some olive oil or dust flour on a baking sheet. Next, dust it with some cornmeal and set it aside.
Prepare the Dough: Using your hands, stretch the dough into your desired shape. (Never use a rolling pin to shape your pizza dough. It will remove all the air and prevent your pizza from bubbling up.)
Add the Sauce & Cheese: Spread your desired sauce across the dough, leaving about an inch of space along the rim to account for the crust. Next, sprinkle on the cheese.
Add Meat, Veggies, & More Cheese: Evenly distribute the meat and veggies across your pie and top with another layer of cheese. Sprinkle the crust with sesame seeds.
Storing Pizza Dough
Refrigerator: You can store raw pizza dough in the fridge by keeping it in a bowl covered with plastic wrap. Use it within 3 days or freeze it.
Freezer: To freeze raw pizza dough, roll it into a ball. Next, wrap it tightly in plastic wrap and store it in the freezer for up to 3 months. To thaw, allow it to sit in the refrigerator overnight.
FAQ
Can I leave my pizza dough overnight at room temperature?
You should not leave your pizza dough out overnight at room temperature. If you do, it will over-ferment and have a strong, yeasty flavor.
Do I let the pizza dough rise before refrigerating it?
You do not need to let pizza dough rise before refrigerating it. Alternatively, it will rise in the fridge overnight.
What is 00 flour?
00 flour refers to ultra-finely ground Italian flour. It yields super silky dough and is commonly used in combination with bread flour to make pizza and pasta.
Why is my pizza crust so chewy?
Your pizza crust likely turned out too chewy if you used too much flour. To properly measure your flour, loosely pack the measuring cup with spoonfuls of flour until full. Despite popular belief, you should never measure flour by tightly packing it.
How do I fix overworked pizza dough?
If your pizza dough is overworked and too difficult to handle, allow it to rest on a floured surface for 10-15 minutes
Recipes that Call for Pizza Dough
Recipe
This overnight pizza dough recipe is the answer to your thin-crust pizza prayers. So easy to prep, all you have to do is dream about what toppings to use!
Ingredients
Nutrition Facts
The Best Overnight Pizza Dough Recipe
Amount Per Serving
Calories 427
Calories from Fat 90
% Daily Value*
Fat 10g15%
Sodium 588mg25%
Potassium 120mg3%
Carbohydrates 72g24%
Protein 10g20%
Vitamin C 1mg1%
Calcium 17mg2%
Iron 4mg22%
* Percent Daily Values are based on a 2000 calorie diet.