These vegetarian cabbage rolls are perfect for Meatless Monday. Stuffed with tender rice and sauteed veggies, they're both healthy & hearty!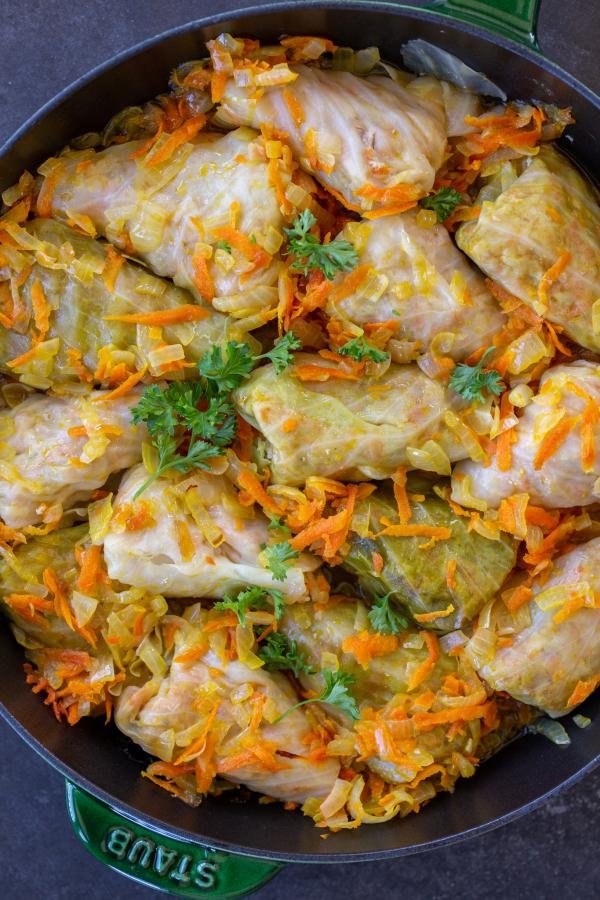 I used to avoid making these vegetarian cabbage rolls by any means. They always felt like so much labor and you know I love crazy easy recipes. But when I learned a tip from a close friend, my views on cabbage rolls changed for good. The tip you ask? Freeze the whole head of cabbage and defrost it right before you plan to assemble. This nixes the need for you to boil the cabbage, as they leaves turn tender and easy to work with upon thawing. Here's to skipping steps, friends!
Craving meaty cabbage rolls? Don't blame you. Try our recipe for traditional cabbage rolls made with ground beef or chicken instead.
A Little Backstory on Cabbage Rolls
If you've never tried cabbage rolls before, they are a Slavic staple. They feature tender cabbage leaves (typically boiled) that are stuffed with rice, veggies, and meat and topped with a savory tomato sauce and sour cream. In this recipe, we skip the meat and keep it light and 100% vegetarian. If you're on a cabbage kick, you have to try this roasted cabbage recipe or this addicting pickled cabbage.
How to Roll Cabbage Rolls Like a Pro
The key to making amazing cabbage rolls is to nail the roll. Below, find our foolproof method for keeping the filling inside.
Hold a cabbage leaf in your hand.
Place a spoonful of the filling mixture on the bottom half of the cabbage leaf.
Fold over one side of the cabbage leaf, creating somewhat of a cone shape and securing the filling inside.
Pinch open edges of the cabbage inside the cabbage roll with your free index finger. Bam, you have a cabbage roll!
Preparing Vegetarian Cabbage Rolls
The first step to making these vegetarian cabbage rolls is to sauté the carrots and onions in olive oil until golden brown. Season to taste with salt and pepper and set aside 1/4 of the veggies for topping.
Make the Filling: Next, stir the other 3/4 of the veggies into the cooked rice.
Remove the Cabbage Leaves: Pull the cabbage leaves off the defrosted cabbage head, discarding any discolored or tough outer leaves. Then, remove the hard, fibrous stem from each leaf.
Assemble the Cabbage Rolls: Next, place a cabbage leaf in your hand, add the filling, and roll it up. Repeat until you run out of cabbage and filling.
Bake the Cabbage Rolls: Assemble the cabbage rolls tightly next to one another in a baking dish. Cover the cabbage rolls with the remaining sautéed veggies and bake them at 350°F for 30-45 minutes. Enjoy!
3 Tips for the Best Vegetarian Cabbage Rolls
Freeze the cabbage head a week in advance. Cabbage heads are extremely dense. To ensure that the entire head is frozen, pop the cabbage head in the freezer a week ahead of the day you plan to make the rolls.
Experiment with different ingredients and spices for the filling. These rolls are super versatile, so add your favorite veggies and fillings to the mix. If you want some earthiness, add in thyme, basil, or oregano. Prefer other veggies? Add red pepper, garlic, mushrooms, or whatever other produce you love. Or, if you'd like them to be a bit more filling, add in some cooked lentils for protein. You can't go wrong!
Assemble the cabbage rolls seam-side down. To prevent the cabbage rolls from falling apart during baking, assemble them in the dish seam-side down.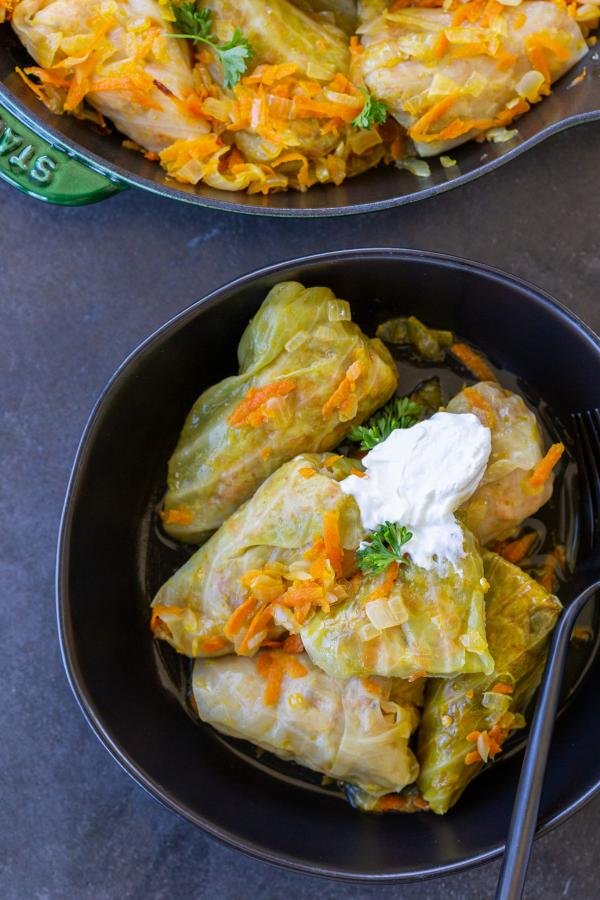 What to Serve With Vegetarian Cabbage Rolls
Eat these cabbage rolls as-is for a light dinner or serve them alongside your favorite protein for a well-rounded meal. Pork kabobs (shashlik) or cast iron ribeye steaks are both great choices.
Can't Live Without Sauce?
Whip up a quick vegetarian tomato sauce by combining your favorite marinara, a tablespoon of tomato paste, and 1/2 cup of sour cream (for vegan cabbage rolls, skip the sour cream). Let the sauce simmer for 10 minutes and pour it over the cabbage rolls before baking. Yum!
Storing, Freezing, & Reheating Cabbage Rolls
Cabbage rolls are great for meal prep. Below, find all the tips you need to store, freeze, and reheat them.
Refrigerator: To keep cabbage rolls on hand for up to a week, store them in an airtight container. This will keep them from turning stale and absorbing any lingering smells in your refrigerator.
Freezer: If you plan on freezing cabbage rolls, assemble them according to the recipe instructions and stop short of baking them. Next, place them on a baking sheet lined with parchment paper and pop them into the freezer uncovered. Once completely frozen, transfer them to a freezer-safe bag for up to a month.
Reheating Tip: To reheat refrigerated or frozen cabbage rolls, pop them back in a baking dish and heat them until warmed through in the oven.
Other Tasty Cabbage Recipes
Recipe
Whether you're skipping out on meat for the day or a hardcore vegetarian, these vegetarian cabbage rolls won't disappoint. So savory & tasty!
Ingredients
1

large Green Cabbage

(frozen prior, read notes above)

6

cups

cooked white rice

4

large onions

thinly diced

5

large carrots

grated

3

tbsp

olive oil

2

tbsp

salt

adjust to taste

1

tsp

ground black pepper

adjust to taste
Nutrition Facts
Vegetarian Stuffed Cabbage Rolls
Amount Per Serving
Calories 214
Calories from Fat 45
% Daily Value*
Fat 5g8%
Sodium 1436mg60%
Potassium 352mg10%
Carbohydrates 39g13%
Protein 5g10%
Vitamin A 5186IU104%
Vitamin C 38mg46%
Calcium 68mg7%
Iron 1mg6%
* Percent Daily Values are based on a 2000 calorie diet.