These rice stuffed chicken thighs are crispy on the outside & filled with savory veggies & rice. A classic Slavic party food that's always a crowd favorite!
If you are a bit short on time, try making my recipe for Instant Pot Chicken Thighs instead.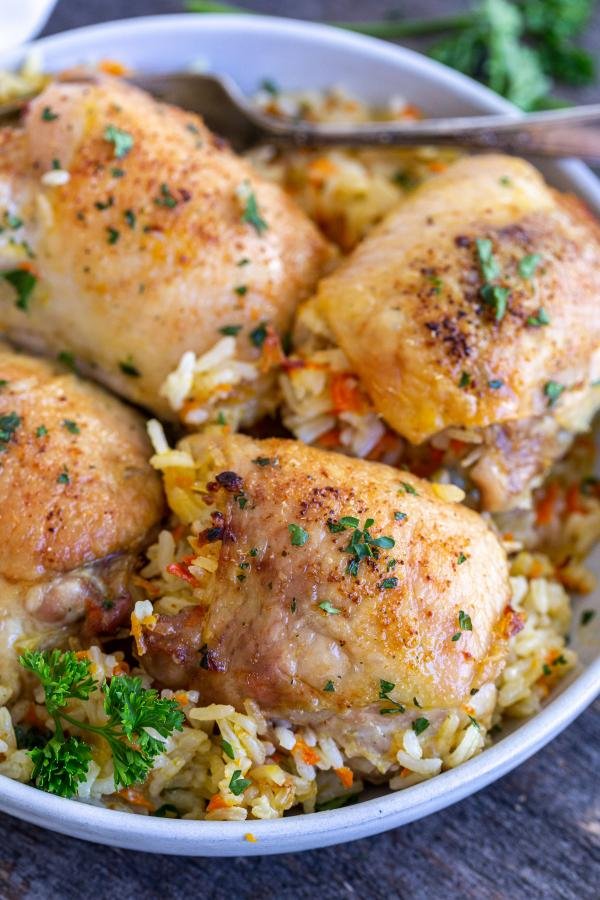 Known as "Solomon Golubtsi", this rice stuffed chicken thighs dish is staple at Slavic weddings, receptions, and family get-togethers. You'll love how the chicken produces a delicious fatty sauce that seeps into the rice as the dish bakes. It's out-of-this-world tasty and I crispy chicken skin that forms on top of each stuffed thigh is just a bonus.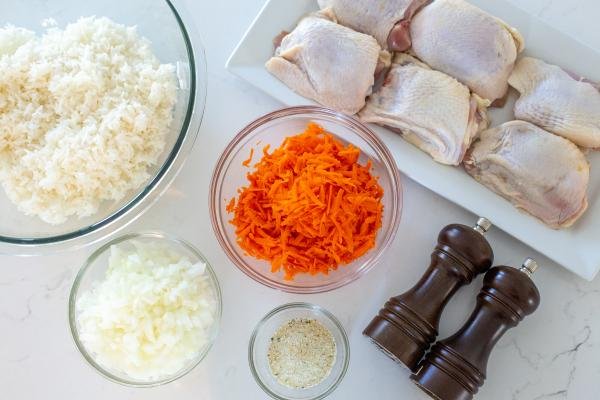 Making Slavic Stuffed Chicken Thighs
All you need to make this delicious meal is 8 simple ingredients.
Cook the Rice: In a pot of salted water, cook the rice. Set it aside to cool.
Sauté the Veggies: In a large skillet, sauté the onions and carrots in olive oil. Set them aside and to cool.
Prepare & Pound the Chicken: Next, slice the bone out of the chicken thighs and trim off any loose or excess skin. Using a meat tenderizer, pound the chicken from the inside until flat and thin (don't forget to leave the skin on!).
Stuff the Chicken: In a medium bowl, mix the rice and veggies together and season them to taste with salt and black pepper. Place a handful of the rice mixture into a pounded chicken thigh and fold over the loose sides into the middle.
Bake the Chicken Thighs: Place the stuffed chicken thighs into a baking dish. Sprinkle the chicken with seasoning. Bake the thighs at 350°F for 45 minutes. Bon appetit!
6 Pro Tips for Making Stuffed Chicken Thighs
From our kitchen to yours, find a handful of helpful tips to help you nail this recipe.
Use leftover rice to speed up the process. To save some time, use leftover or precooked brown, white or wild rice.
Opt for a garlicky seasoning blend. Garlic parsley salt is our go-to seasoning to sprinkle on top of the stuffed chicken. It's a very popular spice blend used throughout the Eastern European cooking, but feel free to play around here. You can and should use your favorite seasoning blend!
Top the thighs with some shredded cheese. This is totally optional, but if you're a cheese fanatic, adding a bit of mozzarella or parmesan cheese inside the rice filling is super tasty.
Don't skimp on tenderizing your chicken thighs. Tenderizing the thighs ensures that the chicken pieces are uniform and will bake evenly. It also makes the meat so much more decadent and easy to chew.
Drain the excess grease. At around 30-40 minutes of baking, drain some of the liquid out of the pan so that the rice is not fully flooded with fat.
Use a meat thermometer to check doneness. You don't want your chicken to be too dry or undercooked. Skip the guesswork and use a meat thermometer to ensure that the inner temperature of the thighs have reached 165°F.
Ideas for Serving
For a well-rounded Slavic meal, serve your rice stuffed chicken thighs with a beet and garlic salad or a Russian vinaigrette salad. Or, if you're craving something more crunchy and fresh, pair the thighs with a cool and refreshing creamy cucumber salad.
Storing & Reheating Leftovers
If you have some leftover stuffed chicken thighs, store them in an airtight container in the fridge for up to 3-4 days. This will keep the rice and chicken from drying out prematurely. To reheat the thighs, pop them in a casserole dish covered with foil and bake them at 350°F until warmed through.
Freezing Stuffed Chicken Thighs
If you're a diehard meal prepper or working ahead for a party, there are two ways to freeze your stuffed chicken thighs — cooked or raw. Here's how to do both:
Freezing Fully Cooked Stuffed Chicken Thighs
Allow fully cooked stuffed chicken thighs to completely cool in the refrigerator. Then, wrap each chicken thigh in plastic wrap and place in an airtight container. Freeze the thighs for up to a couple of weeks. To reheat, place the thighs in the oven at 350°F for 20 minutes, or until warm all the way through. If you're unsure, cut one of the pieces in half to check the internal warmth.
Note: Cooked chicken is more prone to freezer burn, so it doesn't last as long as the uncooked chicken.
Freezing Uncooked Stuffed Chicken Thighs
Put uncooked stuffed chicken thighs on a parchment lined baking sheet and place them in the freezer for about an hour. Then, layer the frozen stuffed thighs between sheets of waxed paper in an airtight container. Freeze it for up to a month. To serve, thaw in a single layer overnight in the refrigerator. Bake according to the recipe's instructions.
FAQ
Is it better to bake stuffed chicken thighs at 350°F or 400°F?
It's best to bake stuffed chicken thighs at 350°F. You don't want to shock them with too high of a heat and cause them to overcook!
Is it better to cook stuffed chicken thighs with or without the skin on?
If you like crispy skin, extra texture, and flavor, leaving the skin on your stuffed chicken thighs is a must. You'll love how the skin gets super crispy during the baking process and protects the meat from overcooking.
Do you need to flip the stuffed chicken thighs over halfway through cooking?
No, you do not need to flip stuffed chicken thighs over halfway through cooking them. Keep the seam side down so that they don't fall apart and leave them right side up.
Is it OK if stuffed chicken thighs are slightly pink?
Yes, it's OK if your stuffed chicken thighs are slightly pink on the inside so long as the internal temperature has reached 165°F. This is perfectly natural with dark meat cuts!
Can you use chicken breasts to make rice stuffed chicken?
Yes, you can use chicken breasts to make stuffed chicken instead of chicken thighs. However, you will need to adjust the cooking time by lowering it, as chicken breasts cooks faster than chicken thighs do.
More Tasty Chicken Recipes to Try
Recipe
This recipe for rice stuffed chicken thighs is an essential Slavic party favorite! Stuffed with veggie rice, each thigh is juicy on the inside & crispy.
Note: The chicken may produce lots of grease during the baking process, you can just drain the grease and keep on baking.
Nutrition Facts
Rice Stuffed Chicken Thighs
Amount Per Serving
Calories 509
Calories from Fat 198
% Daily Value*
Fat 22g34%
Cholesterol 111mg37%
Sodium 105mg4%
Potassium 394mg11%
Carbohydrates 53g18%
Protein 23g46%
Vitamin A 3485IU70%
Vitamin C 3mg4%
Calcium 37mg4%
Iron 1mg6%
* Percent Daily Values are based on a 2000 calorie diet.