There's nothing like sinking your teeth into this messy burger. From the gooey cheese to the sautéed veggies, it's good to the very last messy bite!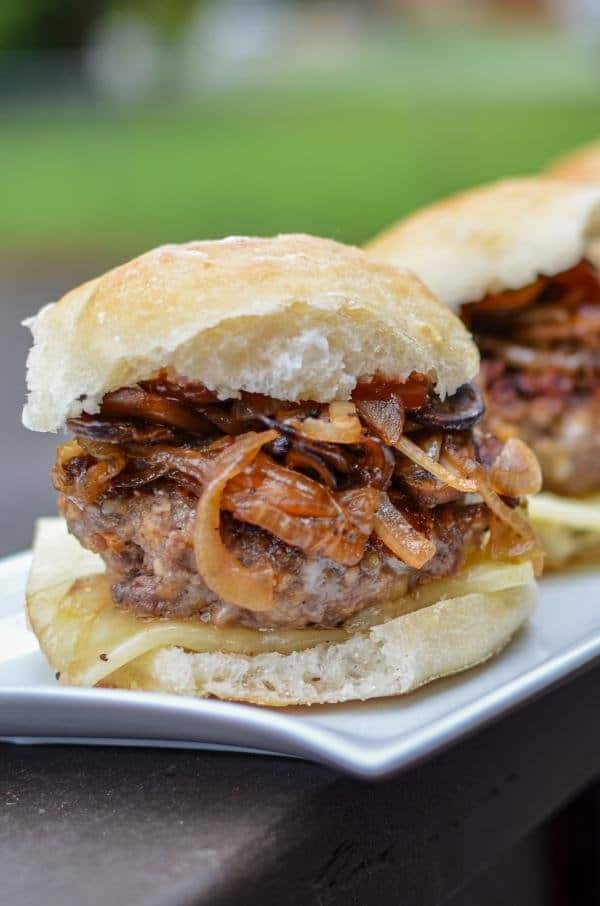 Okay…let's be honest for a moment here. Sometimes a salad simply won't do. Sometimes what you need is a big, messy burger that nearly puts you to sleep and makes you feel like a kid again. If that's what you're looking for, you're in the right place.
Preparing a Messy Burger
Making this simple messy burger only requires 10 ingredients and a little bit of prep. Bye, bye fast-food drive-thru!
Sauté the Veggies: Slice the onions and mushrooms and fry them over high heat in a skillet with the garlic olive oil. Season to taste with salt and pepper and set them aside.
Make the Burger Patties: In a large bowl mix the ground beef and burger seasoning with your hands and form the patties.
Cook the Burgers: Place the burgers into the skillet and cook them for 5 minutes on one side and 4 minutes on the other.
Assemble the Burgers: Next, place a slice of cheese on the bottom hamburger buns and top with the sautéed veggies and burger patties. Spread mayo and ketchup on the top buns and pop them on top of the burgers. Allow the burgers to rest for a couple of minutes and enjoy!
A Couple Handy Tips for the Perfect Messy Burger
Follow these 3 simple tips to nail your messy burger.
Cook the burgers in the same skillet as the veggies. The veggie drippings will lend so much flavor to the burgers as they cook. Whatever you do, don't wash them out!
Don't use any extra grease in the skillet. The leftover olive oil from the veggies and the natural fat from the burgers have more than enough grease to keep the burgers from sticking. There's no need to add anymore – especially if you won't the outside of the patty to get a nice crisp!
Use lean ground beef. Use a leaner ground beef to avoid your burgers from getting too greasy. Yes, this is a messy burger, but there are limits!
Different Sides to Serve Alongside Your Burger
For a classic, all-American meal, pair the messy burger with a pickle spear and a big side of air fryer french fries. If you prefer a salad, pair the burger with a creamy caesar salad or a classic garden salad (with homemade ranch dressing of course!).
Quick Special Sauce: Mix a little mayo with ketchup and relish for a quick and easy burger sauce.
How to Deal with Leftovers
If you don't plan on eating your burgers right after preparing them, hold off on assembling them and store the patties and sautéed veggies in separate airtight containers. When stored properly, the patties should keep for up to 3 days.
FAQ
How do you keep burgers from splattering?
The best way to keep the burgers from splattering oil all over you is to cook them on low heat.
How can you tell if a burger is too rare?
You can tell if the burger is too rare if it's squishy when you push the spatula into the center. As a general rule of thumb, the firmer it is to the touch the more well done it is.
What's the proper way to assemble a burger?
Start with the cheese on the bottom bun, followed by the burger patty and veggies. Next, spread the mayo, ketchup, mustard, or burger sauce on the top bun and stick it right on top.
What kind of ground beef should you use?
Opt for lean meat to prevent your burger from coming out too greasy.
What other cheeses can you use?
You can swap the slices of cheese out for blue cheese, cheddar cheese, or even feta cheese.
More Sandwiches & Burgers to Try
Recipe
This messy burger is next level delicious. Packed full of cheese, onions, and mushrooms, it's about to become one of your new favorite cheat meals!
Ingredients
1

lb

ground beef

1

packet

Kraft Burger Seasoning

or other favorite seasoning

1

large onion

1

lb

mushrooms

5

slices of cheese

5

buns

Garlic Olive Oil
Instructions
Slice the onions into half rings and slice the mushrooms into thin pieces. On high heat, fry the mushrooms and onions until golden brown and season them with salt and pepper. Set the veggies aside.

In a large bowl, mix the ground beef and Kraft Burger Seasoning together with your hands. Form burger patties about 3/4-inch thick.

Pop a couple of burgers into the same skillet that you cooked the onions and mushrooms and turn the heat to low. Cook one side for 5 minutes and the other side for 4 minutes.

Place a slice of cheese on the bottom bun, followed by a burger patty and a handful of the onion and mushroom mixture. Cover the top bun with mayo and ketchup and pop it on top. Repeat until all your burgers are dressed.

Let the burgers rest for 2-3 minutes so they can set a little. Enjoy!
Nutrition Facts
Pretty Messy Burger Recipe
Amount Per Serving
Calories 500
Calories from Fat 234
% Daily Value*
Fat 26g40%
Cholesterol 78mg26%
Sodium 525mg22%
Potassium 592mg17%
Carbohydrates 38g13%
Protein 29g58%
Vitamin A 167IU3%
Vitamin C 4mg5%
Calcium 177mg18%
Iron 13mg72%
* Percent Daily Values are based on a 2000 calorie diet.