This tortilla salad recipe is simple, healthy, and full of texture. Top it with your favorite protein for a complete meal!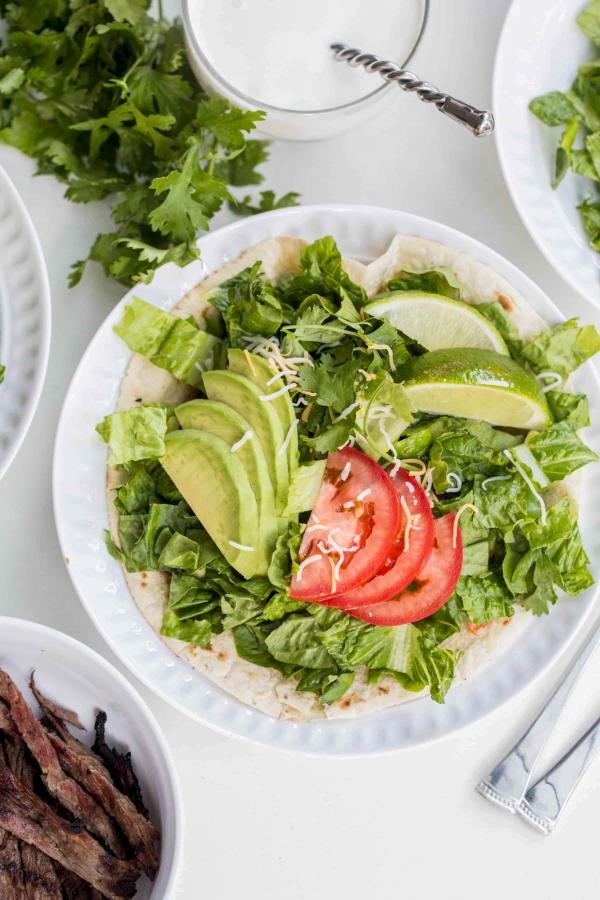 Who says salads have to be so boring? This salad truly has it all and makes you want to eat your vegetables. It features grilled meat, beans, guacamole, cheese, and the usual suspects all nestled in a soft flour tortilla bowl and topped with tortilla strips. It takes about 30 minutes of prep time to make and just 15 minutes of cook time to whip up the grilled meat. What's better? You'll save money making it at home!
Homemade Creamy Tomatillo Dressing with Fresh Cilantro
If you're obsessed with Cafe Rio, you've likely snuck a couple of ramekins of the creamy tomatillo dressing home. It's that good! Below, find a quick hitter recipe to make it from scratch.
Packet of Hidden Valley Ranch Dressing mix
1 cup buttermilk
1 cup mayonnaise or greek yogurt
2-3 tomatillos
2 cloves garlic, pressed
1/2 bunch of cilantro, chopped
Lime juice, to taste
1 jalapeno with the seeds removed
Salt and pepper, to taste
Simply blend all the ingredients together in a food processor or blender until silky smooth and creamy. Store leftovers in a Mason Jar in the fridge.
What's a tomatillo and where can you find them? Tomatillos are Mexican husk tomatoes and are bright green. You'll find them near the tomatoes in the veggie aisle.
Assembling a Homemade Cafe Rio Salad
Below, find a quick hitter overview on how to make this copycat classic.
Grill the Meat: Over high heat, grill the chicken or beef until golden brown and cooked through.
Chop the Veggies: Next, rinse the romaine lettuce and slice it up. Dice the tomatoes into bite-sized pieces.
Warm the Tortillas: Place the tortillas in a preheated skillet over medium-low heat one at a time. Top each one with a bit of cheese and cook it just until it's melted.
Assemble the Salad: Place the warmed tortillas in large bowls. Layer on the warmed pinto beans, grilled meat, veggies, sour cream, and guacamole. Sprinkle on the cheese (swap the Mexican cheese for cotija cheese if you like a bit of tang), tortilla strips, and cilantro. Finish with a drizzle of dressing and garnish with a couple lime edges. Enjoy straight away!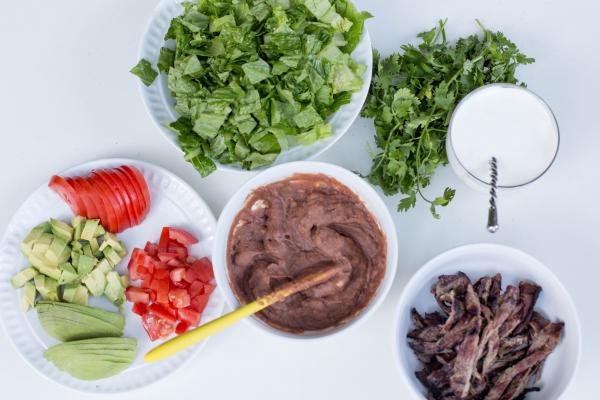 Tips for the Best Copycat Cafe Rio Salad
A couple of handy tips will help you whip up this salad just like Cafe Rio.
Make the dressing the night before. If you have time, whip the dressing up the night before so it can marinate and develop its flavors in the fridge overnight.
Marinate the meat overnight if you can. To make the grilled meat even more tasty, whip up a simple marinade of lime juice, red enchilada sauce, green chilis, salt, and pepper.
Use a salad spinner to clean the lettuce. There's nothing worse than soggy lettuce watering down your salad. To get all the moisture off before tossing, use a salad spinner or lay the lettuce leaves out flat on a kitchen towel to dry.
Only add the dressing right before you plan to serve the salad. To prevent the salad and tortilla from turning soggy, only pour the dressing on right before you plan to serve it.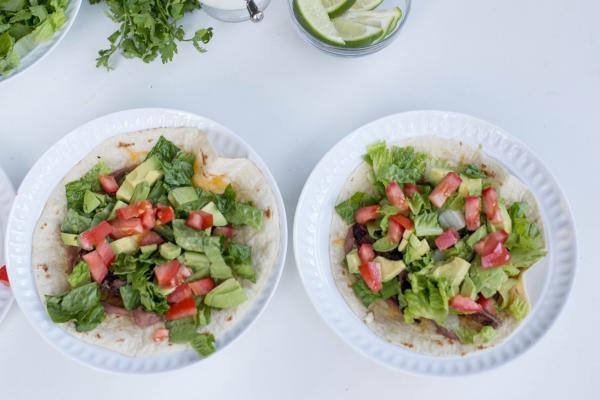 Make Ahead
This salad is great for batch cooking and having on hand for quick meals throughout the week. Store all the ingredients in their own separate airtight containers and assemble the salads as you go. For best results, make the cheesy tortillas fresh.
FAQ
Is Cafe Rio dressing dairy-free?
No, the dressing is not dairy-free. It contains both buttermilk and mayonnaise.
How many calories are in a Cafe Rio salad?
There are about 700 calories in this Cafe Rio salad.
Do you eat the salad with a fork or like a soft taco?
It's up to you! You can start with a fork and then wrap the tortilla up like a burrito at the very end.
What cuts of chicken and beef work best?
Boneless skinless chicken thighs and carne asada are the best cuts for this salad.
More Tasty Recipes to Try
Recipe
This Cafe Rio salad is a copycat of the restaurant's amazing tortilla, avocado, and grilled meat salad. Great for quick dinners and lunches!
Ingredients
1

lb

grilled meat

chicken or beef

1

can

refried beans

2

cups

Mexican cheese

2

cups

lettuce

chopped

2

tomatoes

chopped

1/2

cup

avocado

chopped

2

tbsp

sour cream

2

tbsp

cilantro

1/2

lime

sliced

1

cup

tortilla chips

1/2

cup

Creamy Tomatillo Dressing
Nutrition Facts
Cafe Rio Salad (CopyCat)
Amount Per Serving
Calories 728
Calories from Fat 378
% Daily Value*
Fat 42g65%
Cholesterol 126mg42%
Sodium 752mg31%
Potassium 834mg24%
Carbohydrates 46g15%
Protein 43g86%
Vitamin A 1210IU24%
Vitamin C 15mg18%
Calcium 492mg49%
Iron 4mg22%
* Percent Daily Values are based on a 2000 calorie diet.