These salmon cakes are made with canned salmon, lemon juice, and a host of simple pantry staples. You'll fall in love with the flavor and ease of these seafood patties!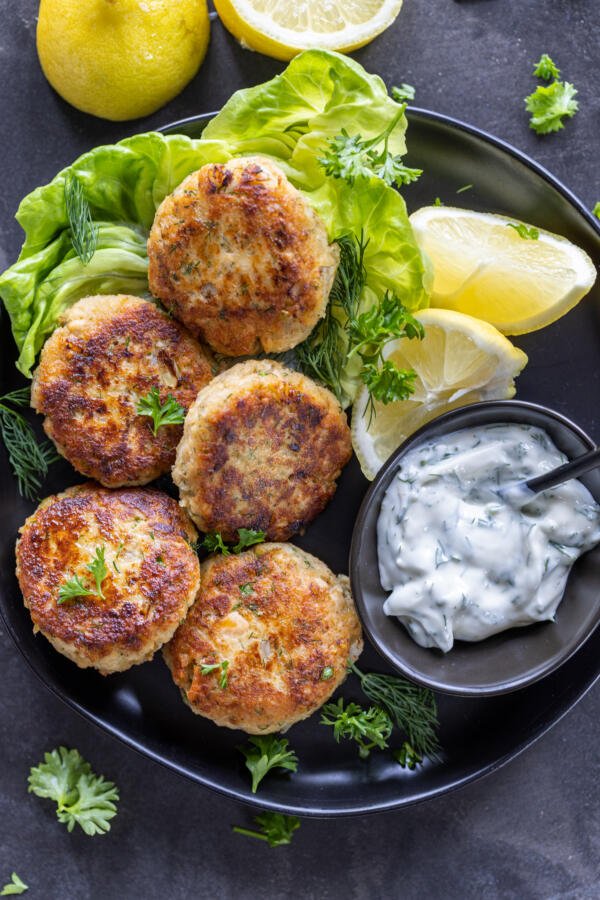 What are Salmon Cakes?
Salmon cakes, also known as salmon patties, are circular patties made from canned salmon. The salmon is mixed with eggs, breadcrumbs, and mayo for moisture and to keep the patty together as it is sauteéd on a skillet. These cakes are incredibly tasty, and the best part is — they're made with simple ingredients you probably already have on hand.
How to Make Salmon Cakes
This salmon patty recipe takes a quick 15 minutes of prep time. Do the prep ahead of time and save the cooking for later.
Sauté the onions: On a preheated pan, sauté the minced onion in olive oil until translucent and lightly golden.
Crumble the salmon: In a large bowl, break apart the canned salmon into small pieces.
Combine all the ingredients: Combine all of the remaining ingredients with the salmon.
Shape the cakes: Shape the salmon cakes with a scoop or a spoon. Shape into a ball, then lightly flatten.
Cook: Preheat a large skillet to medium heat and pan fry each side for three to four minutes or until golden brown. Enjoy!
Make ahead tip: To make ahead, prepare the mixture and refrigerate for up to two days before shaping and sauteéing.
Substitutions & Variations
A little variety is always good when it comes to cooking. You never know when a little ingredient swap will send these canned salmon cakes to the very top of your favorites list.
Ingredient Substitutions
Fresh herbs: Instead of fresh dill or parsley, use other herbs like basil, thyme, or even cilantro.
Breadcrumbs: We like to use panko breadcrumbs, but crushed saltine crackers work in a pinch, too.
Lemon juice: Swap out the lemon juice with lime juice. It still gives a citrus taste, but with a different twist. For even more citrus flavor, add lime or lemon zest!
Canned salmon: If you have leftover baked salmon, use it instead of canned salmon.
Flavor Variations
Spicy: Give the salmon cakes a kick of heat with cayenne pepper or hot sauce.
Veggie-loaded: To add more veggies to the meal, add minced jalapenos, garlic, red bell peppers, onions, or celery. Careful not to add too much or the patties may fall apart more easily.
Panko- coated: Make the patties extra crispy on the outside by coating them with even more bread crumbs.
Cajun: Add old bay seasoning to the salmon pancakes for more of a cajun flavor. When needed, add extra salt and black pepper.
Low-carb: Decrease the carbohydrates in the cakes by swapping out the breadcrumbs with about 1/3 cup of parmesan cheese. The flavor is slightly different, but your sugar levels will thank you.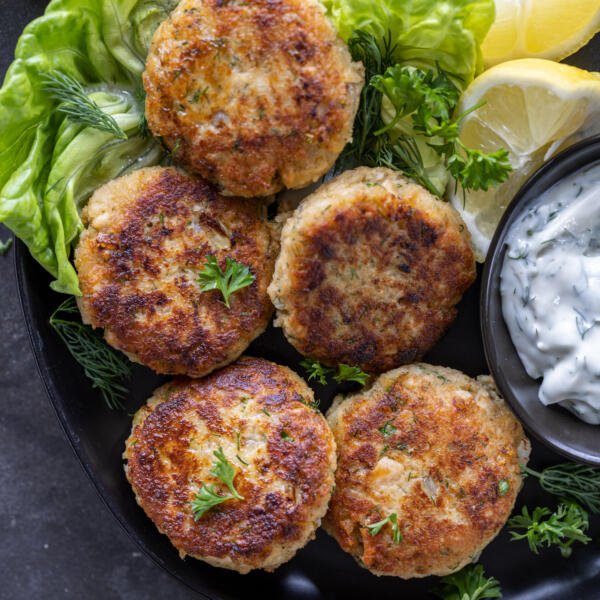 Tips from the Kitchen
There's nothing tricky about these salmon cakes when you have all the necessary tips to make a great patty. We're sharing our top tips and tricks to help you!
Measure with cookie scoop: Make all of the salmon cakes the same size with a medium cookie scoop. We prefer balls about one and half tablespoons in size.
Use boneless canned salmon: The canned salmon at Costco is perfect for this recipe. When using other brands, choose canned salmon in water with no bones.
Sauté with a nonstick pan: Use a non-stick pan and cook on medium heat so the cakes don't burn. Slow and steady is key!
Four Tips To Keep Salmon Cakes From Falling Apart
Salmon cakes have a tendency to fall apart easier compared to other meat patties. Here are the top five ways to keep your salmon cakes together.
Drain the salmon: Drain the canned salmon really well. Extra liquid makes the mixture watery.
Flake the salmon: Flake the salmon with a fork. Avoid large chunks of salmon in the patties.
Add the egg: The recipe already calls for two eggs, but if your patties are falling apart (especially when more ingredients are added to the mixture), add in an extra egg to help bind the patties.
Mix thoroughly: Mix the salmon mixture thoroughly. When it's not mixed well enough, the ingredients won't bind together very well.
Avoid flipping too soon: Wait to flip the salmon patties until a crispy golden layer is formed. Flipping the patties too soon may cause the patties to fall apart.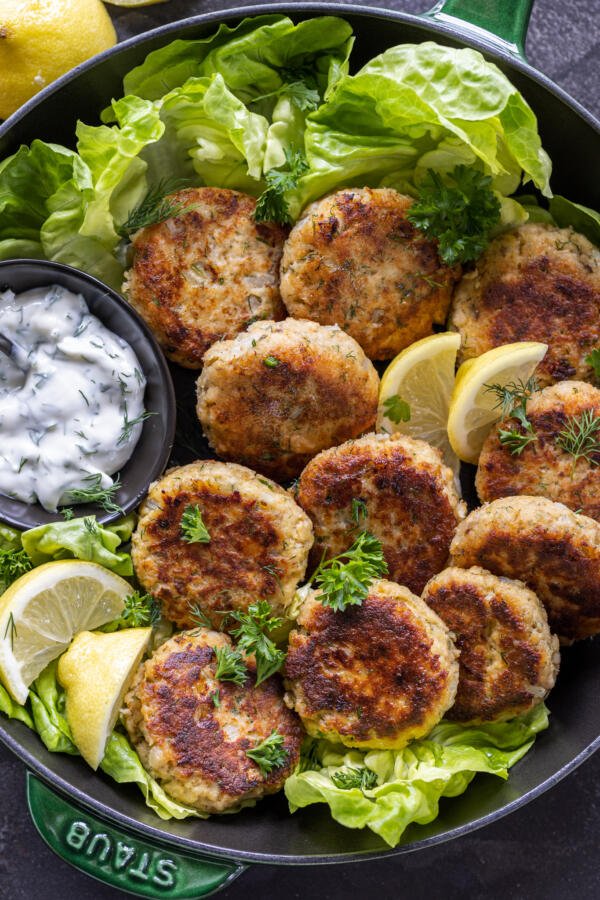 Ways to Serve
Salmon cakes are typically served as a lunch or dinner entree, but they can also be snacks, too. Make a salmon burger by layering the cakes between homemade brioche buns or lettuce wraps. Don't forget to add a sauce to elevate the flavor! We love switching between quick tzatziki sauce, 5 minute tartar sauce, and sweet chili sauce. If you are a mustard lover, a thin spread of dijon mustard is amazing!
If you're not a burger fan, serve the salmon cakes as a topping for salad, instead. We like to break the patties into smaller chunks and serve overtop arugula, avocado, tomato, and cucumber salad and kale quinoa salad.
Storage Tips + Reheating
Salmon cakes are a tasty and easy protein-packed snack or meal to have for a few days. Keep the cakes tasting fantastic with these tips.
Storing
The best way to save extra salmon cakes depends on how long you plan to store them.
Refrigerator: To store for up to three days, keep the patties in an airtight container in the fridge.
Freezer: To store cooked salmon cakes for up to two months, place cooled patties in an airtight container in the freezer. To store raw salmon cakes for three months, form the patties, then freeze on a baking sheet. Once frozen, transfer patties to a freezer safe container or bag. Separate each patty with parchment paper. Thaw in the refrigerator prior to cooking.
Reheating
Reheat the salmon patties according to how much time you have, as well as your desired crispness.
Skillet: To retain the exterior crisp of the patty, reheat in an oiled skillet on the stove.
Microwave: in a pinch, microwave the patties briefly until warmed. Keep in mind, microwaved patties are softer (less crispy) compared to other reheating methods.
Oven: To reheat a large portion of salmon cakes, reheat in the oven at 400°F for about five minutes.
Air Fryer: For a quick but crispy salmon cake, preheat the air fryer to 375°F for four minutes. Avoid overlapping the cakes in the fryer basket.
FAQ
Is canned salmon safe?
Canned salmon is a safe source of protein. Plus, salmon is naturally lower in mercury compared to other fish (fresh and canned).
Does canned salmon need to be rinsed?
It is unnecessary to rinse canned salmon. Some recipes ask to drain the liquid to avoid excess moisture, but the salmon itself does not need to be rinsed.
Can I use canned salmon in oil for canned salmon cakes?
Both oil or water canned salmon can be used for salmon cakes. We prefer canned salmon in water to preserve the most amount of nutrients in the salmon. Omega-3 fatty acids tend to leak out into the oil in oil-packed salmon.
More Canned Fish Recipes
Recipe
These salmon cakes are made with canned salmon, lemon juice, and a host of simple pantry staples. You'll fall in love with the flavor and ease of these seafood patties!
Nutrition Facts
Salmon Cakes (with Canned Salmon)
Amount Per Serving
Calories 230
Calories from Fat 99
% Daily Value*
Fat 11g17%
Cholesterol 153mg51%
Sodium 1601mg67%
Potassium 375mg11%
Carbohydrates 9g3%
Protein 24g48%
Vitamin A 345IU7%
Vitamin C 6mg7%
Calcium 278mg28%
Iron 2mg11%
* Percent Daily Values are based on a 2000 calorie diet.