These kotleti are packed with ground chicken and ultra-juicy. Consider them the Slavic version of chicken nuggets or chicken patties!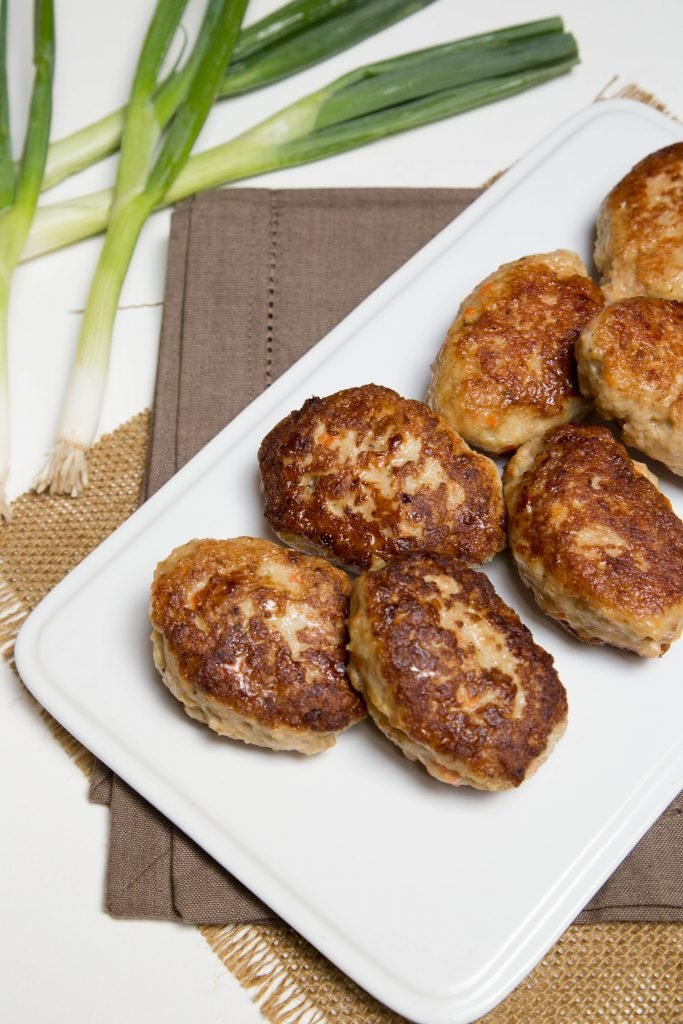 Chicken and cheese kotleti are Slavic-style chicken patties that are the epitome of healthy comfort food. Growing up, I would stand by the skillet as my mom prepared them, impatiently waiting for juicy bite!
In Russia, chicken kotleti are beloved by kids. Just like moms in the United States can lean on chicken nuggets or chicken patties to feed picky eaters, Slavic moms know kotleti will always be a crowd pleaser.
Made with ground chicken, shredded cheese, sautéed veggies, and simple spices, they are neutral enough to be served alongside almost any side dish (although traditional Slavic side dishes are best!) and super simple to make!
How to Make Chicken & Cheese Kotleti
Making chicken and cheese kotleti only requires a couple of wholesome ingredients you likely already have having out in your kitchen. Below, find a quick hitter overview of the recipe before you dive in.
Prep the Veggies: Dice the onions and shred the carrot. Sauté, blend, and add the veggies to a large mixing bowl with the ground meat. Blend or food process the other onion and add it to the bowl.
Soak and Crumble the Bread: In a shallow dish, soak the bread in milk for about 10 minutes. With your hands, squeeze out as much milk as possible from it and crumble it into the meat mixture.
Add Cheese and Season: Add the shredded cheese and season the meat mixture generously with salt and pepper.
Form the Patties: Using your hands, mix the ingredients together. In the palm of your hand, form slightly oval-shaped patties.
Fry the Patties: In a deep skillet over high-heat, fry the patties until browned (about 1-2 minutes per side) in a little olive oil.
Tips for Making the Best Chicken Patties
Below, find a collection of tips and tricks to help you make the best kotleti.
Soak the bread for about 10 minutes. This step helps to give the chicken patties their signature moistness. Don't skip it!
Only slightly brown the patties. Avoid overcooking the patties by only browning them for about 1 minute on each side. The rest of the cooking will happen in the oven!
Mix the patties by hand. Skip using a spoon and mix the patties with your hands! This will prevent you from over mixing the meat mixture.
Serving Chicken Patties
The best way to serve chicken and cheese kotleti is with traditional Slavic sides. Buckwheat, mashed potatoes, cabbage salad, and marinated cucumbers immediately come to mind. You could also bake some fresh baguettes and use them to sop up the juices that come out of the kotleti when you slice into them.
Storing Chicken Chicken Patties
Refrigerator: Store leftover chicken patties in an airtight container in the refrigerator. They should keep for up to 5 days.
Freezer: Freeze leftover kotleti by allowing them to cool completely. Next, place them in a single layer on a baking sheet lined with parchment paper. Then, pop the entire baking sheet into the freezer. Once completely frozen, transfer the kotleti into a freezer-safe plastic bag. The meat patties will stay fresh for up to 3 months.
Reheating Tip: Reheat frozen or refrigerated kotleti in the oven at 350⁰F for about 15 minutes, or until warmed through. You can also reheat the patties in an air fryer if you have one! A 3-4 minutes on each side should do the trick.
FAQ
Are chicken patties healthy?
Yes, chicken patties are healthy for you. Filling and wholesome, this recipe is packed full of protein, veggies, whole wheat bread, and cheese.
What goes good on a chicken patty?
Chicken patties are good all on their own as the main dish, or served on toasty bread with mayonnaise, onion, and tomato.
How do I cook frozen chicken patties?
You can cook frozen chicken patties by placing them in the oven at 350⁰F for about 15 minutes, or until warmed through. If you have one, you could also reheat them in an air fryer for a couple minutes on each side.
Can I prep chicken patties ahead of time?
Yes, you can prep chicken patties ahead of time. You can prep the mixture a day ahead and simply shape and fry the patties the day-of. You could also prep and freeze the patties to have them on-demand for a rainy day.
Can I use different ground meat?
You can use ground pork or ground turkey. A mixture of ground chicken and ground pork works really well, too. The only ground meat you probably shouldn't use is ground beef, as it doesn't turn out as juicy as the others.
More Tasty Slavic Recipes
Recipe
These kotleti are packed with ground chicken and ultra-juicy. Consider them the Slavic version of chicken nuggets or chicken patties!
Nutrition Facts
Chicken and Cheese Kotleti (Chicken Patties)
Amount Per Serving
Calories 398
Calories from Fat 189
% Daily Value*
Fat 21g32%
Cholesterol 202mg67%
Sodium 1153mg48%
Potassium 1282mg37%
Carbohydrates 8g3%
Protein 44g88%
Vitamin A 81IU2%
Vitamin C 2mg2%
Calcium 119mg12%
Iron 2mg11%
* Percent Daily Values are based on a 2000 calorie diet.