The nutty flavor of buckwheat flour shines in this classic buttermilk, eggs, and sugar pancake batter. You won't be able to resist their flavor and fluff!
We ate buckwheat for almost every meal growing up in a Ukrainian household. Buckwheat was easy to get, cheap, and filling. We would have it with milk, butter, kotleti, or just plain. I love that now I get to sneak it into my kids' pancakes — and they don't even notice the extra nutrients in there.
What Are Buckwheat Pancakes?
Buckwheat pancakes are griddled rounds of batter made with buckwheat flour. The substitution of buckwheat flour makes these pancakes more flavorful, darker in color, and grainier than traditional wheat pancakes. A combination of buttermilk and baking soda ensures these pancakes rise and become fluffy. The pancakes are lightly sweetened with a kiss of vanilla, and frying them in butter adds maximum flavor and crispy edges. The batter is so easy to prepare, so there's no need to wait any longer — make these delicious buckwheat pancakes today.
How to Make Buckwheat Pancakes
Buckwheat pancakes are crazy easy to make — combine all of the ingredients until a smooth batter forms, fry the pancakes, and enjoy. It really is that simple!
Preheat the pan: Heat a large skillet over medium heat.
Make the batter: Whisk the wet ingredients together until they are well combined. Mix the dry ingredients together in a separate bowl, then gently stir them into the wet ingredients. We love using this set of bowls whenever making pancakes.
Fry the pancakes: Add a slice of butter to the hot pan. Spoon the batter into the pan and fry on each side until golden brown, flipping once.
Serve: Enjoy the pancakes while warm with your choice of toppings.
Hot tip: Add the butter to the pan when you are ready to start frying. Watch the heat, making sure the butter doesn't burn. Burnt butter imparts an unpleasant flavor to the pancakes.
Ingredients Mix-ins
Do you like extra flavor in your pancakes? Add fresh fruit, chocolate, or nuts and seeds to elevate these buckwheat pancakes to the next level of taste and texture.
Fruit: Mix a handful of fresh blueberries, raspberries, or diced apples into the batter for a sweet and tart burst.
Chocolate: Fold chocolate chips into the batter for a melty sensation and indulgent taste. Use mini chocolate chips for more chocolate in every bite!
Nuts and seeds: Add chopped walnuts or flaked almonds to the batter to complement the nutty flavor of buckwheat. Mix in flax seeds, chia seeds, or poppy seeds for a hearty crunch.
Pancake Toppings
When talking about pancake toppings, it's either go big or go home. Load up your buckwheat pancakes with any of these delicious toppings to create an unforgettable breakfast experience.
Maple syrup: It's impossible to go wrong with a generous drizzle of maple syrup on a steaming stack of pancakes.
Sour cream: Add a dollop of sour cream or yogurt to your pancakes. This traditional Slavic topping adds richness and tang to cut through the sweetness of the pancakes.
Jam: Spread apricot jam on the pancakes for more mouthwatering flavor. Or, go with a layer of raspberry jam for a more tart flavor.
Fresh fruit: Top your pancakes with fresh mixed berries for a fruity feast. Use seasonal fruit for the freshest and tastiest flavor. For example, during the summer season, add sliced peaches and a dollop of whipped cream.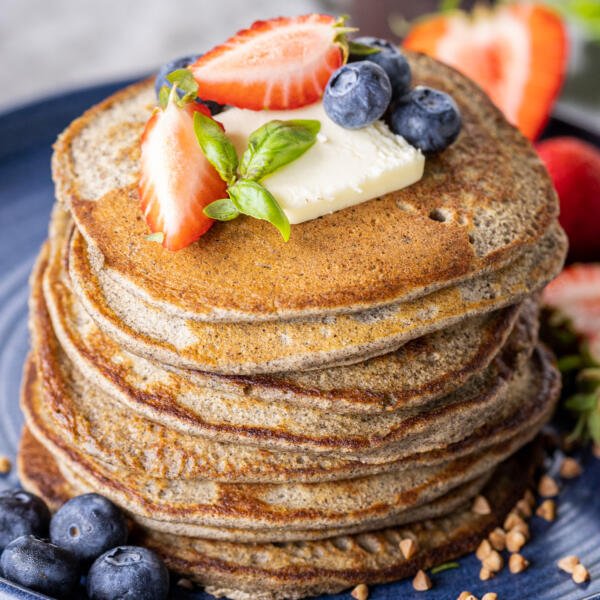 Tips for Fluffy Buckwheat Pancakes
Are you tired of eating flat, bland pancakes? Follow these tips to be wowed by the fluffiest and most flavorful pancakes you've ever made.
Mix the batter gently. It is crucial to gently fold the dry ingredients into the wet ingredients. Over-mixing causes gluten formation, leading to dense and tough pancakes.
Add salt and sugar to taste. Use unsalted butter when frying, and add a pinch of salt to the batter if desired. The sweetness level of these pancakes is up to you — reduce or even remove the sugar if you prefer sugar free pancakes.
Fry the pancakes immediately. The chemical reaction of the buttermilk and baking soda loses potency over time. For maximum height and fluff, preheat the pan properly, then fry the pancakes as soon as the batter is ready.
Keep adding butter while frying. Butter adds great flavor and crispy edges to the pancakes. It also prevents the pancakes from sticking to the pan while frying. Add a new slice of butter to the pan in between each pancake.
Ways to Serve
Buckwheat pancakes are a wonderful dish to serve for breakfast or brunch. Enjoy them with any of the toppings suggested above for a wholesome meal, or snack on them plain. For a larger breakfast, serve buckwheat pancakes with a side of bacon, air fryer hard boiled eggs, or sweet cheese bourekas. Make it even more impressive by adding a classic spinach quiche, hashbrown casserole, and raspberry coffee cake to the table.
Storing & Reheating
Leftover buckwheat pancakes are so tasty when stored and reheated properly. Pull them out of the fridge or freezer anytime for a quick snack or breakfast on-the-go.
Refrigerator: To store for up to four days, transfer the cooled pancakes to an airtight container and refrigerate.
Freezer: To store for up to two months, place the cooled pancakes in a freezer-safe bag or container and freeze. Keep layers of wax paper between each pancake to prevent sticking, or wrap each pancake in plastic wrap.
Reheating: For the best flavor and texture, place the pancakes in a single layer on a cookie sheet and bake at 375℉ for 8-10 minutes. If you're low on time, microwaving the pancakes for a minute is also a good option.
FAQ
Are buckwheat pancakes healthy?
Buckwheat pancakes are a healthier alternative to classic flour pancakes. Buckwheat is an amazing source of protein, fiber, potassium, B vitamins, and amino acids. They are also gluten-free!
How do buckwheat pancakes taste?
Buckwheat pancakes have an earthy, nutty flavor. The buckwheat flour used to make these pancakes is slightly bitter with a grainy texture, but it is delicious when combined with other pancake ingredients.
What is another name for buckwheat pancakes?
Buckwheat pancakes are also called blini or galettes de sarrasin. Blini are the eastern European version of thin buckwheat pancakes. Galettes de sarrasin are savory buckwheat crepes from northern France.
More Buckwheat Recipes
Recipe
The nutty flavor of buckwheat flour shines in this classic buttermilk, eggs, and sugar pancake batter. You won't be able to resist their flavor and fluff!
Nutrition Facts
Fluffy Buckwheat Pancakes
Amount Per Serving
Calories 258
Calories from Fat 99
% Daily Value*
Fat 11g17%
Cholesterol 79mg26%
Sodium 200mg8%
Potassium 304mg9%
Carbohydrates 34g11%
Protein 8g16%
Vitamin A 396IU8%
Calcium 114mg11%
Iron 2mg11%
* Percent Daily Values are based on a 2000 calorie diet.