Cheeseburger sliders come together so easily. Packed with rich, beefy flavor and cheese, these little burgers disappear quicker than it takes to make them.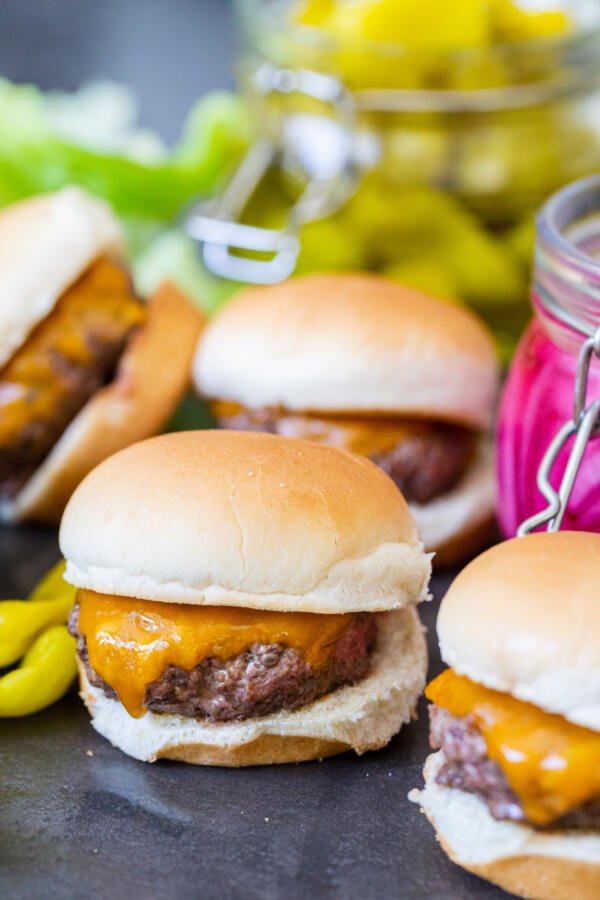 What Are Grilled Cheeseburger Sliders?
Grilled cheeseburger sliders are simply smaller versions of a regular cheeseburger. Sliders are the perfect appetizer or party snack since it's so easy to make them and they're basically finger-foods. Whether you make philly cheesesteak sliders or these cheeseburgers ones, they're a must-have for a game day party!
The name "slider" is thought to have come from U.S. Navy sailors in the 1940s. They coined the term "slider" because of the greasiness of burgers and how easily they "slide" down the throat. In only one or two bites, a person could eat the entire burger. Later, a popular American fast food chain, White Castle, adopted the burger and made it increase in popularity.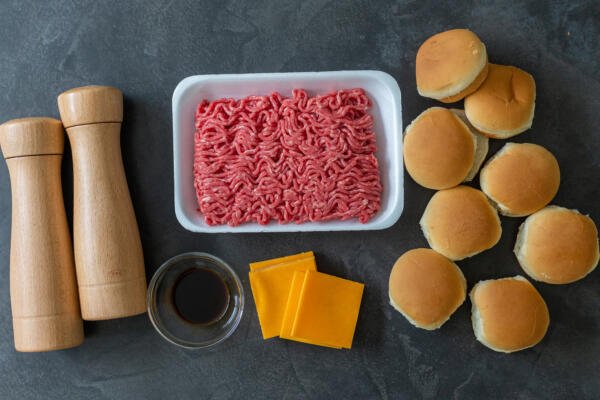 Grilled Cheeseburger Sliders Video
How To Make Burger Sliders
If you know how to make regular burgers, you won't need any instructions on how to make burger sliders. And if you don't know how to make regular burgers, that's no problem — this cheeseburger slider recipe is crazy easy!
Best Bread for the Sliders
While the star of the sliders is beef, it's important to get good quality buns to take the show all the way home. Mini-cheeseburger buns are found in most grocery stores. However, if you can't find them, King's Hawaiian rolls or homemade mini brioche buns are a great choice.
Hot tip: Make your sliders low-carb or gluten-free by wrapping them with lettuce leaves instead. Grab a head of iceberg and use the thickest leaves.
Slider Additions & Substitutions
These cheeseburger sliders are delicious without any extra toppings or condiments — but why not make it your own with a few ingredient additions or substitution?
Tips for The Best Cheeseburger Sliders
Sliders are a great option for a large gathering or tailgate when you need something small and savory to eat. Follow these tips to have the most coveted dish of the party.
Make Sliders in Advance
If you're planning on having a lot of guests over, you'll want to do as much prep ahead of time as possible. Prepare and shape your patties, cover, and refrigerate. Chop up all the toppings and store separately to keep them fresh. Once your guests arrive, cook the patties to order so they are fresh and hot.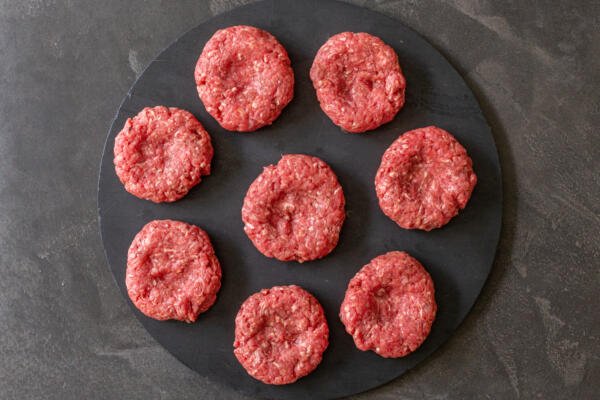 Serving
These cheeseburger sliders are the perfect appetizer and finger food to serve during a game day watch party, holiday party, or any party in general. They're even great for a quick dinner! Pair the sliders with homemade fries including air fryer zucchini fries or air fryer french fries. Or make a bowl of air fryer parmesan zucchini chips and air fryer kale chips. For a classic BBQ side, pair with corn on the cob. For a refreshing and light salad side, make corn tomato avocado salad or mexican street corn salad.
Storage Tips + Reheating
Cheeseburger sliders are best enjoyed right away, but in case you make a huge batch for a party and have leftovers, we've got you covered.
FAQ
What is the difference between a slider and a sandwich?
A slider is similar to a sandwich in that it is made of a protein encased between two pieces of bread. However, a sandwich is usually made with deli meat, whereas a slider is made with ground beef and a burger bun.
How do I prevent my sliders from getting soggy?
To keep sliders from getting soggy, assemble them right before serving. If assembling ahead of time, keep the fresh veggies and other toppings, buns, and meat patties separate.
How do I keep the sliders warm?
Keep the sliders warm by storing the cooked meat patties in a container that retains heat well. Assemble the sliders right before serving.
More Beefy Recipes
Recipe
Cheeseburger Sliders come together so easily. Packed with rich, beefy flavor and cheese, these little burgers will disappear quicker than it took you to make them.
Nutrition Facts
Cheeseburger Sliders
Amount Per Serving
Calories 365
Calories from Fat 99
% Daily Value*
Fat 11g17%
Cholesterol 77mg26%
Sodium 463mg19%
Potassium 417mg12%
Carbohydrates 33g11%
Protein 32g64%
Vitamin A 84IU2%
Calcium 131mg13%
Iron 5mg28%
* Percent Daily Values are based on a 2000 calorie diet.