Kyiv Cake (aka Kiev) is light and airy in the center, with a bit of a crunch, sandwiched by soft sponge layers. It's a true Ukrainian Classic cake. It takes an effort of love, but the outcome will have you come for seconds!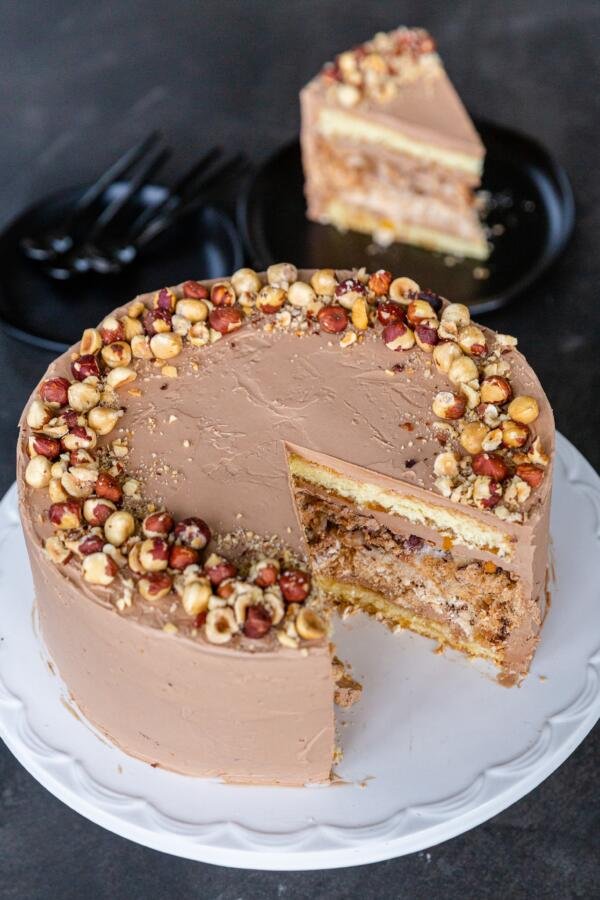 What is Kyiv Cake
Kyiv Cake originated in Kyiv, Ukraine, back in the 1950's. It was such a big deal, that it was almost a crime if you visited Kyiv and didn't bring the cake back as a souvenir to your friends. Over the years it has gotten popular and now boasts a top choice among the favorite dishes of Ukraine, just like its few other siblings, Pelmeni (technically Russian) and Poppy Seed Buns.
This Kyiv cake has light sponge layers, followed with a crunchy layer of meringue with hazelnuts, and then filled with jam and a rich buttercream-like frosting. For this recipe, you'll need to prepare a Sponge Cake, which can be prepared a day in advance.
How to Make Kyiv Cake
There are several different layers involved in making the Kyiv Cake. To make your life easier, some of the layers can be done over a few days.
Making Sponge Cake
To make the sponge cake, beat eggs with sugar until fluffy. Gently fold in the flour, pour the batter into cake pans and bake for 30 minutes.
Making Meringue
To make the meringue layer, beat room temperature egg whites until increased in volume. Gradually add sugar until fully incorporated. Stir in the hazelnuts and spread onto parchment-lined pans. Bake at 250°F for 6 hours. Avoid opening the oven door to prevent extra moisture from going in. You want to dry the meringue out completely.
Hot Tip: If you have leftover meringue, make meringue cookies and use them to decorate the top of the cake.
Making Cake Cream
To make the cake cream, beat the egg yolks (left from the meringue above), then add water and condensed milk. Cook on low heat, stirring constantly until thick and creamy. Turn off the heat, add chocolate chips, then stir until melted. Set aside to cool off. In a separate bowl, beat butter, adding the cream mixture a few spoonfuls at a time until combined.
Finalizing the Cake
To assemble the entire cake, first slice through the sponge cake layers. Cover each layer with jam, except for the top one. Frost the bottom layer of the sponge cake with cream, place a layer of meringue, followed by more cream. Then repeat the steps until the cake is finalized. Frost the sides and top with cream and decorate!
Making Kyiv Cake in Advance
You can make the Sponge Cake days in advance. It can be stored in an airtight container for a few days on the counter or kept in the refrigerator for up to a week.
You can put the cake together 2-3 days in advance. In fact, Kyiv cake will be best when you make it at least 24 hours before serving. This will allow for the flavors to soak up and give you the best results.
FAQ
How can I tell if meringue is done?
The meringue is done when it is dry and hollow. It comes off easily when you lift it off the parchment paper. The thicker the layer, the longer it takes to dry.
How do I keep my sponge cake from deflating?
To keep the sponge cake from deflating, slowly and carefully fold the flour into the egg mixture. Don't use all the flour at once, sprinkle the flour at the top and mix it in, a portion at a time.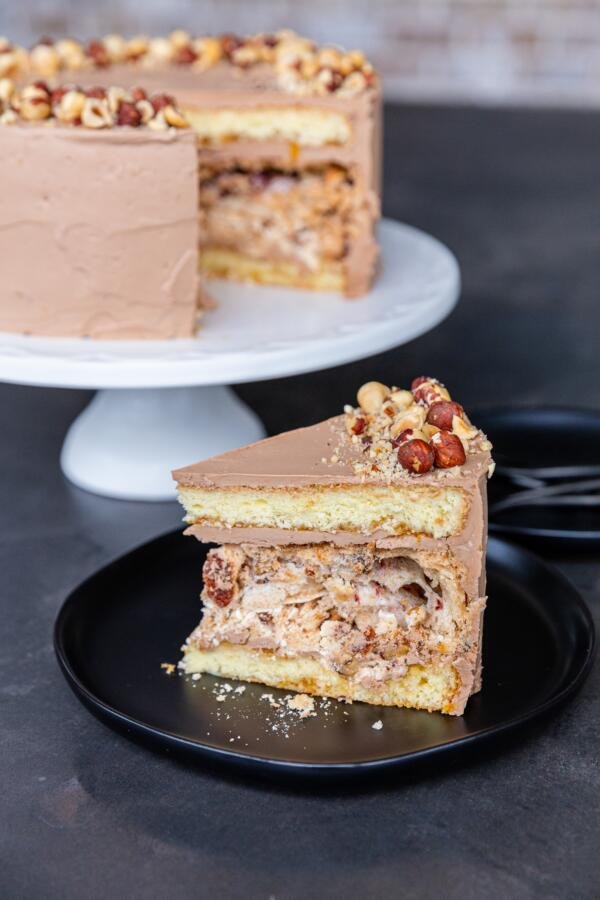 More Cake Recipes
Recipe
Kiyv Cake is light and airy in the center, with a bit of a crunch, sandwiched by soft sponge layers. It's a true Ukrainian Classic cake. It takes an effort of love, but the outcome will have you come for seconds!
Ingredients
1

sponge cake

See link to a recipe above

6

egg whites

at room temperature

1 1/3

cup

sugar

1

cup

hazelnuts

chopped

2

cup

jam

strawberry, peach or apricot
Instructions
Nutrition Facts
Kyiv Cake (Ukrainian Classic)
Amount Per Serving
Calories 745
Calories from Fat 360
% Daily Value*
Fat 40g62%
Cholesterol 201mg67%
Sodium 443mg18%
Potassium 229mg7%
Carbohydrates 92g31%
Protein 8g16%
Vitamin A 1060IU21%
Vitamin C 6mg7%
Calcium 110mg11%
Iron 2mg11%
* Percent Daily Values are based on a 2000 calorie diet.