This super simple P.F. Chang's Honey Chicken frozen skillet meal is perfect for hectic weeknights. In this recipe, you'll pair it with steamed white rice for an easy meal!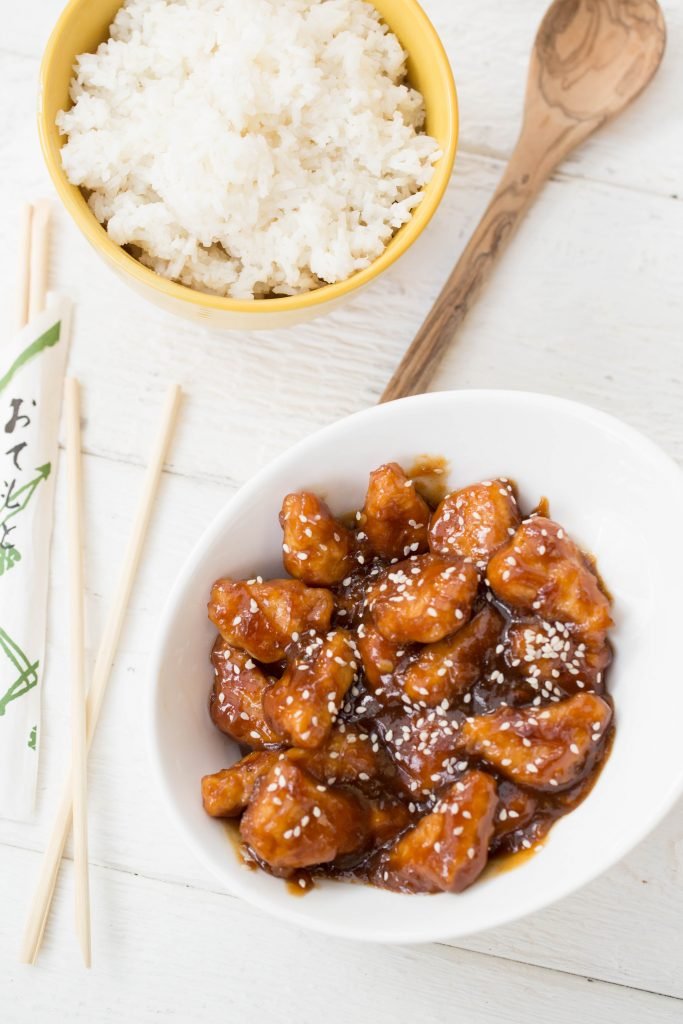 Every busy body knows that having a few frozen meals on hand is a lifesaver. This P.F. Chang's Home Menu Honey Chicken is one of the best freezer skillet meals on the planet. Not only does it taste exactly like the version served at the restaurant, but it's also crazy easy to pull together.
What is in P.F. Chang's Honey Chicken?
P.F. Chang's Honey Chicken features lightly battered pieces of chicken tossed in a slightly sweet and tangy honey garlic sauce. It's a fan favorite at the popular Asian restaurant and has been replicated in the P.F. Chang's Home Menu line of frozen skillet meals. All you have to do? Toss it in a wok or large skillet until crispy and warmed through and serve it with your favorite sides. Hello, restaurant-style food at home!
How to Properly Clean & Prepare White Rice
The only thing you'll have to make from scratch in this recipe is a batch of steamed white rice. Here's all you need to know:
Clean the rice properly. Bagged rice comes with a coating of starchy powder leftover from processing. Before you steam it, you'll need to rinse it thoroughly. To do so, place it in a bowl with cold water and stir with your hand to loosen up the starch. Dump the water out and repeat until it runs clear.
Cook the rice covered and on low. To prevent your rice from becoming overcooked and mushy, take the heat down low after the water begins to boil. It's also key that you cover the pan with a lid to create a steaming effect.
Adjust the cooking time depending on your pan and stovetop range. The cook time for white rice can range anywhere between 10-15 minutes depending on your skillet and the power of your stovetop range. To air on the safe side, check on the rice at around the 10 minute mark.
Fluff the rice. Once the rice is fully-cooked, use a large fork to fluff it and release some of the inner steam. This will let the grains breath and prevent them from overcooking.
Making P.F. Chang's Honey Chicken with Steamed Rice
To prepare this quick meal all you'll need to do is heat the frozen Honey Chicken and prepare a batch of rice on the stovetop.
Clean the Rice: Under cool water, rinse the rice until the water runs clear and no longer looks milky.
Steam the Rice: Bring 2 cups of water to boil. Add in the rice and turn the heat down low. Cover with a lid and allow the rice to steam for 10-15 minutes.
Prepare the Honey Chicken: Follow the package instructions to prepare the P.F. Chang's Home Menu Honey Chicken. Spoon the chicken over a bowl of the steam rice and dig in!
Hot Tip: Garnish the chicken and rice with freshly diced scallions for a pop of color.
Veggie Sides to Pair with P.F. Chang's Honey Chicken
Trying to stray away from rice or just looking to tack on a veggie side dish to this easy meal? We love to pair this meal with air fryer asparagus, shishito peppers, or a simple stir-fry of any of the veggies lingering in our produce box.
Storing & Reheating Tips
Here you'll find all the tips you need to store and reheat this easy dish.
Storing: To keep the chicken on hand for up to 3 days, store it in an airtight container in the refrigerator.
Reheating: The best way to reheat the chicken is on a baking sheet lined with parchment paper in the oven at 350F. This will help the outside get crispy again.
FAQ
Is P.F. Chang's Home Menu Honey Chicken pre-cooked?
Yes, the chicken breasts in the P.F. Chang's Home Menu Honey chicken comes fully-cooked. However, it's completely frozen needs to be reheated in a skillet until crispy.
Can you Cook P.F. Chang's Home Menu Honey Chicken in the microwave?
Cooking P.F. Chang's Home Menu Honey Chicken in the microwave is not recommended. The skillet helps it get super crispy and the microwave would turn it soggy.
What is the P.F. Chang's Honey Chicken sauce made of?
P.F. Chang's Honey Chicken sauce is made of honey, soy sauce, white wine, sugar, garlic, vinegar, corn starch, chicken broth, and a couple of other seasonings. Once you add the sauce packet into the pan, it will thicken up and coat the chicken perfectly.
Is honey chicken the same as orange chicken?
Honey chicken and orange chicken are similar, but not exactly the same. Honey chicken is made with a honey-based sauce that's slightly spicy and tangy, while orange chicken is made with a thick, citrusy sauce.
More Tasty Asian-Inspired Recipes
Recipe
P.F. Chang's Honey Chicken and tender white rice were simply made for one another. The perfect meal for those hectic weeknights when you need food fast!
Nutrition Facts
P.F. Chang's Home Menu & The Perfect Rice
Amount Per Serving
Calories 363
Calories from Fat 54
% Daily Value*
Fat 6g9%
Cholesterol 30mg10%
Sodium 587mg24%
Potassium 184mg5%
Carbohydrates 62g21%
Protein 11g22%
Calcium 11mg1%
Iron 0.5mg3%
* Percent Daily Values are based on a 2000 calorie diet.