This stuffed pepper soup combines the comfort of warm soup with the heartiness of stuffed peppers. It's so easy, you'll love this one-pot family meal.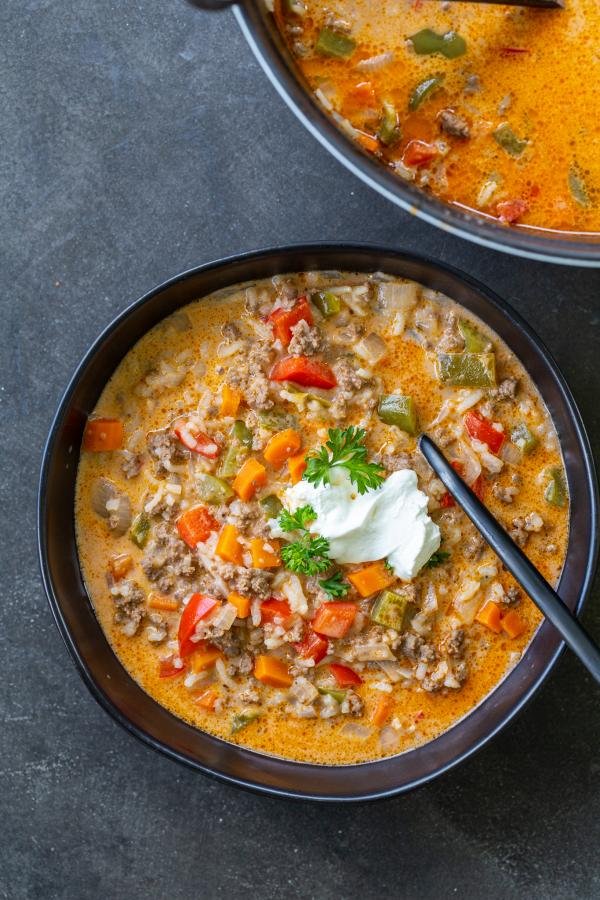 Stuffed peppers are known for being healthy, hearty, and filling, but perhaps you're looking for something a little easier and quicker to make. This one-pot stuffed pepper soup is the answer! It's the perfect cozy meal to satisfy your hunger, warm you up, and it's a great way to use up fresh peppers or leftover rice.
Stuffed peppers are historically considered part of Spanish cuisine, but over time, different cultures and nationalities all over the world have created their own versions using their own seasonings and stuffing preferences. Stuffed pepper soup originated from stuffed peppers, but instead of taking time to stuff each individual pepper, all the ingredients are cooked together in a flavorful broth.
In our stuffed pepper soup recipe, the vegetable flavors come together to form a sweet base for the soup, with the meat adding a level of heartiness and deep flavor. Rice brings texture and body to keep the soup filling for longer. To top it off, this soup is done in only one hour and in only one pot, meaning less clean-up!
Stuffed Pepper Soup Ingredients: What You Need to Know
Stuffed pepper soup uses nearly all the same ingredients as stuffed peppers, with a few small additions. Here's an overview of the ingredients to make yourself a perfect bowl of soup.
Ingredients
Ground beef: Ground beef brings the deep meat flavor to the soup. Alternatively, substitute with other proteins such as lean ground beef, ground turkey or ground chicken for a lighter soup. Hot Italian sausage can be used for a spicy kick.
Carrot: Carrots add flavor and color to the vegetable base when sautéed with the onion.
Onion: White or yellow onion is used to create the vegetable flavor base.
Bell pepper: We recommend a mix of red and green bell peppers, but yellow and orange are good too. Different colored peppers have slightly different flavor profiles.
Rice (uncooked): White or brown rice works the best in this soup, and if serving right away, there's no need to cook the rice beforehand. Rinse the rice before adding it to the soup to remove excess starch. Substitute long grain rice with quinoa, barley, or orzo pasta, adjusting the cooking time as needed.
Seasoning: Salt, black pepper, and bay leaves are the three most important spices in this soup. If you like more flavor, dried basil, oregano, thyme, paprika, and red pepper flakes (for some heat) are great additions. Season to taste as the beef broth and tomato sauce may already have seasonings included.
Tomato sauce: Tomato sauce brings out the tomato flavor and adds richness to the broth.
Beef broth: Beef broth is a must-have and will create the base of the broth. If substituting the meat, substitute the broth with either chicken broth or vegetable broth.
Half and half: Half and half adds creaminess to the broth.
Additions
Although the basic ingredients are enough to give you a top-notch soup, take it a step further and personalize it using the following ingredients.
Garlic: Sauté a few minced garlic cloves with the onions and carrots for an extra flavor boost. Alternatively, add garlic powder to your arsenal of seasonings.
Tomatoes: Add a small amount of diced tomatoes or canned fire roasted tomatoes to increase the amount of vegetables in the soup. Too many tomatoes can take away from the delicious bell pepper flavor. If using canned tomatoes, drain the liquid before adding to soup.
Cheese: Top your soup with mozzarella or shredded cheddar cheese. You can never go wrong with cheese!
Apple cider vinegar or lemon juice: A small amount can be added after cooking to brighten the flavor of the soup.
Sugar: If using additional tomatoes, add a teaspoon or two of sugar to balance out the acidity of the tomatoes.
Making One-Pot Stuffed Pepper Soup
This delicious soup is super easy to make because it uses simple ingredients, has less than five steps, and everything is cooked using only one pot. It doesn't get easier than this!
Cook the meat: In a large pot, cook the ground beef, breaking the meat into small pieces as they cook.
Sauté the vegetables: Sauté carrots and onion until soft, then add bell peppers.
Simmer the soup: Add rice, seasonings, tomato sauce, and beef broth. Boil, then simmer for twenty minutes.
Serve with garnish: Add half and half and briefly cook for a few more minutes. Serve and enjoy with garnish of fresh herbs and sour cream.
When to Use Cooked Rice vs Uncooked Rice
In this one-pot stuffed pepper soup, you do not need to pre-cook the rice before adding to the soup; however, in certain cases, this may be a good idea. Here are situations when you might choose to cook rice separately or cook directly in the soup.
Cook separately: If you're planning on serving later or having leftovers, we recommend cooking the rice separately. Otherwise, the rice will soak up all the liquid in the soup and the soup may become mushy. To serve, spoon the rice into individual bowls and ladle the soup over the top.
Cook in the soup: If serving immediately, there's no need to cook the rice ahead of time. The rice will cook in the flavorful stuffed pepper broth and absorb lots of flavor, culminating in the best tasting soup.
Tips for the Ultimate Stuffed Pepper Soup
When making this soup, use these tips to go from a "good" stuffed pepper soup to the "best" stuffed pepper soup.
Vary the amount of rice: Rice is used to provide texture and body to the soup. For thinner soup, add less rice. For thicker and heartier soup, add more rice.
Add more liquid: If the rice has absorbed a lot of the liquid, add more broth.
Discard extra grease: To reduce the fat content of the soup, remove excess grease from the pot when sauteeing the vegetables. Use a clean paper towel and dip it into the grease, being careful because it is hot!
Serve with sour cream: Sour cream gives a tart and creamy flavor to the soup.The cold sour cream also complements the warmth of the soup well. P.S. This is how Ukrainians eat their soups!
Garnish with fresh herbs: Dill and fresh parsley are a great combination of herbs to use as a garnish.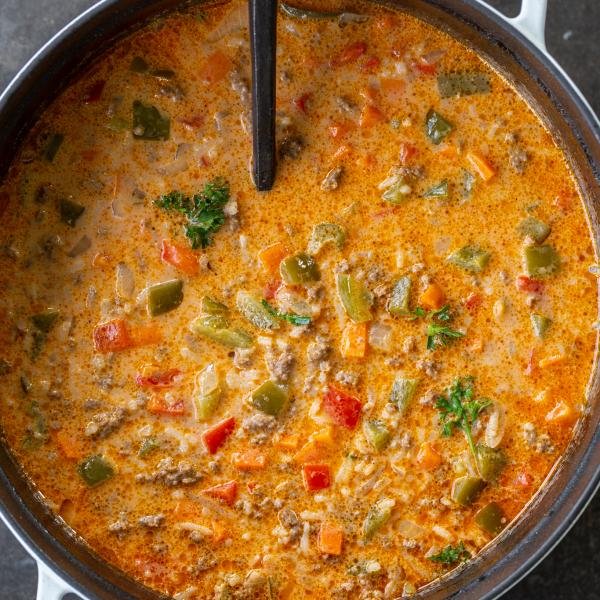 Serving Suggestions
Stuffed pepper soup is a thick and hearty soup, similar to a stew. It doesn't need a plethora of side dishes to make it filling. We recommend garnishing the soup with shredded cheese, fresh herbs, and/or sour cream. Make it a "soup and salad" dinner by pairing with our Broccoli, Cucumber, and Tomato Salad. It's also amazing served with French Bread or Ukrainian Garlic Bread.
Storage and Reheating
Stuffed pepper soup is a great recipe to double and store for later. Here are a few storage tips to ensure the best outcome.
Refrigerator: If planning to store the soup for up to four days, cook the rice separately from the soup, and refrigerate in separate airtight containers. By preparing and storing the rice from soup separately, you avoid the soup from becoming mushy.
Freezer: To freeze for up to three months, prepare and store soup and cooked rice in separate freezer safe containers.
Reheating: Reheat soup on the stove top over medium heat, stirring occasionally to allow for even and complete warming. If reheating soup from frozen, heat on low until completely thawed. Add rice (either frozen or freshly cooked) while the soup is heating. Add more broth to soup if needed. Microwaving is fine for refrigerated leftovers, but is not recommended for frozen soup.
FAQ
Do I have to peel peppers for stuffed pepper soup?
No, you do not need to peel the skin off peppers to make stuffed pepper soup. The skin of bell peppers is thin and cooking them in the soup makes them easily digestible. You will barely notice the skin once the peppers are fully cooked.
Can I make stuffed bell pepper soup vegan?
Stuffed bell pepper soup can be made vegan by replacing the ground meat with kidney beans. Instead of beef or chicken broth, use vegetable broth. Also, omit the half and half. The soup may be less creamy, but it will still be very tasty.
What kind of bell peppers should I use for stuffed pepper soup?
You can use any type of bell peppers for stuffed pepper soup, but the best are red and green peppers. Red bell peppers are the sweetest and most nutritious bell pepper, whereas green peppers have more of a bitter, tangy taste. Orange and yellow bell peppers fall in-between the two flavor profiles, but their color will add extra flair to your soup.
Can stuffed pepper soup be canned?
Typically we do not recommend canning stuffed pepper soup. Alternatively, you can freeze stuffed pepper soup by cooking the soup without the rice and freezing the cooked soup for up to three months in an airtight container. Add fresh cooked rice to soup when the soup base is warmed and ready to serve.
More Stuffed Pepper Recipes
Recipe
This stuffed pepper soup combines the comfort of warm soup with the satisfaction and heartiness of stuffed peppers. Filling, quick, and easy, you'll love this one-pot family meal.
Ingredients
1

lb

ground beef

2

medium carrots

chopped

1

large onion

diced

1

red bell pepper

chopped

1

green bell pepper

chopped

1/2

cup

rice

uncooked

1

tbsp

salt

1

tsp

ground black pepper

10

oz

tomato sauce

6

cups

beef broth

1/2

cup

half and half
Nutrition Facts
Stuffed Peppers Soup (One-Pot)
Amount Per Serving
Calories 164
Calories from Fat 81
% Daily Value*
Fat 9g14%
Cholesterol 30mg10%
Sodium 1180mg49%
Potassium 346mg10%
Carbohydrates 11g4%
Protein 9g18%
Vitamin A 2186IU44%
Vitamin C 24mg29%
Calcium 39mg4%
Iron 1mg6%
* Percent Daily Values are based on a 2000 calorie diet.