This smoked salmon toast is the ultimate breakfast! It takes only 10 minutes but will make your tastebuds sing!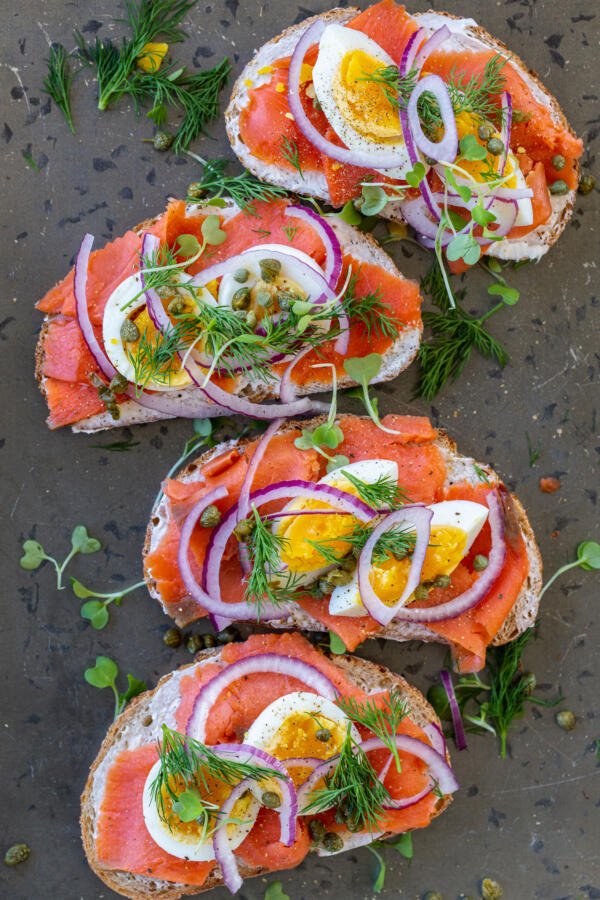 Imagine your favorite crispy bread covered with a savory cream cheese spread. It's loaded with slices of smoked salmon and hard-boiled eggs. And if that weren't enough, it's then topped with red onions, capers, and dill for extra zing. A high end toast, if you will. Is your mouth watering yet? Mine is!
What is Smoked Salmon Toast?
Smoked salmon toast consists of a slice of bread slathered with a whipped cream cheese spread. The toast is then topped with smoked salmon, sliced hard boiled eggs, red onion, capers, and a fresh dill garnish. The salmon and eggs provide rich, smokey flavor, whereas the greens provide a fresh, light contrast. All together, you get the best of both worlds.
It is a crazy easy breakfast or appetizer dish. Not only does it taste heavenly, but it looks high end restaurant-quality, too!
The Ingredients
For the ultimate flavor, smoked salmon toast uses a combination of eight ingredients. Here's an overview to familiarize yourself with the ingredients.
Sliced bread: Use your favorite bread or whatever bread you have on hand. Toast the bread for a few minutes for an extra crunch to your toast.
Whipped cream cheese: Whipped cream cheese provides a creamy topping that brings all the flavors together.
Smoked salmon: Use cold-smoked salmon instead of hot-smoked salmon. Cold-smoked has a soft, smooth texture, whereas hot-smoked is more flaky. Find smoked salmon in the refrigerated seafood section in your local grocery store.
Hardboiled eggs: Hard boiled eggs add texture and flavor, plus protein and other essential nutrients to the toast. Easily slice the eggs with a knife or use an egg slicer for perfect slices.
Red onion: Onions provide a savory freshness and bite to the sandwich. Slice the onion into half rings and use as much (or as little) as preferred.
Capers: Capers are often paired with salmon and have a salty, briny flavor.
Dill: Fresh dill adds a contrasting fresh flavor to the salty, smoked salmon and a pop of green color garnish the toast.
Black pepper: A few shakes of black pepper adds a tiny bit of necessary spice to your toast.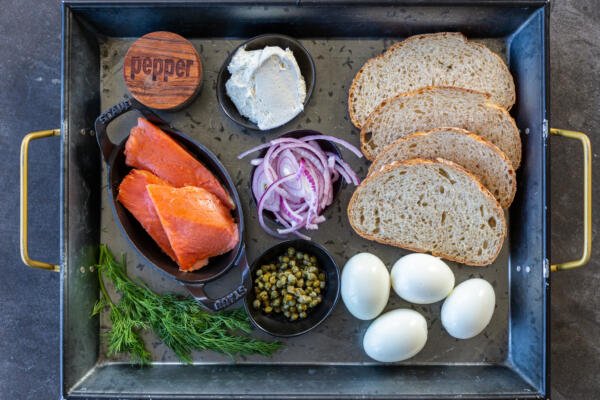 4 Steps to Assemble Smoked Salmon Toast
Assembling smoked salmon toast is as easy as 1-2-3 — and 4. Feel free to customize it further with your favorite seasoning or toppings.
Toast the bread: Toast the slices of bread in a toaster or under the broiler in the oven.
Apply the spread: Spread cream cheese onto the bread.
Place toppings: Layer pieces of smoked salmon, sliced hard boiled eggs, red onion, and capers onto the sliced bread.
Season: Garnish with ground pepper and fresh dill.
Customizing your Salmon Toast
In addition to the base smoked salmon ingredients, substitute or add these ingredients to make your own version of smoked salmon toast.
Veggies: Add sliced cucumbers, tomatoes, pickled onions, scallions, micro-greens, arugula, avocado, or even radishes. The list truly goes on!
Herbs: Substitute or add fresh parsley, basil or other fresh herbs as a garnish.
Spreads: Instead of plain whipped cream cheese, opt for herbed cream cheese, avocado spread, whipped cottage cheese, or Boursin cheese.
Bread: Our favorite breads to use for smoked salmon toast are sourdough bread, almost whole wheat sourdough bread, bagels, croissants, or county white bread.
Seasoning: Season it up with everything but the bagel seasoning, red pepper flakes, or flavored salt.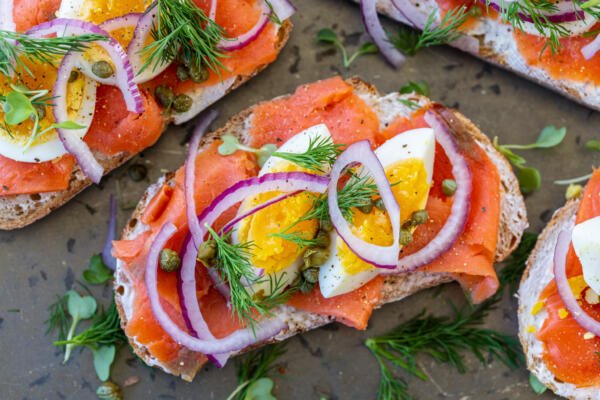 Tips for a Flawless Smoked Salmon Toast
This recipe is loved for its strong combination of flavors and fresh ingredients. Here are ways to add the most flavor to your dish.
Use softened cream cheese: Whipped cream cheese is the easiest to spread over the toast, but a softened block of cream cheese works just as well.
Use fresh dill versus dried: Fresh dill adds lots of flavor to the cream cheese and makes for a gorgeous presentation.
Serving Ideas for Salmon Toast
Smoked salmon toast is typically served for breakfast or brunch, or as a fancy appetizer. It is best enjoyed when freshly made.
Serve as part of a breakfast spread with sides such as sweet cheese blintzes, breakfast quesadillas, or handheld quiches.
Making Smoked Salmon Toast Ahead-of-Time
To make prep for smoked salmon toast even quicker and easier, follow these guidelines. Avoid storing assembled smoked salmon toast as the flavor and texture doesn't hold up well in the refrigerator or freezer.
If eating within one hour: If you plan to eat smoked salmon toast within one hour, store the assembled toast in the fridge in an airtight container.
If eating in the next few days: If making smoked salmon toast in the next few days, prepare all ingredients and store in separate containers in the refrigerator until ready to assemble.
FAQ
Is smoked salmon toast raw?
The cold smoked salmon used in smoked salmon toast is raw, but it is cured in salt, making it safe to eat. Cold smoked salmon retains the raw texture of the salmon and salty flavor. Hot smoked salmon is not recommended to use in smoked salmon toast.
Should smoked salmon be warmed?
Smoked salmon should not be warmed to enjoy in smoked salmon toast. Warming it will affect the texture and flavor.
What cheeses go best with smoked salmon?
Soft cheeses like cream cheese, brie, and other soft cheese spreads are the best types to pair with smoked salmon dishes.
Can I store smoked salmon toast?
Avoid storing smoked salmon toast after assembly, as the flavor and texture don't hold up well when stored. Instead, store the ingredients in separate airtight containers until ready to enjoy.
More Salmon Recipes
Recipe
This smoked salmon toast is the ultimate breakfast! It takes only 10 minutes but will make your tastebuds sing!
Ingredients
4

slices of bread

fresh or toasted

1/2

cup

whipped cream cheese

8

oz

smoked salmon

2

hardboiled eggs

sliced

1/4

red onion

sliced into half rings

1/4

cup

capers

3

tbsp

dill

fresh

1

tbsp

ground black pepper
Instructions
Nutrition Facts
Smoked Salmon Toast
Amount Per Serving
Calories 290
Calories from Fat 144
% Daily Value*
Fat 16g25%
Cholesterol 135mg45%
Sodium 1001mg42%
Potassium 244mg7%
Carbohydrates 17g6%
Protein 19g38%
Vitamin A 608IU12%
Vitamin C 1mg1%
Calcium 94mg9%
Iron 2mg11%
* Percent Daily Values are based on a 2000 calorie diet.