This steaming hashbrown breakfast casserole is the perfect start to your morning. It's generously loaded with a medley of ingredients, making it a filling option to begin your day with.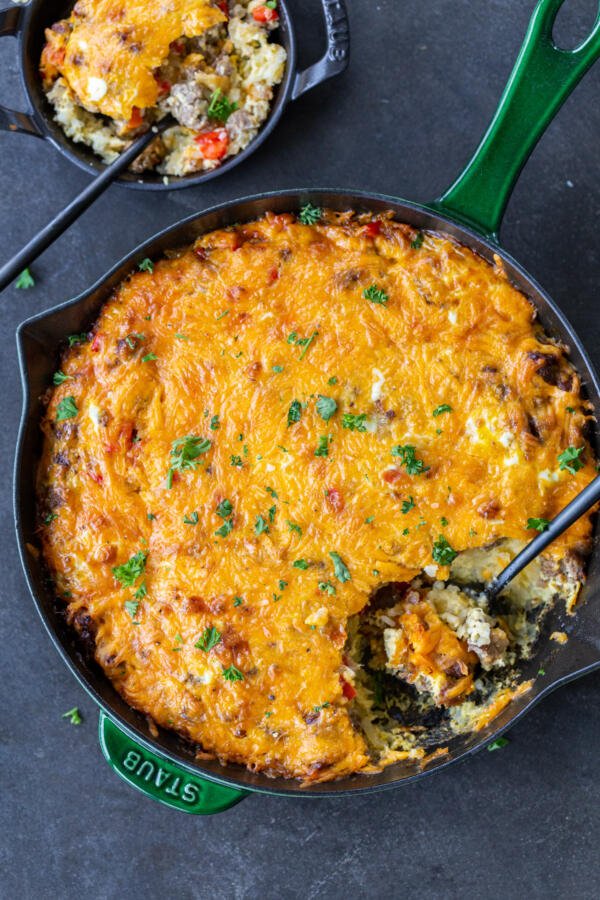 What is a Hashbrown Breakfast Casserole?
A hashbrown (or hashed brown) breakfast casserole is a layered food entree that is prepared in a deep, wide baking dish. It consists of a baked layer of hash browns, meat, veggies, and cheese.
Like most casseroles, this breakfast casserole is a fantastic make-ahead meal. Simply prepare a large batch ahead of time and you have an effortless breakfast (or even lunch) ready to dig into throughout the week or save for later.
Casserole Ingredients & Substitution Options
This hash brown casserole is crazy easy to make and personalize. However, there are a few must-have ingredients to make it a dish you'll never not crave.
Hash browns: For a quick breakfast, use frozen shredded hash browns. For more of a fried flavor and golden appearance, fry the hashbrowns on high heat in a skillet. In a pinch, use broken up tater tots.
Breakfast sausage: Use your favorite breakfast sausage. The sausage is one of the primary flavor contributors to the casserole. Other proteins like pork sausage, ham, turkey, or crispy bacon are great substitutes!
Veggies: Veggies are absolutely necessary for a well-rounded breakfast. Chopped bell peppers (red is our preferred, but any color works just as well) and onions are our favorites, but most other veggies like tomatoes, mushrooms, and broccoli also work well. Simply sauté the veggies first in a pan before adding to the dish.
Cheese: Sharp cheddar cheese or mozzarella are perfect in this breakfast casserole. However, colby jack, gouda, and swiss are great alternatives.
Seasoning: If you like it simple, a dash of salt and black pepper is a great choice. If you like even more flavor and spice, add red pepper flakes, onion powder, garlic powder, paprika, or any combination of your favorite spices.
A Brief Outline on Making a Hashbrown Casserole
If your mouth is watering just thinking about this casserole, you're not alone. Here's a quick overview of the recipe to get you one step closer to digging into this casserole.
Fry the sausage: Fry your choice of meat over medium high heat on a large skillet, breaking the meat apart as it cooks.
Add the veggies: Just before the sausage is done, add in the chopped onion and bell pepper. Cook until veggies are lightly browned, then set aside.
Prepare the casserole dish: Spray a 9 or 10 inch casserole dish, cast iron pan, or baking dish with non-stick cooking spray. Place shredded hashbrowns on the bottom.
Top with cooked ingredients: Layer the onion, pepper, and sausage mixture on top of the hashbrowns, followed by a layer of shredded cheddar cheese.
Whisk the egg mixture: In a medium bowl, whisk together the eggs, milk, and seasonings. Mix until well combined, then pour over the hashbrown casserole.
Bake: Bake at 350°F for about 40 minutes, or until the center is set and the top is golden brown. Cool for a few minutes, then enjoy!
Tips for the Best Results
Nobody wants to start the day with a breakfast that is less than perfect. With these tips, your hashbrown casserole will be the best part of your day.
Thaw and dry the hash browns: Frozen hash browns must be thawed fully and excess liquid drained to achieve the best taste and texture. Otherwise, the casserole may turn out soggy (and no one wants that!).
Make your own hash browns: If you want to make your own hash browns, shred either a waxy or starchy potato. Waxy potatoes (like Yukon Gold) are better if you want hash browns to stick together. Starchy potatoes (like Russet potatoes) are better if you like them more crispy.
Bake the hashbrowns first (optional): For an extra crispy base of hashbrowns, pour a half stick of melted butter over the hashbrowns. Bake at 350°F until hashbrowns are golden and crispy, then assemble the rest of the casserole per recipe instructions.
Add cheese first: Add the cheese to the casserole dish before pouring on the egg custard mixture. This will create cheese pockets on the inside instead of only a cheesy top. Sprinkle extra cheese on the top as well if you like a cheesy top.
Vary the baking time: Depending on the size of the baking dish, the baking time may vary. With a 9 or 10 inch round dish, 40-45 minutes is perfect. With a larger dish (such as a 9×13 in), the casserole will bake faster because it is not as thick.
Rest the casserole: Allow the casserole to set for a few minutes upon taking it out of the oven. This will allow it to cool, as well as help the dish to solidify a little more.
Make the casserole for later: For a hassle-free breakfast, assemble the casserole the night before and refrigerate. Bake it in the morning right before serving. Morning just won't come quick enough!
Serving Ideas
This easy breakfast casserole is a filling meal all by itself, but if you want to add more breakfast options to your table, we've got ideas for you!
What to do with the Leftovers?
Hashbrown casserole leftovers are the best part! Enjoy the casserole for brunch or any other meal this week!
Refrigerator: Store your casserole for up to five days in an airtight container in the fridge. Precut the casserole into serving size cubes for easier handling and reheating.
Freezer: Freeze the baked casserole for up to four months. Cut the baked casserole into individual pieces and store in an airtight container or freezer bags. When ready to use, defrost as many servings as you need in the fridge overnight.
Reheat: For the quickest and easiest reheat, use the microwave. If reheating more than a couple servings at a time, it is best to reheat in the oven.
FAQ
Why is my hashbrown breakfast casserole soggy?
Your casserole may be soggy due to excess liquid. The most frequent culprit are the hashbrowns. When using hashbrowns, make sure they are fully thawed and as much extra liquid is removed as possible.
Why are hash browns sometimes soaked in water?
If you make homemade hash browns, it is beneficial to soak them in water to release some starch. This helps to make the hash browns more crispy when cooked. After soaking in water, it is vital to squeeze and remove as much liquid from the potatoes as possible before cooking.
Is a hashbrown casserole only served as a breakfast entree?
Hashbrown casserole can be enjoyed at any time of day, but it is most often enjoyed for breakfast. It contains ingredients most often associated with breakfast (such as eggs, hash browns, and breakfast sausage), but there's nothing to stop you from enjoying it for lunch or dinner.
Similar Breakfast Recipes
Recipe
This hashbrown breakfast casserole is brimming with hash browns, sausage, veggies, and cheese. It's perfect and filling any time of day!
Ingredients
1

lb

breakfast sausage

1

medium onion

chopped

1

red bell pepper

chopped

16

oz

shredded hashbrown potatoes

thawed

2

cups

cheddar cheese

shredded

6

large eggs

1/2

cup

milk

1

tsp

salt

adjust to taste

1

tsp

ground black pepper

adjust to taste
Nutrition Facts
Hashbrown Breakfast Casserole (Crazy Easy)
Amount Per Serving
Calories 535
Calories from Fat 333
% Daily Value*
Fat 37g57%
Cholesterol 251mg84%
Sodium 1277mg53%
Potassium 628mg18%
Carbohydrates 19g6%
Protein 31g62%
Vitamin A 1338IU27%
Vitamin C 33mg40%
Calcium 404mg40%
Iron 3mg17%
* Percent Daily Values are based on a 2000 calorie diet.